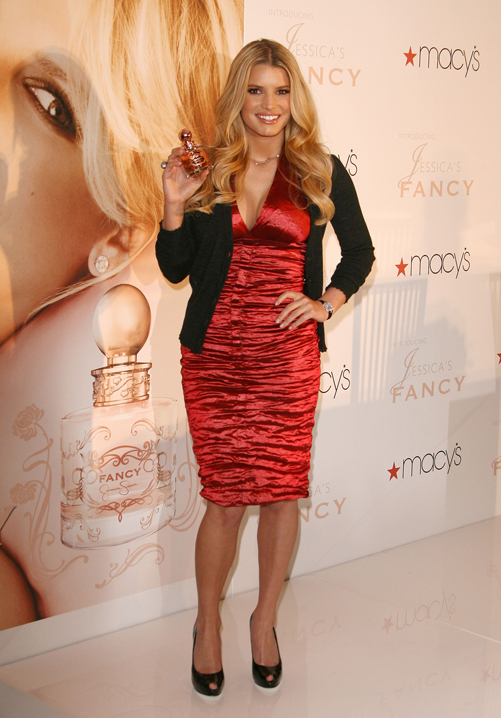 Apparently, the Simpson family compound is in Waco, Texas. I hate myself for knowing that, and for being able to vaguely recall an episode of "The Newlyweds" when Jessica Simpson and then-husband Nick Lachey celebrated Christmas in Texas. Well, as it turns out, the Waco compound will be the site of another glorious Simpson family gathering, with Jessica, Tony Romo, Ashlee and Pete Wentz all expected to show up.
E! News Online is among several celebrity sites reporting that Simpson sisters Jessica and Ashlee and their significant others — Dallas Cowboys quarterback Tony Romo and husband Pete Wentz, respectively — plan to celebrate Christmas in Waco at their grandparents' house.

E! News sez: "This Christmas is a big deal, and the whole family wants to be together for baby Bronx's first Christmas," a Simpson family friend tells us." Bronx Mowgli is the baby boy born to Ashlee and Pete on Nov. 20.
[From the Waco Tribune]
I'm sure it will be a nice family gathering and everyone's probably really excited to spend more time with the new baby. But surely you aren't foolish enough to think that Jessica could just let that news slip by without over-sharing about her Christmas plans (and coincidentally stealing Ashlee's moment)? Jessica is pulling out all the stops to get Tony Romo… including trying her hand at baking Tony's favorite desserts.
Forget going out on the town and partying all night in Hollywood, Jessica Simpson is going a very different route from other celebrity ladies these days: She's skipping the club and heading straight for the kitchen!

"Believe it or not, I like to bake pies," she tells Pop Tarts of her life at home right now. "Tony [Romo]'s favorite is pumpkin pie and I haven't mastered that yet. Maybe I'm more of a baker; I like to make cakes, more fattening. I make a good carrot cake."

Besides fattening up her NFL quarterback boyfriend, Jess says she's dedicated to making sure his holiday season is merry and bright.

"My personality is now more stay-at-home; right now I'm doing the Christmas tree and everything. I'm in Dallas and its fun, Tony hasn't had Christmas in 7 years because they have football every Christmas and he can't go home," she says. "So I'm bringing Christmas to him this year and it's been fun. I've been out ornament shopping and all kinds of stuff, so that's more of who I am."
[From OK Magazine]
Ew, carrot cake. I totally don't get carrot cake. Cake is supposed to made from good stuff like butter, vanilla, flour, chocolate. Not carrots. But back to The World Revolving Around Jessica, I've said it before, and I'll say it again: I think Tony really loves her. If he wanted out, he would have gotten out a long time ago. But I'll add that Tony *probably* doesn't love her for cooking.
Picture note by JayBird: Here's Jessica launching her fragrance "Fancy" at Macy's South Coast Plaza in Costa Mesa, California on December 13th. Images thanks to Fame.