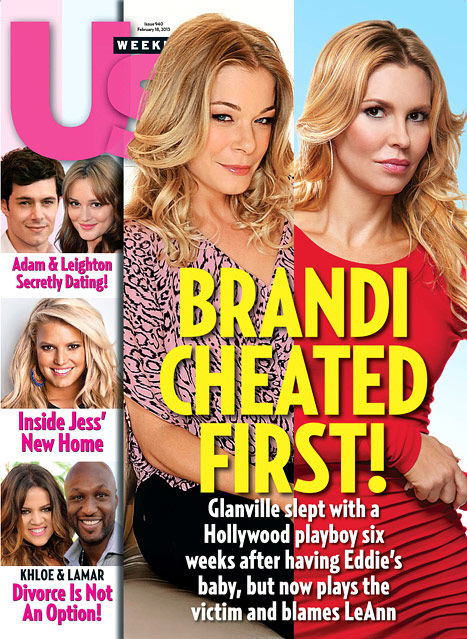 Epic! Us Weekly has a suspicious/hilarious cover story this week, all about how Brandi Glanville has secretly been the cheater all along! Yes, you see Eddie Cibrian had no choice but to bang LeAnn Rimes because Brandi had already cheated on him several times. Allegedly. Surely LeAnn Rimes can't be this obvious, right? What am I saying? Of course she is.
The plot thickens. As Us Weekly revealed nearly four years ago, both Eddie Cibrian and LeAnn Rimes cheated on their respective spouses when the Northern Lights costars embarked on an infamous romance in 2009 — eventually leading to the end of both of their first marriages. But though Cibrian's then-wife Brandi Glanville — now a published memoirist and mainstay on Real Housewives of Beverly Hills — has long portrayed herself as the scorned woman, the truth is a lot more complicated than that.

Indeed, multiple sources exclusively confirm in the new issue of Us Weekly (out now) that Glanville, 40, cheated on Cibrian, 39, several times during their eight-year marriage. In one particularly shocking incident, Glanville had sex with another man in her bedroom just six weeks after the birth of son Jake, now 5.

"Brandi loves to play the victim," one source tells Us, "but she doesn't tell the whole story."

For all of the eye-opening details on Glanville's dalliances, her denials, how Cibrian and new wife Rimes, 30, recently discovered the news, a one-on-one with Cibrian's pre-Glanville girlfriend and much more, pick up the new Us Weekly, on stands Friday!
Brandi already took to Twitter to correct the record, tweeting: "Apparently I cheated on eddie a few times with some Hot guys!Wow!Grasping at straws 4 yrs later a week before book is out #WISHIHAD watev".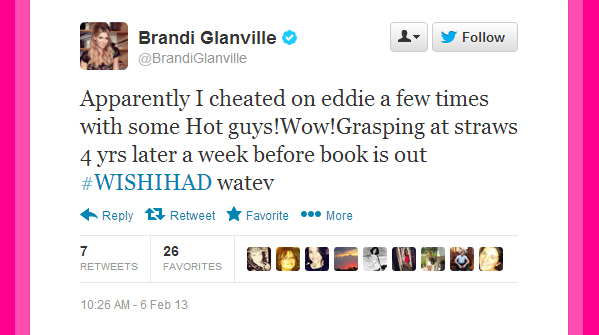 And I guess Us Weekly gave Brandi a major heads-up about their cover story too, because she's already given a major interview giving specific denials and saying that this mess is LeAnn's handy work. You can read the full piece here at NYDN, and here are some highlights:
Brandi does have a conscience: "I feel bad about some of the things I have to say. I do have a conscience… Then it's like, f— it, let's put it in the book. We did take some things out for legal reasons, though."

On Eddie fooling around with LeAnn: "Couldn't it at least have been Cindy Crawford?" she muses. "If that were the case, I might have asked to join the party. But no, it was a has-been country-music singer."

The Twitter war with LeAnn: "She had my family," Glanville says flatly. "Even grandmothers hate her for tweeting those pictures."

Eddie's father drove her (in a car!) to her vajayjay rejuv: "It was just so wrong, in so many ways. I wasn't in a 100% right frame of mind. But I needed to do a master cleanse, in a big way… Besides, even if no one talks about it, it's the new boob job. Everyone's going in to tighten up."

The drama with Adrienne Maloof: "I was just excited to be on the cover [of Us Weekly]. I'm thrilled. It doesn't matter what it says — I have never been on the cover before. That's great. It's going to help me sell books."

The current Us Weekly cover story: Us has Glanville back in its latest issue, with an anonymous claim that she cheated on Cibrian first and has bedded 31-year-old hottie restaurateur Harry Morton (recently linked to another cougar, Demi Moore.) Glanville denied both reports and says its just Rimes stirring the pot. Recently, Rimes was seen in tears at lunch. The speculation was that she was undone in the face of the coming publication of Glanville's book, out next Tuesday.

On LeAnn & Eddie's marriage: "The truth is, this book is not going to help. But I have to do what I have to do." And that includes a lengthy depiction of the torrid sex she had with Cibrian after he became involved with Rimes. But it's not past lovers, or ex-wives, that Rimes should be worried about, according to Glanville. "I don't want them to break up. My best revenge is him having to be with her forever. But I don't think that one woman will ever be enough for Eddie. Also, in their relationship, she's the celebrity. He has taken a back seat for now, but that's only going to last a while. He sees what she's doing to their reputation. He's not stupid."

She'll never remarry: "I'm 100% going to take care of myself from now on. I don't need to be with someone rich. That's not a prerequisite. I've even dated someone who has a roommate. But I would love to share my life with someone. I just don't want to put it on paper again."

What's next: "Maybe a talk show? An advice show? Although I'm not sure that I'm the best person to give advice," she laughs. "I'm still trying to figure out what is next, but I do know that everything good is going to happen for me."
"My best revenge is him having to be with her forever." So eloquent. So damaging. So hardcore. And so true. That will be Brandi's best revenge… until the marriage falls apart, and then it will just be another spectacular tabloid frenzy. As my mom always says, "You know he's f—ing everything with two legs and a pulse."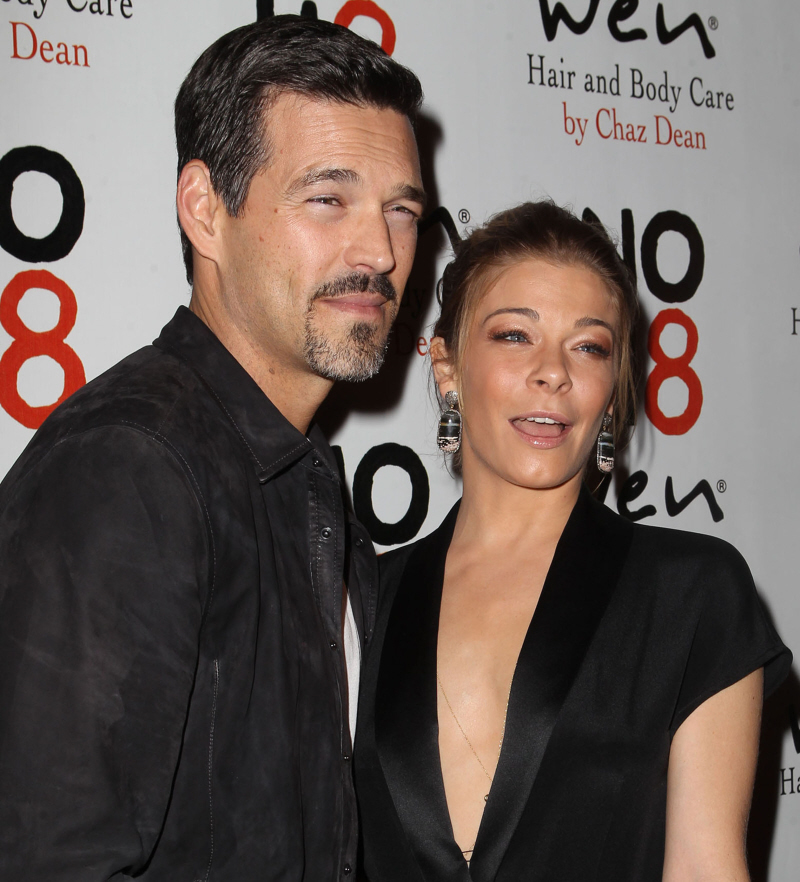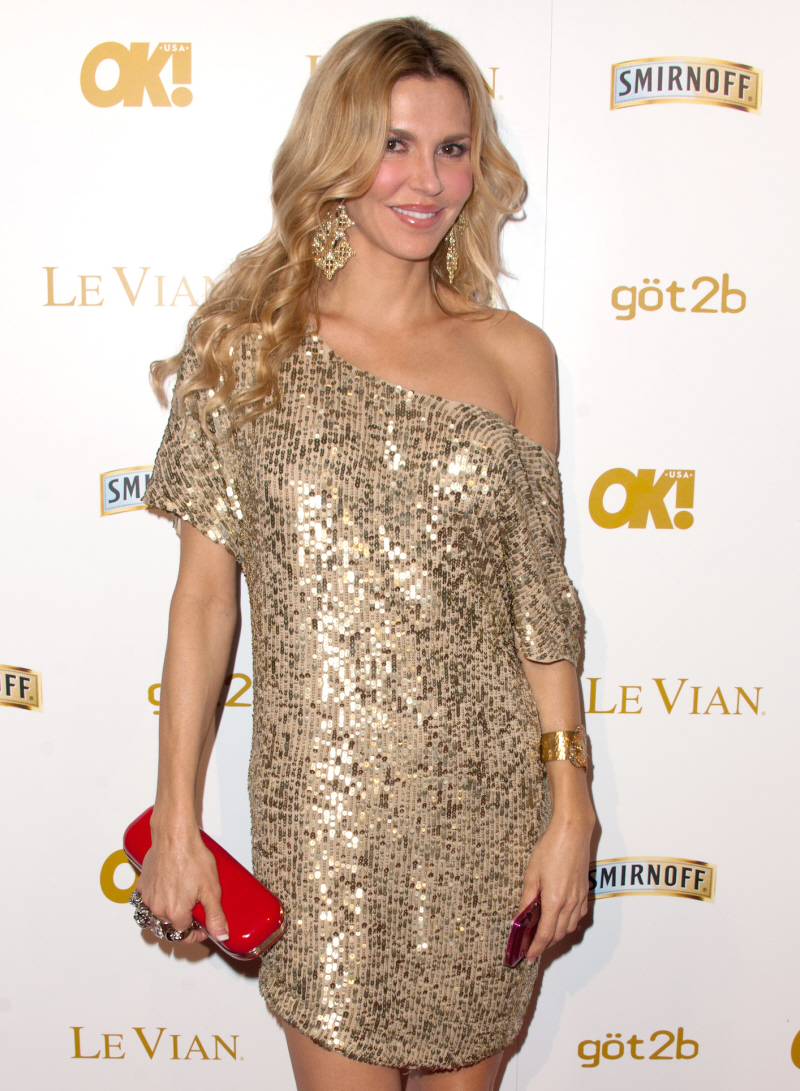 Photos courtesy of WENN.