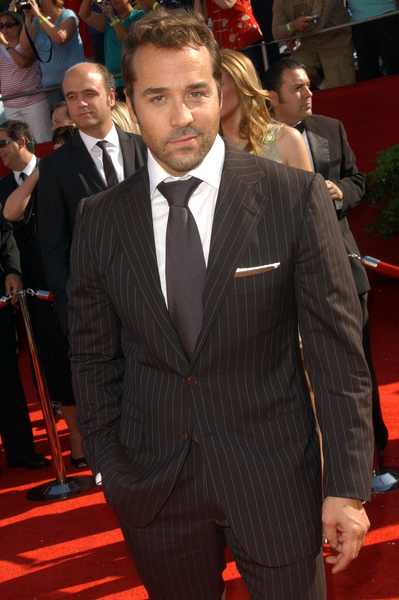 Jeremy Piven – who is now the world's most famous thermometer thanks to writer David Mamet – got thoroughly bashed by his "Speed the Plow" cast mates. He clearly wasn't popular with Raul Esparza and Elizabeth Moss, and they're obviously either not buying or don't care about his reason for leaving the play. Piven has extreme mercury toxicity, according to his doctor.
Actor Jeremy Piven apparently wasn't so popular with his Broadway cast mates in the revival of David Mamet's "Speed the Plow."

After yesterday's matinee, the remaining actors — Raul Esparza and Elizabeth Moss — bashed Piven to their audience after their curtain call.

Piven left the show last week, claiming he had mercury poisoning. He'd been playing opposite Esparza and Moss in the three character play for just a couple of months.

Sources say that when the matinee was finished yesterday, Esparza suddenly addressed the audience. (Actor Jordan Lage, Piven's understudy, played the role of Bobby Gould.)

According to those who saw this, Esparza — famous for being outspoken — reamed Piven while Moss, my sources say, "sobbed."

"'He said, I'm sure you've read the headlines about the silliness in our show.' Then he said, 'Today was the first time I really enjoyed playing this show. I hope you weren't expecting a big TV star.' It was pretty emotional."
[From Fox News]
I'm assuming this supposed reaming involved more than what Fox quoted above. I don't really consider that "reaming" by any measure. Nor is it "pretty emotional." Though I'm confused about why Elizabeth Moss was crying over the whole ordeal. Perhaps just general frustration. No matter what, Esparza's comments clearly were not said with any sympathy towards Jeremy Piven.
A lot of websites and articles seem to think his excuse is bull. And the guy does have the reputation of being a complete jerk, which I think is why people are reticent about believing him. But you'd think if Piven wanted to leave the show and was just looking for an excuse, he would have come up with something more common and easily accepted than what is now being labeled as Sushigate.
His role will be filled by Oscar nominee William H. Macy, who Fox notes has "performed the David Mamet play in the past, [and will be] taking over for the duration of the run."
Here's Jeremy Piven at the Primetime Emmy Awards on 9/21/08. Credit: PRPhotos