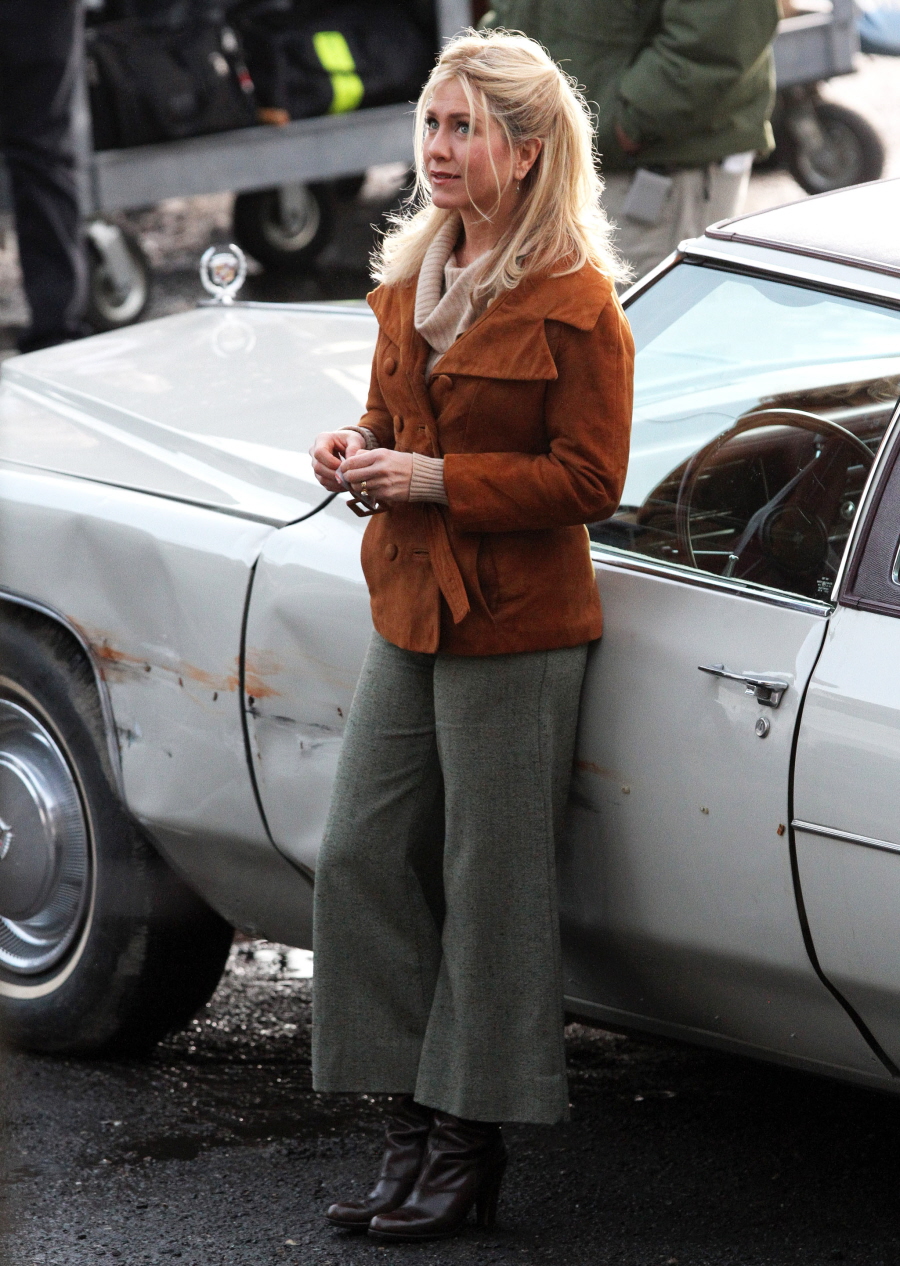 Here are some new photos of Jennifer AnistOMG is she wearing gauchos?! Good lord. Is the power of the Aniston strong enough to bring back gauchos?! Just watch… I bet you $10 that everyone will be wearing gauchos in a month. Wait for it. Anyway, yes, Jennifer was in Stamford, Connecticut yesterday, filming outdoors. She's doing that Elmore Leonard film adaptation, the movie that basically sounds like a remake of Ruthless People (for those of us who adore the divine Bette Midler).
And yes, Jennifer IS wearing a wig. Every legit media outlet getting "tips" from Jennifer's publicist has included details about how she's wearing a wig. From a distance, it's a decent wig. Sometimes movie-wiglets look like dead cats. This one looks somewhat natural, although I don't think the shade of blonde really suits Jennifer. I always want her to go for darker hair though. Darker hair would make her look younger, I think, while the blonder she goes, the more she looks like a rough-and-tumble Real Housewife. Maybe that's the right "look" for the character though.
In other Jennifer news, she's signing on to another ensemble comedy, this one called She's Funny That Way. Here's more:
What is it about Berlin and Jennifer Aniston? This is the third project being sold here at the EFM that involves the actress (the other two are Convention and an untitled Elmore Leonard project that's currently shooting.) Red Granite International is handling international sales on She's Funny That Way which also stars Owen Wilson, Jason Schwartzman, Cybil Shepherd, Eugene Levy, Kathryn Hahn and Brie Larson. Peter Bogdanovich is directing from a screenplay he wrote with Louise Stratten. Wes Anderson and Noah Baumbach are producing.

The film centers on a married Broadway director (Wilson) who falls for a prostitute-turned-actress and works to help her advance her career. Aniston will play a therapist whose mother is in rehab for alcoholism. Principal photography is set to start in June in New York City. Aniston is repped by CAA and Brillstein Entertainment Partners.
My heart stopped for a second when I read the line "falls for a prostitute-turned-actress and works to help her advance her career." Because I thought THAT was the role going to Jennifer. Thank God she's not playing a hooker/actress. Maybe that will be Brie Larson's role? Or maybe they'll just get Lindsay Lohan.
PS… She's going to bring back fuzzy berets too!!!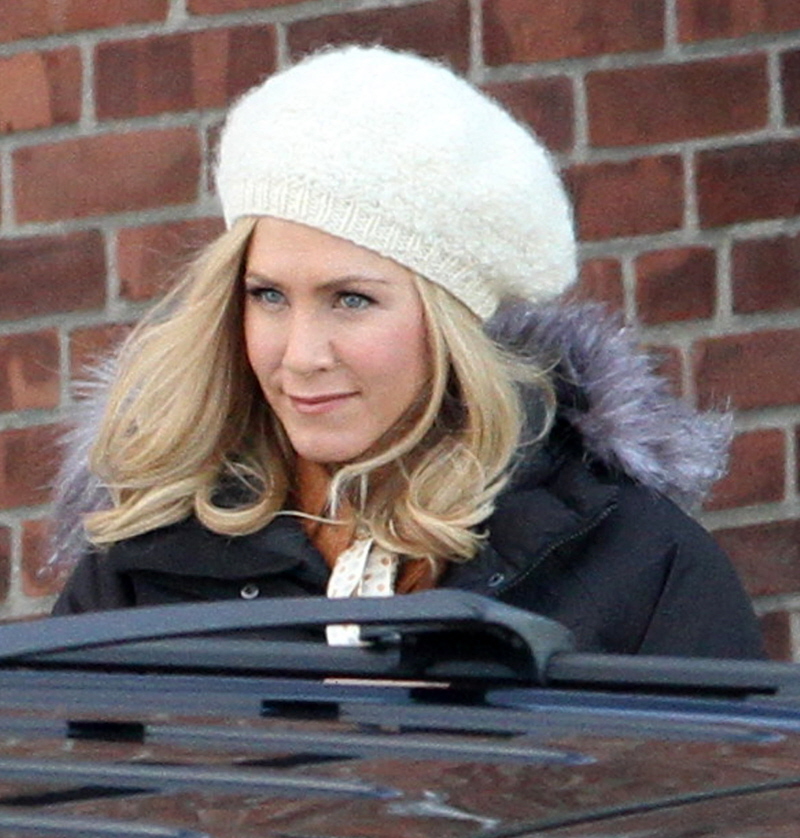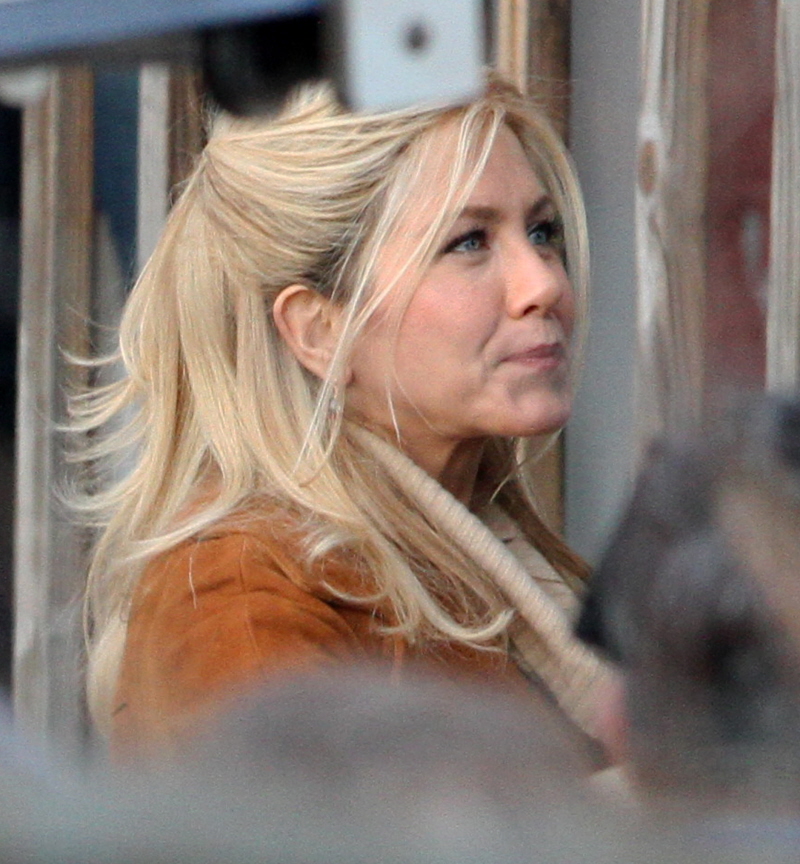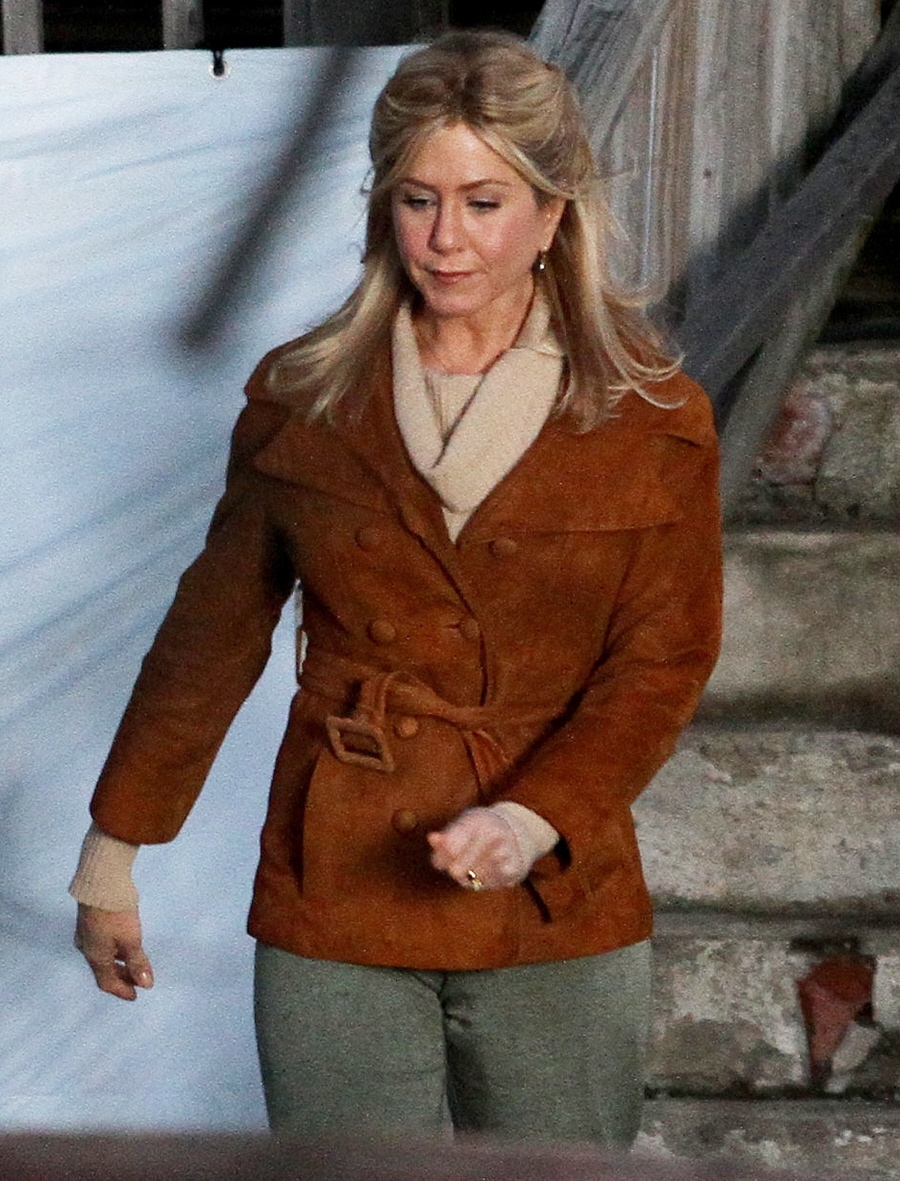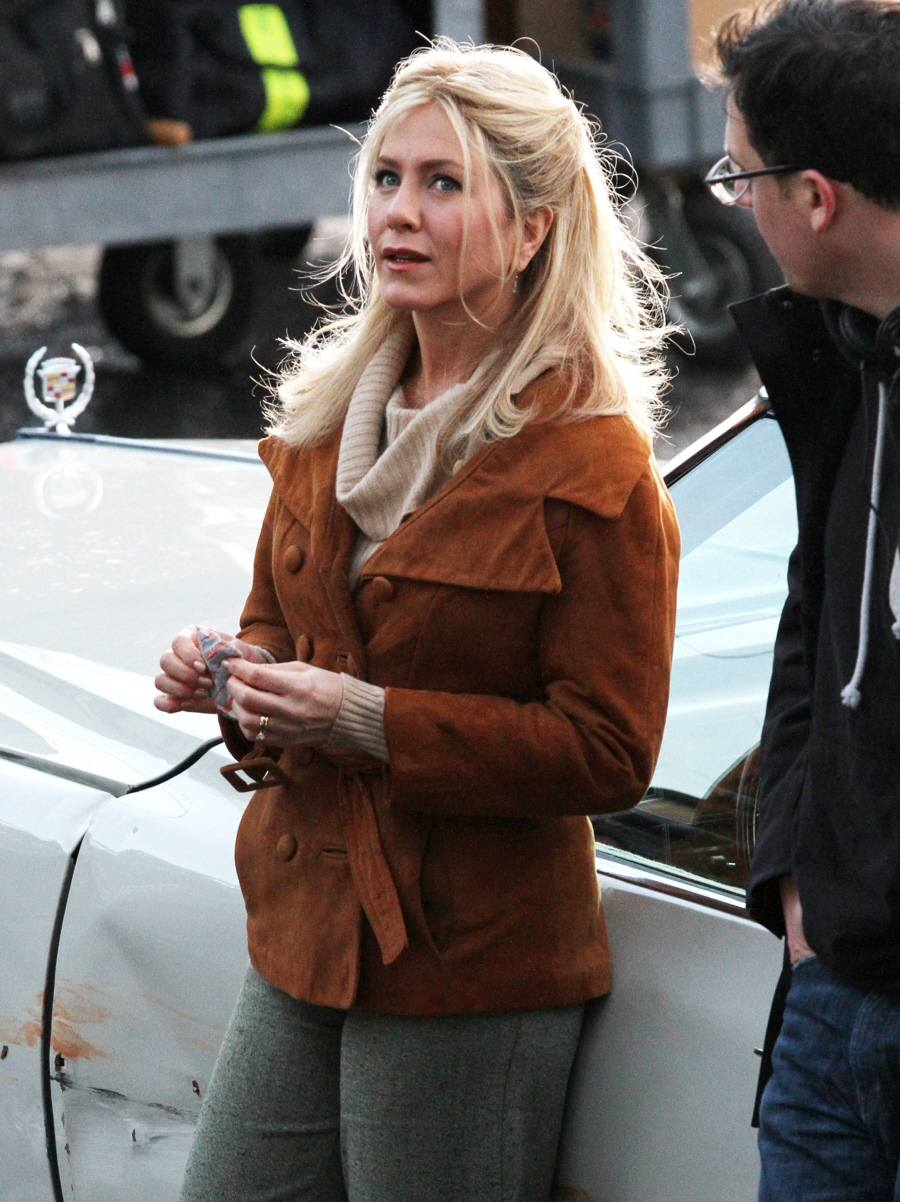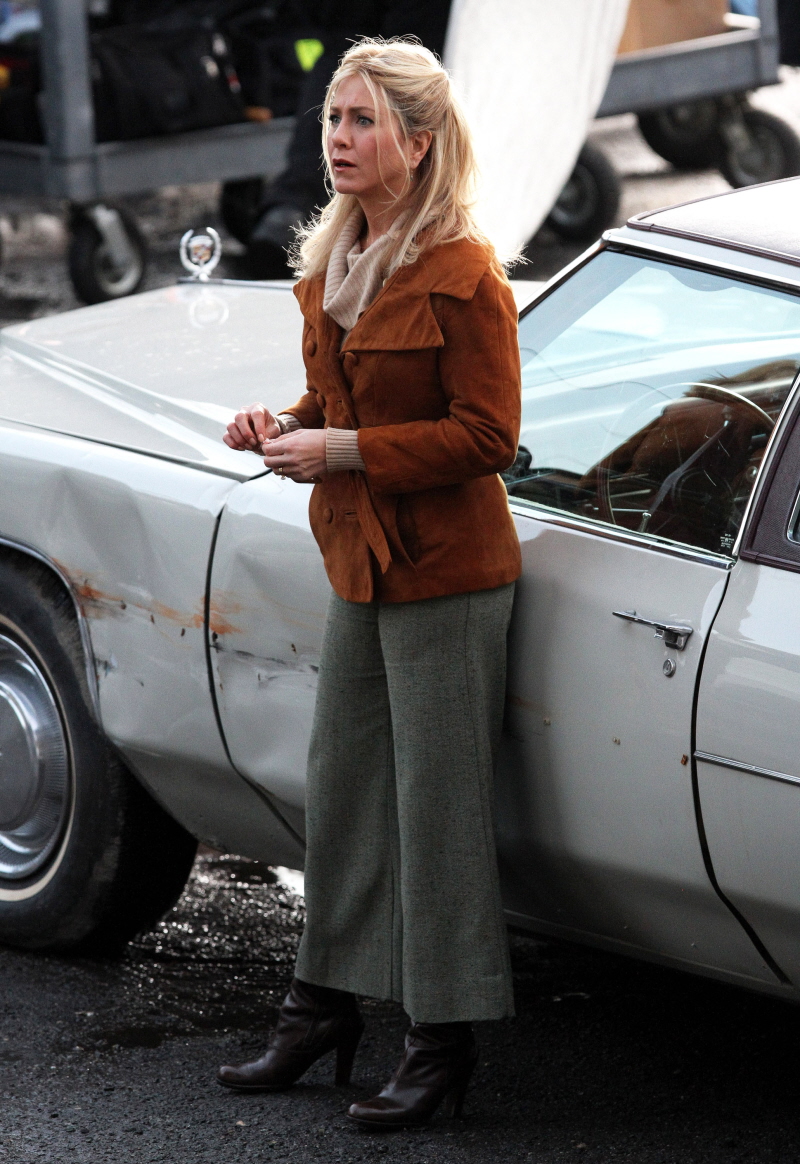 Photos courtesy of Fame/Flynet.