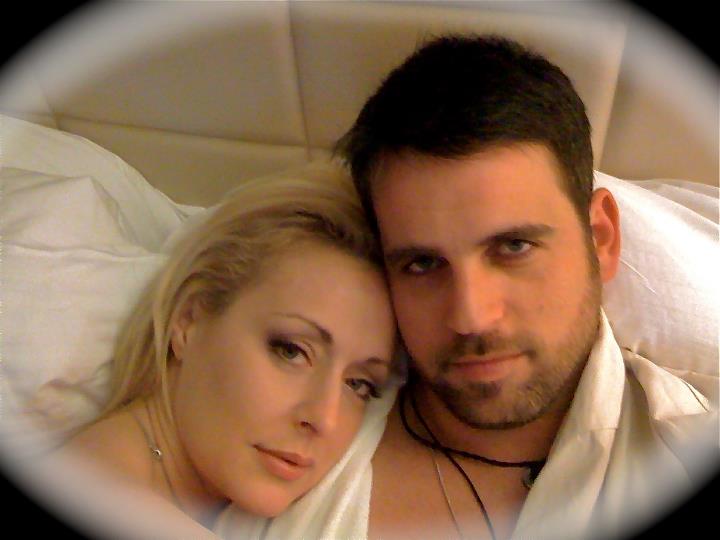 There are so many follow-ups to country singer Mindy McCready's tragic suicide on Sunday that it's hard to know where to start. Many outlets are focusing on the story that Mindy was currently under investigation for the death of her fiance, David Wilson, who died of an apparent suicide by firearm about a month prior, on the same porch where Mindy killed herself. Mindy was not officially declared a suspect, although police had not ruled out murder. Some of Mindy's statements were contradictory after the fact.
Mindy denied any involvement in David's death
In an interview with the Today Show following David's death, Mindy cried and appeared very distraught, and she denied any involvement in Wilson's death. The truth expert at Eyes For Lies watched Mindy's interview and wrote that "I see oblique eyebrows and true sadness, but I am pinged by one element. And while that element is not enough for me to say anything conclusive, it is begging me to look at more." In the interview, Mindy denied that David was cheating on her, and when asked if she was the one who killed him she said "Oh my God, No. He was my life." She didn't say she was certain he committed suicide, though, admitting "I don't know," when asked if that was the case.
Mindy was working on a suicide prevention video
Just prior to her suicide, Mindy was working on recording a suicide prevention video with one of her friends, a private investigator named Danno Hanks. Danno told E! Online that Mindy was most likely reaching out to him to send a message that she was considering suicide herself, and that he bitterly regrets not seeing the signs. He said "She said she wanted to put together this video to help people deal when someone had suffered a suicide in their life and God, she was literally having me write her suicide note. If I had known, I would have made sure someone was there with her all the time."
A friend recorded Mindy discussing David's death
Danno also shared with E! a recording he made of his last phone conversation with Mindy, in which she described David's last moments. Mindy is audibly crying during the call as she talks about begging David not to die and missing his last two hours in the hospital because the police had taken her away to administer a ballistic test for gunshot residue. She was also incredibly upset to have lost custody of her children to foster care on February 6, calling it "the cruelest, most awful situation I've ever seen. I just can't even imagine it." The call was very difficult to listen to.
Mindy's ex says her suicide wasn't a surprise
Mindy's ex boyfriend and the father of her 6 year-old son, Zander, has spoken to the press about her death. Billy McKnight said Mindy's suicide didn't come as a surprise to him because he was "around her when she attempted suicide twice, so I knew it was in her." He also said that he would like to care for his son and for Mindy's other son, 10 month old Zayne. He said "Zander shouldn't have been taken from me to begin with. He was taken out of Florida, and he has a happy home here. I can provide for him, and it's just been a really big mess and enough is enough. He's up there all alone. He has no family in Arkansas. He has plenty of family who love him here. He needs to come home.
Mindy's ex wants custody of his son
"I would like to keep those boys being brothers together and try to turn my son's life around. He's had a rough first six years, and he deserves better than this, and my heart's broken for him right now. I'm very worried." Thank goodness Zander's dad is willing to step up. I'm hoping he's genuine about it and that he's able to be a decent parent. It's hard to tell.
Mindy was the fifth Celebrity Rehab contestant to die
Mindy was the fifth former Celebrity Rehab contestant to die tragically. Many are placing the blame squarely on Dr. Drew and the ineffectiveness of his program, including singer Richard Marx who compared Dr. Drew to Kevorkian and then apologized. In his apology, Marx tweeted "I went too far with the Kevorkian crack. It is, however, my opinion that what Dr. D does is exploitation and his TV track record is not good."
Dr. Drew responds
Dr. Drew's response was to point to addiction as a disease that went untreated with Mindy. He said "I'm certain she's not the last [to lose their life to the disease.] If somebody has a deadly disease that requires chronic treatment… [and] are not, everyday, involved in that treatment, their life is in danger today."
At least the guy could have acknowledged that Mindy required more follow-up. After five deaths you would think that Celebrity Rehab would recognize that their participants need ongoing care. I understand that they're not responsible for keeping addicts sober, and the show's participants are very hard cases. These are people who come into it with deep, longstanding addiction issues that are not going to be resolved in a few weeks. When someone who attempted suicide at least four times is successful, it's not her old rehab's fault. That doesn't mean that the rehab was decent, though, or that even the best rehab could have prevented a tragedy.