Heidi Montag and Spencer Pratt have gone overseas after squandering all their cash and goodwill stateside. The two earned second place on UK's Big Brother last month, and are trying to parlay that into some sort of career over in England. I doubt it will last for them there, either. They're too dimwitted to learn German, but they should probably consider it as their next career move. I'm sorry, British readers, that you have to deal with these people in the media now, but we're well rid of them.
Anyway, as part of a British "documentary" on them they recorded a video showing off their extensive gun collection, in which Spencer refers repeatedly to how "amazing" it is to own guns in America, and how it's not allowed in Britain. These two own semi-automatic rifles, sniper rifles, and enough guns to take down a small city. British officials are outraged at this stupid video, which must be thrilling to these two, because they finally got people to give a sh*t about them in some capacity:
Montag and Spencer showed off their arsenal of guns during a portion of their new documentary for the U.K.'s Channel 5, titled "Speidi: Scandal, Secrets & Surgery!"

The couple known as Speidi flaunted a collection of more than six firearms — including an FBI sniper rifle, a Benelli semi-automatic shotgun and a rapid engagement precision rifle — while filming the special inside their Santa Barbara, Calif., beach house, according to The Sun.

"I want to share something with you that I know, unfortunately, you cannot possess in your amazing country," Pratt tells Channel 5. "So, I will let you have a glimpse at the amazing laws of America."

The reality star's wife then goes on to take out her favorite rifle and discuss how much she loves guns and shooting.

"This is one of my favorite activities," Montag says. "It gives me a new sense of self every time I do. It makes me feel proud to be an American." She adds, "I'd like to say something about guns as well. I think it is one of the greatest rights to be an American. I personally didn't feel safe especially with crazed fans out there and stalkers. If somebody broke into our home, I think this is the only thing that would actually save my life."

The two "Celebrity Big Brother" contestants, who have been described as "the most reviled" in the show's history, reportedly received death threats because of their behavior on the series.

Montag and Pratt's comments about guns were met with backlash. Peter Squires, professor of criminology and public policy at Brighton University, expressed his outrage to the Daily Star.

"With the recent shooting deaths of model Reeva Steenkamp and country singer Mindy McCready, the dangers of keeping guns at home are all too obvious," he said via the Daily Star. "The suggestion by Speidi is crass attention-seeking behavior. Let's face it, neither of them were near the front of the queue when brains, decorum or thinking skills were being handed out."
Oh burn, I love that quote! They weren't at the front of the "queue" when brains were handed out! Incidentally, Spencer was arrested for felony firearms protection for trying to bring handguns in his luggage back from a trip to Costa Rica.
Kaiser and I both live in Virginia (not together!) where guns are popular and prevalent. Neither of us have a problem with responsible gun ownership, but that's not what we're talking about here, is it? These are famewhores bragging about their over-the-top arsenal to make headlines, and it's working. Here you have two idiots who went broke on over a million bucks. They set the cause back considerably with this nonsense.
Also, I was only in England for a couple of weeks with a friend after college but I was really surprised with their police force, who don't carry guns for the most part. One night outside the bars I saw a diminutive female cop/bobby getting up in the face of a huge belligerent dude and arguing with him! It struck me that you rarely see that in the states, the cops walk in, take command and will slap on the cuffs if anyone gives them crap. That's not to say one society is better than the other, or even that the gun issue can explain why the cops are different, just that the cultural differences in their police force surprised me. I guess I just don't want to think too hard about Heidi and Spencer owning closets full of weapons while there are well trained law enforcement officers in other countries who don't even use them.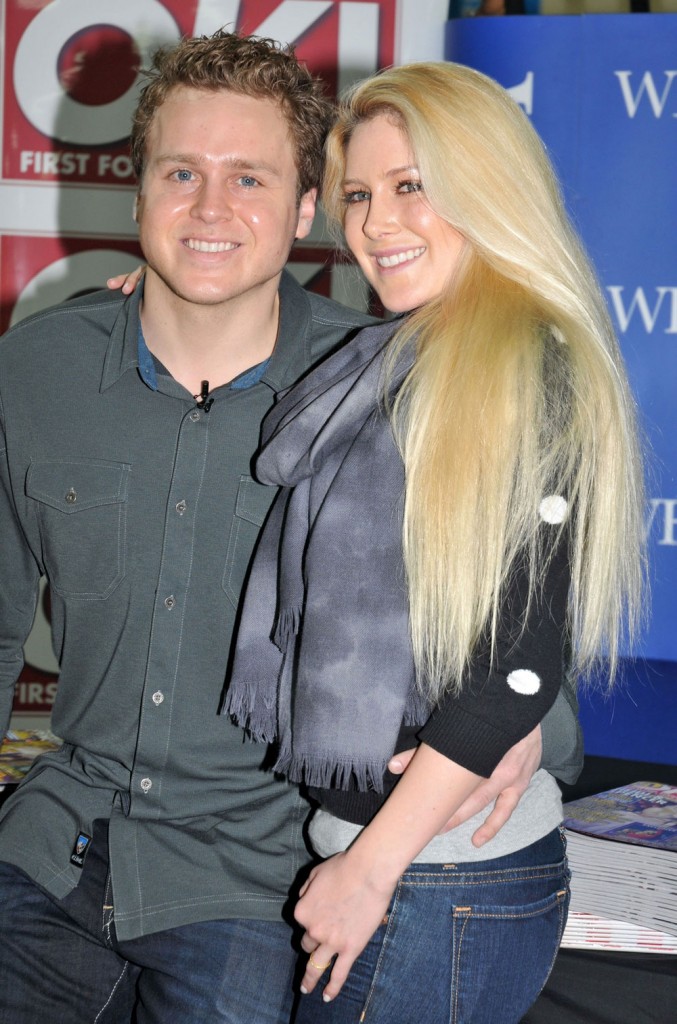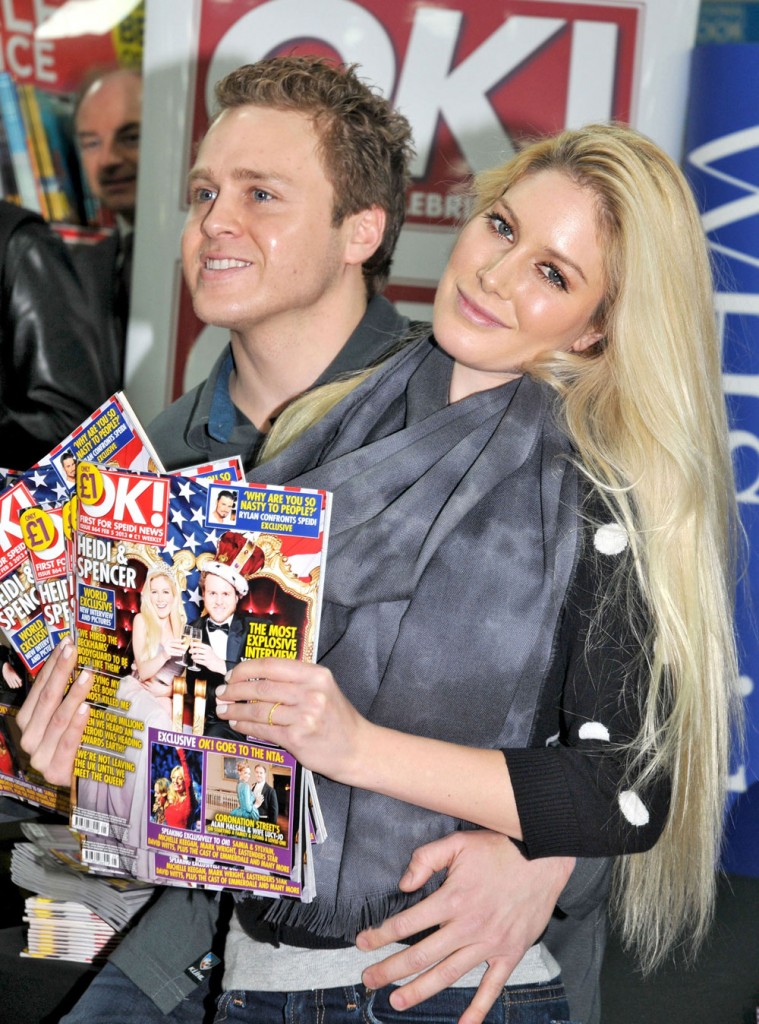 Heidi and Spencer are shown on 2-2-13 in London. Credit: FameFlynet UK