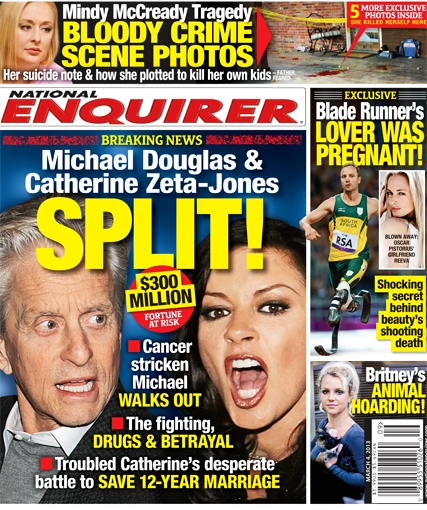 This week's upcoming National Enquirer has a typical attention-getting cover featuring Catherine Zeta-Jones and Micheal Douglas' alleged split after 12 years of marriage. In terms of the Enquirer's veracity, well I put less stake in their cover stories as they need to move copies. They have an older readership who would be interested if these two broke up, is what I'm saying. That's not to say it's not true, just that they may be making mountains out of regular relationship issue molehills. Or maybe The Enquirer is jumping to conclusions based on Catherine and Michael's separate public appearances lately. Not that there have been too many of them. In a preview on The Daily Mail, The Enquirer points to the fact that CZJ and Michael haven't been attending each other's events. Maybe they're just trading off time with the kids. Here's more:
Michael Douglas and Catherine Zeta-Jones have denied reports that their marriage has been under strain.

The celebrity couple, who have been married for 12 years, were reported by the National Enquirer to have recently been in the midst of a 'hush hush trial separation.'

However a representative told MailOnline that 'the story is completely false.'

Indeed, the couple have been looking more in love than ever lately, appearing together on the New York red carpet for Catherine's latest film Side Effects and at New York Fashion Week.

The Enquirer alleges that the marriage 'buckled under the pressure of dealing with Michael's cancer battle, his son Cameron's incarceration on drugs charges and Catherine's struggle with bipolar II disorder.'

The publication even claims that 68-year-old Michael 'moved out' of the home he shared with the 43-year-old actress and children Dylan, 12, and nine-year-old Carys, moving into a nearby rental property.

'Michael said something to the effect that he and Catherine were taking a "time out", and he was looking forward to having an entire house as his personal man cave,' a source said…

According to the Enquirer, cracks began to publicly appear when Catherine was a 'no show' at a special screening of her father-in-law Kirk Douglas's film Spartacus last year.

'Michael made some lame excuse, but when she skipped the family dinner, it was obvious that something was not right,' a source said. 'I think he felt completely betrayed that Catherine didn't show up.'

However, representatives for the star insist that Catherine was in attendance at the dinner.

The Enquirer reports that the Welsh actress is 'determined' to save the marriage for the sake of the children.

'It's because of Dylan and Carys that Michael and Catherine aren't giving up on each other,' the source said.'But only time will tell if they can make things work over the long haul.'

The report comes after Michael gave a recent interview to People saying his wife is 'more beautiful than ever.'

And he said he supports the 43-year-old Welsh star with everything because she is 'simply the best'.

He told People magazine: 'Catherine and I are doing well. She is more beautiful than ever inside and out. I support her with everything and she is simply the best.'
The thing that rings falsest to me is that the Enquirer is claiming Catherine didn't attend that family dinner with the venerable Kirk Douglas while the rep is like "uh, she was there." So their case seems to be based on some flimsy, and incorrect evidence. We'll see, but I just can't imagine these two breaking up.
I have heard that Michael isn't planning on attending the Oscars, where Catherine is singing as part of some tribute to musical films. (She was in Chicago, I think that's it for her musicals.) The dude is a 68 year-old cancer survivor. My dad is a couple years younger than that and he's in great health but he wouldn't want to sit through the Oscars, either. It's probably a royal pain in the ass for some celebrities to get dressed up, show up, sit through the long ceremony, act interested, make small talk and then be expected to go to parties afterwards. I don't blame Michael for skipping and I don't think it necessarily speaks to any problems in his marriage. I don't want these two to break up, though! I really like them together.
Thanks to A for the tip!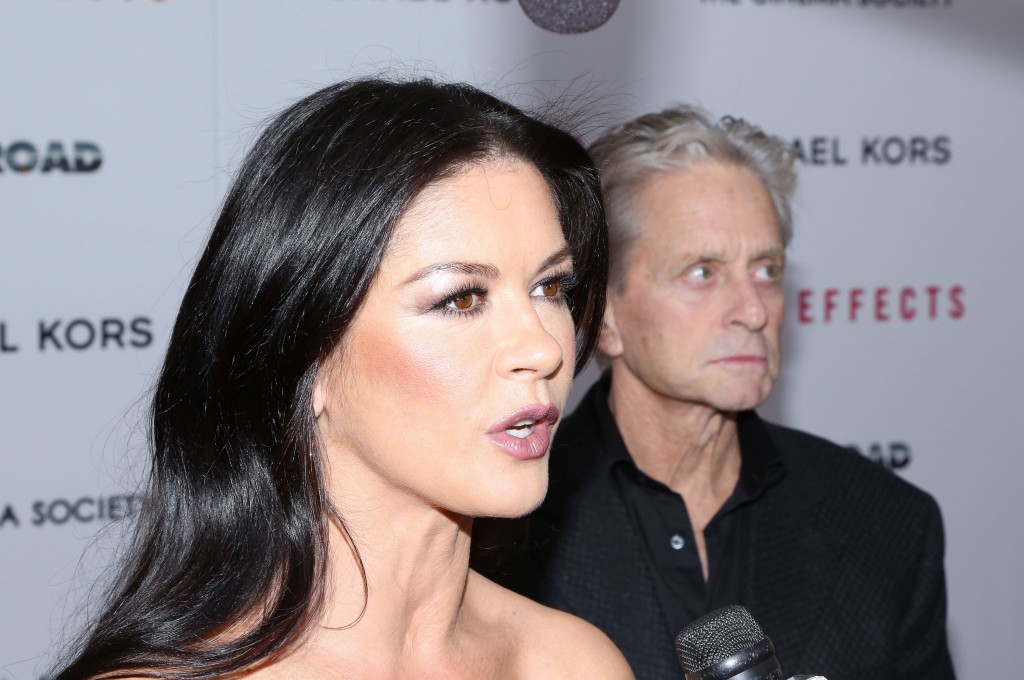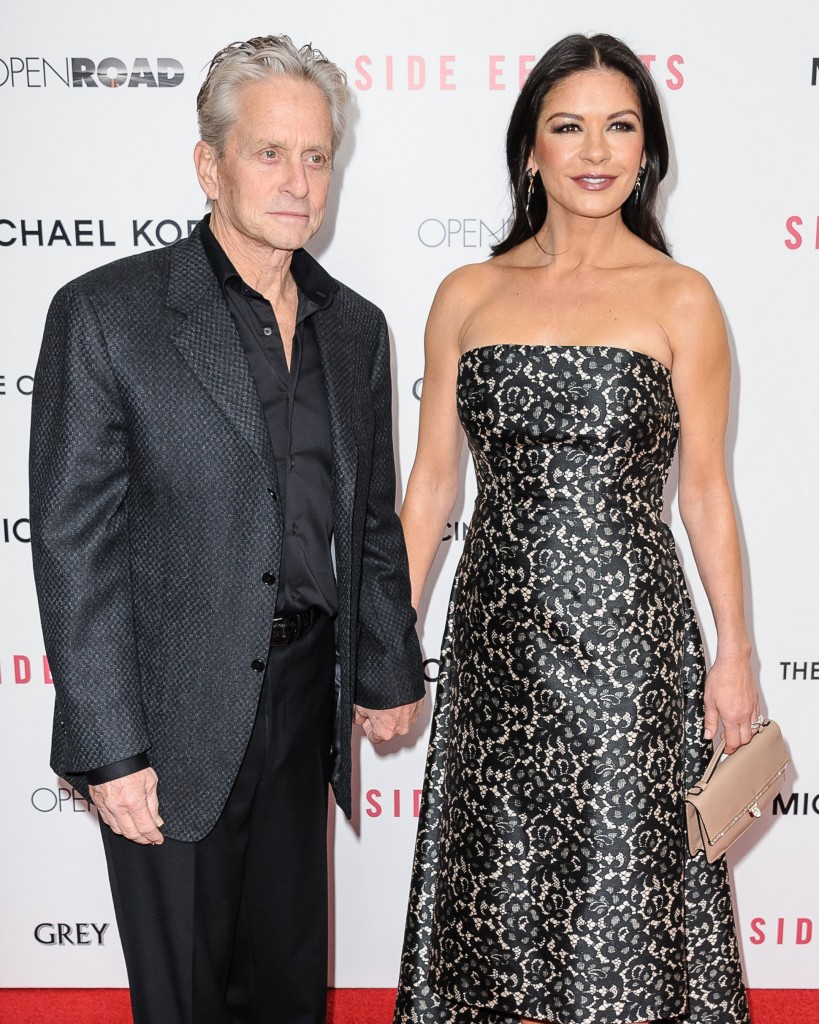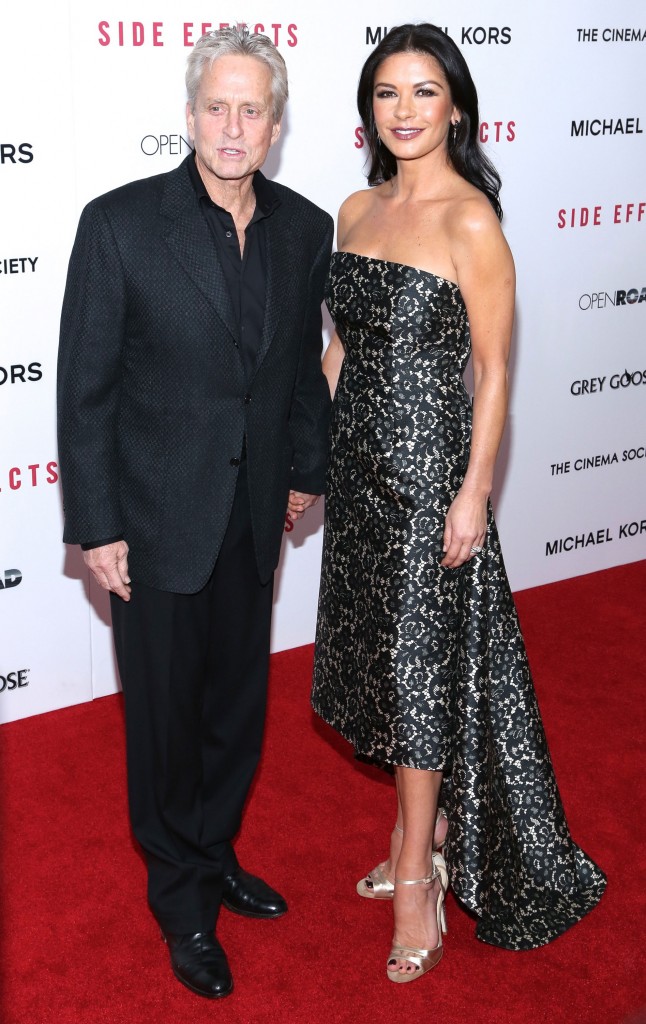 Photos are from 1-31-13, credit: WENN and FameFlynet