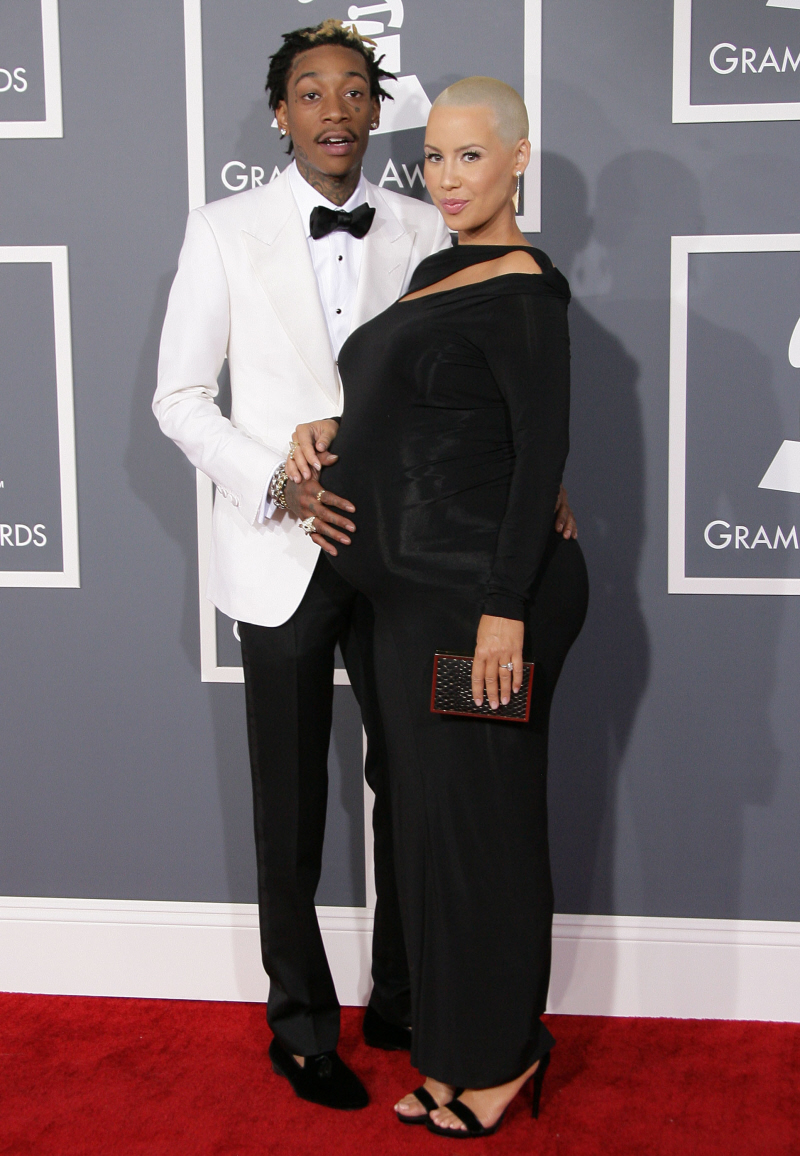 Amber Rose has looked ready to pop for the past six weeks, so I'm glad she finally gave birth! She gave birth on Thursday (yesterday) to a baby boy, and Wiz has already tweeted out the name of his son: Sebastian "The Bash" Taylor Thomaz. "Thomaz" is actually Wiz's real last name, did you know that? I had to look it up. His birth name is Cameron Jibril Thomaz and Wiz Khalifa is just his stage name. The more you know!! While I actually LOVE the name Sebastian (no joke), the "Taylor Thomaz" part seems… boy bandy. It actually reminds me of Jonathan Taylor Thomas, that child-star-turned-Teen-Beat cover boy from Home Improvement. Still, the kid will probably go by The Bash Thomaz. LOL.
Wiz Khalifa isn't the only one in first class anymore. On Thursday (February 21), the Taylor Gang captain became a proud papa after his fiancée Amber Rose gave birth to their baby boy, Sebastian Thomaz.

"Happy Birthday Sebastian "The Bash" Taylor Thomaz!!!" Wiz tweeted on Thursday. "Everyone welcome this perfect young man into the world.

The countdown for baby Wizbud began Tuesday afternoon when Khalifa hit Instagram with a picture of a fetal monitor and the caption: "Coming soon…" Then earlier on Thursday, Wiz posted a picture of himself in scrubs to Instagram with the caption "Daddy Time."

Rose has been getting ready for the blessed event since last week. "Hey Rosebuds & Rosestuds Muva won't be back on twitter until Wizbud is born I need 2 mediate & focus on our Lil boy Luv u talk soon," she tweeted on Valentine's Day.

The couple announced Amber's pregnancy on the red carpet at the 2012 MTV Video Music Awards on September 6 and have been sharing updates with fans and the media every step of the way. In the October/November issue of XXL magazine, Rose pledged to have an all-natural birth. "I'm so ready. I'm going all-natural. I've decided that I'm going to have an all-natural water birth. No medicine. I want those bragging rights," Amber told the mag. "The next time Wiz has a stomachache or anything, I'll say, 'I popped out a baby all-natural.' "

Khalifa seems ready to be a daddy: During Rose's pregnancy, the weed advocate even curtailed his marijuana habits. "I smoke outside instead of inside. Everything is all about smells, man. If the smell irritates her, then it gotta go," he told MTV News last year.

In January, the couple shared pics of Amber's baby shower on Instagram. The couple decided on a baby name long ago, but only teased it during a radio interview last month. "It's a total boss name for a boy," Rose said.
Congrats to the happy family! I'm really pleased that everybody is happy and healthy and everything turned out okay. This is the first child for both of them, correct? Wiz doesn't have any other babies, right? Just out of curiosity, I looked up Amber's real name too – it's Amber Levonchuck!!!!!!!!!!!!!!!!!! I LOVE IT. This baby's name should seriously be The Bash Levonchuck-Thomaz. That's amazing. I do wonder if Amber gave birth at home, like she planned. And I wonder if Wiz "pulled it out" like he planned.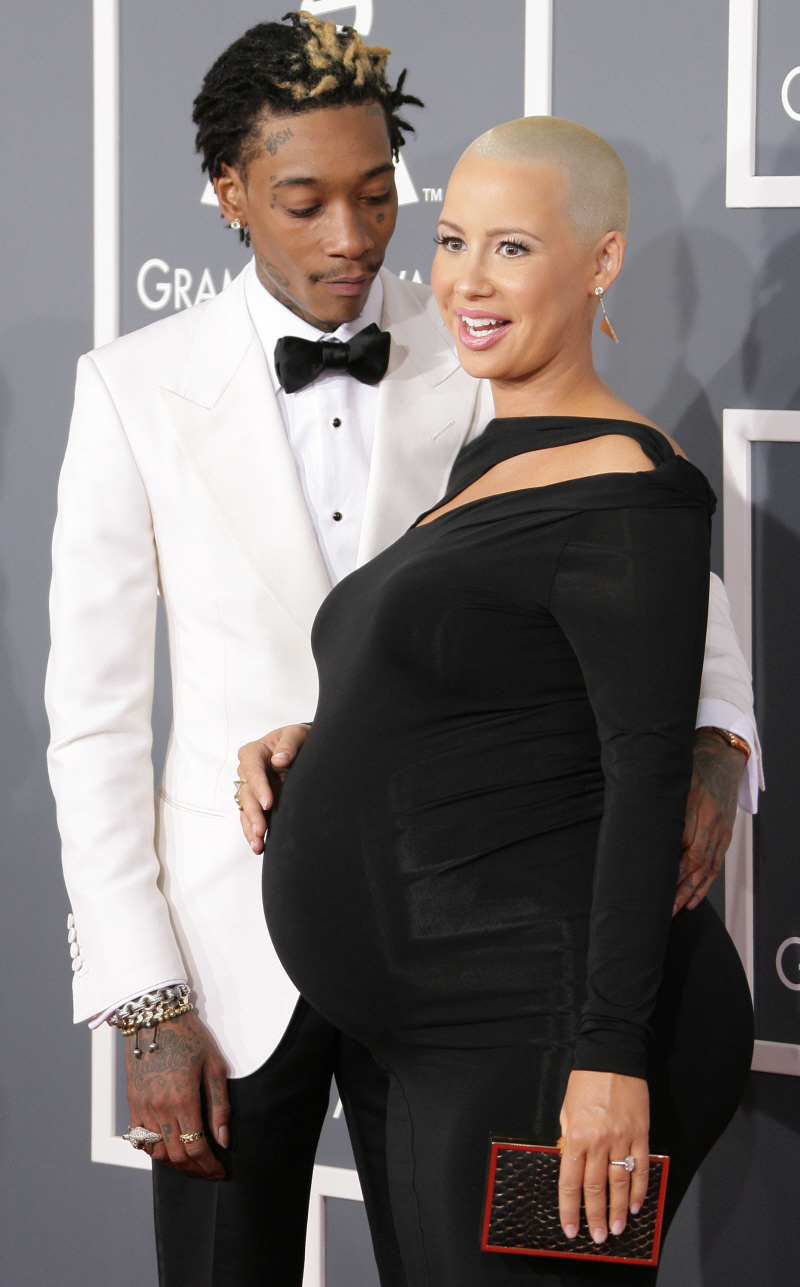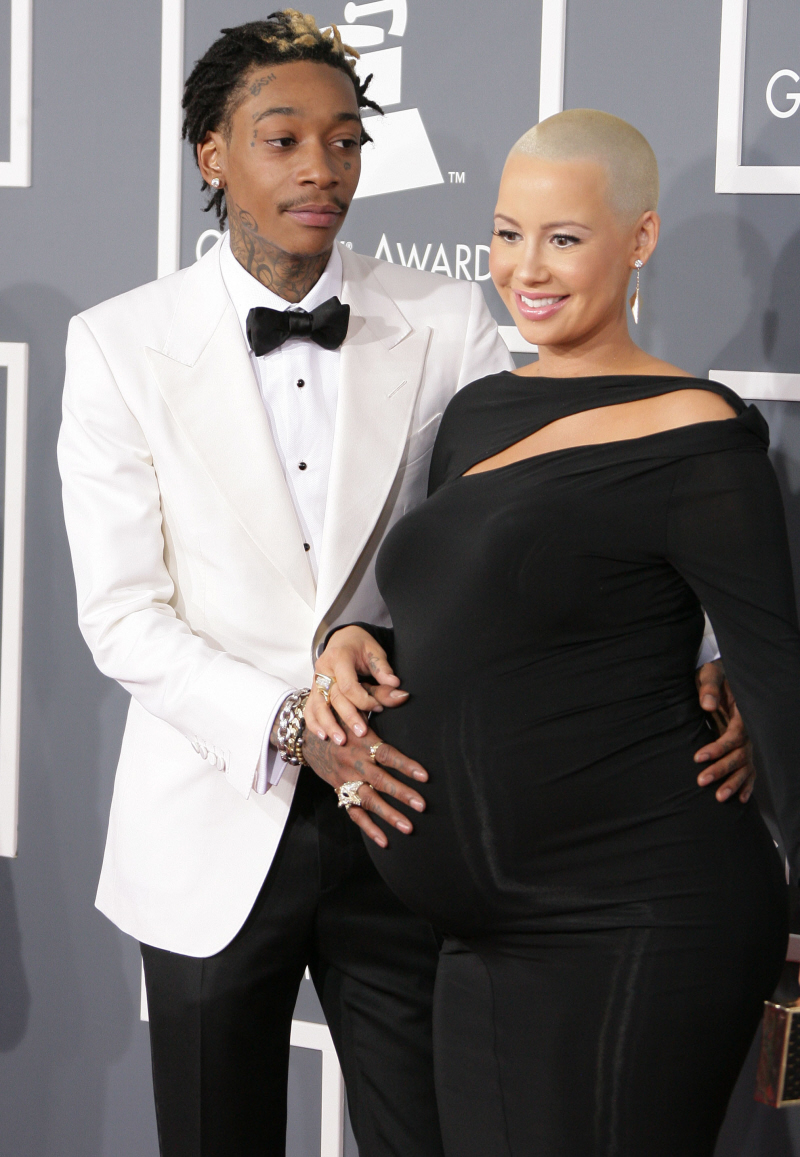 Photos courtesy of WENN.