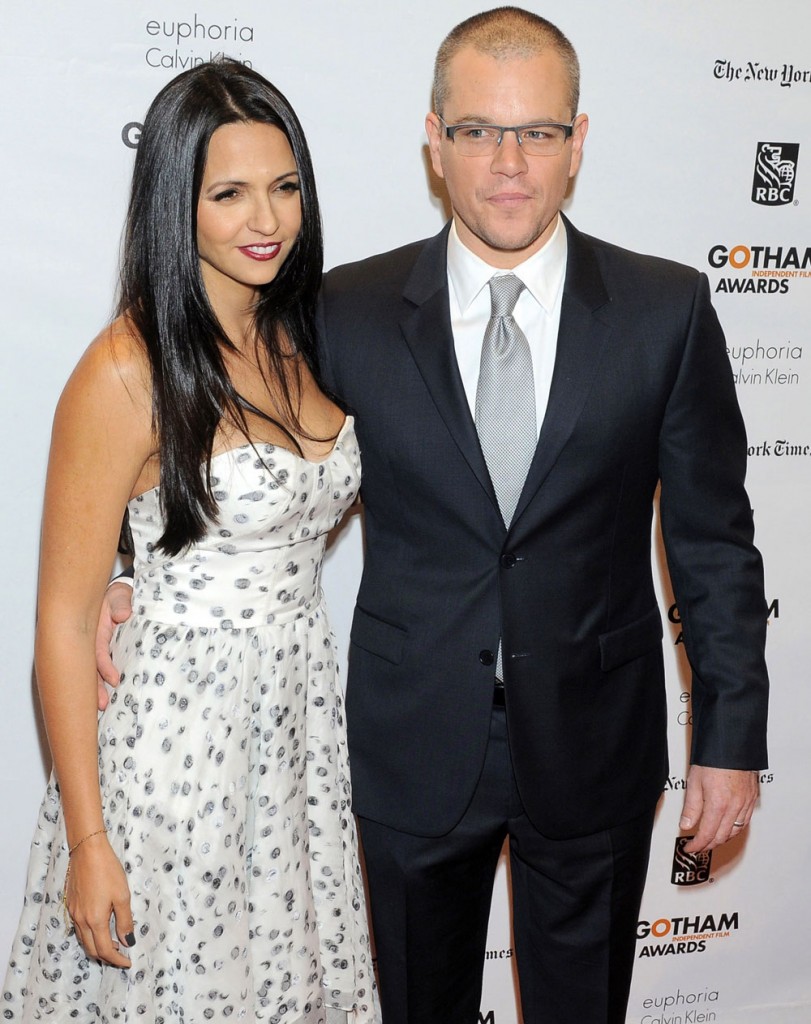 Whenever I hear about a celebrity couple planning some kind of destination vow renewal I cringe a little and wonder when they're going to break up. You can blame Heidi Klum and Seal, who staged an elaborate party and/or vacation every year of their ill-fated, overly demonstrative marriage. (Did you know that was actually Heidi's second marriage? I just found that out on Wiki, I had no idea.) So that's why I'm not super psyched to hear that one of my favorite couples, Matt Damon and his wife Luciana, are planning a destination party/vow renewal type thing this summer (over seven years since they were married) and are sending their friends "save the date" cards. It may just be a nice way for them to have a vacation with their friends and celebrate their marriage. The NY Post goes to great lengths to explain why they're doing it – they got married in relative secret when Luciana was pregnant with their first child together and they never really had a chance to celebrate. (Matt is also stepfather to her daughter from a previous marriage.) So that makes me feel a little better. Here's more:
Matt Damon and his wife, Luciana Barroso, are planning to celebrate their marriage in April with the destination wedding they never had, Page Six can exclusively reveal.

A-listers were buzzing in LA over Oscar weekend that the "Saving Private Ryan" star and his wife have sent out "save the date" cards to close family and friends for an April bash that's so top-secret, even the guests haven't been told the location yet.

"They had a really low-key wedding in Manhattan," a Hollywood source explained, adding, "so now they want to do something bigger."

Sources said that while details of the bash are being kept hush-hush, one rule for guests lucky enough to be invited will be "no kids" on the trip.

Damon and Barroso wed back in 2005 at city hall — where the only non-family guest was Mayor Bloomberg, Damon has said.

The wedding was so private, it even reportedly caught some of Damon's closest friends, including Ben Affleck, by surprise. So now, sources say, the couple will have the chance to celebrate with their nearest and dearest.

At the time, busy Damon didn't have time for a honeymoon: He went straight back to the set of the movie he was working on — Robert De Niro's "The Good Shepherd" — and brought Barroso with him to film in London. "I guess we'll have our honeymoon there," he was reported as saying.

Devoted family man Damon and his wife have four daughters, including one from Barroso's previous marriage, who was also at his city hall ceremony.

Reps for the actor did not respond to a request for comment.
Unlike his buddy Ben Affleck there, Damon never has an unkind or passive aggressive word to say about his wife. He consistently praises her, says they're in it as a team and she's indispensable, etc. so maybe all my worries are misguided. It's just that today we heard about two very sweet, solid-seeming couples breaking up. I love these two and hope they grow very old together. (Unless Matt is single at some point, in which case call me Matt!)
Also, I know these two are very private and we're not likely to get pictures, but I'd love to see some. It's sure to be a great party too.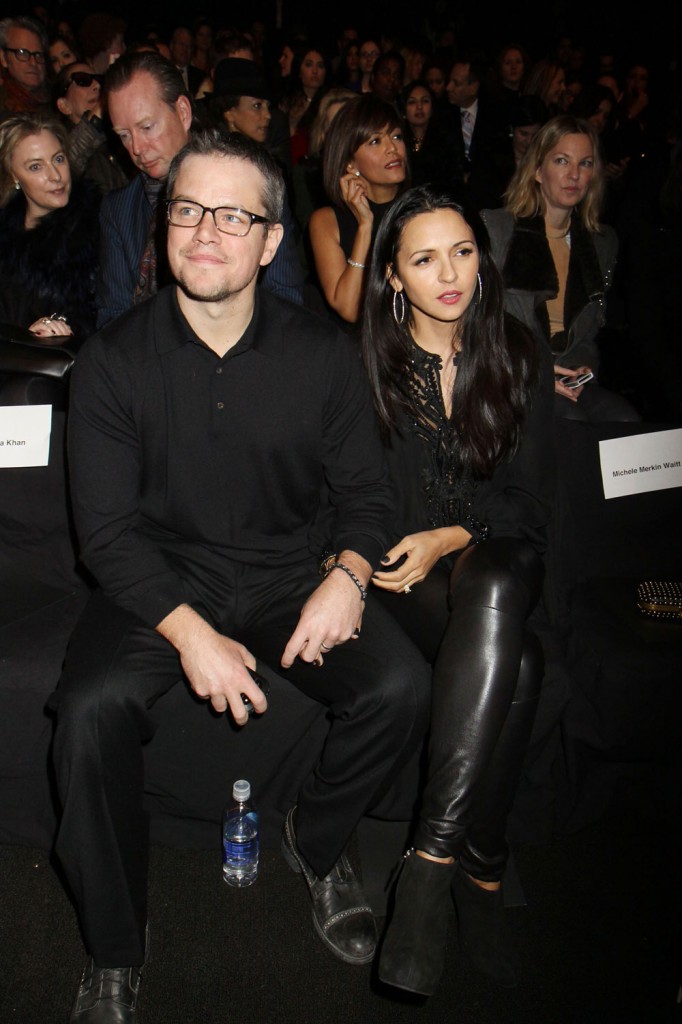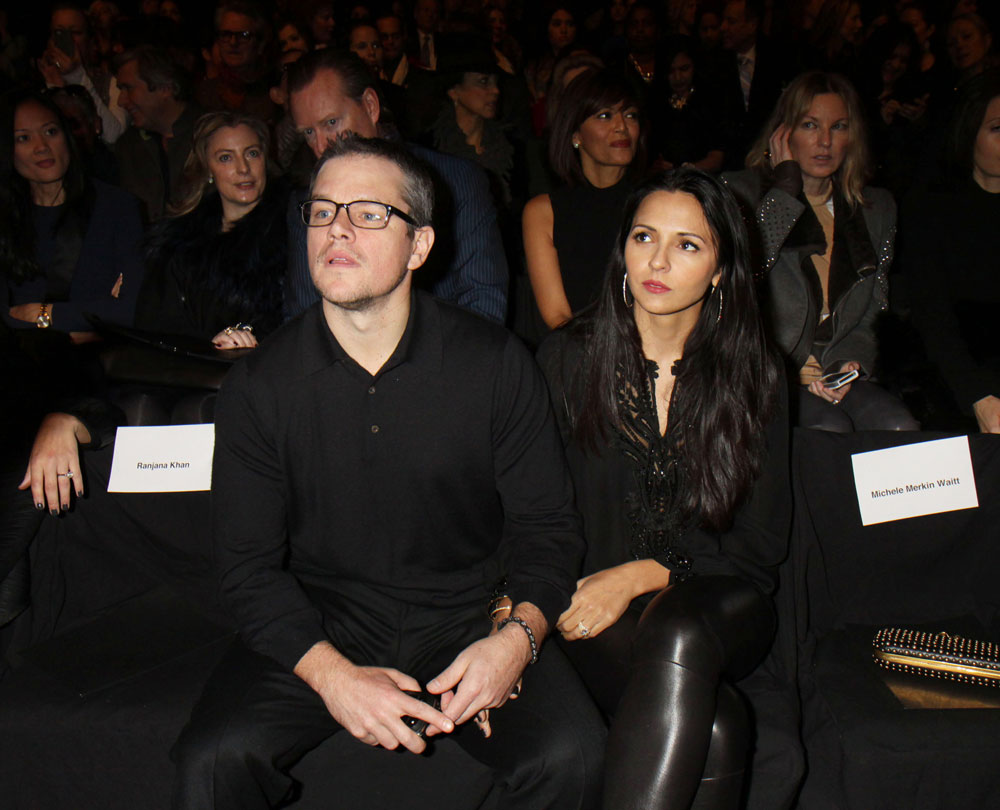 Matt and Luciana are shown at the Naeem Khan fashion show on 2-12-13. They know him personally and Matt describes him as a friend. They're also shown at the Gotham Awards on 11-26-12. Credit: WENN and Fame