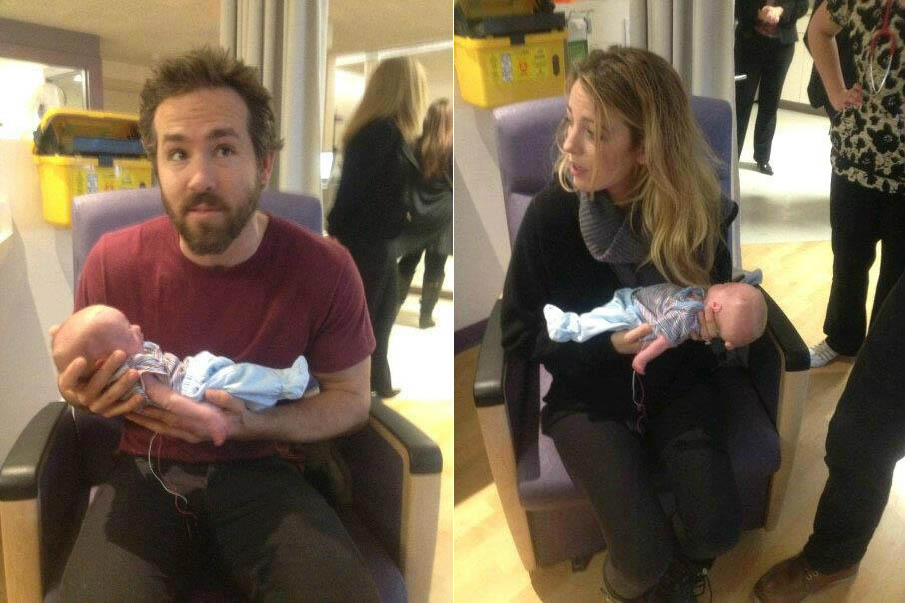 These are some supercute photos of Blake Lively and Ryan Reynolds visiting children and patients over the weekend at a hospital in Ryan's native Canada, Health Sciences North in Sudbury, Ontario. Ryan was in town filming Queen of The Night, with Rosario Dawson. I don't know the source of these images and it took me a long time to find them on a Facebook fan page for Blake (they're also watermarked on The Daily Mail) but that doesn't seem to be where they originated. (I had to use a reverse Google Image search. I credit "Catfish" for teaching me that trick, that show is fascinating.) It's possible someone tweeted these photos, but I couldn't locate them on the official Facebook or Twitter for the hospital.
Anyway Blake and Ryan have come out of hiding and they've done a nice thing! They visited this hospital and requested that there be no press or fanfare. Of course people took photos and posted them online, and Blake and Ryan happily posed for them. Geez this is giving me a warm and fuzzy feeling. Maybe it's just Ryan's hot beard though, damn he wears it well. Here's more, thanks to Northern Life: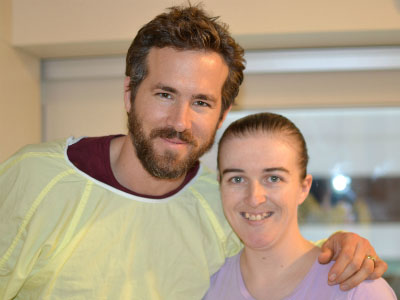 Sudbury resident Sarah Lavallee said she was nervous about meeting Hollywood stars Ryan Reynolds and Blake Lively at Health Sciences North.

Reynolds, who is married to Lively, paid a visit to Health Sciences North's pediatric unit this past weekend. Reynolds is in town filming Atom Egoyan's Queen of The Night.

"Ryan and Blake were both very kind to us. They introduced themselves right away and asked how my son was doing. He is only three months old, and wasn't really able to appreciate the visit like the older children, but it's something I can tell him about when he is older."

She said Reynolds and Lively chatted with them and asked Lavallee how she was doing being in the hospital 24 hours a day and when her little boy might be able to go home.

"Even though he had no idea who they were, my son did give them one big smile," she said. "It was nice to see since he wasn't smiling a lot at that point, and I really appreciated both Ryan and Blake giving me something to smile about at such a difficult time. It was a very unexpected visit, and I thought it was especially nice of them to take pictures of me with each of them before they left.

"I can tell you the visit was really appreciated by the kids, their parents, and the staff on the unit," hospital spokesperson Dan Lessard said in an email.

"Mr. Reynolds and Ms. Lively were wonderful with the children."

Lessard said Reynolds' publicity team "had requested that it be a private, low-key affair with no photos or media coverage," so the hospital honoured their request.
That was a nice thing for them to do! I'm thinking it was Blake's idea, and she planned it knowing that they would get accolades for it and that Ryan would hold babies and look all fatherly. It doesn't matter, it was still a very nice awareness-raising visit. So this begs the question, and you know people are asking it: when are Blake and Ryan going to have their own babies? You know she wants us to talk about it, she's clever like that. Also, I now believe her after she went on in that recent interview about how she leaves her hair wet and puts it in a bun to get soft waves, and that she barely wears any makeup. She looks gorgeous, I'm just saying.
Also, note that Blake and Ryan posed for a ton of photos but they didn't once pose together. (That top photo is just two separate pics side by side.) I wonder why that was.