Kate Winslet thinks having sex with 15-year-olds is not pedophilia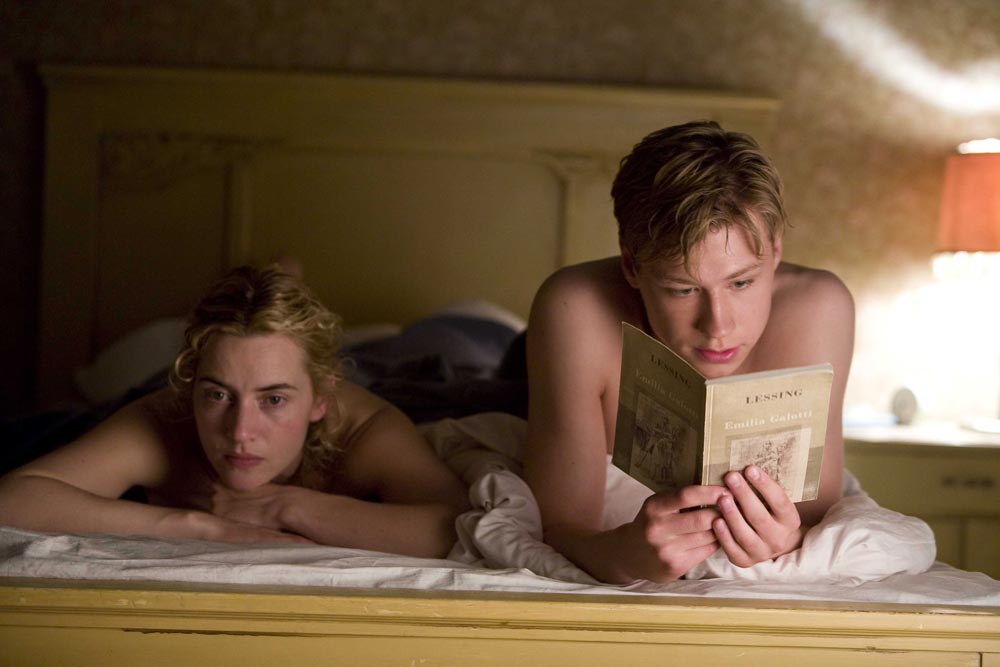 Kate Winslet and David Ross in a still from The Reader
Kate Winslet sat down for a lengthy interview with The Guardian a few weeks ago to promote her two new films, The Reader and Revolutionary Road. The parts about Revolutionary Road were a lot of the same quotes she's been giving over and over… but the part where she and The Guardian journalist get into the plot of The Reader and the main crux of the film's "love story", Winslet turns a little weird.
Does Winslet feel that she's a feminist? "I think I probably am, aren't I?" Her assistant hurriedly adds, "In a loose, unofficial kind of way," but Winslet continues to ponder. "I think I probably am. I mean, not in a bra-burning way. But I think I am a feminist, yeah."

I am relieved by the ease of this exchange, contrasting, as it does, with our shaky opening conversation about her other new film, The Reader. Directed by Stephen Daldry, with a screenplay by David Hare, this is an investigation of guilt and complicity in postwar Germany. It is based on the bestselling book by Bernhard Schlink, and begins in West Germany in 1958, with Winslet playing Hanna Schmitz, a 36-year-old woman who had served as a concentration camp guard, and who starts an intense sexual relationship with a 15-year-old boy.

I tell Winslet that I have read that she likes to sympathise with her characters. "When did you read that interview?" she says. "Which interview was that?"

I gulp, "Well, it was pretty recent – I don't know, there have been so many." She agrees. I start to ask whether she was able to find any way to empathise with Schmitz, given the character's Nazi past, and the fact that her life includes this relationship with this young boy, which, I suggest, by modern standards, would be considered paedophilia on some level. She recoils. "I think you should be careful with that word." She gives an unconvincing laugh.

"But do you know what I mean?" I say.

"No, actually, not with using that word, I don't."

Even given the fact that he's 15?

"No, I don't. Not to that extent, no, I have to say, I have to be very, very honest, you know, I think that it's a very dangerous word to use – that applies to pre-pubescents. Let's bear in mind that this boy turns 16 in the story, and that's legal marriage age. And Hanna is led to believe he is 17." (I didn't notice this in the film – it's possible I missed it.) "And the actor himself, David Kross, is 18, you know, he's an adult."

I agree and explain I am only talking about her character. She continues. "No, I never, to be honest with you, as a character, and as an actress – obviously the relationship is unconventional, because there is a big age gap between the two of them, and that was how I felt as a person, and I always very much viewed it as an unconventional relationship in that way, and very much as a love story." She talks a little more about Schmitz, and about the character's personal secrets, which provide the twists in the narrative, and then, unprompted, says: "You really have to remember that one of the greatest loves of my life, when I was younger, was 13 years older than me, and I was with him for five years, and then he died [I assume she is referring to the writer/actor, Stephen Tredre], and there were 19 years between my grandparents – so, I don't know, maybe I've just never thought age gaps were wildly important."
[From Guardian.co.uk]
So I actually went to my dictionary and looked up "pedophilia" (the Americanized version) and the definition is simply "sexual perversion in which children are the preferred sexual object". It doesn't give the ages of what's generally considered childhood, so I suppose we must look to legal and societal definitions. In my mind, fifteen is too young to be considered an adult legally or sexually.
Another point that goes unspoken is the reverse sexism of this specific issue. If this was a story about a thirty-something man engaging in a sexual relationship with a 15-year-old girl, we would be hearing a lot more – and by more, I mean condemnation and protests. But because the film is about an older woman seducing a young boy, it's somehow "art" beyond reproach? Is it somehow "feminism"?
I have always loved Kate Winslet as an actress and as a celebrity – she's insanely talented, interesting, eccentric, down-to-earth and funny. But I think she does a disservice to the under-aged victims of sexual assault and rape by playing these word games. I hope that as she promotes The Reader in the coming weeks, she clarifies this issue.
Photos are stills from The Reader, thanks to All Movie Photo.
Written by Kaiser

Posted in Kate Winslet

- Friends reunion on Ellen [Popsugar]
- Lindsey Vonn watches Tigers kids [Lainey Gossip]
- George Michael fell out of a car going 70mph [D-Listed]
- Real Housewives of Orange County recap [Reality Tea]
- New Man of Steel trailer [Pajiba]
- Jared Padalecki's hot bod [Buzzfeed]
- Doctors confirm Taylor Swift's new boobs [Evil Beet]
- Catherine Zeta-Jones finished treatment [CDAN]
- Anna Paquin hates the paps [Celebslam]
- Lance Armstrong is gross [The Blemish]
- What is Barbara Palvin wearing? [Moe Jackson]
- This is Petra Nemcova? [SVC]
39 Responses to "Kate Winslet thinks having sex with 15-year-olds is not pedophilia"