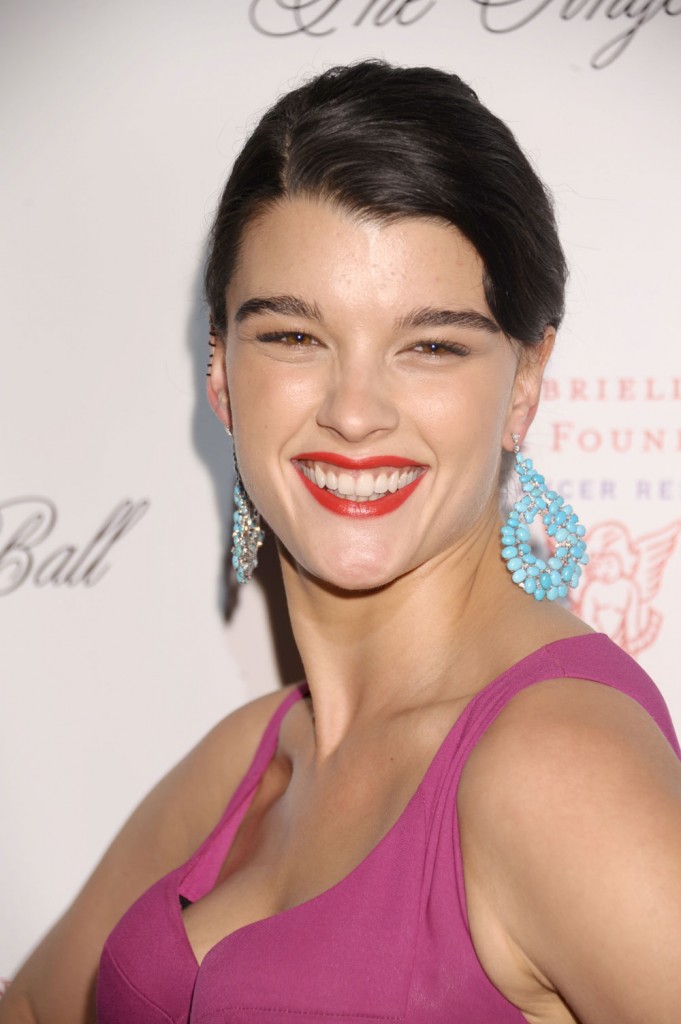 As preparation for this story I googled "how big are sample sizes in fashion" because I thought it was an impossible zero. It turns out that the size is about a two usually, which is also impossible from my perspective. I found this article at The Hollywood Reporter that explained, from a stylist's perspective, part of the reason why celebrity women are so freaking skinny. It's not just that there's so much pressure on them to look tiny on screen, although of course there's that, it's also that unless they're a big name and/or super small they may not be able to wear the latest designer dresses. It's sad, really. A unnamed stylist told THR "Fairly or unfairly, you have to look at your clients' figure and ask yourself if they can wear a sample size 2. If they can't, it's a big problem." The article went on to interview fashion designer David Meister, who often clothes Melissa McCarthy. He's made a name for himself by creating custom red carpet gowns with a fast turnaround time, while the more established designers can take weeks to dress anyone who isn't a size two. I can't believe I didn't know that, and it shouldn't shock me, but it does.
Well the models who once starved themselves down to size zero have something to say about that. In a recent panel to raise awareness of eating disorders, model Crystal Renn advocated that the sample sizes in fashion be changed to an 8, so that the clothes could more easily be tailored down or up depending on the wearer/model. That makes a lot of sense. You can't get more fabric out of a two, you know? An eight is more versatile. The models on the panel also talked about the extremes they went through to drop weight, with a model named Amy Lemons describing how her modeling agent told her to eat only one rice cake a day – when she was just 17 years old! Here's more:
Each of the models present shared compelling personal stories about their struggles with weight and body image in the modeling industry. Amy Lemons said that when her body started changing at 17, her agent recommended eating just one rice cake a day, and if that didn't work, cutting back to only half of one. Katherine Schuette, who also studied nutrition, stopped eating even though she knew the dangers. "I knew down to the chemistry what was happening to my body when I tried to get to that size [0]," she shared.

It was Crystal Renn, who has publicly shared her struggles with eating disorders in her book Hungry, who spoke most passionately about the subject. After being signed by a model scout who told her to lose ten inches from her waist and advised her to look to Vogue for standards of what she should look like, Renn entered into years of obsessive dieting and exercise to get down to a frightening 95 lbs. "What I found," Renn said of that time, "is that I felt nothing except hatred for myself."

And the problem isn't just with model agents; Ashley Mears says the problem lies much more in the editorial side of the industry. Chris Gay agreed, expressing frustration with industry standards set by designers and editors that he deemed ridiculous. "They're not standards a woman can keep through her life or her career," May said. "You're replacing good models with new models because of unrealistic standards…"

Renn's suggestion, which seems almost painfully obvious in its simplicity, is for designers to change the sample size to a size 8. She argues this could accommodate bodies between sizes 6 and 10, or tailored down to a size 0 if the designer wanted to hire a girl that thin. Renn posited that some designers feel pressured to keep their sample sizes small because that's what industry leaders are doing–she of course made an exception for close friend Zac Posen.

"There are some people who lead," Renn said of the designer's attempts to diversify his runway, "and Zac Posen is one of those people."
[From Fashionista via Radar Online]
I wasn't familiar with Zac Posen's thoughts on sample sizes, as Renn mentions here. I found that he was very recently part of a similar panel, with industry insiders and model Doutzen Kroes (love her!), which discussed the impossible standards in the fashion industry. He actually defended using super small sample sizes, saying they were "ideals that are so ingrained in our culture." He cited the "sensation" over Kate Moss's debut and said those ideals were "gonna be something… that people in fashion are going to be drawn to." So I disagree with Fashionista's editorial comments that Renn is making an exception for Posen. I think she's calling him out, particularly in light of his recent comments.
Crystal with Zac Posen.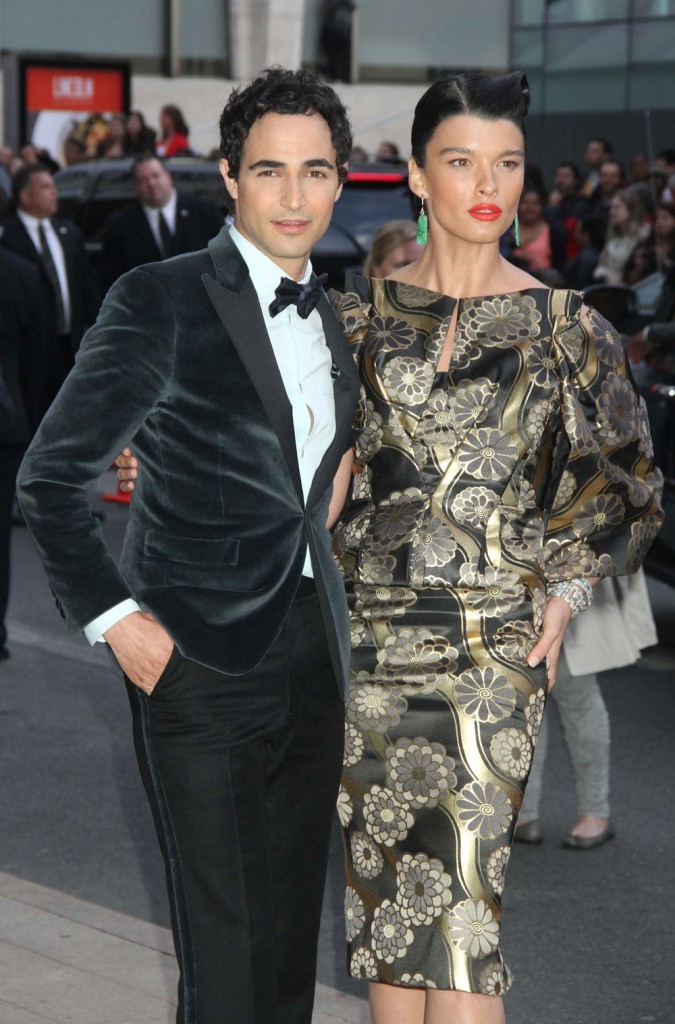 I love how "normal" she looks. She's also done some plus-sized modeling, and her figure and looks have varied over her career.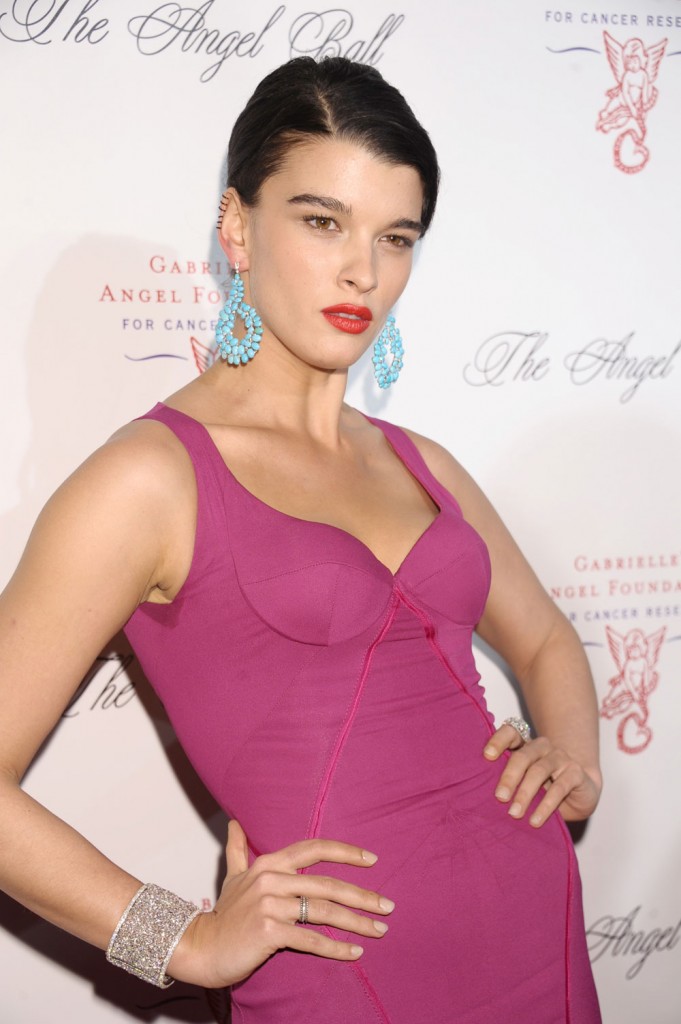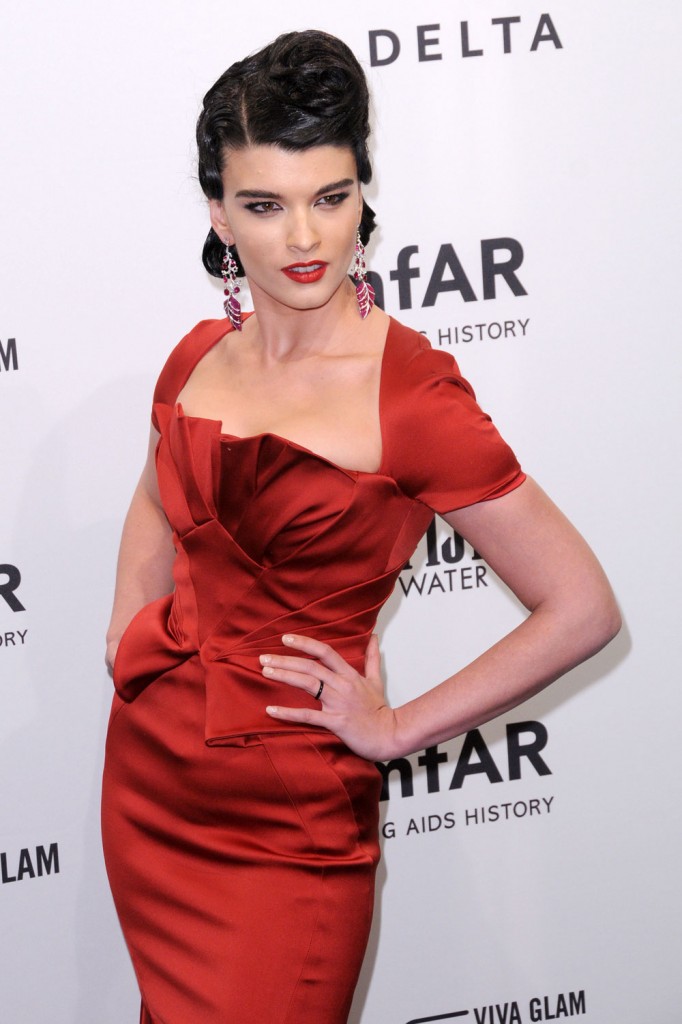 Crystal is shown with Zac Posen on 6-4-12. The photos with the pink dress are from 10-22. The photos in the red dress are from 2-7-13. Credit: WENN.com