James McAvoy rocks a big ginger beard in London: would you hit it?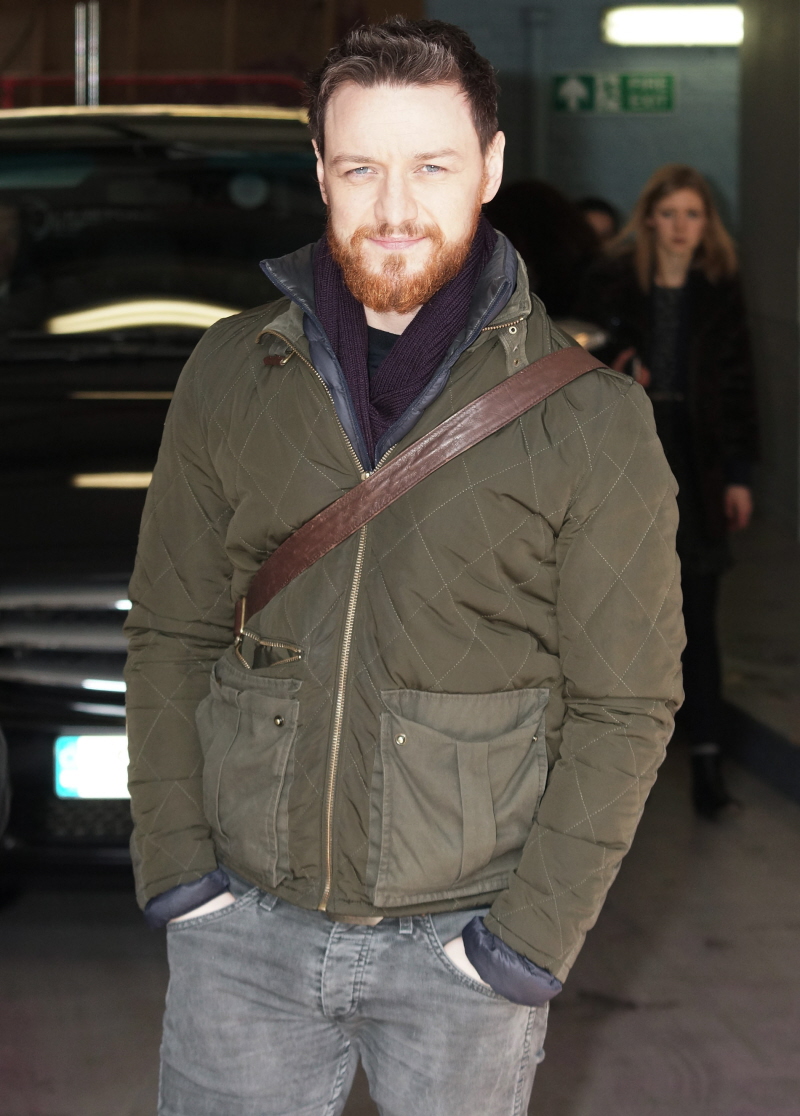 Whenever I'm thinking of my Forever Dongs, I usually don't list James McAvoy. I think it's a mix of things – mostly that he's married and he adores his wife, and while I admire and love him for that, it kills my attraction to him because I know he wouldn't be into it. I think that I also felt like I had to "choose" between James and Michael Fassbender in X-Men: First Class, and I chose my Irish ginger without looking back. But James really does deserve a seat at the Forever Dong table, doesn't he? These are some new photos of James at the ITV Studios in London. LOOK AT HIS BEARD. I love that James grows a full-on ginger beard. Sigh…
So, would you hit it? A better question: how many people would you trample to get to James MacAvoy? That Scottish accent, that ginger beard, that sexy smile, those blue eyes, that attitude of "Yeah, I'm packing something extra in my pants, but I don't need to brag about it." James is the best! He's also super-humble, y'all. In a new interview, James discusses how he doesn't see himself as a heartthrob because he's "got a wonky face" and he's "pasty".
James McAvoy admits he frets that he might have a pimple on his bum cheek when he gets his kit off in front of the cast and crew.

'I mean, sex is a nightmare in real life until you meet the person you click with. When you're pretending, multiply that anxiety by a thousand,' said the 33-year-old.

'You wake up in the morning and you're like, "Oh no, I've got a spot on my bum," or you're in the middle of a scene and you're like, "Oh no, is my breath weird?" or, "Oh, no. She's nice but does she think I'm trying to cop a feel? But I'm really not, I'm just trying to do my job."'

And the Scot certainly can't get his head around the fact that he has earned 'heartthrob' status as he reckons he's got a 'wonky face'.

McAvoy, who has son Brendan, two, with wife Anne-Marie Duff, told Marie Claire magazine: 'I certainly don't feel like a heartthrob. I don't walk around going, "Thank God I'm hot." For every one person who thinks I am alright looking, you know there are 20 more saying, "Why him? He's f***ing weird looking. He's got a wonky face! He's so pasty!"'
James could cop a feel any time. And he IS pasty, but he pulls it off really well (but I'm saying that as someone who LOVES pale men and women). And his face is NOT wonky. He's actually got a classic "boyishly handsome face". He's going to look like he's in his 20s until well into middle age.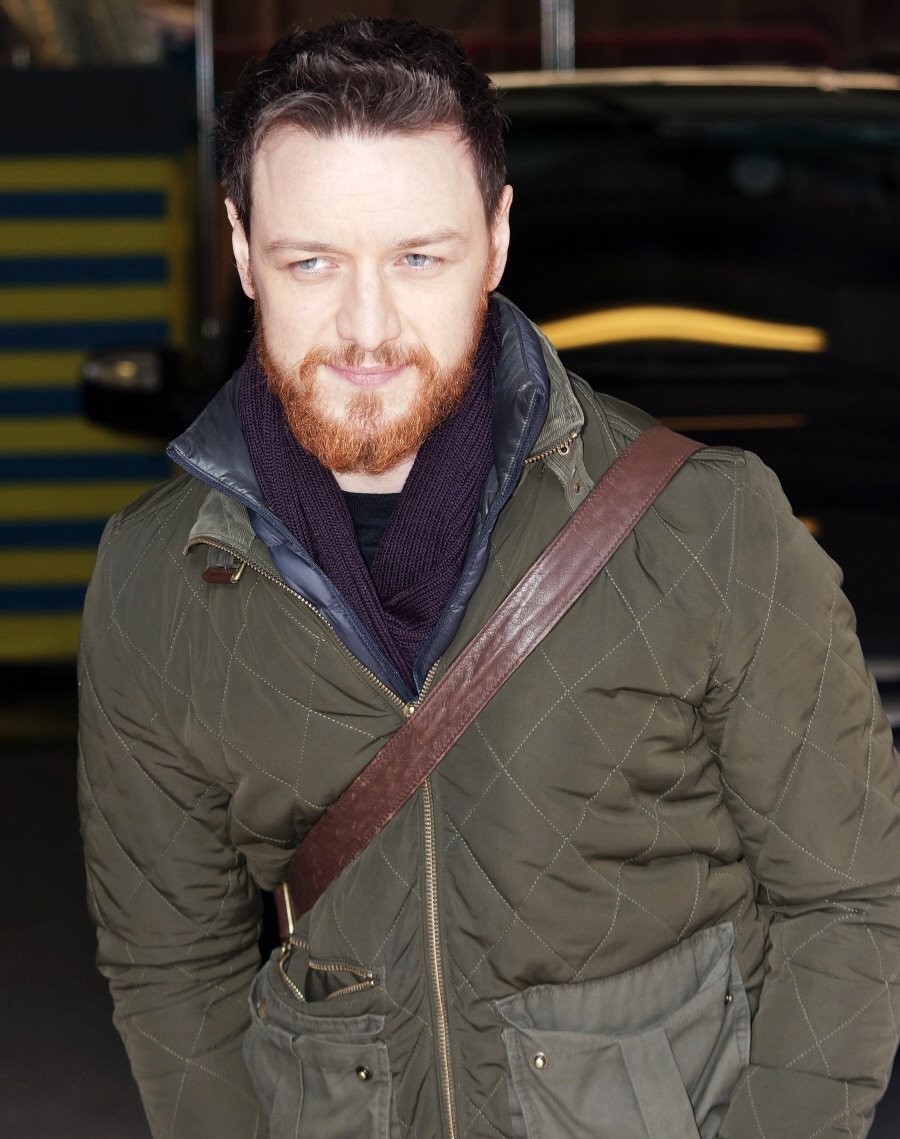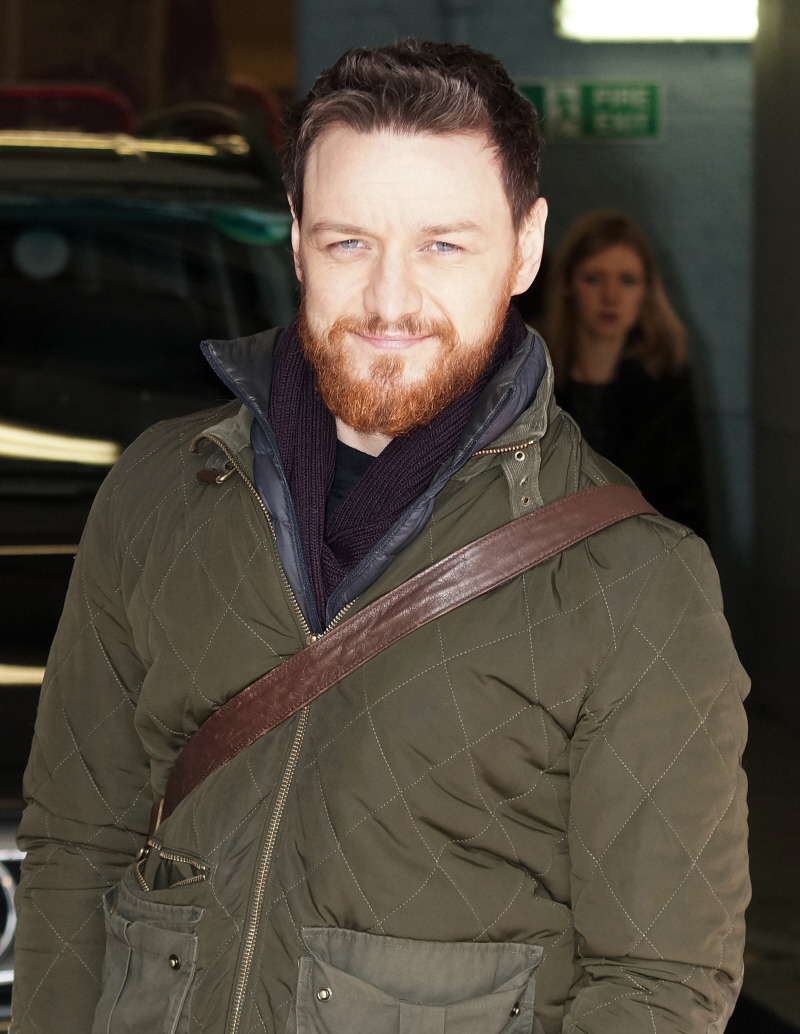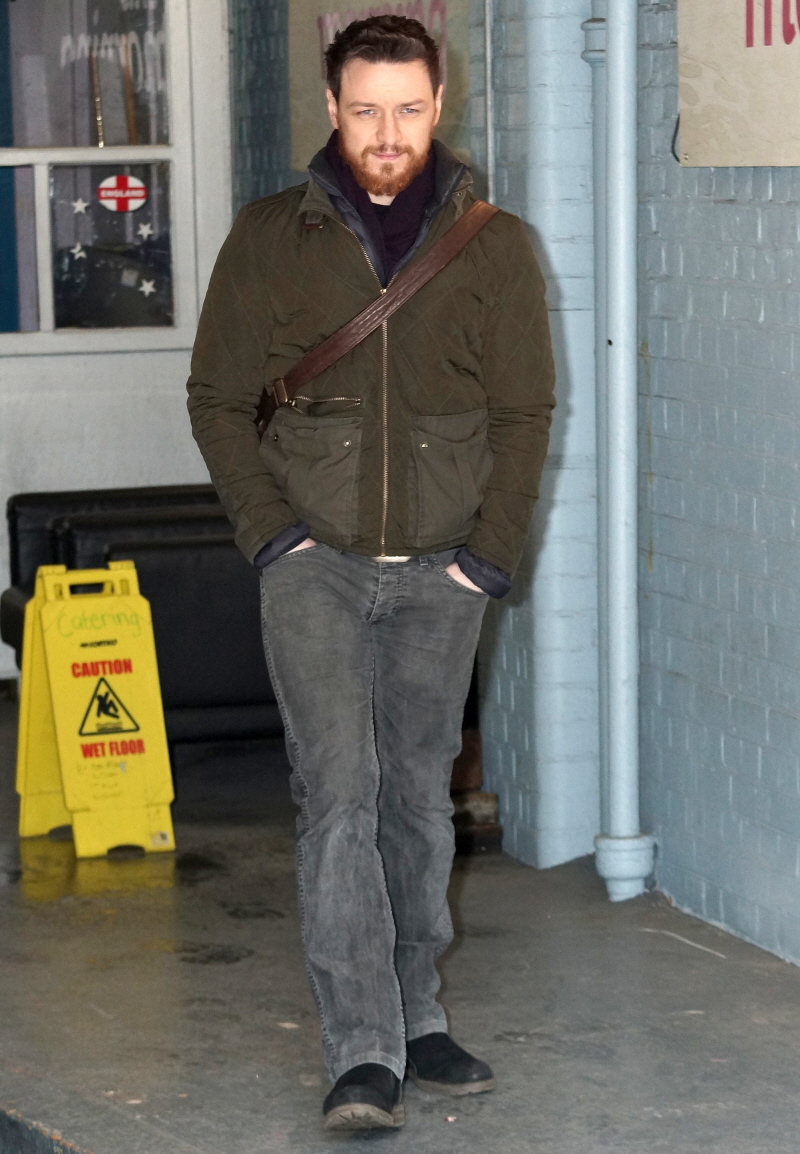 Photos courtesy of Fame/Flynet.

Written by Kaiser

Posted in James McAvoy

- Mariah Carey lip synced on American Idol [CDAN]
- Colin Firth is looking good [Lainey Gossip]
- Internet celebrity charged with murder! [D-Listed]
- What is Paz Vega wearing? [Go Fug Yourself]
- New bachelors on The Bachelorette [Reality Tea]
- Goodbye to The Office [Pajiba]
- Bachelor Sean's fiance cheats on him [Evil Beet]
- Britney Spears out with her man [Popsugar]
- Nina Dobrev works it [Popoholic]
- Cindy Crawford needs to lay off the 'tox [Celebslam]
- Who said it: Carrie Bradshaw or The Dalai Lama? [Buzzfeed]
68 Responses to "James McAvoy rocks a big ginger beard in London: would you hit it?"