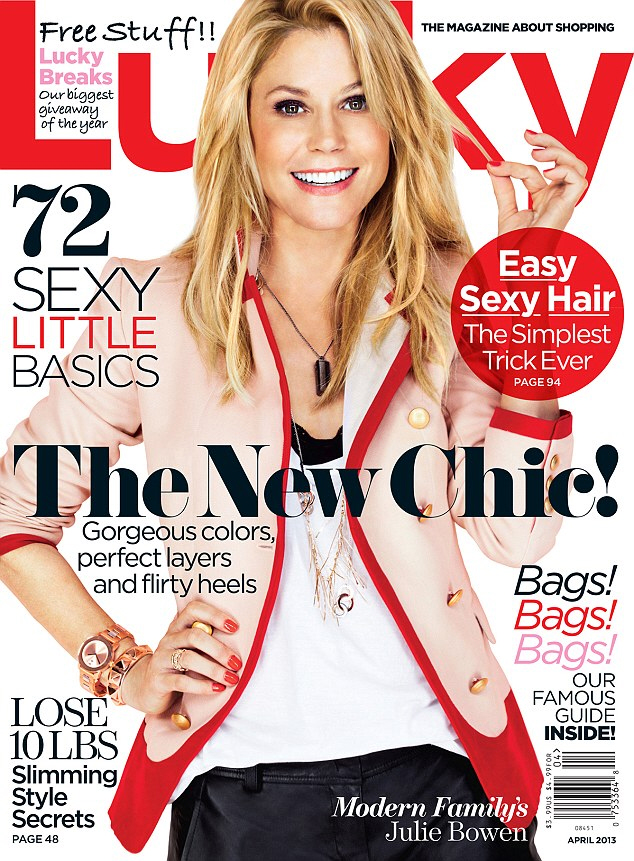 I just have such overwhelming love for Julie Bowen. I know many of you consider Jennifer Garner to be the patron-saint of the "real moms," but for me, it's Julie Bowen. I love how blunt and honest she is. I love that she doesn't pretend to have her life under control. More often than not, when asked about her children or her home life, Julie makes it sound like she's struggling and failing at twenty different things every day. Which seems like a much more normal portrait of a working actress (to me at least). Anyway, Julie covers the new issue of Lucky, and she's mostly talking about style and how the Modern Family writers are really helping her out:
Fingers crossed Julie Bowen doesn't start wearing sneakers on the red carpet. The Modern Family actress appears on the April cover of Lucky, where she explains how her fashion sense has evolved since joining the cast of ABC's top-rated comedy.

"It was a big evolution in style for me to grow up and say, 'I need to take fashion seriously for my job.' I have a stylist now, and she's trying to get me to wear more revealing stuff. She's Kristen Stewart's stylist," the Emmy winner says, referencing Tara Swennen. "I go there and see all this amazing funky stuff, and I know it's for her. If I get K-Stew's castoffs, that's all right with me."

Bowen admits that she's never been too concerned about her appearance, and she gets flustered when magazines label her "beautiful."

"I don't even know what to say about that, because then, I'd have to acknowledge I was some kind of attractive ideal, and that's just not the way I was raised," the 43-year-old married mother of three says. "Plus, I feel like I look like the pale girl in some Flemish painting."

The blonde star credits the Modern Family staff with giving her solid material that isn't reliant on her looks or her comedic abilities. "Our writers are flexible enough to write to my strengths and open-minded enough to imagine Claire in a car pool and naked in a hot spring," she said of a recent Season 4 episode. "I needed good material. I'm not like Amy Poehler, who can make anything funny."

"People like Claire because at the end of the day, she's a good mom," Bowen tells Lucky of her character. "I am quite sure there are plenty of people who could play Claire. I was just in the right place at the right time."
If you've been watching Modern Family since the beginning, the arc of Julie's character Claire is very interesting. For a few seasons, the writers made her the sort-of stereotypical "shrew" – the overzealous, anal-retentive straight man/mom to Ty Burrell's crazy, funny, loose dad. But the writers corrected themselves and the Claire character has much more depth these days, and they've really given Julie Bowen a chance to shine. She IS a gifted comedienne, even though I kind of agree with her that dozens of actresses could do the role.
As for Julie sharing a stylist with K-Stew – how much do you love that Julie refers to her as "K-Stew"? That's cracking me up. But yes, Julie definitely needs some style help and maybe this stylist will be better than nothing. I hope the stylist doesn't put her in miniskirts, Chucks and heavy eye makeup.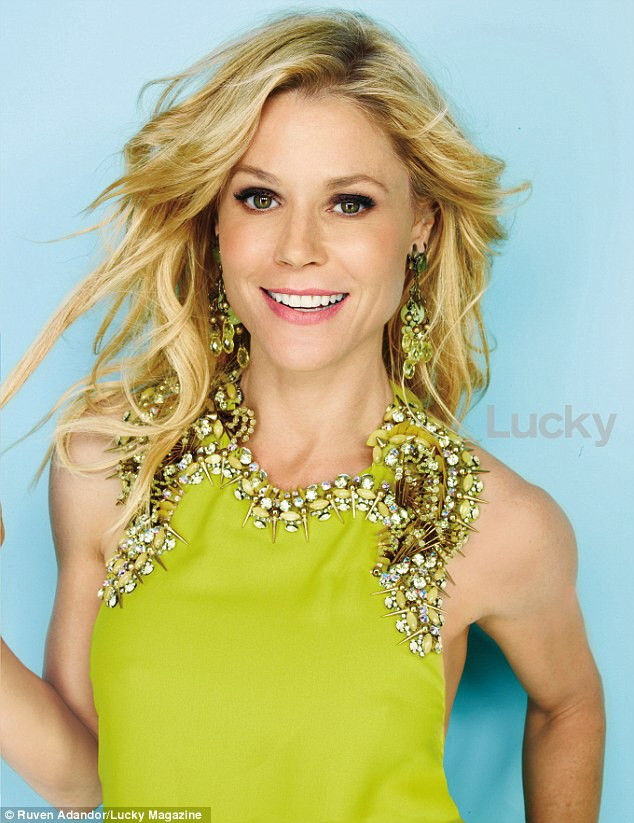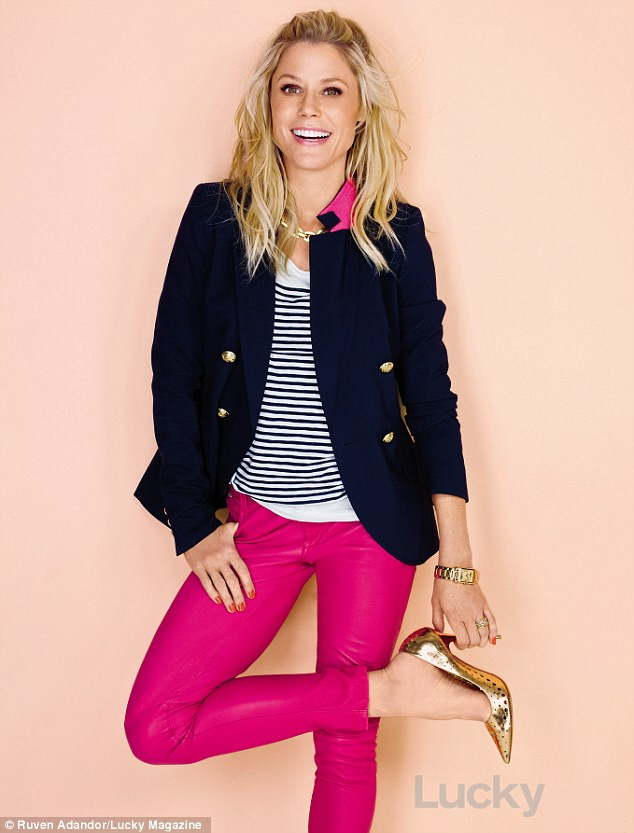 Photos courtesy of Lucky Magazine.