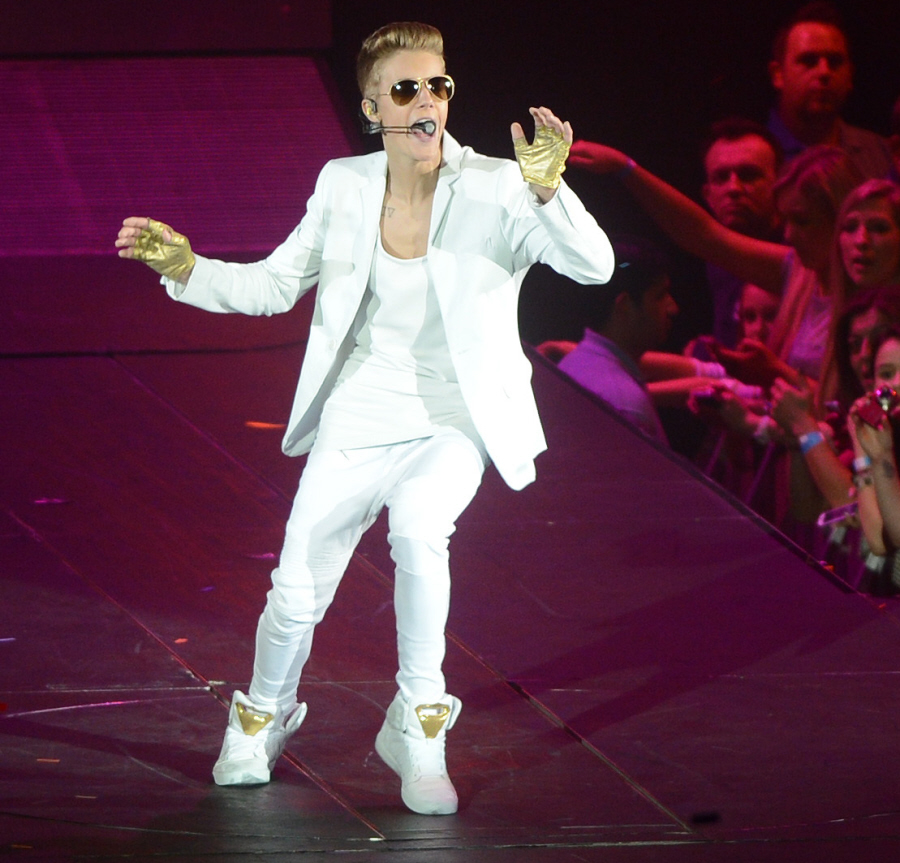 I think last week was the most coverage we've ever given Justin Bieber. He's been on the verge of a total childlike temper tantrum for a while, but it all seemed to come to a head last week in London, where Justin was camped out to perform at four sold-out concerts. The week was full of drama, what with Justin's "collapse," hospitalization, Twitter meltdown, showing up hours late to one of the concerts, and on and on – go to the Bieber tagged posts to review. As I wrote yesterday, it seemed like Bieber spent the weekend "getting better" and he was tweeting about being "blessed" because of course. And now comes word that Justin has canceled yet another concert:
Justin Bieber is canceling one of his two scheduled shows this week in Portugal "due to unforeseen circumstances" … this according to the website for the venue.

Bieber is scheduled to play the Pavilhao Atlantico in Lisbon on March 11 and March 12, but the site now says the second show is canceled.

A statement posted on the site (and translated thanks to the good folks at Google) reads, "Due to unforeseen circumstances, Justin Bieber was forced to cancel the second performance in Portugal, March 12."

It continues, "The Canadian singer is eager to play for the Portuguese fans on March 11. Holders of tickets valid for March 12 should contact the respective place of purchase to receive a refund within 30 days of the date of the scheduled concert, which ends April 11."

It's unclear what the unforeseen circumstances are, but he was hospitalized last week after collapsing backstage (though that wouldn't explain why he's canceling the SECOND show).

He also tweeted earlier today simply, "#sundayfunday."
[From TMZ]
The UK papers claim that Bieber canceled the concert because of low ticket sales and because Justin has never gotten so much bad press in his life as he did this past week. But! Justin's manager Scooter Braun told Gossip Cop that the concert was canceled "due to logistical problems with the unions" – meaning that Bieber's stage couldn't be taken down quickly enough in London and brought to Portugal. Braun also told Gossip Cop, "The British tabloids are full of sh*t." O RLY?! Excuse me if I don't believe Baby Bieber's mouthpiece (a man named Scooter!) when Justin has been all over the map lately, and it wouldn't be impossible to consider that a concert was canceled just because Justin is a tantrumy baby who doesn't give a crap.
Also – Us Weekly had a bizarre explanatory story about why Justin was wandering around London wearing a gas mask. According to sources, "The gas mask Justin has been wearing around London is a joke between his friends, but people are starting to take it seriously… Justin's close friend Julian Keyz (a young songwriter/producer also known as Julkeys) also wears it to pretend he's Justin and throw people off as they're the same height. All his friends take turns wearing it as a joke to throw off the paparazzi. It's not a serious thing, they're just having fun around London with it." Hey, remember when Britney Spears used to wander around LA in busted wiglets, speaking in a fake British accent? That's what this reminded me of.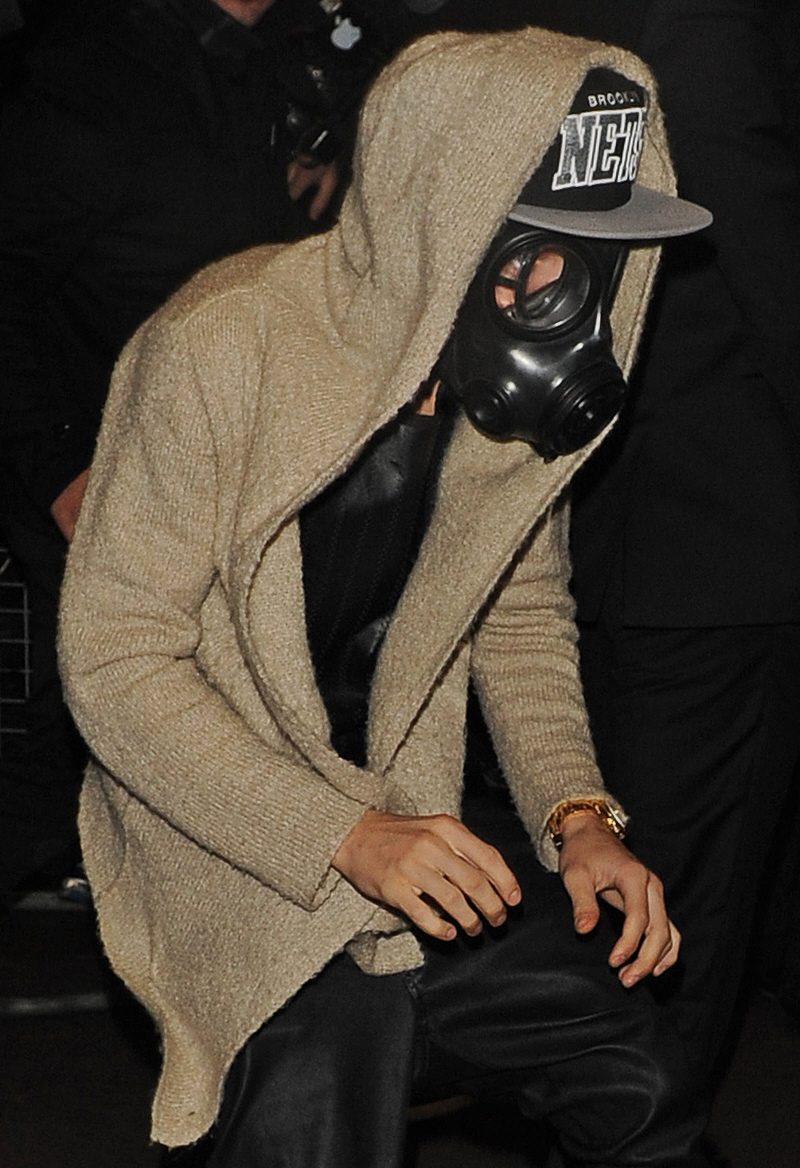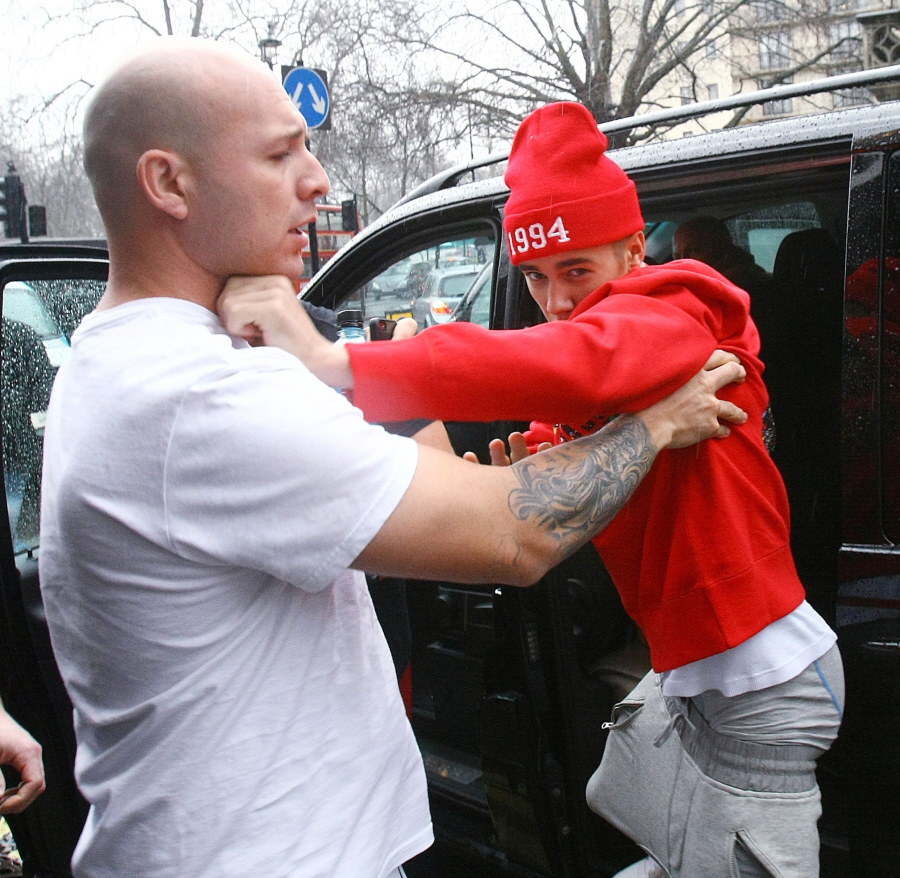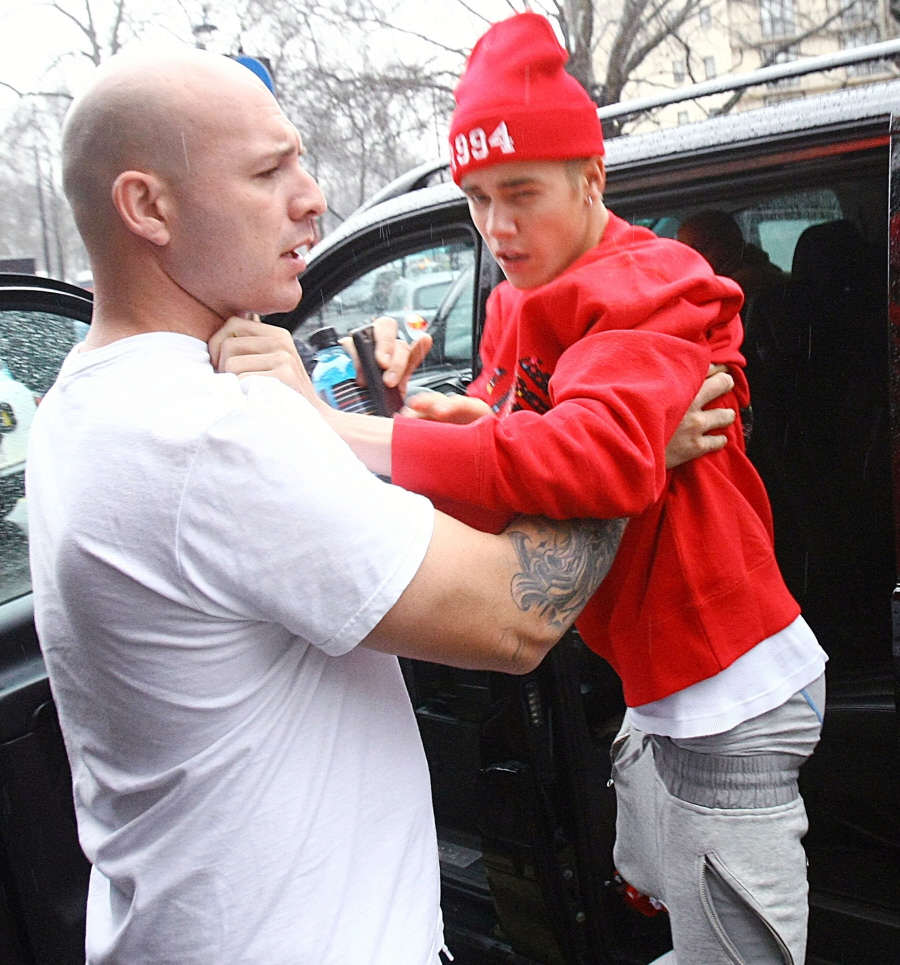 Photos courtesy of WENN and Fame/Flynet.