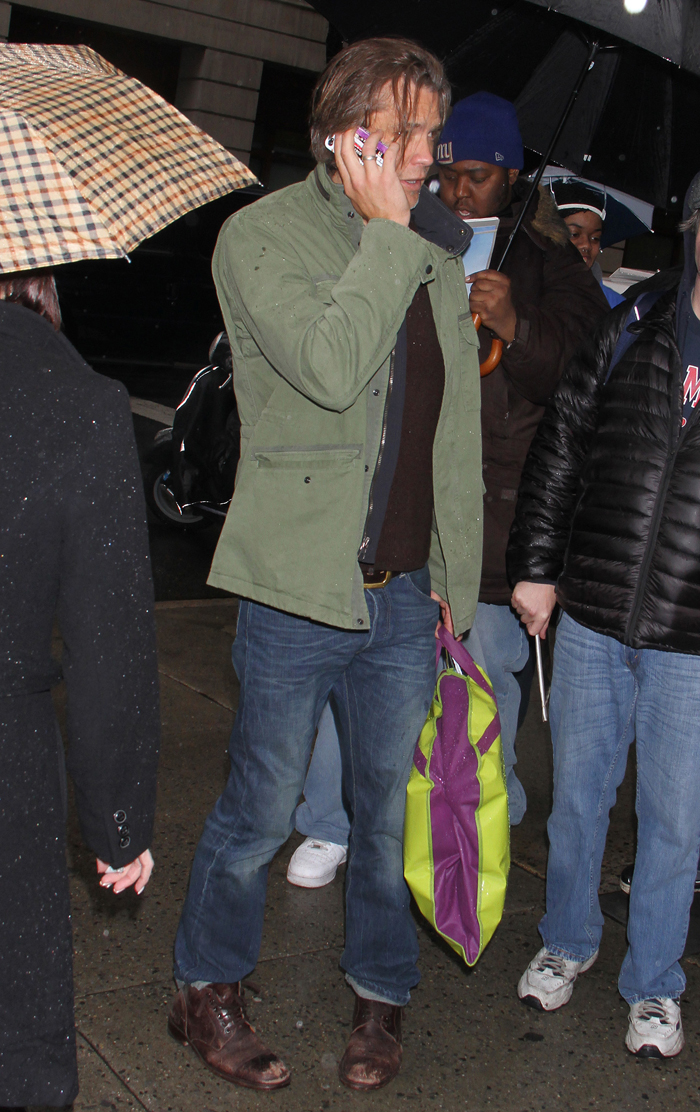 Here are what I consider to be some unusually dreadful photos of Timothy Olyphant walking through a wet and windy New York City yesterday. Mister Olyphantastic is currently in the big apple to promote the last leg of season four of "Justified," and he's making the talk show rounds, which we'll get to in a moment.
First though, I'd like to talk about the Olyphant hair situation that's going on in these photos. Allegedly, Olyphant himself wanted his Raylan Givens character to have longish hair this season because it supposedly symbolizes the disheveled turmoil that he's experiencing at this stage in his lawman existence.
(Bad move, Olyphant. Don't make me permanently change my alliance to Walton Goggins and his alter ego, Boyd Crowder. Because I can, and I will.)
As much as it pains me to admit, the shaggy hair is truly awful and masks the cute greying temples that Olyphant has been developing of late. Mind you, I'd still hit it because at least the man still looks phenomenal in a pair of jeans, right? That's the Olyphant's saving grace — along with his ability to wear a hat. Hey, some people don't have "hat heads," and I am one of those unfortunate types. Olyphant, however, looks good in any hat, not to mention a hat and nothing else at all. Or so I imagine. The "Justified" producers have yet to show him shirtless and wearing a hat as well. Can we get on that, FX?
While in Manhattan, Olyphant stopped by Late Night with Jimmy Fallon, and he was his usual charming self in the interview and even cleaned his hair up a bit. Amusingly enough, Olyphant reveals that he only ended up appearing in his breakthrough role as the drug dealer in Go because he got fired from the Sandra Bullock and Nicole Kidman movie, Practical Magic. I think he definitely came out on top in that tradeoff.
So Olyphant thinks he's no good at romcoms, right? Well, was pretty unforgettable in Catch and Release, which was a romantic dramedy. Have you seen the way this man kisses in that movie? It's the only time I've ever been envious of Jennifer Garner, and I mean that in the nicest way possible.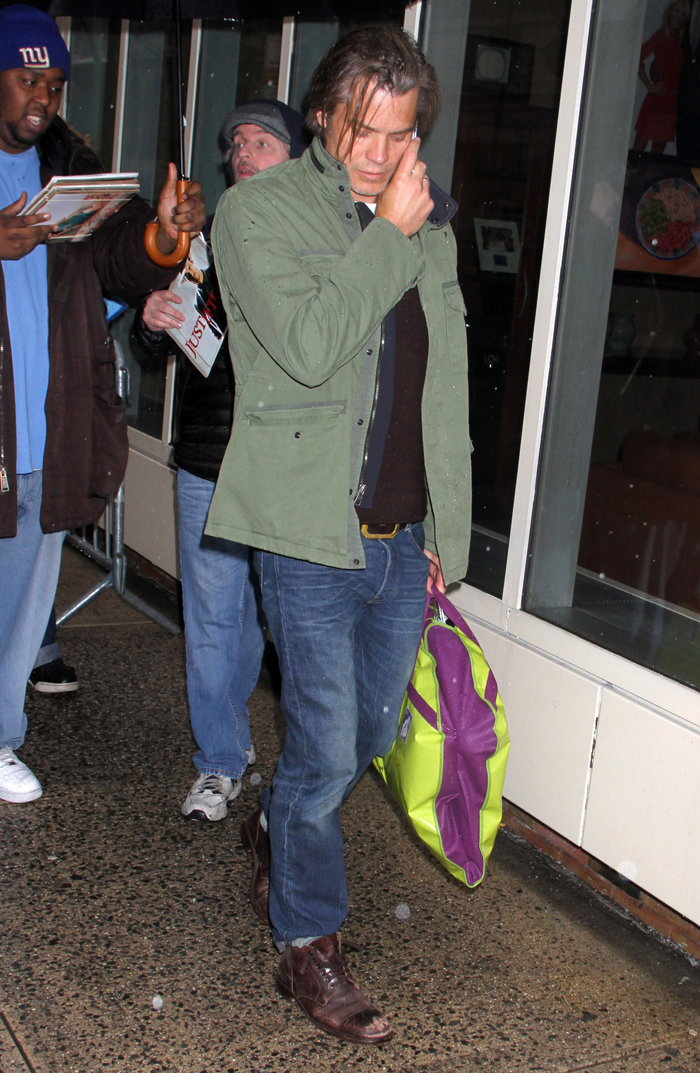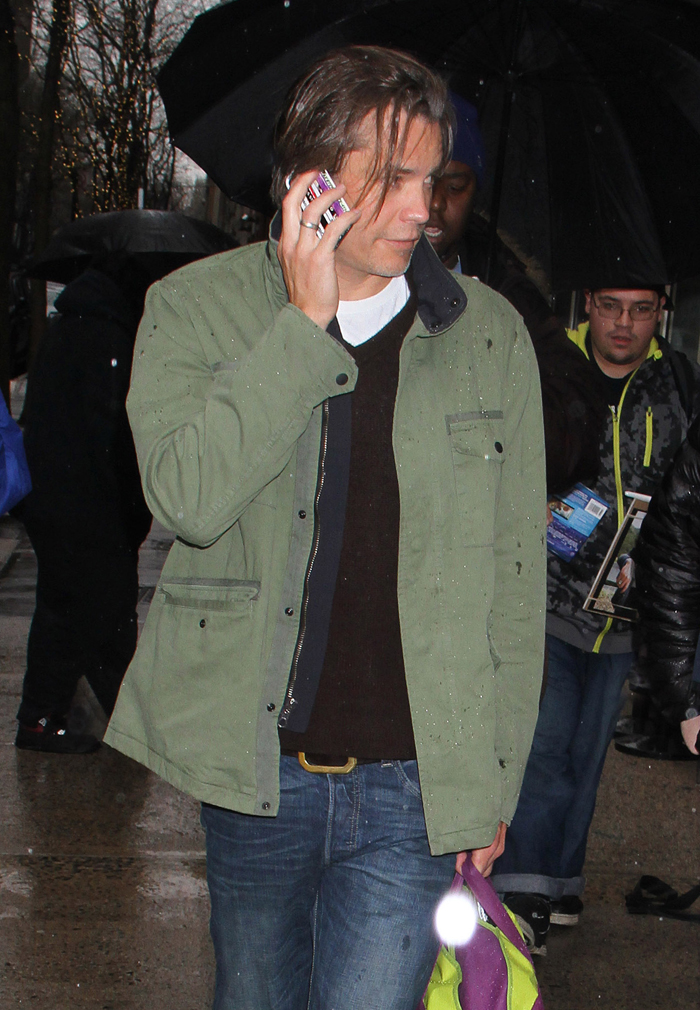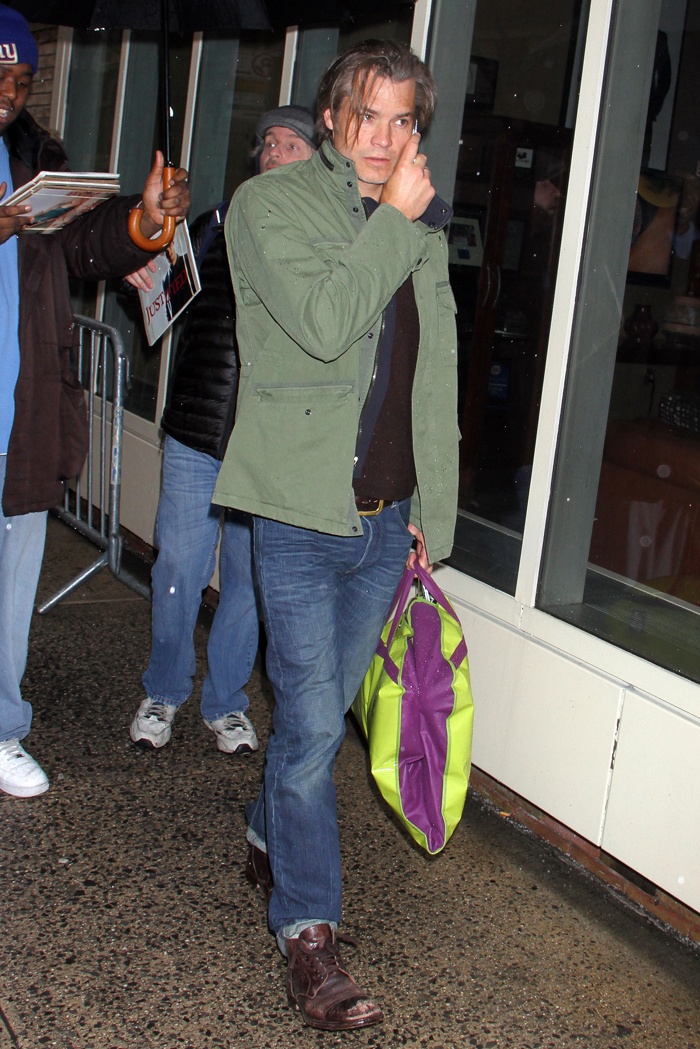 Photos courtesy of Fame/Flynet