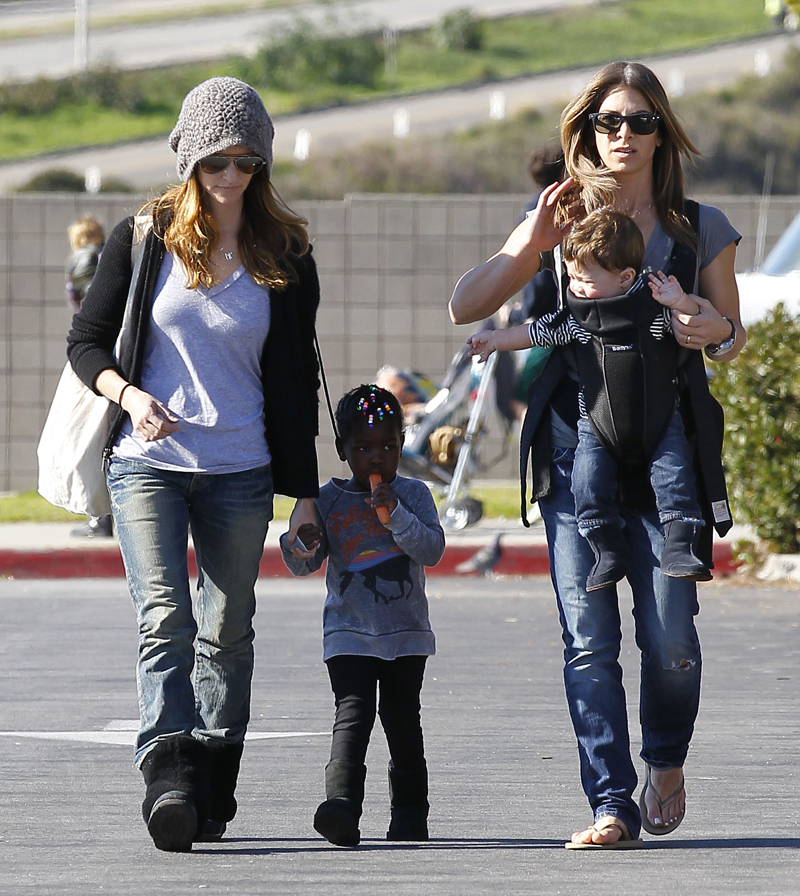 Somehow I missed the memo that Jillian Michaels is into women. After some quick research, I've discovered that Jillian has been with her current partner, Heidi Rhoades, for some time. In 2010, she admitted to having dated both men and women, and it sounds like (to quote Bono) she's found what she's been looking for. As such, Jillian and Heidi adopted a 2-year-old girl, Lukensia, from Haiti last year, and Heidi gave birth to a baby boy, Phoenix, last year as well. So the two of them became sudden parents to a toddler and a baby at the same time, which sounds difficult as hell. It's probably hard enough to parent both ages at once, but to not even have a warm-up period with the first kid before the baby comes along? I bet that was a very disorienting experience, and now Jillian admits that it's exceedingly difficult to fit her entire life into one day, and she's even softening up her rather militant approach to fitness. Just a bit, anyway:
On jugging fitness & parenting: "Every day I tell myself how blessed I am. I can't bitch about it, because this is what I wanted. I just thought I'd be able to manage it better. Man, it's tough. In my previous life, I could enjoy a long workout, go see a movie, order in. Right now I'm juggling two sick kids and trying to squeeze in a quick run or shower before one of them starts puking again. It's definitely best for me to work exercise into other things I'm doing that day. I try to bike to work or take a long walk-jog on the beach with the kids.

On doing it all: "I get up at 7 a.m. — after being up all night with the baby — and run around trying to get both kids diaper-changed, dressed, and fed. Finally I'll shower, and before I know it, I've got 50 e-mails to answer, and I need to leave for work. At the end of the day, I come home, and I'm like, OK, let me bathe you, change you, feed you, read you books, put you to bed — wait, how am I supposed to do all this? Son of a bitch, this is hard!"

She's modified her fitness demands: "I used to say, 'If you're going to exercise, then you do it, and you do it 100 percent.' Now if I've got to answer e-mails while I work out on the StairMaster, well, then that's what it is. People can rub my nose in it, because it is so hard — so hard — to take care of yourself when you're a parent."
[From Fitness.com]
I really like it when celebrity moms admits that it's tough to balance everything, and it's particularly refreshing when a celebrity trainer admits how difficult it is to fit in fitness while taking care of very young children. It's hard to even get on the floor for some yoga when you've got a toddler roaming about, and I think I pretty much gave up on working out until my daughter was five years old and went to kindergarten. I can work at home while she's here, but she'd never let me exercise when she was younger. It just didn't happen beyond pushing her outside in the stroller, which isn't the most practical method of exercise in awful weather. Now? I just take her to the gym and let her work out with me when she's out of school. Much easier.
As for Jillian, I know she's got quite the reputation for being a hardass and kind of a nightmare as a trainer, but maybe she's softening up a bit. If anything, she's going to have less energy to boss her clients around thanks to her kids, so it's a win win.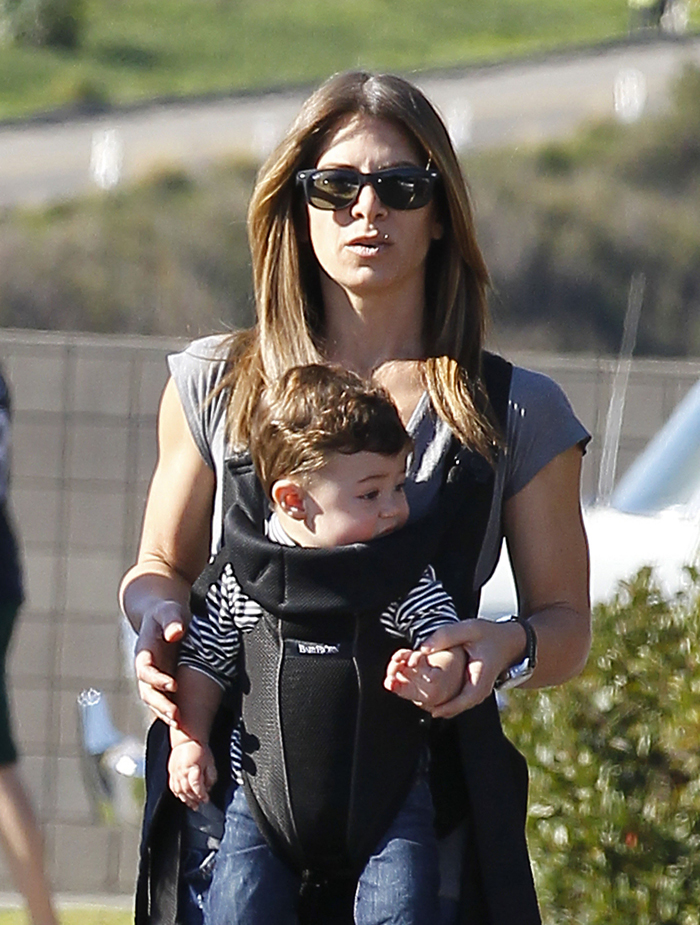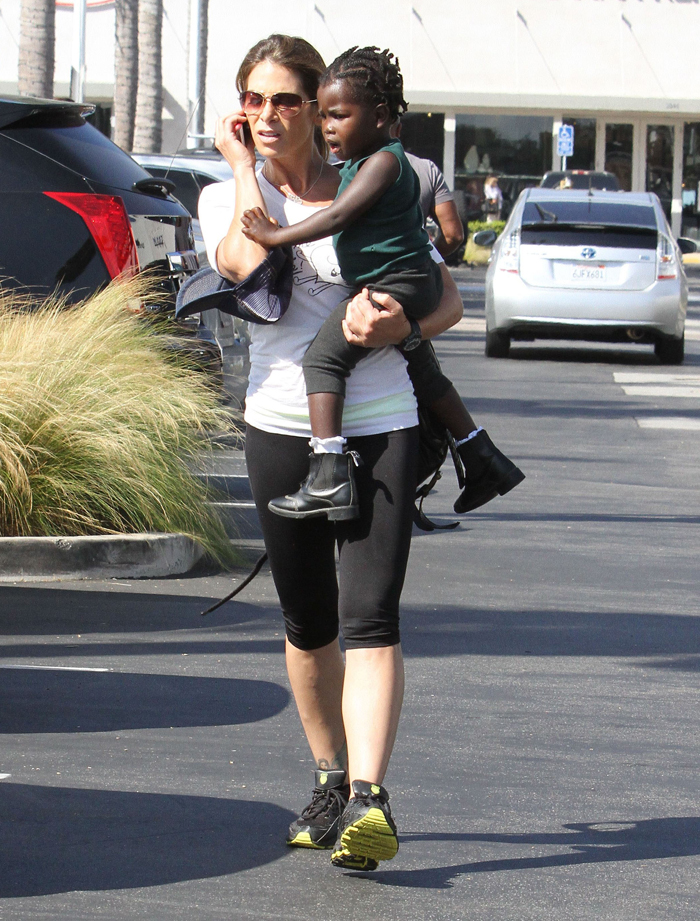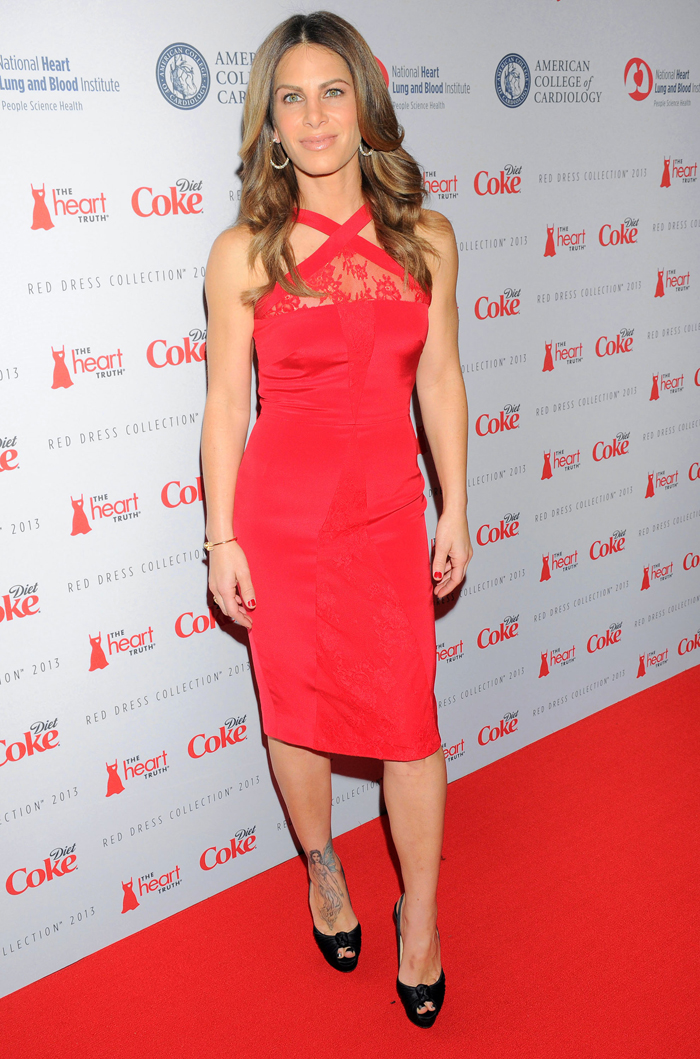 Photos courtesy of Fame/Flynet