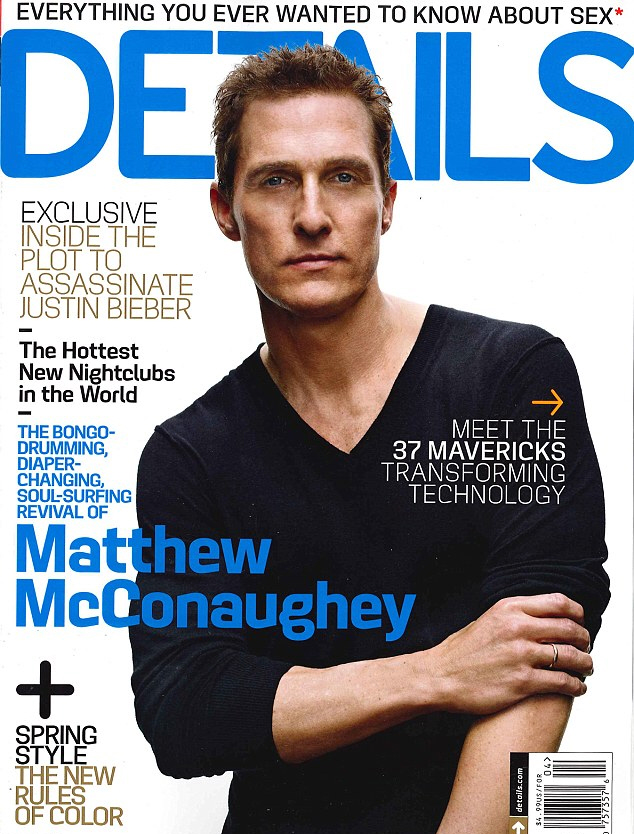 I've spent the past decade not thinking much about Matthew McConaughey. I thought he was a relatively harmless hippie, playing his bongo drums, getting high and doing dumb romantic comedies. I thought of him the same way I think of Kate Hudson – harmless, kind of fun, not evil, not horrible people. They don't whine, they're not playing the victim, they're just maintaining and not really challenging anybody or anything. But somewhere along the line in the past year or two, Matthew's do-no-harm trajectory changed for the better. Matthew started signing on for meatier character work and "important" films. And what's even more surprising is that he's turning in great, critically acclaimed, award-winning performances nowadays.
2013 is The Year of Cumberbatch, of course, and The Year of McAvoy… but is it also The Year of McConaughey? He's got Dallas Buyer's Club coming out later this year, and I feel strongly that he will be an Oscar contender. He's also got a supporting part in The Wolf of Wall Street, a prestige film directed by Martin Scorsese starring Leonardo DiCaprio and Jonah Hill. And MM has an interesting little film called Mud, which comes out soon. He plays a "lovesick fugitive who charms two kids into helping him get a boat out of a tree to save his girl (Reese Witherspoon) from some baddies." That's why he scored the cover of Details – he's promoting Mud. The whole interview is pretty good (he's SO laidback). Here are some highlights:
His family changed his career: "I never said, 'Oh, I want to go do darker or edgier stuff,' I just said, 'I'm going to take some time off. I have to take care of my family right now. We've got the means in the bank account, we've got a roof over our head, we're gonna eat well, we're fine. So let's take some introspective time.' It wasn't a mini-retirement. It was just that I wanted to listen to myself and be a bit more discerning."

On the endless rom-coms he was doing: "I enjoyed what I was doing, but I felt like I did it last time and I can do it again tomorrow. I just wanted to shake in my boots a little bit. I want to go deal with some real consequence in films. I remember writing this down: 'I want to be able to hang my hat on the humanity of the character every day.'"

His family comes with him on location: "Papa goes to work, the circus goes with him," he says, pleased.

On Camila Alves: "I've got a wife who challenges me. There were two movies I wanted to do last year, but they were back-to-back with no separation. She was like, 'You want to do it—buck up, grab your nuts, and make it happen. We'll be there with you.'"

Jennifer Garner loves him: "He is who he is, no matter what the project—friendly, funny, and focused. But he was on another plane altogether making [Dallas Buyer's Club]. I'm not sure if Matthew has changed from fatherhood, marriage, or just regular growing up—but he was more vulnerable and also more scary this time around."

How he's changed: "I'm not asking for permission to come in anymore. How do I say that the right way? 'Cause you could take this and make me look like a real a–hole. I'm just as thankful now as I ever was. But I'm choosing to be more selfish. I remember feeling not sure about what I wanted to do and feeling—I'm not sure despondent is the right word, but a feeling like things are plateauing. I wanted more evolution. I want to feel ascension in the grade. Because I was feeling a lot of ascension in my personal life, qualitative evolution. I wanted to close the gap between who I am and the life I'm living and my work life. So I think I got really selfish. You start a family and you get selfish."

He doesn't have time for friends: "I do have less time for friends now," he admits. "My close friends have had to come to understand that I can't just throw on a backpack and say, 'We'll be back in four days.'"

On Lance Armstrong: "He told a lie, he's not a liar," McConaughey says, a little uneasily. "When it came out, I took it personally, but then I realized it ain't personal to him. I was going, 'That son of a bitch!' but then I thought, 'Well, what was he supposed to do? Call me to the side and go, "Hey, I did this"?' But I'm happy for him now, because despite all this outside conflict, he doesn't have this inner conflict anymore."
Yeah, he's still a hippie. All of that talk of "inner conflict" and "qualitative evolution" is giving me a Patchouli headache. But he's a hippie with his heart in the right place, I believe. I don't like his answer on the Lance Armstrong thing, but I guess Matthew is trying to be classy and not throw his former friend under the bus completely. And you know what? Eleven months from now, I truly and genuinely think Matthew is going to be one of the leading contenders for the Best Actor Oscar. No joke. JK Livin, Oscar winner?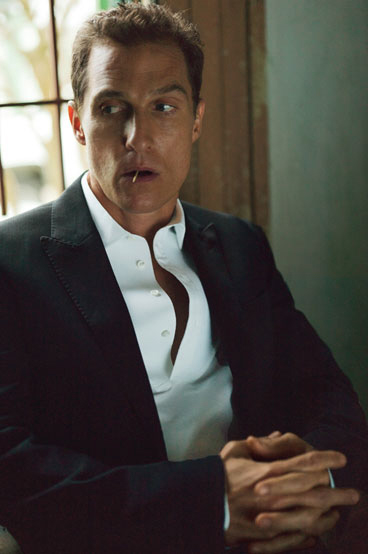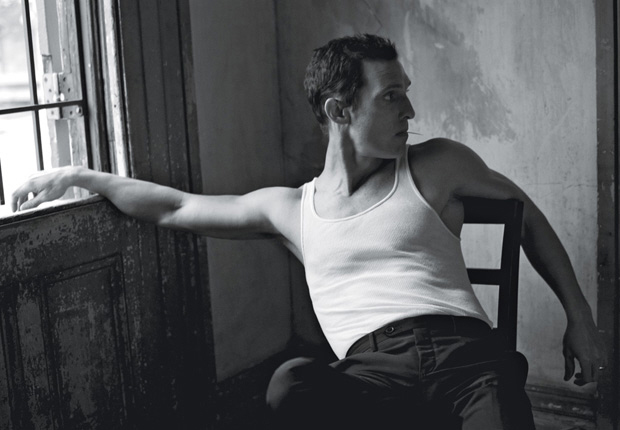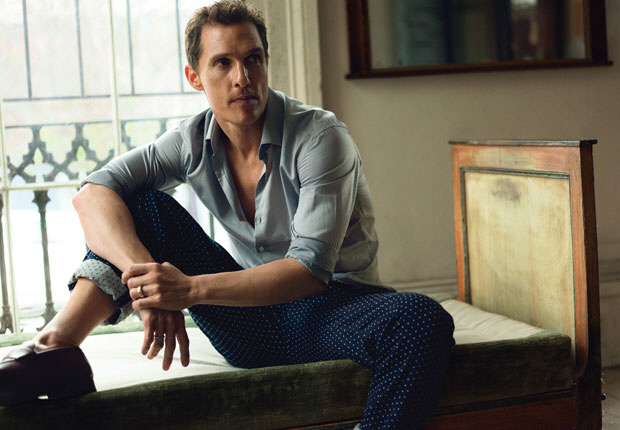 Photos courtesy of Details.