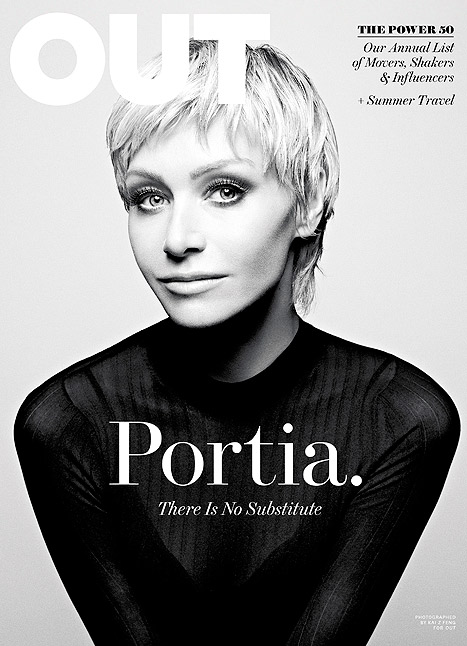 Portia de Rossi covers the upcoming issue of OUT magazine, and she looks alien-like. That's on the weird lighting, coloring, styling and Photoshopping of the photo, although Portia does look a bit Botoxy and pulled in real life too. (Just not this bad.) It looks like they stretched her lips out and gave her fake cheekbones and she's about to suck out your soul. Those eyes! There are more photos from that shoot on Out Magazine's website, and the effect is the same.
In her interview, Portia talks about the Arrested Development reboot, which will air on Netflix streaming May 26. I know a lot of fans are thrilled to hear that. She also discusses her career and if she plans to have a child with her longterm partner, Ellen DeGeneres. Her answer was kind of refreshing to me. I respect it when celebrities say that they're childless by choice and don't blow smoke when that's not something they want.
On her career and women in television
"I've been very specific with my career," she says. "I really love acting, but it's important to me to be part of really interesting projects. Whatever I respond to, I really throw myself at. I like working with really smart people, and I like being on shows that are either challenging or say something about the culture that we all should be talking about or thinking about."

She has also plunged into producing, including a pilot she and DeGeneres worked on together about rival sisters. "I hadn't been on the ground floor of a project and put it together," she says. "I definitely am going to be developing more shows — not only for myself — in the future. I really liked being a part of the creative process from the beginning instead of just stepping into a role at the very end."

Perhaps because she's now had a taste of what more daring TV development can looklike with Netflix, de Rossi is particularly blunt about the much-heralded arrival (again) of funny women in TV. "Sometimes female voices are a little louder and sometimes they're not," she says. "But I think the general trend of network television is just money and how to make money. Until things actually change, the conversation sounds the same."

On her idea for a show about actors bearding for each other
And her experience trying to produce gay stories for TV mirrors that gap between a powerful fantasy and the sometimes more uncomfortable reality. "I had a project that I was shopping around for TV called Butch and Fay, about two gay people, very famous actors who marry each other for the sake of their career," she says. "That happened a lot in the past and probably still exists today. Every single person that I brought it to was kind of titillated by the idea but ultimately shut it down, saying that being gay in the industry just wasn't an issue anymore. I know it's not very popular to bring this issue up, but it's still very difficult for actors to get certain types of roles. We need to hear it some more until things change."

The other half of the message that needs to be heard, she says, is pretty straightforward: "I really, honestly think that anybody who is openly gay and visible is powerful. It doesn't matter what you do, you are impacting people."

On Ellen
De Rossi's smart, articulate self-awareness took center stage during her graceful coming out in 2005 and her 2008 splashy-yet-intimate wedding to DeGeneres, which included a marriage equality media tour featuring the cover of People and a full-hour fete on the comfy perch of Oprah's couch. "We've settled into happily married life," de Rossi says. "We really support each other in whatever we're doing and we're incredibly happy, which is why you don't see us in the press so much. There's no drama to report."

On if she and Ellen want kids
But don't expect them to follow a more modern famous-family script. "There comes some pressure in your mid-30s, and you think, Am I going to have kids so I don't miss out on something that other people really seem to love? Or is it that I really genuinely want to do this with my whole heart? I didn't feel that my response was 'yes' to the latter. You have to really want to have kids, and neither of us did. So it's just going to be me and Ellen and no babies — but we're the best of friends and married life is blissful, it really is. I've never been happier than I am right now."
Ooh I like that idea for a show on actors bearding for each other. I bet she has some real dirt on Hollywood couples who are doing this, and you know I'd love to hear it.
Recently Portia and Ellen showed off their 26 acre ranch estate, to Elle Decor. They've been trying to sell it, which is probably why they're letting it be featured in a magazine. Elle has a slideshow and the design is rustic and homey with some contemporary touches. The property has eight "cabins" which are outfitted beautifully and look very relaxing. These two love their life together and they realize that they don't want to add children to the mix. Children are not for everyone and they do change everything.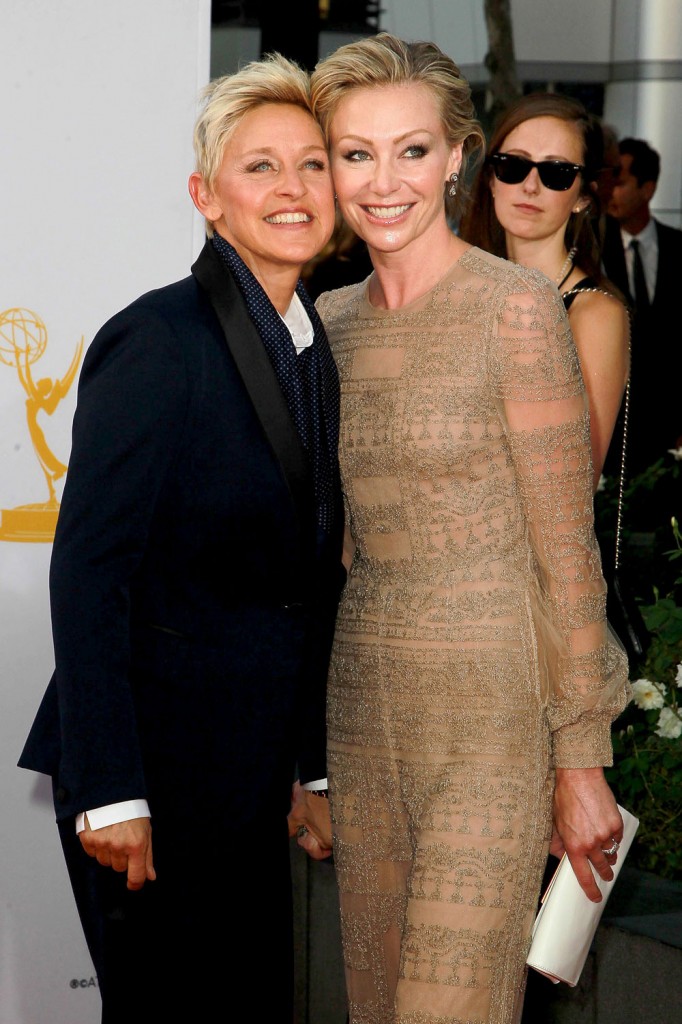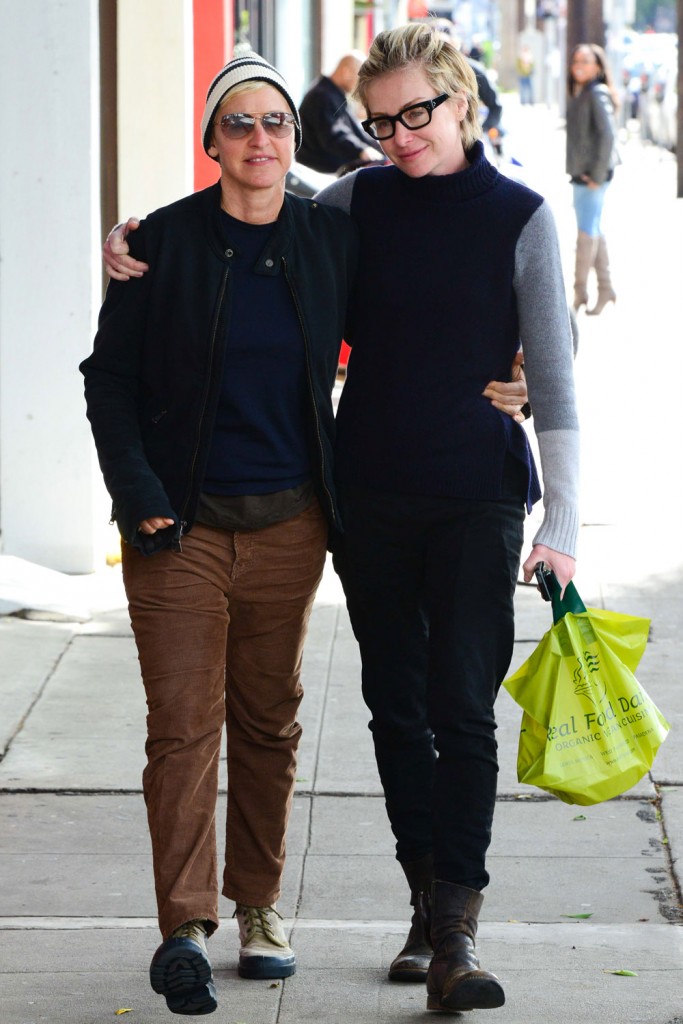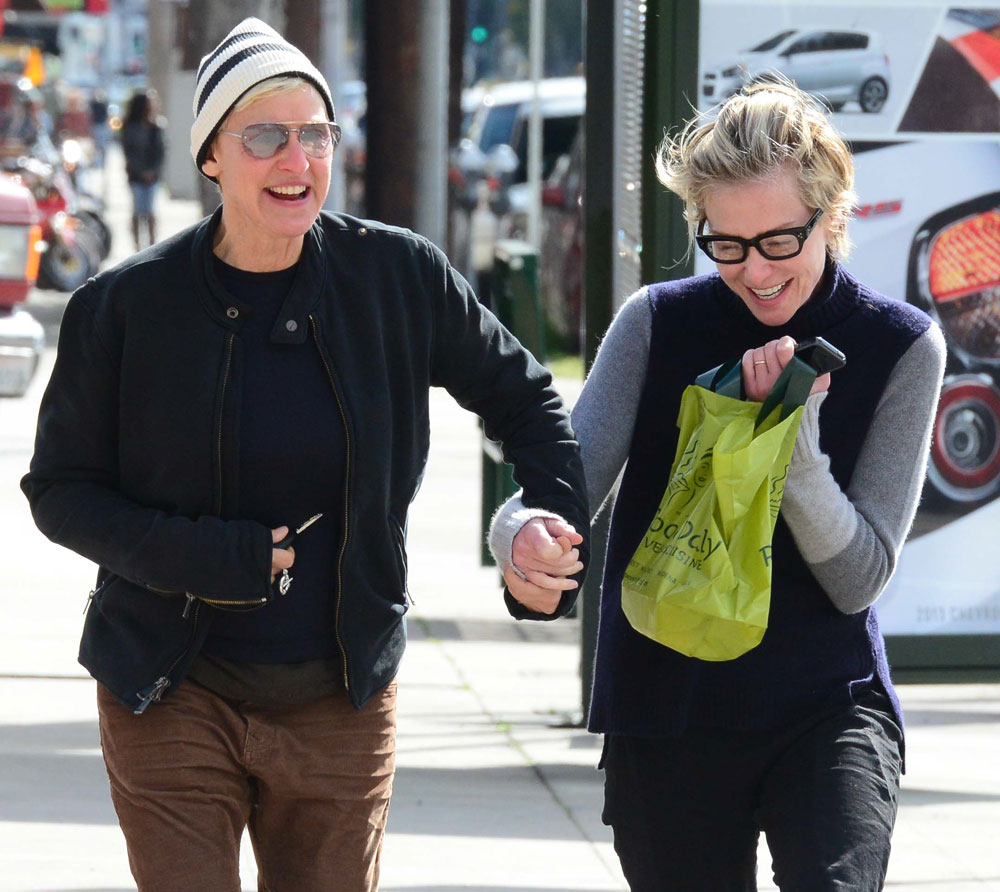 Portia and Ellen are shown in February and in September of last year. Credit: WENN.com