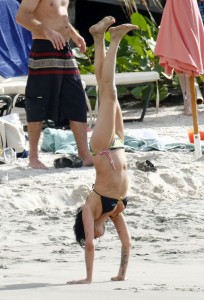 On Friday MSat reported that Amy Winehouse is still in St. Lucia, and had flown "Good Blake" Wood to be by her side. The tabloids are all raving about how much better she looks. And while that's true, MSat's right – until Amy actually buckles down and spends some serious time in rehab, she's just stalling her inevitable backslide. But she does look better, and it is nice to see Amy happy, with her bikini top on and her beehive off.
Cavorting on the beach, Amy Winehouse looks brimming with health and vitality. With her clear skin, glossy hair and obvious lust for life, the energetic 25-year-old is a different picture from her previously bedraggled figure suffering from the excesses of London life. As she joined in a game of football with her friends, practiced her handstands and frolicked in the sea, it was clear the Caribbean holiday was doing the singer the world of good.

The playful star appeared to have taken on a new sporty persona and seemed to not to have a care in the world, as she enjoyed herself on the beach. Wearing a black bikini top and colourful bottoms, she showed off her new curvier figure, which looked healthier than it had done in years. The 25-year-old singer has been enjoying a holiday away from it all with her friends and family on the island of St. Lucia.

It is obvious the break from her life in London is doing Amy the world of good, as she looked happier than she had for a long time. Along with her bad skin and emaciated figure, she has also ditched her trademark beehive for the vacation.
[From the Daily Mail]
While on vacation, Amy's also claimed that she's in the process of designing clothes for Fred Perry. It'd be great if she did, but it sounds like it's rather wishful thinking on her part. Winehouse has a long track record of being less-than-reliable to deal with. Though she's recently been looking a little better, I doubt many fashion designers would want to put themselves through the likely frustration of working with Amy. But it sounds like a great goal to work towards once she's gone through some serious rehab and cleaned herself up.
Here's Amy on the beach on Friday. Images thanks to Bauer-Griffin.