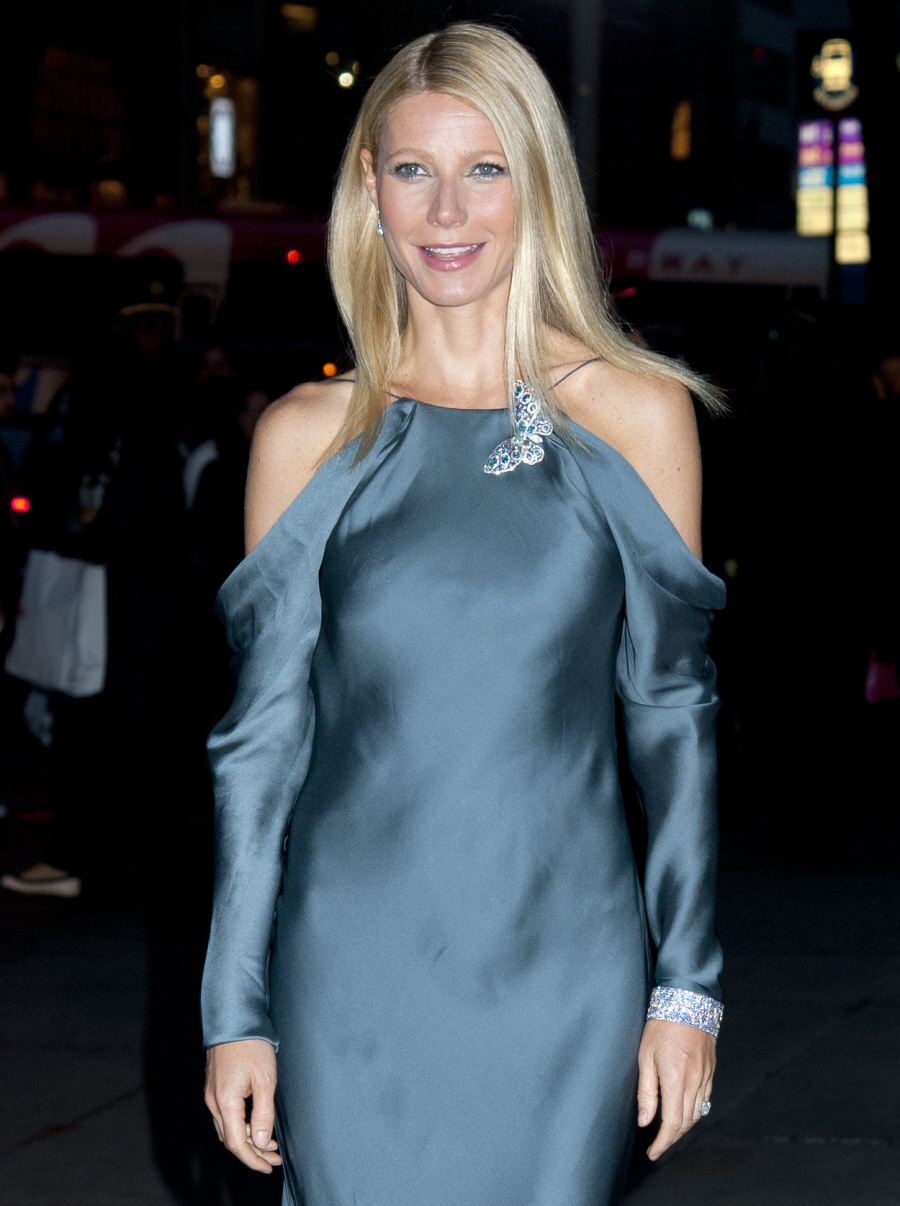 At this point, I'm not even sure what Gwyneth Paltrow is promoting. Iron Man 3? It's All Good? Goop? Dunno. But one thing's for sure: Gwyneth is going to keep talking until we are all nauseated. So, Gwyneth has a new interview in The Guardian. The Guardian is a great newspaper, but they do look down their intellectual noses at Dame Gwyneth and her Goopiness, just as they look down on all celebrities. Their celebrity profiles are usually full of bitchy little asides, but for this Goop piece, they just let Gwyneth's words do all the work. The whole thing is written in the first person, like Gwyneth gooped out a spectacularly narcissistic essay about herself. You can read the whole thing here, and here are some highlights:
Goop on her father's peasant roots: "My father was working class and going out to eat was a big deal to him, always. He relished every bite and wanted me to weigh in with opinions. I remember his delight when, aged six, I ate my first oysters and I wish he was alive to feed my kids their first oysters. Because food is so associated with him, since he died I've had melancholic associations. It's very hard for me to make buttermilk pancakes – they're so specific to him and I get choked up every time. I get really sad he's not with me when I discover a new restaurant or return somewhere he loved, like Chez L'Ami Louis in Paris."

I think Goop hates her mother: "Cooking was something my mother felt she had to do rather than loved. She especially hated making breakfast. Yet her eggy pudding, toast, breakfast thing was delicious. It was egg and bread as a sort of soufflé. To be honest, I don't know what it was."

Goop loves blood sausage: "I was an exchange student in Spain at 15, staying for a year with a family. My Spanish mother was a delightful cook. She owned a brick factory, a gas station and a store and she'd go run the businesses and come home at lunch and make paella for everyone, then head back to work. I got obsessed with her morcilla, which I found out was pig's blood sausage but not until way too late."

Goop on Leonardo DiCaprio: "I hung out with Leonardo DiCaprio when I moved to New York. He was vegetarian and he'd talk about how dirty meat is and how bad factory farming is. I haven't eaten red meat in 20 years and although Leo's not totally responsible he definitely planted a seed. When I turned seriously macrobiotic, it coincided with my father having been diagnosed with cancer [in 1999]. I felt I could heal him by proxy."

Wait, does Gwyneth call eggplants "aubergines"? "I didn't really start cooking until I quit university to try to be an actress and was working as a hostess in a fish restaurant. At 19 I cooked my worst meal ever. I only had aubergines and a jar of tomato sauce, so I thought I'd make eggplant parmesan but didn't have a cookbook. I made this hideous mess of bitter, burnt mush. But I served it. We were all starving, so we had no choice."

She ate a lot during her second pregnancy: "I ate the most when pregnant with my son. I couldn't stop. I was starving, the whole time. During a good portion of my pregnancies all I wanted was grilled cheese sandwiches, Baskin Robbins Jamoca Almond Fudge ice cream, yoghurt and lots of apples."

Goop hates the way the English say "pasta": "I've lived in England for 10 years and the accent is the most beautiful in the world, except for how you pronounce pasta as pass-ta instead of pah-sta. I'm sort of joking when I say this but I really don't want my children speaking that way."

Chris Martin loves her cooking: "My husband prefers my food to any other – it's very sweet."

Living on French fries and cigarettes during her gauche years: "After we moved to NY, I attended Spence school and was allowed out during lunch and free periods and would head with the girls to Jackson Hole, a greasy burger joint which did great tuna melts. We mainly ate french fries there, with coffee and cigarettes – that's what I subsisted on."

Eating while working: "Eating while filming a scene is the worst thing, because you have to keep eating the same thing all day long. You'll notice that most films with food the actors aren't actually eating, but I try consciously to eat to make it real, but most of the time I'll spit it out to avoid feeling sick. I'm sure there must have been eating scenes, especially playing a 330lb character in Shallow Hal, but I don't remember that film well to be honest."

Goop talks about Oreos again: "All I do is try to eat and cook real food, the way our ancestors would. It's funny how people react, as if it's revolutionary that I don't want my children to eat Oreos, or the English equivalent, every day. I believe in real food, things being delicious, and butter, in minimally processed delicious foods and raw milk cheese and properly raised chicken and line-caught fish. But I'm a realist and I have kids and I love Oreos too, so honestly I'm not rigid at all."
I had to look up the "Aubergines" thing. Apparently it's somewhat common in England to refer to eggplants as aubergines. Do you think Gwyneth always refers to them as aubergines, or was that just something extra-special for The Guardian? You've gotta love Goop's little British-isms, and she even manages to look down her nose at the way the English say "pasta". In Goop's mind, even the English are too gauche for her. She would never want her children to speak like that. Her children's accents will be "moneyed". Not English, not American., not Castilian. They will just have Moneyed Accents.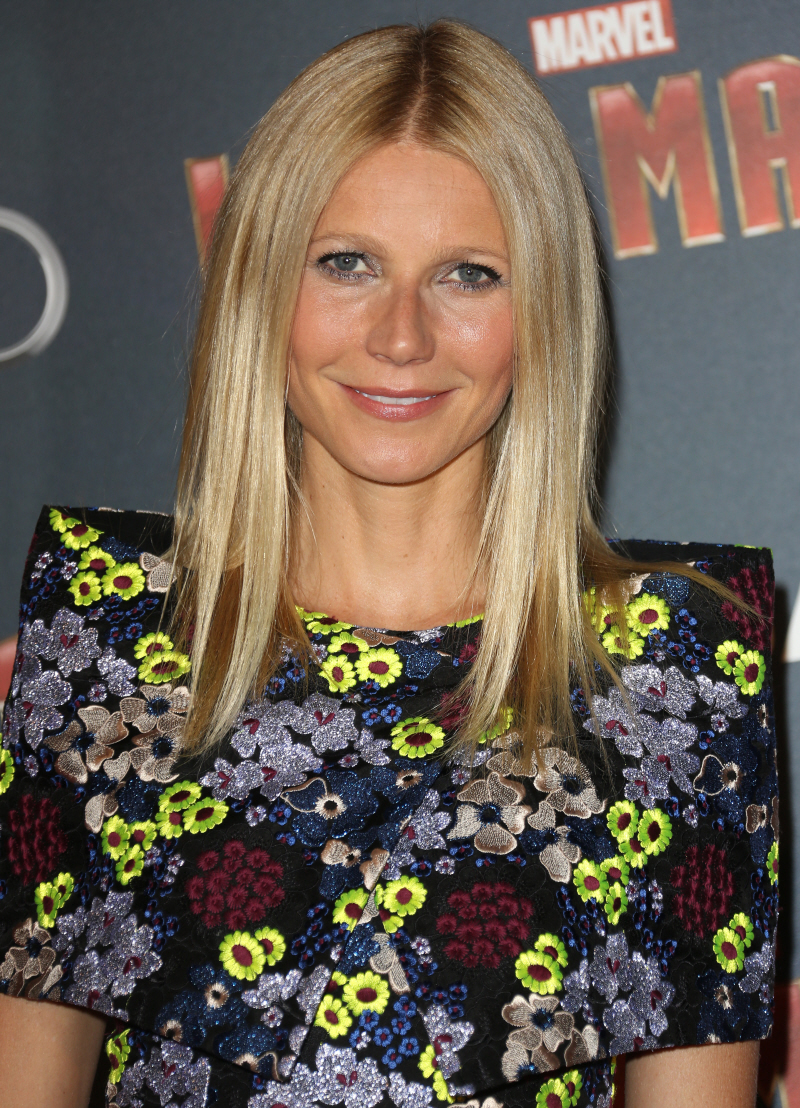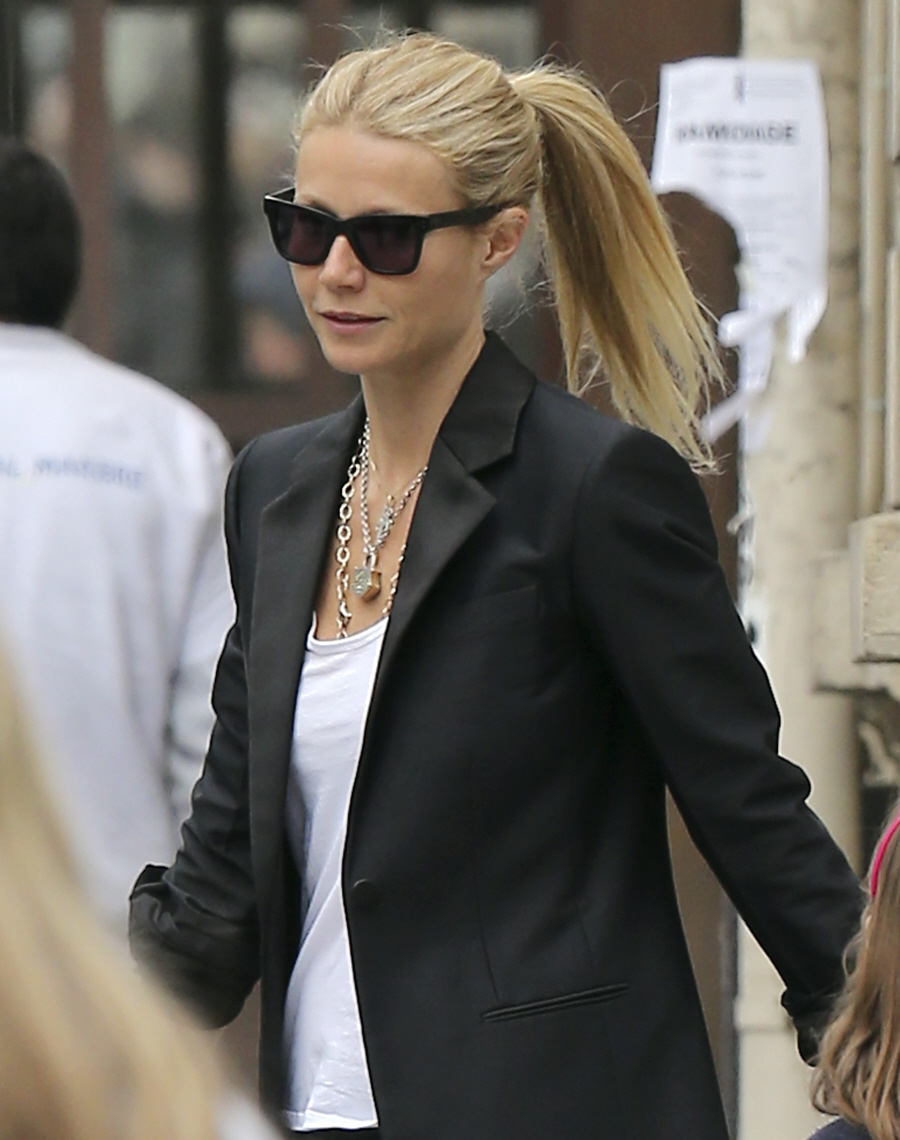 Photos courtesy of WENN & Fame/Flynet.