Jessica Simpson recipes included in "Wives of Cowboys" cookbook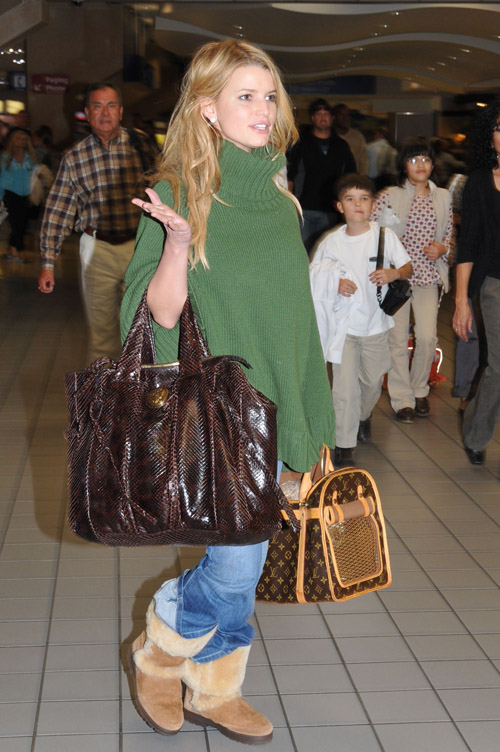 Yet another star is trying to hop on the "celebrity chef" bandwagon, but this time I doubt anyone will believe it. Pop/country singer Jessica Simpson, who is not officially a wife or even a fiancee of Dallas Cowboys quarterback Tony Romo, contributed to a new Dallas Cowboys Family Cookbook, the proceeds of which go to charity. Because, you know, when you think of cooking, you automatically think of Jessica, right? It's nice that Jess wants to get involved in a charity project – but who is she kidding? Anyone who watched "Newlyweds" knows that Jessica can't cook to save her life.
She's not engaged to Tony Romo (yet), but Jessica Simpson is officially a part of the Dallas Cowboys family.

She appears in the 2008 Cowboys Family Cookbook, presented by "the wives of the Dallas Cowboys."

On page 127, Simpson (who is not photographed) and Romo share their favorite family recipes for a "banana breakfast fruit smoothies" and "no-fat broccoli and cherry tomatoes."

The two also show off their funny sides in the book's biographical section, with Simpson listing her occupation as "hairdresser" and Romo stating that he's a "fence builder."

Romo — who lists "U2, Coldplay and AC/DC" as among the artists on his iPod (sorry, Jess!) — also reveals that his favorite food is "chicken enchiladas."
The recipes, unsurprisingly are nothing special – I think my 9-year-old could probably make them without my help. The broccoli and tomato recipe calls for pre-cut, pre-washed vegetables. Is that what Jessica considers cooking?
It sure is interesting that Jessica is considered a "wife of a Dallas Cowboy." She does like to go on and on about how Tony is her "future husband" and how she wants to have kids with him – but maybe she should wait for Tony to ask her first.
Jessica Simpson and Tony Romo are shown at the airport in Dallas on 1/3/08. Credit: SplashNewsOnline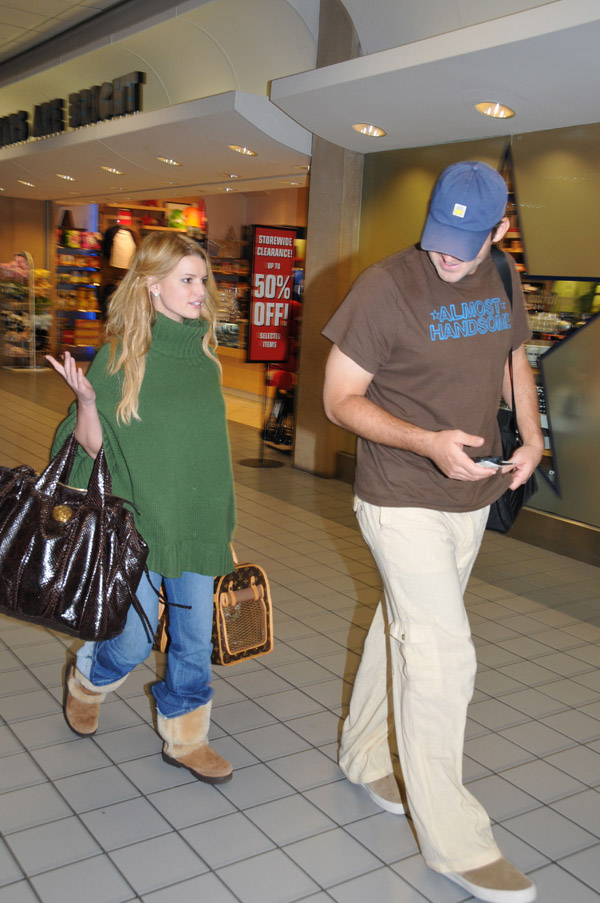 Written by MSat

Posted in Jessica Simpson, Tony Romo

- The Blemish interviews Carmen Electra [The Blemish]
- Rumer Willis joins Pretty Little Liars [Lainey Gossip]
- Morgan Freeman falls asleep during interview [D-Listed]
- Fug or fab: Isla Fisher [Go Fug Yourself]
- Tamra Barney confirms spinoff [Reality Tea]
- Movie franchises that rebounded [Pajiba]
- Why Dylan McKay is the perfect boyfriend [Buzzfeed]
- Saoirse Ronan could have been a Lohan [Evil Beet]
- GIFs from Cannes [Popsugar]
- Cat massages a dog [CDAN]
- Heather Graham is so pretty [Celebslam]
- What is Lucy Hale wearing? [Moe Jackson]
28 Responses to "Jessica Simpson recipes included in "Wives of Cowboys" cookbook"