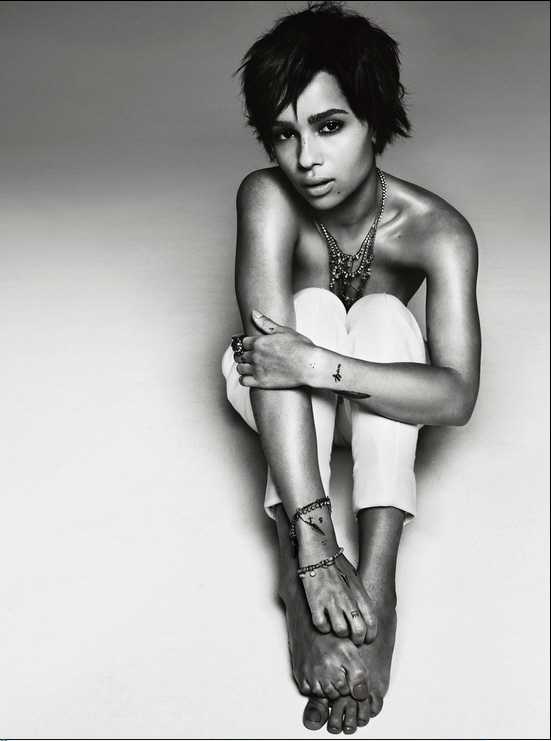 Zoe Kravitz has been keeping it low-key for a while. Surprised? I am! Around the time that she was dating Michael Fassbender (fall 2010-spring/summer 2011), Zoe seemed eager to embrace the fame and squeeze what she could out of it. And then she started up with Penn Badgley and somewhere along the line she just put her head down and really started working. She's currently promoting After Earth, that Will Smith & Jaden Smith movie (which looks horrible) and then she's got Mad Max: Fury Road and Divergent coming out next year. To promote After Earth, Zoe has a nice little feature in V Magazine:
Zoë Kravitz never thought she'd become a major player in the big-budget film world. "I definitely always saw myself as a theater or an indie film actress, because those were the things I was always drawn to," says the 24-year-old Williamsburg-based musician and rising star who has played roles as diverse as an underage, crack-addicted prostitute, in Neil Jordan's 2007 thriller The Brave One, and a mutant, in last year's X Men: First Class. "I just kind of assumed that those were the types of projects that were drawn to me too."

But Hollywood has embraced her-—the child of two undeniably cool acts, actress Lisa Bonet and musician Lenny Kravitz—and now studio execs are even adapting scripts to better suit the burgeoning star, as in the case of M. Night Shyamalan's summer sci-fi action flick After Earth.

"The role was originally written for someone much younger than me, so I said I couldn't do it," says Kravitz of her character, Senshi, who lives in the future and travels back to Earth from another planet with her father and brother, played by Will Smith and his son, Jaden. "The whole movie takes place after Earth has become uninhabitable," she says. "It's pretty awesome."

The elder and younger Smith rank equally high in Kravitz's book. "There were moments that I was hanging out with Jaden and thinking, I can't believe you're 14, I have to check myself, like what I say to you," she laughs. "He has so much personality and so much swag, he is so much cooler than I am. And he's so handsome, I was always like, When you're older, you know, we'll hang out…Nope, that's inappropriate, you're 14."

All jokes aside, there's no mistaking that the fashion industry has courted Kravitz. She has served as muse and stylist to her good friend Alexander Wang, and recently she launched a new jewelry line for Swarovski. By utilizing her favorite colors and materials, found in Morocco, India, and Africa (where she just wrapped a six-month shoot, for George Miller's Mad Max: Fury Road), Kravitz wanted to "add some earth" to the brand's beautiful and elegant crystals, she says. Perhaps big businesses can't help but be attracted to her cool, easygoing aura after all.

"My mom's whole thing was that she wanted me to wait until I knew what I really wanted. She'd always say, 'Once you step into the spotlight, you can't take it back.'" It seems Kravitz has taken that advice, but with a tiny grain of salt. Next up she'll take a much deserved vacation in Brazil, with her live-in boyfriend, the actor Penn Badgley, before heading off to film her next big budget movie. "Gotta jump at it when you can," she says.
Yes, you read that correctly – Zoe and Penn live together. Apparently, they're renting a loft in Williamsburg and Penn Badgley recently gave New York Magazine a tour of the place, saying: "Look at where I live. I mean, all of my friends live very much the way I do except for the fact that they have no money, you know what I mean? We all hang out, we do the same things, we all live in a similar way, and I happen to have this massive, beautiful apartment." Which is super-cute considering that Penn also described his relationship with Zoe as "being in love, real, true, earth-shattering love."
So, is it okay to love Zoe now that she's not playing with Fassbender's heart? (Or whatever happened there, I have no idea.) I like her more and more the further she gets away from Fassy. And I really love Zoe and Penn together. I'll wish her well, but I think After Earth is going to be a box office disaster. I'm sure she won't be blamed for that though.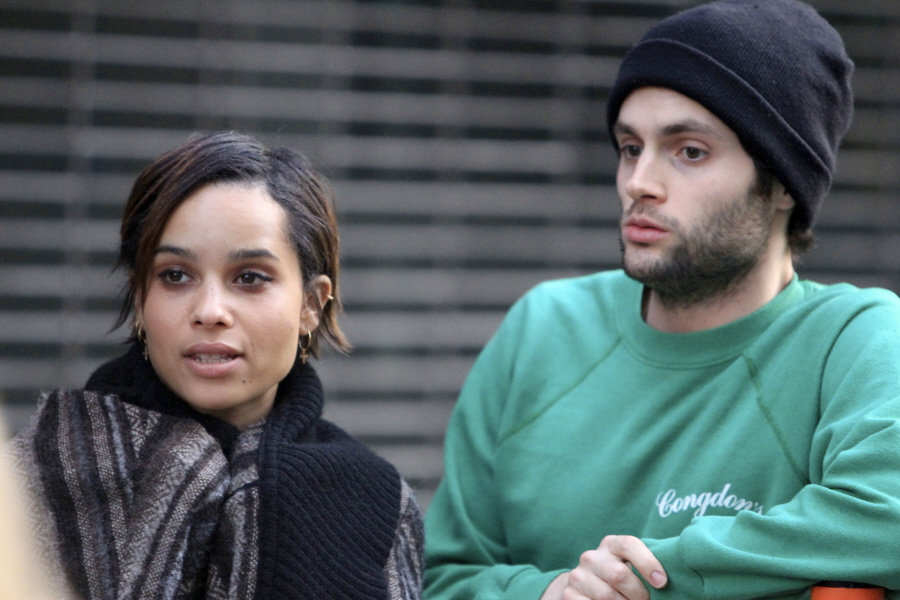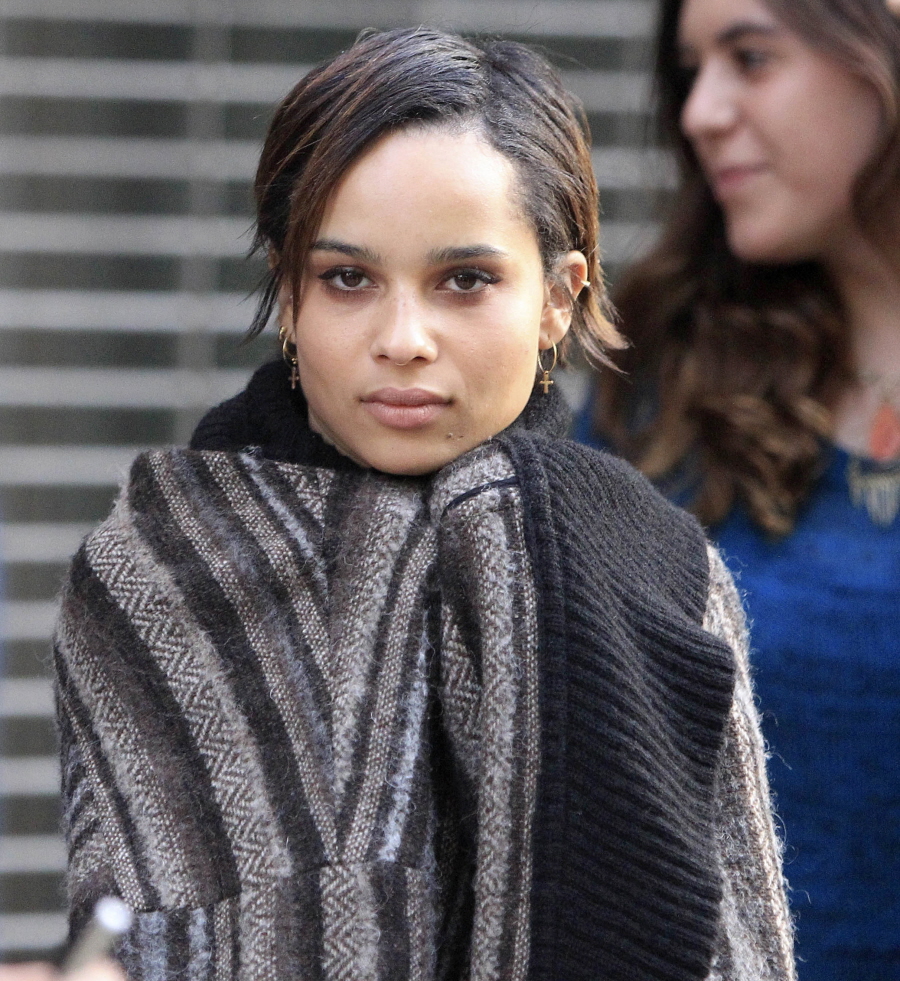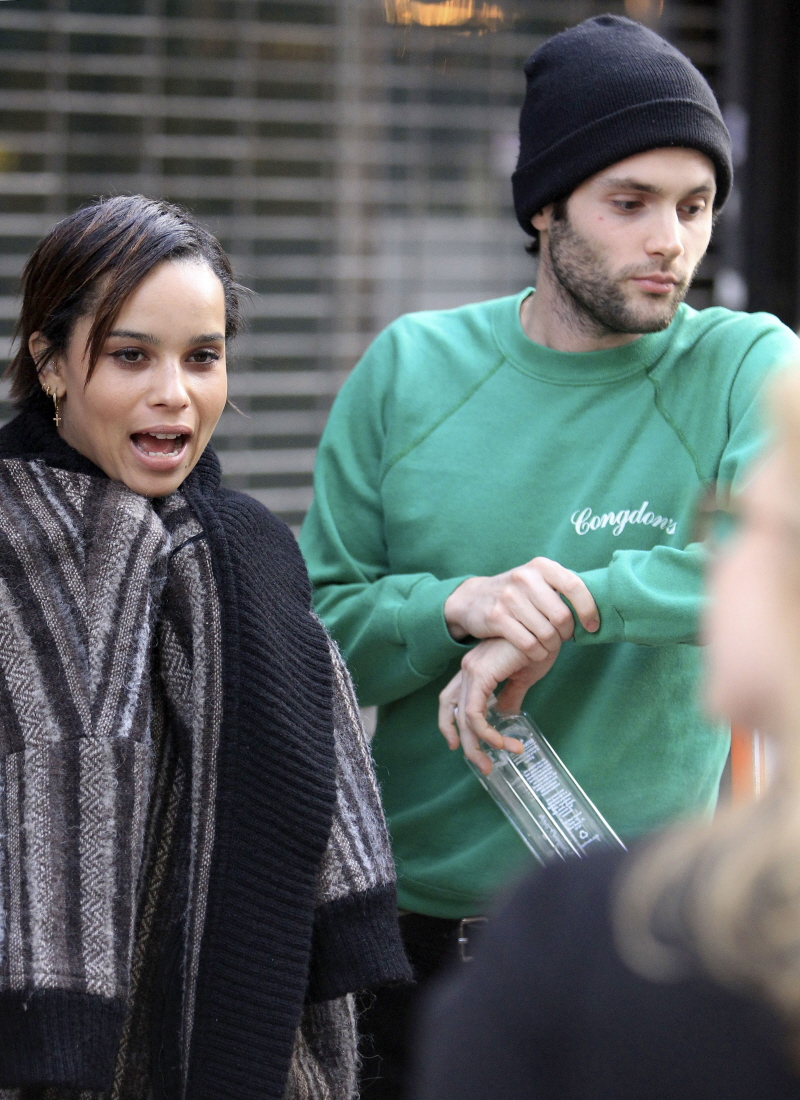 Photos of Penn & Zoe in Miami in March, courtesy of Fame/Flynet, header photo courtesy of V Magazine.