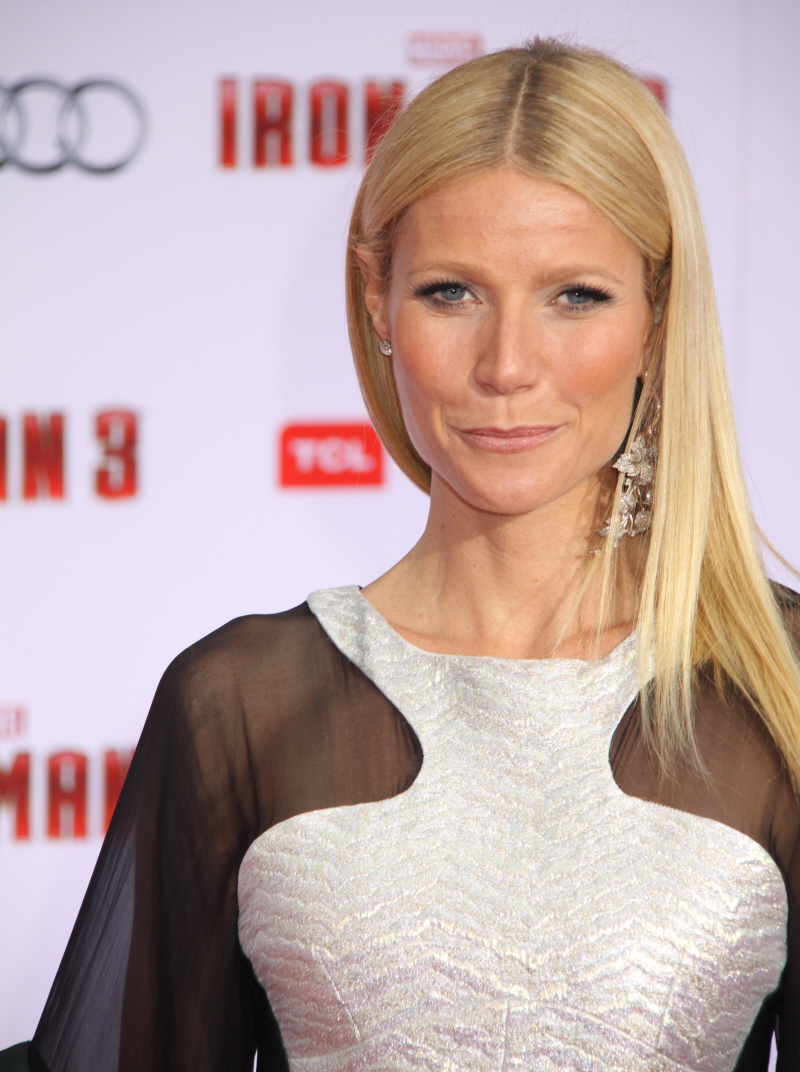 I really hope that this is the last gasp of Gwyneth Paltrow's two-month-long domination of the media. She has been everywhere these past two months, promoting her book and Iron Man 3, being declared People's "Most Beautiful" and doing smug, humble-bragging interviews like every day. But hopefully that's all over now? Hopefully Gwyneth will go back to London and settle down for a little bit? Or has she gotten a taste for the Kardashian-level famewhoring and TMI-interviews? Is this what Gwyneth is going to be like from now on? Ugh. Anyway, Goop did a Q&A with Babble and in between referring to herself as a goddess (no joke), she talks about how "the fans" want a Pepper Potts spin-off. Sure, Goop.
Babble: How did you feel when you were picked to be on the cover of People Magazine's Most Beautiful issue?
Honestly, Steven – he's been my publicist since I was nineteen years old – and he sent me the email and I was like, "this is a typo." Like I reread it three times, and then I got this really weird old feeling that my school bully had somehow was playing a trick on me. I swear, I had to talk about it with my shrink. I went through this whole weird thing. He was like, "yes, it's true." And I was beyond surprised, flattered, and I still kinda can't believe it. It's, it's really cool.

Tell us about putting on the suit.
I love putting on the suit. It was really weird. I've never done anything like that in my whole career, and my son was on set, and so I'll never forget it; I walk out onto the set, and I was fully dressed in the suit, and his face, because he's like in the last probably year and a half watched the, the first Iron Man and Avengers and everything- I'll never forget his face. Like, he was in shock and awe. It was so cool.

Mommy cool?
Oh my God, yes. And by the way, I now have Lego in the set- there's a Pepper, so I am a goddess. So fun.

How does it feel, as Pepper, to be that strong?
I loved it so much. You know, I was getting kind of like, come on, guys. Pepper, like, let's- come on, like, all these boys are flying around doing all this fun stuff, and I loved how patient and kind and sweet Pepper is. But when I read this script, I was like, "oh yeah!" She's in the suit and flying around, and I loved doing the stunts. As I said, I really had never done anything like that before and it was really fun. I felt like I should've been doing this my whole life. It's like, "why am I doing all these period films. it's so boring."

What are some of the fun things that happen on set?
The things that I remember from set are, like, my kids learning, like how to drive a golf cart. On a movie, it's so big and you drive a golf cart from one thing to another and you're like, "okay, you can drive the golf cart." And then all of a sudden, they just started taking off in golf carts. So, this is illegal and this is not okay. Or like their Nerf gun fights and we just had, it was just like a fun experience for the family, and they love Robert. They had no idea that Robert was famous until probably a year ago. And they just love him so much and he creates a fun environment, and it was just nice. It was a really nice shoot. When you work with someone over and over again, that you really love and that environment is so familial and the kids feel- everybody feels it really was so great.

Are we gonna see you in more action films?
I don't know. I would actually really like to, but really, am I old now to start, like, you know, being in action movies. I would like to. The nice thing is that everybody's sort of been very sweet about Pepper in this movie, like all the journalists who came in. They were like, "oh my God, you have to have your own movie," because in the comics, Pepper gets her own suit, and she becomes a character called Rescue. They're like, we need a Rescue movie, and I'm like, okay, well, I'd better hit the gym.

What color would you choose for your suit?
Ooh, great question. Gray, like, silver and white. My favorite colors.
This is something very particular about Gwyneth, have you noticed? She only hears – and endlessly repeats – the compliments people give her. I find that unusual. I can remember most of insults lodged at me throughout my life. The nasty comments and harsh words are burned into my memory and I can recall them in an instant. But it's like Goop doesn't even register criticism. She only hears the positive. She only believes the positive. She only repeats the positive to humble-brag endlessly. So of course she thinks she's deserving of a Pepper spin-off. Of course the critics adore her. Of course she is a "goddess". I realize she was saying that in reference to what her son thinks about her lego & suit, but she could have said "Oh, he thinks I'm a cool mom." But whenever Goop imagines herself through the eyes of anyone else, she sees herself as a goddess.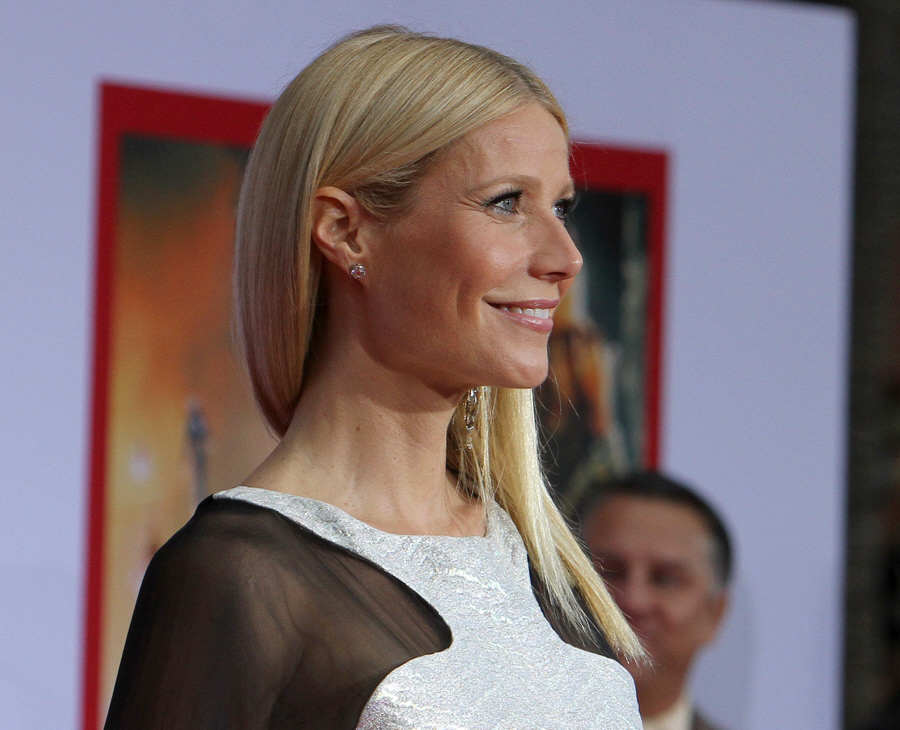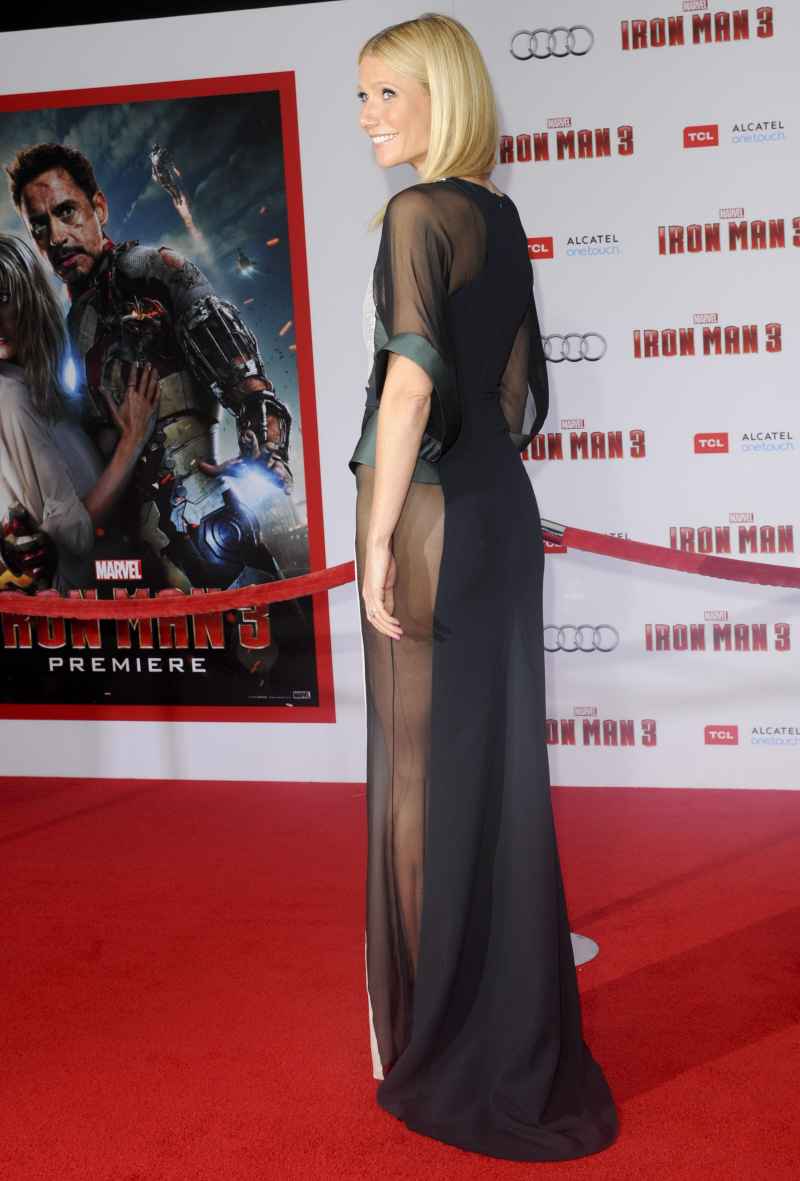 Photos courtesy of WENN.