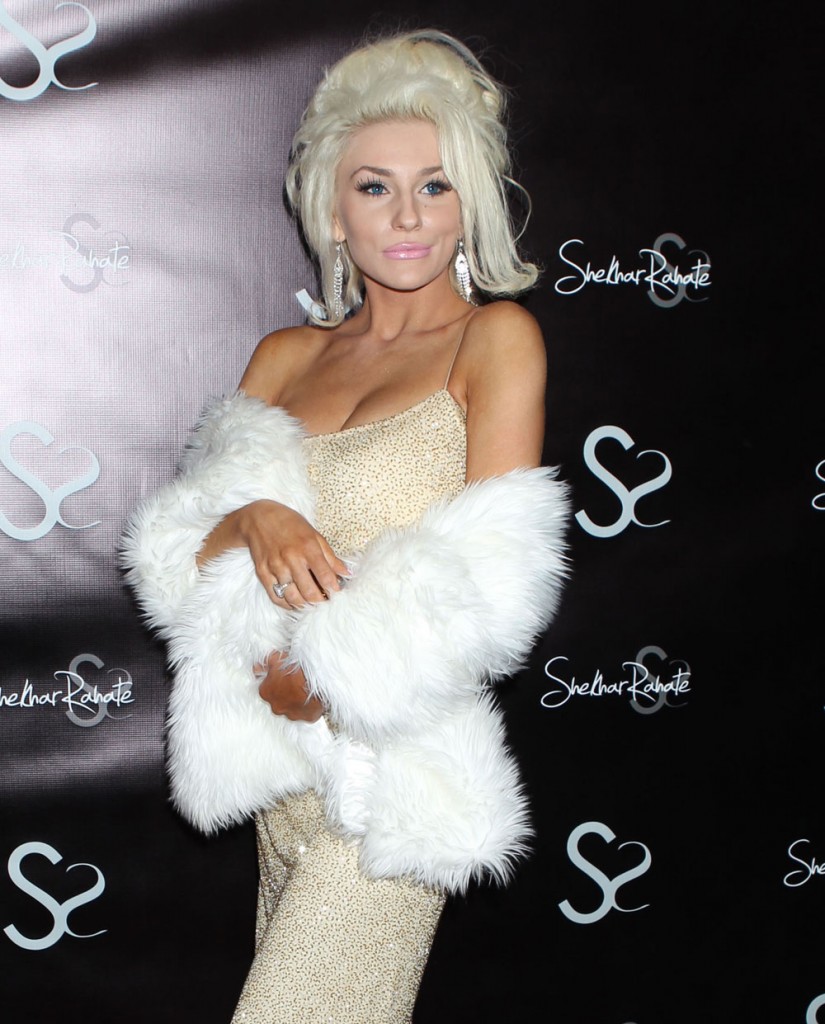 Kaiser pointed out these photos to me of Courtney Stodden, 18, at some event, let's see… the "Sizzling Sexy Summer Event at Shekhar Rahate Haute Couture." This is the same very budget tacky prom dress-looking designer whose event she attended with her mom two months ago. Kaiser wrote that these photos were "amazing" and that "she looks 50 years old." Well that makes sense, because Courtney's husband, Doug Hutchison, is 53 years old and is said to control every aspect of her life. Neighbors of Courtney and her husband/dad claim that Doug "drinks day and night" and that he's often heard loudly arguing with Courtney.
Courtney Stodden and Doug Hutchison… are once again making headlines for a blowout fight – this time on May 4, after Doug, 53, came home in a drunken rage. "He was out of his mind," reveals a source. "Neighbors could hear Courtney crying." The boozy encounter, which has family worried for 18 year-old Courtney's safety, is nothing new. "He drinks day and night," considers the insider. "Doug controls every aspect of her life."
[From Star Magazine, print edition, May 27, 2013]
I believe this. If Courtney's extreme age difference with her husband and bizarre appearance didn't convince you that she's in an unhealthy relationship, this video of her in goth garb as an alter ego calling herself a "slut" who moved to Hollywood "to marry some old, washed up, D-List, saggy-balled actor" will do it. She made that back in March, and of course her enabling manager mom dismissed it, calling it "funny" and "edgy." There's nothing funny or edgy about this whole sketchy situation, but this girl is 18 years old and her only life skill involves wearing lucite heels and posing in a bikini. She probably is unable to take care of herself and I doubt she could divorce this guy and get any support from her parents. They're the ones who thought it was perfectly fine that she marry a 50-something washed up actor in the first place.
I don't know why this didn't occur to me much earlier, but Courtney's mom probably set her up with Doug from the get-go, right? This wasn't a situation where these two found each other online like they're claiming, I bet her mom planned it all and pimped Courtney out to these creeper in some grand scheme to make her daughter a "star." Look how that's working out. Courtney is playing the role as she's expected to, but I just feel sorry for her.
Update: I just read over on Starcasm that Courtney announced to E! news that she has a sex tape. Of course she does. She said it's "not out in the media" or on her computer and adds "I don't want to put any images in people's mind; I'm gonna leave it up to you guys to think what you want." She claims she's not going to release it (unless the money is right) claiming that "this is personal." Isn't that what Farrah Abraham said too? Courtney claims It's "just me… I turned 18 in August, so you do the math." If she has no plans to release it, why did she wait until she was 18 to make the tape?
Courtney with her mom: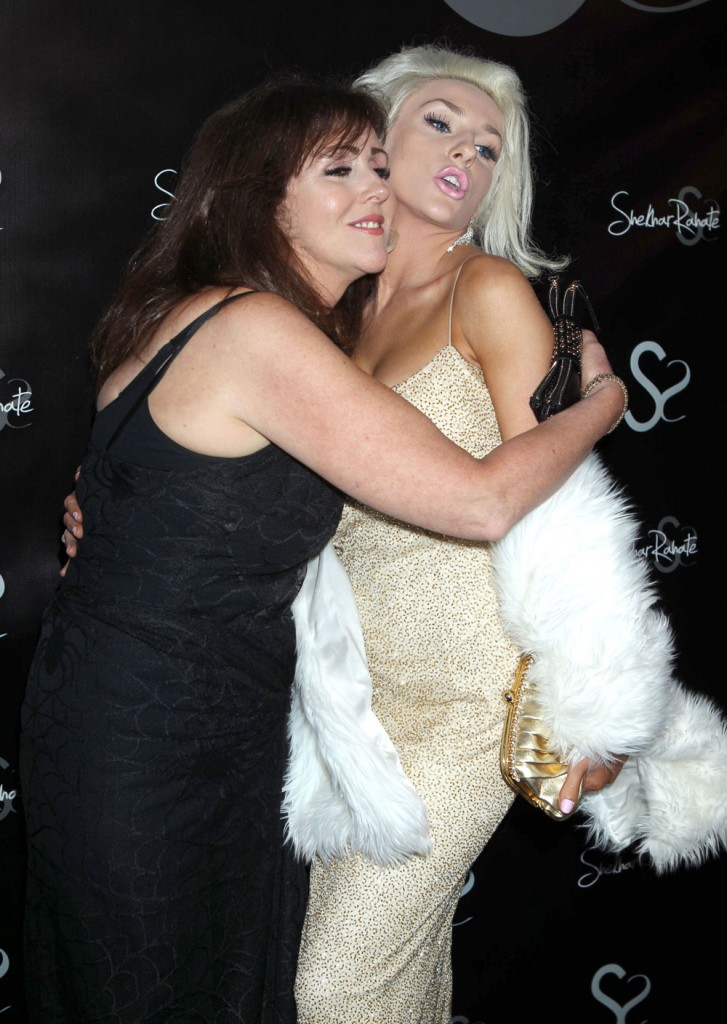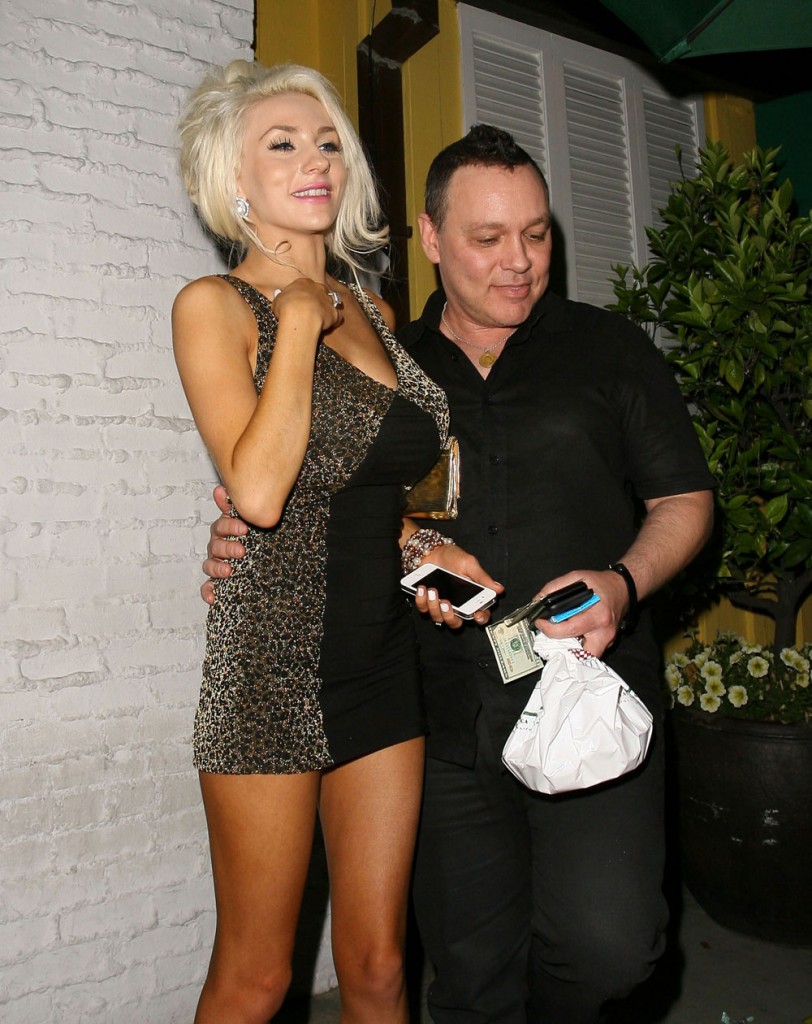 Courtney, her mom and the designer, Shekhar Rahate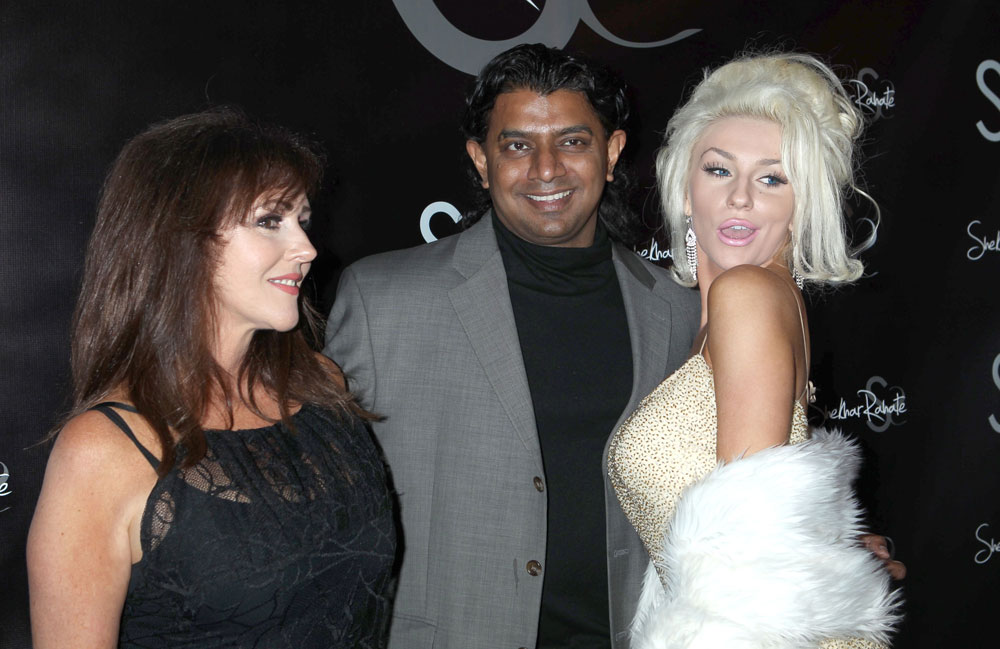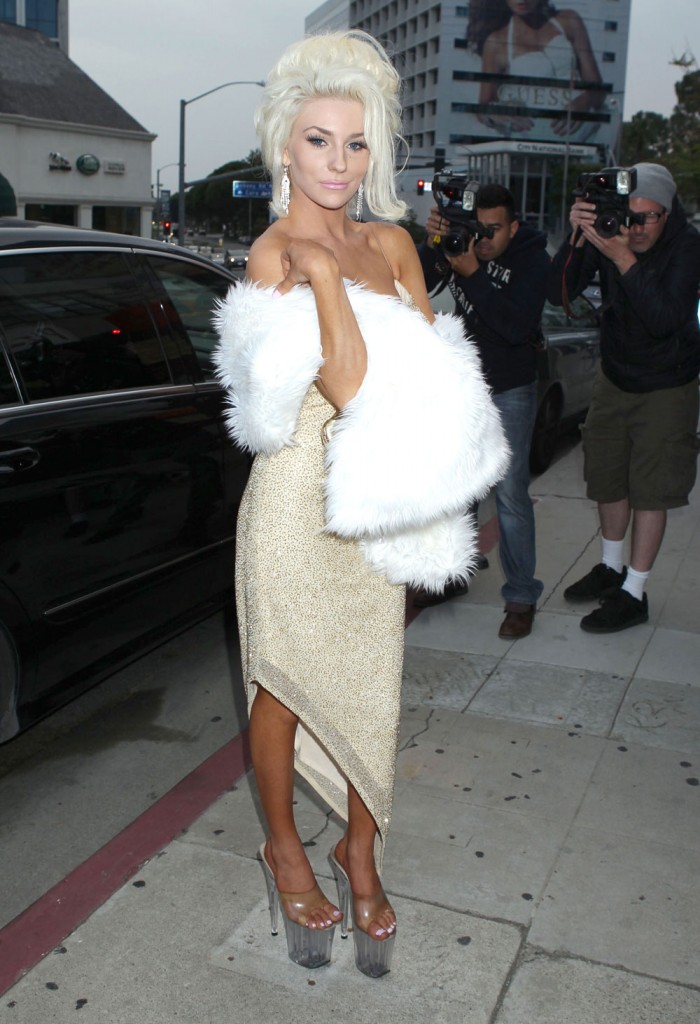 Courtney and Doug are shown on 5-13. Event photos are from 5-16. Credit: FameFlynet