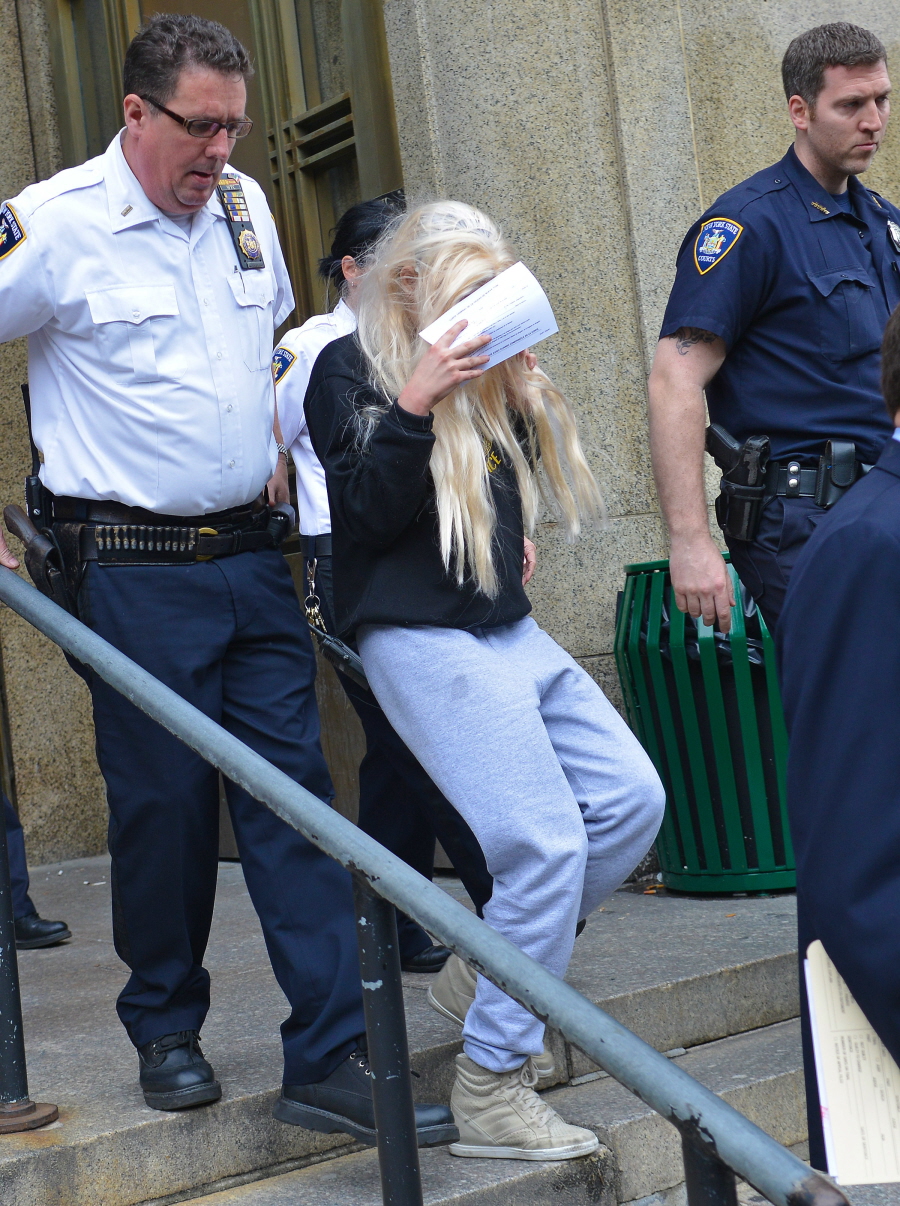 As we discussed on Friday, Amanda Bynes was arrested Thursday evening for marijuana possession and "felony bong tossing" (felony evidence tampering). She was arrested, taken in for a psych evaluation (which she somehow passed or something), then she spent the night in jail and appeared in court Monday morning. The prosecutor asked for Amanda to be held pending a more comprehensive evaluation of her mental health, and failing that, they asked for her to be held on $1000 bail. The judge was all, "I was some of the Cracken Glory" and he let Amanda go on her own recognizance. Then about a million different stories came out, so let's do bullet points:
*Radar has a report of what was going on with Amanda in the 48 hours leading up to her arrest. According to Radar's sources, Amanda has been mixing marijuana with Ecstasy, Percocet and Roxicontin, and she does them all in excess so she's been delusional and "erratic". A source says, "Amanda is completely pill'd out and mixes too many different pills with Molly [slang term for Ecstasy], which brings the high to a whole different level. Amanda is literally never sober. Being on all these pills has become the usual to her so she finds her behavior normal, but her reality is completely altered. When she's high, or even coming down from high she becomes extremely paranoid."
*Sources are positive that the drug use is just Amanda's "self-medication" for her extreme mental health issues. Her parents have been trying to get her hospitalized because she began behaving strangely years ago. Apparently, "She even thought there were tracking devices in smoke detectors in her family home and would place sheets over them. Amanda also hears voices."
*TMZ's sources say that Amanda has never been diagnosed with a mental illness, although her parents thinks she could be bipolar of schizophrenic. Her parents want to put her under a Britney-style conservatorship, but the problem is that there isn't enough evidence of Amanda's mental illness or mental incompetence to warrant a 5150 hold (72 hour psychiatric hold) or a conservatorship.
*Here's video of Bynes in court on Friday. I swear, from some angles you'll think "Damn, Lindsay Lohan doesn't look so bad." The wig is a hot mess, but Amanda seems relatively pulled together. Her lawyer claims she only threw a vase out of the window, except the cops couldn't find anything on the street so maybe she didn't even throw anything?! Whatever. The lawyer also claims the cops entered Amanda's apartment illegally. Quick question: the judge asks Amanda if she's ever been in trouble before and both she and her lawyer so "oh, no" but she got a DUI in California and there were several other traffic incidents, right?
*As soon as Amanda was out on Friday night, she got back on Twitter and tweeted "I only smoke tobacco I don't drink or do drugs. I've never had a bong in my life! I need to get another nose job after seeing my mugshot!

" and "I need Nicki Minaj's wig person stat!

". Then there was this tweet of beauty on Saturday: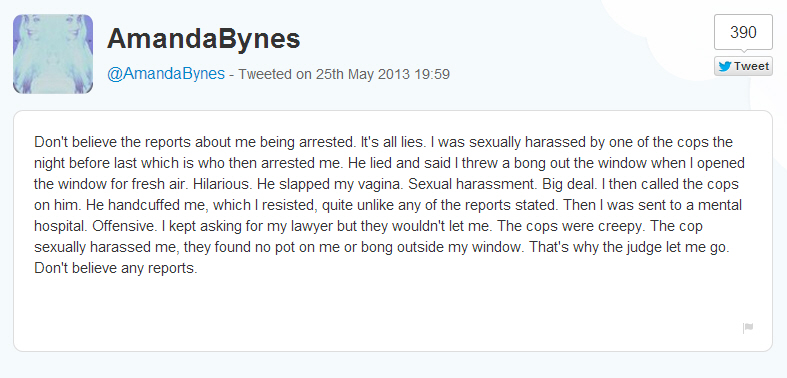 A cop slapped Amanda's vadge? It's not that I doubt that there isn't a cop somewhere who has ever done that, but with Amanda… oh, God. I don't know what to say.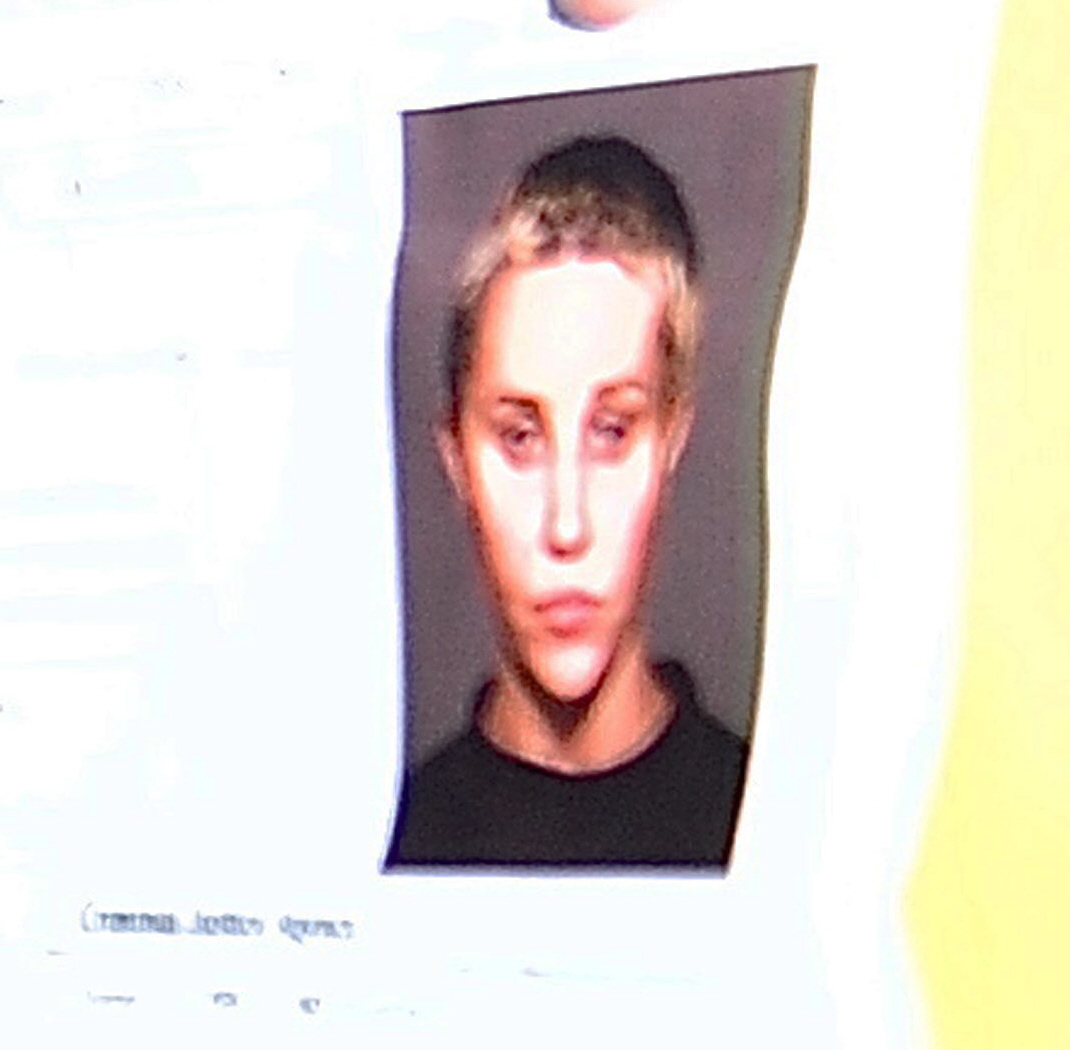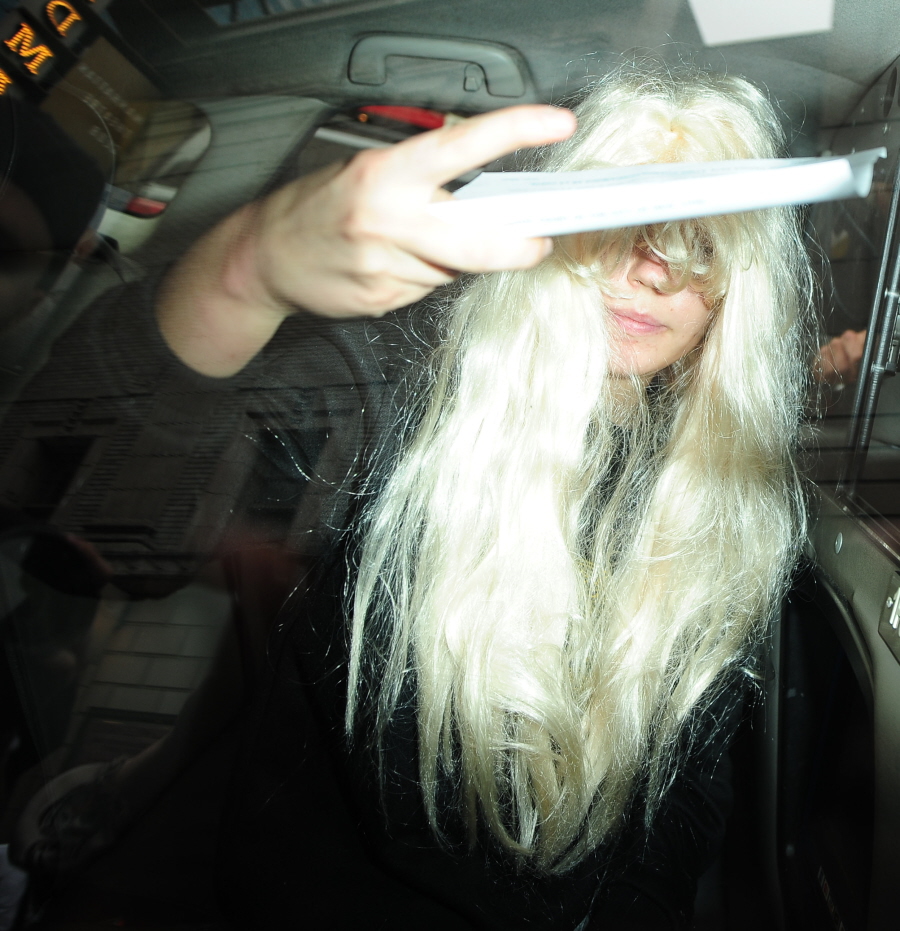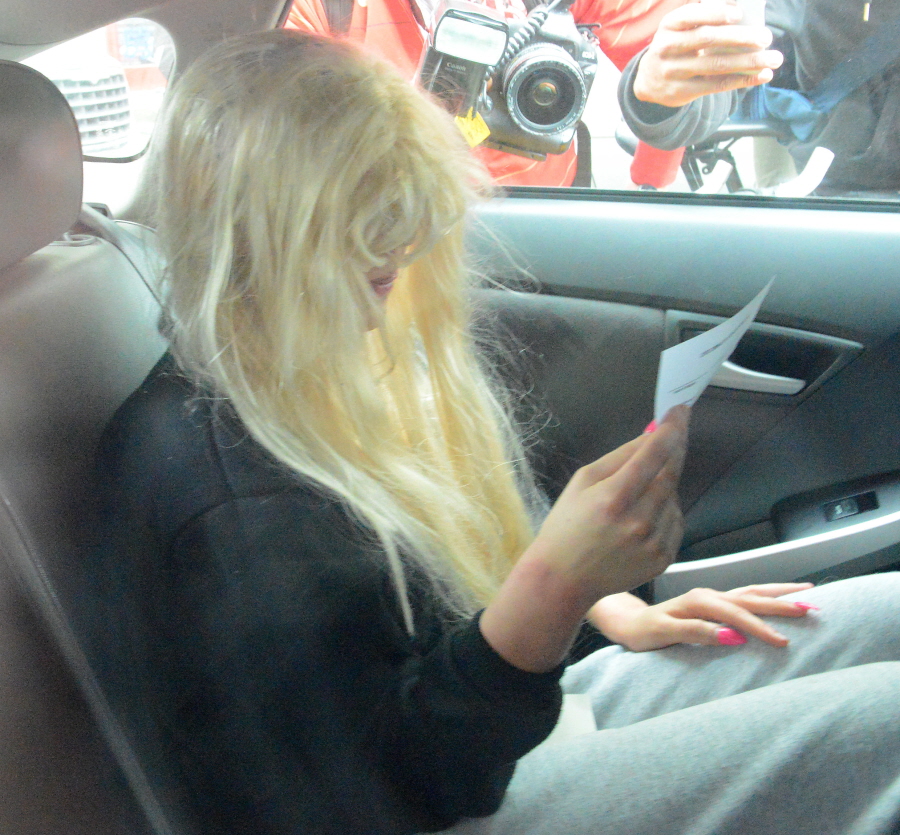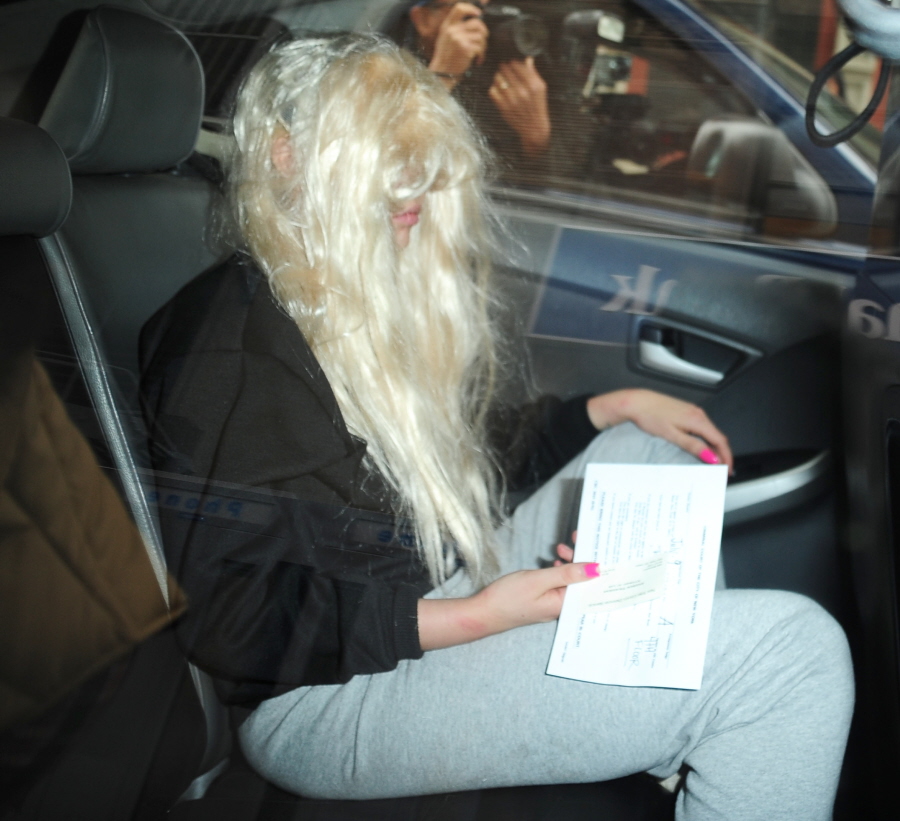 Photos courtesy of WENN and Fame/Flynet.