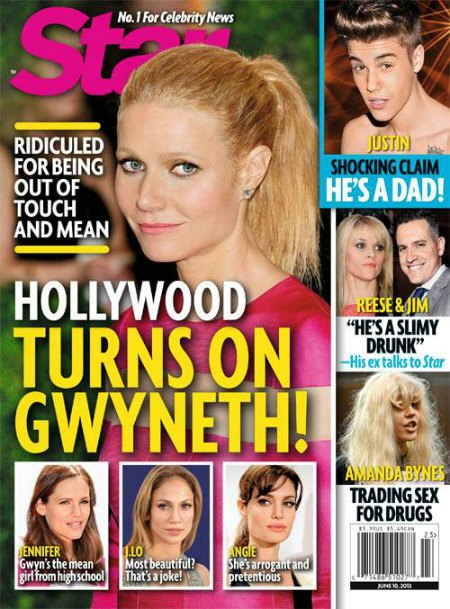 I want to marry this Star Magazine cover and have its snobby, elitist Goop-babies. Yes, after blanketing every media outlet for MONTHS to promote her cookbook, her movie, her lifestyle and her beauty, the tabloids have finally reached their tipping point. I'm not saying that Star Magazine is a harbinger of some kind of major Anti-Goop Movement, but I think the anti-Goopsters amongst us deserve to have our kind of stories told in the media. Star hasn't released much of the cover story yet, so this should just serve as a preview:
*Apparently, producers don't want to work with Gwyneth anymore. An insider claims, "Gwyneth has annoyed people to the point where no one wants to deal with her anymore. She has always been pretentious, but over the past few years she has gone from pretentious to unbearable."
*Everybody in Hollywood hates her: "Madonna wants nothing to do with her, Reese Witherspoon ignores her, Kate Hudson thinks she's elitist (and Kate bashes Gwyneth to their friends), Jennifer Garner thinks she's like a high school mean girl, and Jennifer Lopez has no patience for the 'whiny little rich girl.'"
*Even Chris Martin wants Gwyneth to tone it down, and he's pissed that she talked about the miscarriage. Chris is also concerned that Gwyneth's "oversharing problem" has "become a problem for her kids' school" – because the school expressly forbid Gwyneth from writing about them in a Goop-letter.
*Gwyneth is "obsessed with getting Angelina to like her because she knows Angelina has class and power."
*Insider quote: "She thinks she is untouchable and can say whatever she wants without consequences. Her mouth is finally getting her into trouble, and it's long overdue."
*Reese in particular is still pissed off because Gwyneth said something bitchy about her in a 2006 interview (Gwyneth wondered aloud why Reese did "stupid romantic comedies" and now an insider says: "Reese could care less about what Gwyneth's opinion of her is. She joked about how the woman who made Shallow Hal really has no place giving career advice to anyone else."
For what it's worth, Gossip Cop got a denial from Goop's rep, but it's the kind of Mean Girl-denial that is totally Goop – the rep says Goop is "good friends" with Reese and Kate and merely "acquaintances" with Jennifer Lopez. No mention of Madonna or Jennifer Garner or Angelina, huh?
Meanwhile, I missed this new Goop interview last week – she was promoting Boss Jour Pour Femme, the new Hugo Boss fragrance that she now represents. You can read the full piece here at WWD – there are some ass-kissy quotes from the Hugo Boss people, like: "Gwyneth Paltrow embodies hard work, femininity and sophistication. She is a woman that has so many different roles, each and every day. From being an actor to being a mother, a writer, a businesswoman…" GMAFB. But let's hear what Gwyneth has to say about her super-difficult life and how she's so inspirational:
"I have had a really good experience working for Boss, and I always say this, but it really is such a perfect job when you have kids. I can only really do one film a year now because of my family and how it all works out, so it's so nice for me to be able to work for a great company and, you know, I'm going to Spain next week for two days so I still get to travel and meet really interesting people and have a work interaction. But it's not like I am out of the house for three months," added Paltrow at the Mandarin Oriental Hotel here ahead of the official launch in Valencia, Spain, this week.

Paltrow added that she is something of a collector of fragrances. "I am one of those people who have a whole closet full of perfume. I love it; I have always loved it and have always had a wardrobe full of scent," she said, admitting to having at least a hundred in her possession.

"I think that Jour is the perfect name for it — it's very uplifting," she said of the new scent. And uplifting may be just what she needs given her regular morning routine. "I wake up at 7 a.m., I get [the kids] fed, and I get them dressed in their uniforms, any bits of homework are finished," Paltrow explained. "I take them to school. She [Apple, now 9] gets dropped off at 8:25 a.m., and he [Moses, now 7] gets dropped off at 8:45 a.m., so we have a croissant together in his school dining room and we do reading together. Then I go home and I work for one hour on all the e-mails that come in overnight from L.A. Then I exercise from about 10 a.m. to 12 p.m. Then I work on Goop [the digital media and e-commerce company she founded] pretty much the rest of the day until I pick up my kids and then they have various activities."
Um, is it just me or do her kids get to go to school really late in the morning? And she's basically saying that she "works" about three hours a day. Did you catch that? She spends an hour doing emails and looking at cat videos in the morning, then it's off for her daily 2-hour workout… and though she doesn't include it, I'm assuming there's about a half-hour for showering and primping. And then 12:30-ish to 2:30-ish she "works" on Goop (every day?!) and then she goes and picks up her kids. That's it. Her life is super-busy, y'all. I wonder what would happen to Gwyneth if she was dropped into the average working mother's life for just one day? We would never hear the f—king end of it, I can tell you that much.
Here are Goop's Hugo Boss ads: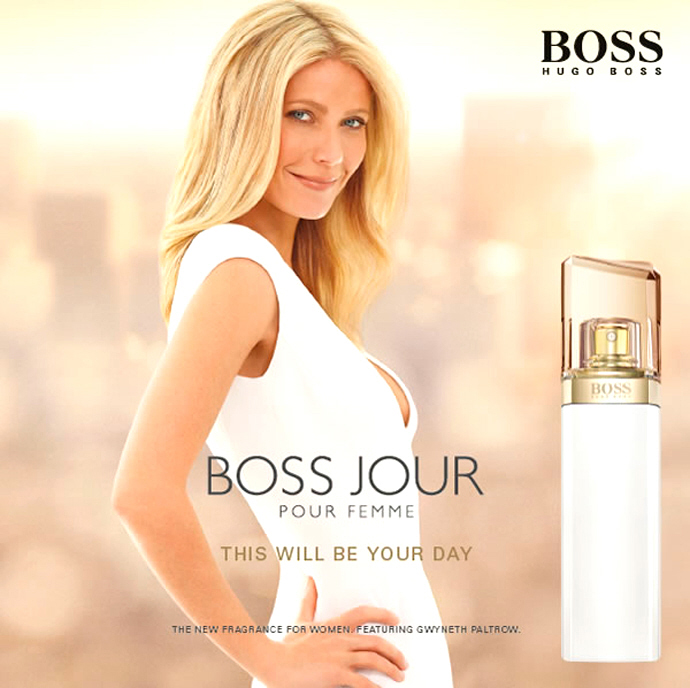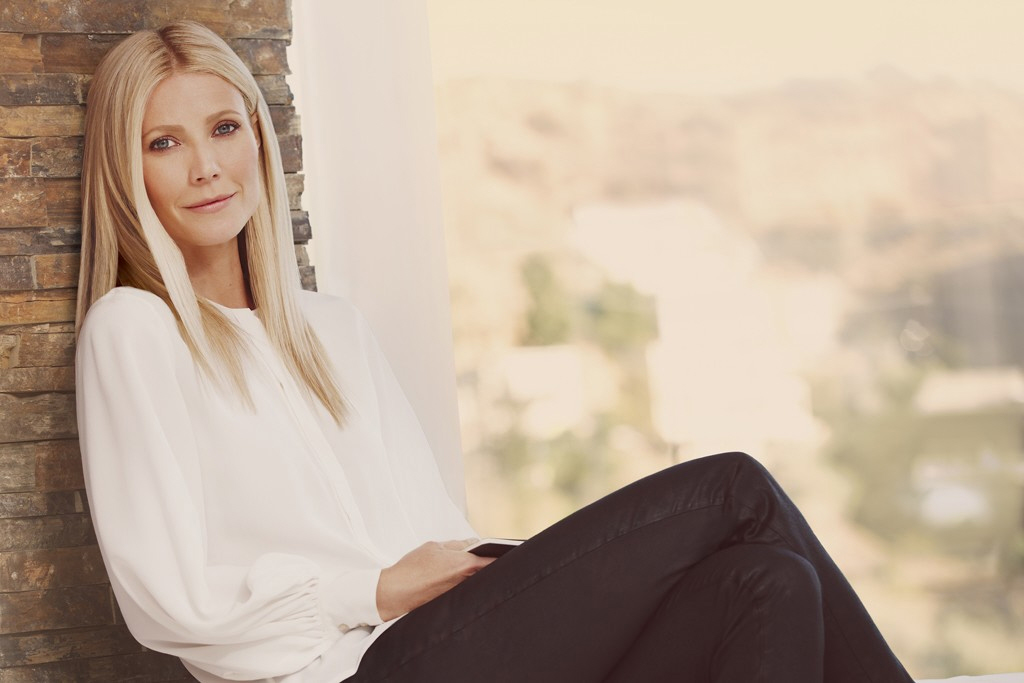 Photos courtesy of WWD/Hugo Boss.