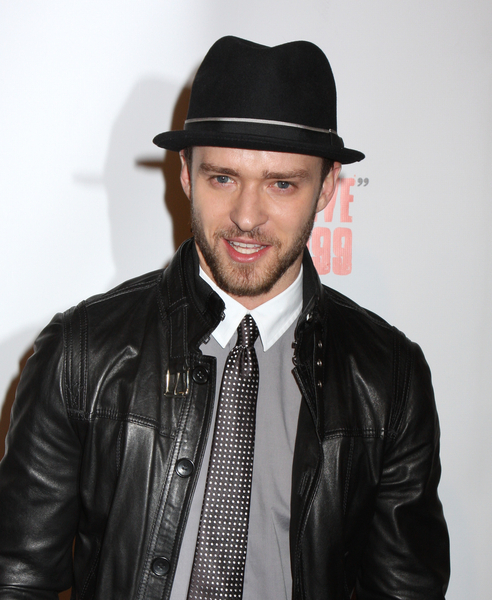 Justin Timberlake's clothing line, William Rast, will be debuting its spring line at New York Fashion Week in Bryant Park on February 16th.  The line was founded in 2006 with Timberlake's friend, Trace Ayala.  This is the second show in New York, following the one in September when Timberlake fans were disappointed that he didn't perform:
The show is scheduled for Feb. 16 at 7 p.m. And for those who might anticipate a concert, there won't be one. A spokeswoman for William Rast said that while Timberlake is scheduled to be present at the show, there will be no performance. This will be the brand's second show during fashion week in New York. The last show, in September, was held at the Roseland Ballroom when a Timberlake performance was rumored but never materialized, much to the anger of attendees.
[from WWD Fashion]
Timberlake apparently isn't feeling the pressure of the economy, while famous designers like Vera Wang and Betsey Johnson are avoiding doing runway shows due to the recession.  Vera Wang released a gracious statement about her decision in December:
"To do big shows, you really need shock and awe. You need big accessories, you need power and drama in staging and in the clothing. I want to see what I think feels politically correct and feels appropriate from a business point of view at this stage."
[from Zimbio]
It's probably more of a business decision than an ideological issue, but we'll let that rest for now.  The question is really whether Justin Timberlake's line is good enough for Fashion Week.  The collection on the website is surprisingly good.  The prices are pretty average for high-end pants and tops; about $200 for a pair of jeans.  The men's collection looks like Justin's wardrobe – classy leather jackets, button-up shirts, and sweaters.  The women's collection is also interesting, featuring classic pieces like straight-leg jeans and pea coats with contemporary, asymmetrical elements.
If the spring line is as good as the collection online, the chance to show his clothes with less competition for press may be a good opportunity for the company.
Justin Timberlake is shown on 11/13/08 at a Keep a Child Alive benefit. Credit: PRPhotos