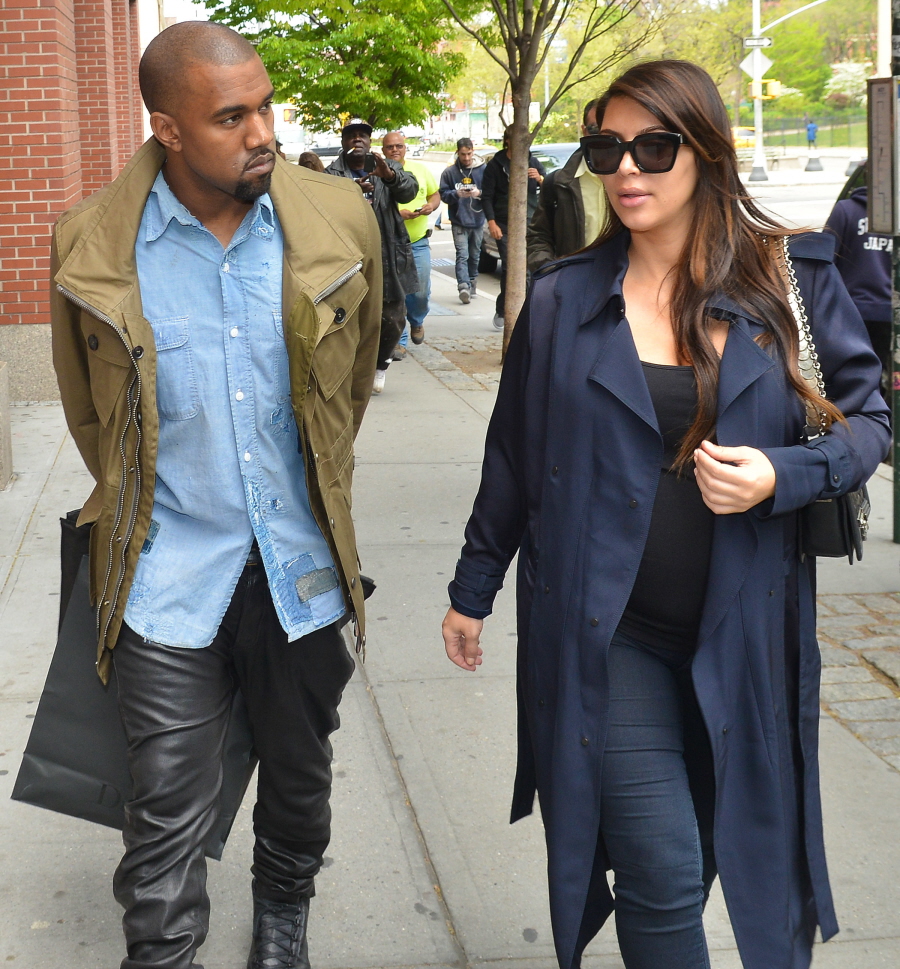 Ugh, let's do this. There are a bunch of new stories about Kim Kardashian and Kanye West this morning, so let's just dive in. I didn't watch the premiere of Keeping Up With the Kardashians last night, but apparently it had the "big reveal" of Kim and Kanye's baby's gender. Which we already knew MONTHS ago. They're having a daughter. It's confirmed now, because it was on the show.
Kim Kardashian and Kanye West are thinking pink. The couple are expecting a daughter in July, the reality star, 32, confirmed Sunday on the season premiere of Keeping Up with the Kardashians.

"I'm so excited we're having a girl. Who doesn't want a girl? I think they are the best," she said on the show. "I know that's really what Kanye has always wanted — he wanted a little girl."

Kardashian celebrated her baby shower the same day the announcement aired.

Although the couple have known for months whether they''ll be filling their home with shades of pink or blue — Kardashian admits the couple had to get creative to keep the baby's sex a secret.

"We buy all white," she says with a laugh. "Or we'll go and buy both [girl and boy clothing], and then no one will know!"
Yes, Kim and Kanye made a girl. And Kim wants to name her North. As in, North West. Kanye probably wants to give the little girl his mother's name (Donda), don't you think? Eh. You can see the footage from Kim's ultrasound here – some people are picking Kim apart for not showing any enthusiasm when she was told she was carrying a girl, but I just watched it and I just thought she seemed cautious. Like, she wanted to know the probabilities and she didn't want to get her hopes up. Plus, I think we just have to acknowledge that Kim has had an absolutely miserable pregnancy. She is just so uncomfortable.
Anyway, Kanye did (surprisingly) show up to the baby shower, which Kim held yesterday. There were rumors (confirmed by Khloe) that Kanye didn't want to go because he didn't want to be the only dude there. But Khloe brought Lamar and Kanye invited his family, so it ended up being a nice celebration:
Kim Kardashian and her already famous baby-to-be were the guests of honor at their shower Sunday in Beverly Hills. The Kardashian clan was joined by guests, including Kelly Osbourne, Maria Menounos, Kimberly Stewart, NeNe Leakes and Mel B., to celebrate the new addition, due in July.

The group enjoyed brunch – noshing on pancakes, waffles and fruit – before playing games and guessing baby names. Guests left with wreaths made of baby's breath in their hair.

As for the reality star's beau Kanye West, he did attend after all, arriving with Scott Disick and Lamar Odom.

"Kanye's whole family – all the women from his mom's side and dad's side – attended the shower," a source tells PEOPLE. "Kanye was so excited to have his family be there to join in the celebration with Kim's friends and family."

The mom-to-be, who has been defended by fellow celebs for her sometimes-unconventional maternity style, wore a white long-sleeve pleated dress to the event.

"Kim and Kanye were so cute – he rubbed her belly," Kardashian's aunt Karen Houghton tells PEOPLE. "They're just really blessed. It's such a happy day."

The bash comes a month after Kardashian, 32, enjoyed a family vacation in Greece sans West, and shortly after she finally divorced husband Kris Humphries.

With all that behind her, the reality star can focus on the final task ahead – the delivery – not that she's sweating it.

"At the beginning, that was what I feared the most, and now, I mean, it's inevitable," she told HuffPo. "It's gonna happen – I'm really not worried or nervous."
Pancakes and waffles? That sounds like weird food for a baby shower. But I would be like Miranda in Sex and the City – I would want fried chicken at my shower (which will never happen). Anyway, I'm glad Kanye came to Kim's baby shower and that he seems a little bit engaged in this process. Of course, I'm sure he flew back to Paris right after the shower.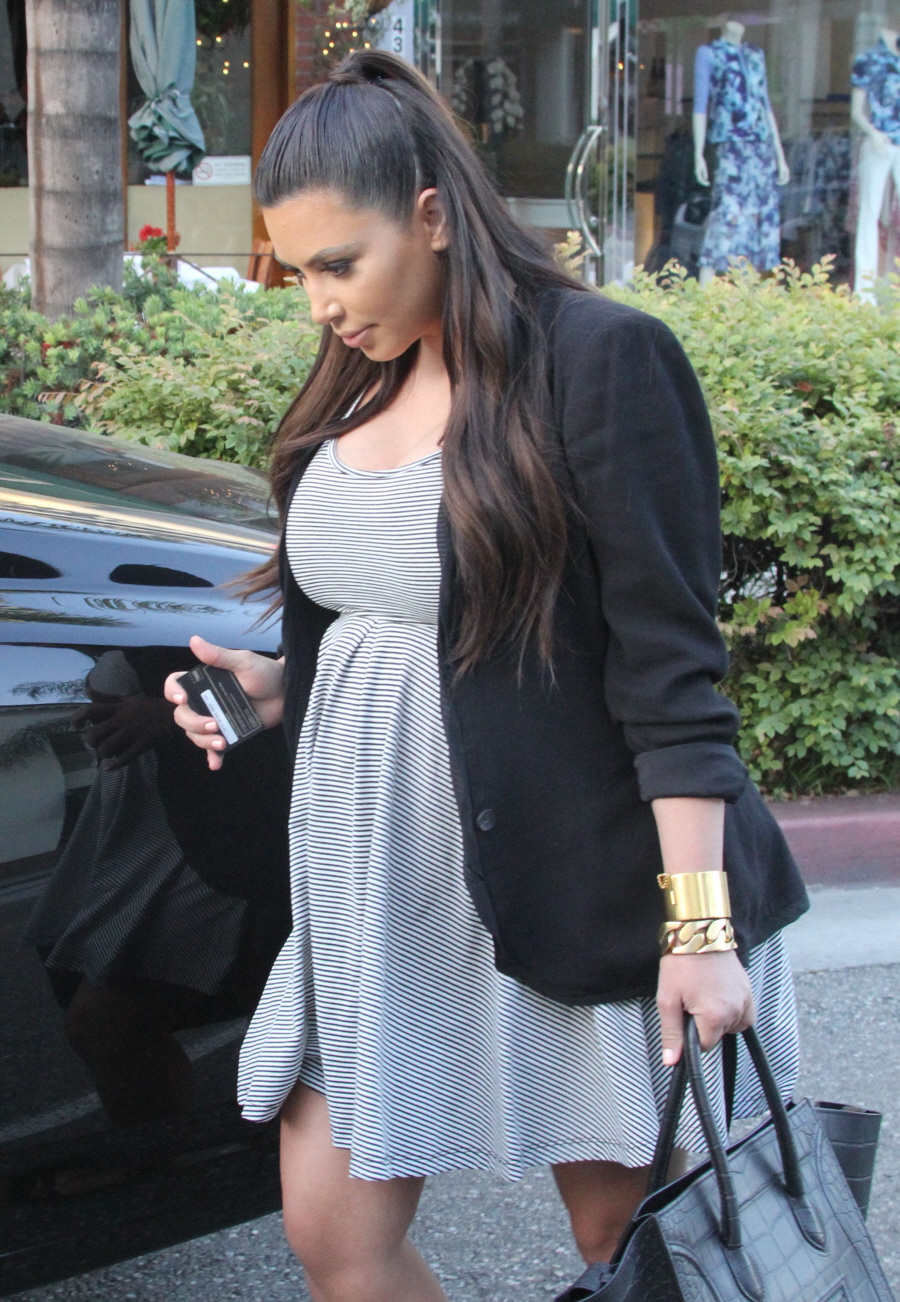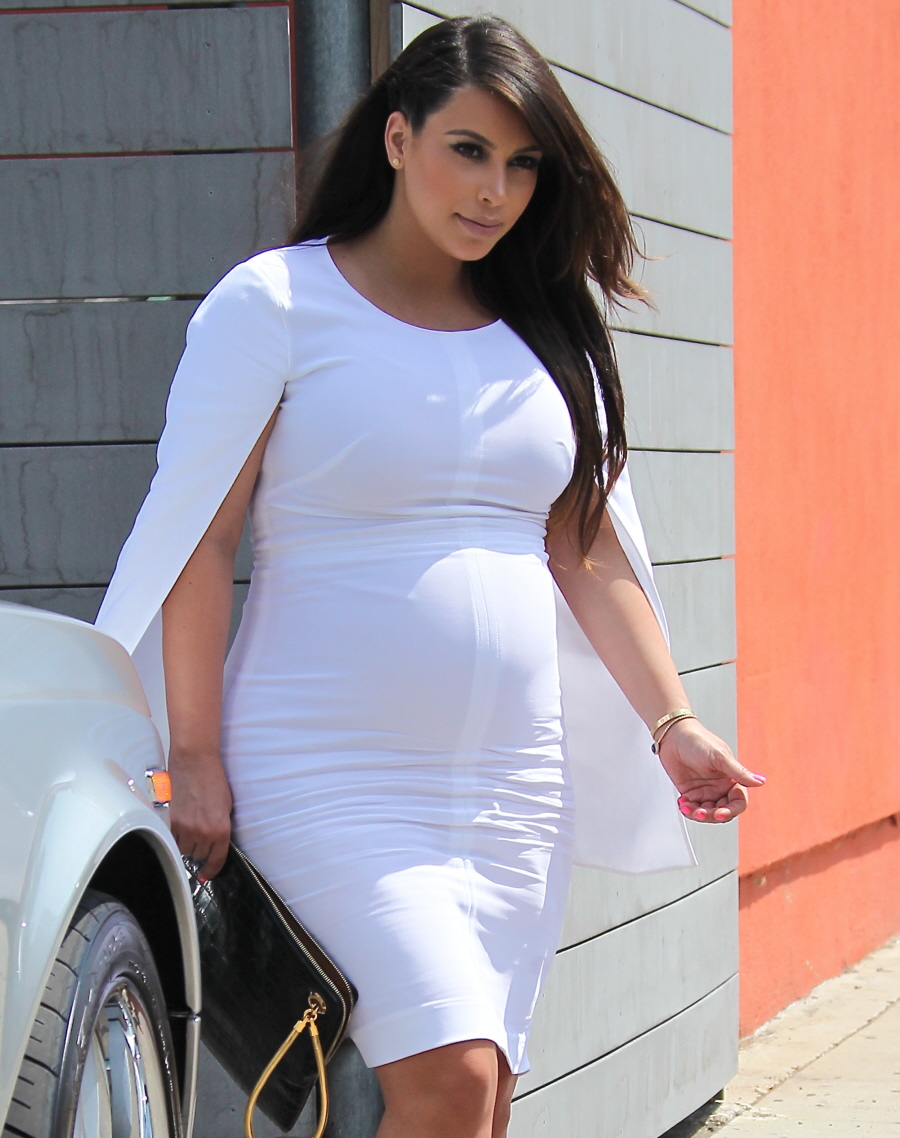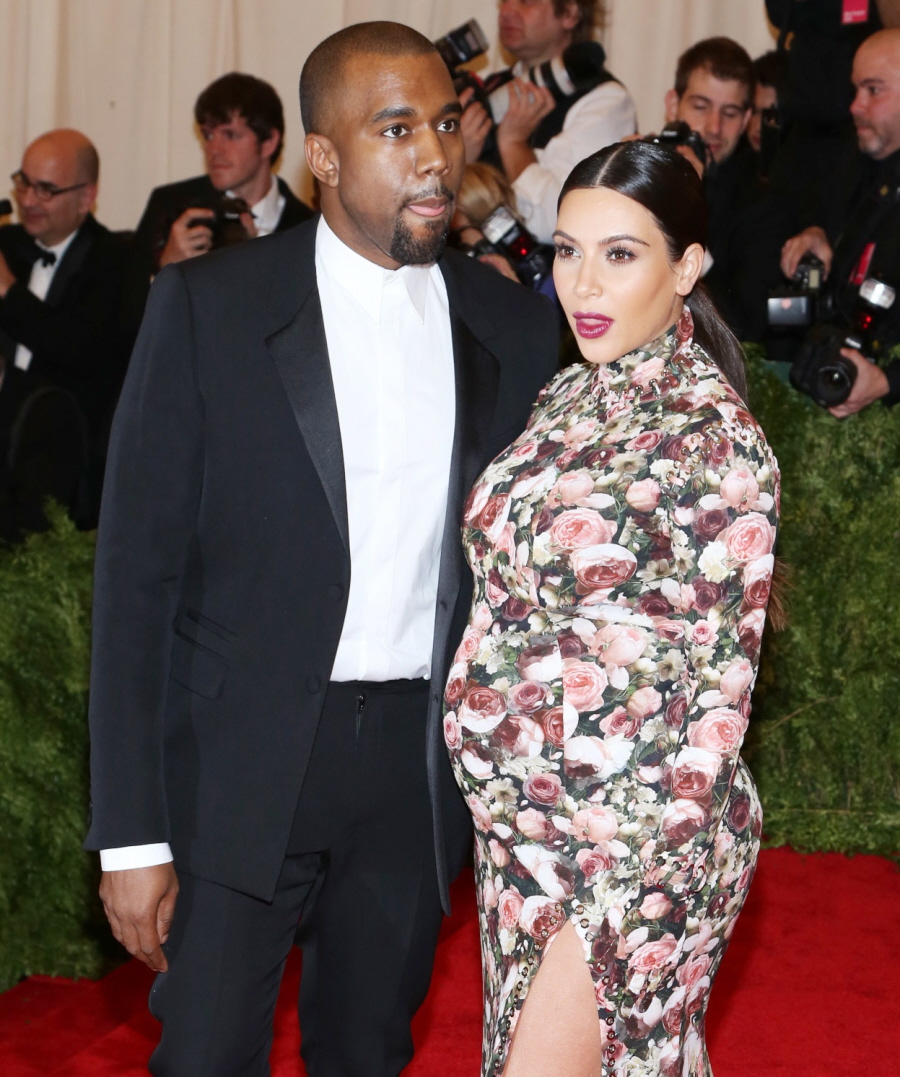 Photos courtesy of WENN, Fame/Flynet.