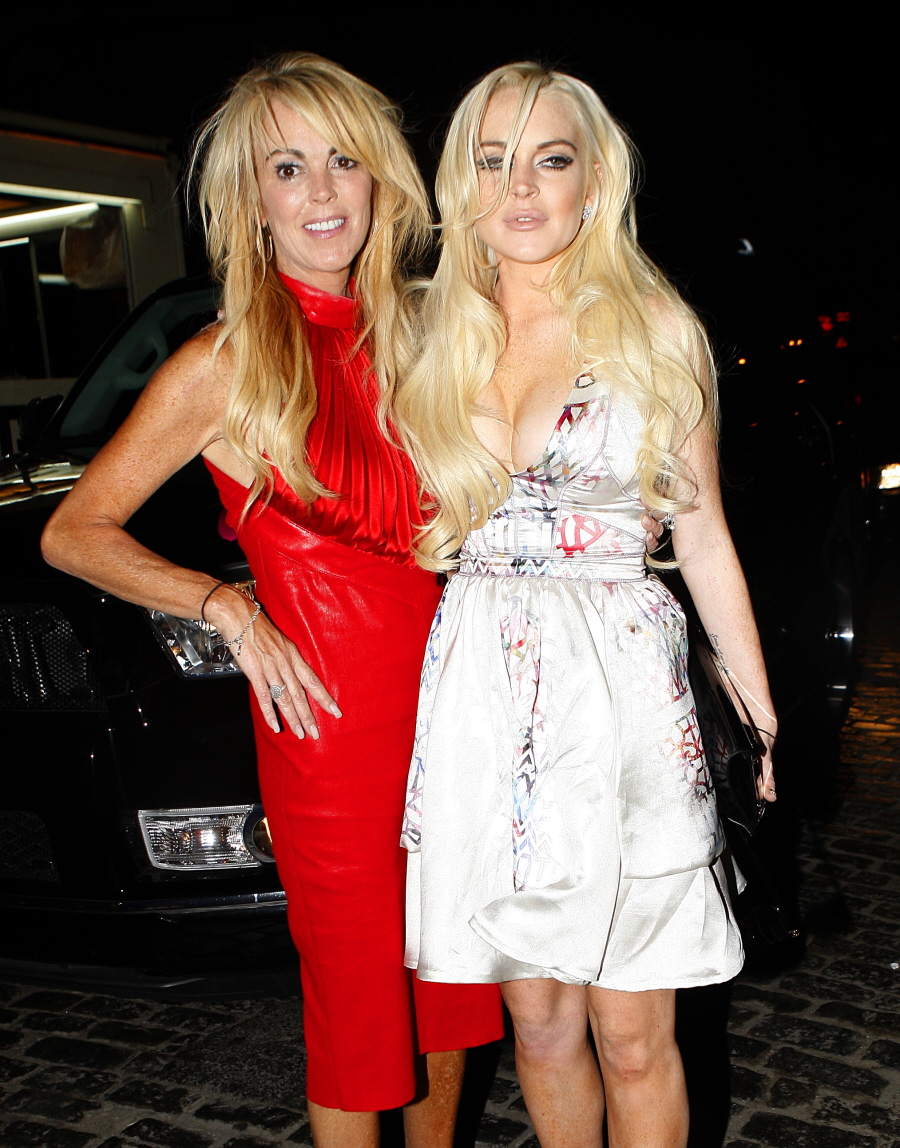 Who is more awful: Dina Lohan or Lindsay Lohan? I'm tempted to say Dina is worse, just because she's older, she knows better, she's a mother and there's really no excuse for her to be such a trainwreck at this point. But then I remember that Lindsay Lohan punches strangers in clubs and runs over babies. So… it's a tie? Anyway, Dina has been trying to get attention ever since Lindsay was forced into rehab. Dina and Michael got paid $50,000 to fight on camera for some new talk show. I mean… $50K is nothing to scoff at, especially when you're Dina Lohan and you have no skills. I could stretch $50K out for about a year and a half if I didn't need new clothes. But Dina felt flush, so she decided to "give back" by attending a charity event. You already know how this ends:
Dina Lohan better hang on to the $50k she scored by screaming at Michael Lohan on a talk show last week … because she's about to get sued for stiffing a charity … TMZ has learned.

Lindsay Lohan's mom hobnobbed it with some rich folk at a Ferrari charity event last year in East Hampton. The shindig was held at Andrra Waterside Restaurant and Ferrari owners and nearby yachters were out in force.

Edmond Chakmakian, the lawyer for the restaurant tells TMZ … Dina and her brother showed up and went to town, drinking up a storm and buying drinks for lots of people at the event. By the end of the night, Chakmakian says Dina ran up a $2,500 tab. Dina also pledged $1,500 to The Clamshell Foundation, which funds local charities that help underprivileged kids.

Chakmakian says Dina left without paying a cent, and he has sent her multiple emails demanding payment … but got no response.

So Chakmakian says he's filing a lawsuit Monday against Dina on behalf of the restaurant for the $4K she didn't pay.

Chakmakian says, "She feels very privileged and entitled because of who her daughter is. She acted like she was doing them a favor by showing up."
Jesus. This is like the fifth time Dina has done something like this – she's stiffed charities before, several times. She thinks that because she's MOTHER CRACKIE, she should get comped everything at charity events. Dina is so ridiculous. UPDATE: I'm realizing now that this happened last year, but the lawsuit is new. Good, I'm glad they're suing.
Meanwhile, Lindsay is still in rehab and she's counting down the days until she gets out. As soon as she gets out, she'll have to start promoting The Canyons, that soft-p0rn she made:
Lindsay Lohan will be out of rehab in time to see her latest film, "The Canyons," hit theaters. The movie, co-starring James Deen, will be released in New York on Aug. 2, Page Six can exclusively reveal, before expanding to more markets Aug. 9. Directed by "Taxi Driver" screenwriter Paul Schrader, the movie's also being released at the same time on digital platforms, including video-on-demand, through distributor IFC Films.

But although Lilo will be freshly sprung from the Betty Ford Center, there's no word on whether she'll be available for interviews to promote the movie, written by Bret Easton Ellis. The film will also show at the Venice Film Festival, where Schrader's on a jury.

Meanwhile, Lohan's parents, Michael and Dina, have been creating drama of their own as their daughter recovers: After reconciling, they were paid to appear on a TV show called "The Test" and wound up in a wild confrontation. A source close to Lohan told us, "She is upset that her parents are turning this into a circus and making money from TV appearances while she is in rehab."
It's much more likely that Lindsay is just upset that Dina went out drinking without her. LL is so jelly!!! Seriously though, you guys need to prepare yourselves for Lindsay's post-rehab PR blitz. She's going to be blitzed for the blitz. She's going to fly to NYC, do interviews during the day and go club-hopping every night. It's going to be a mess.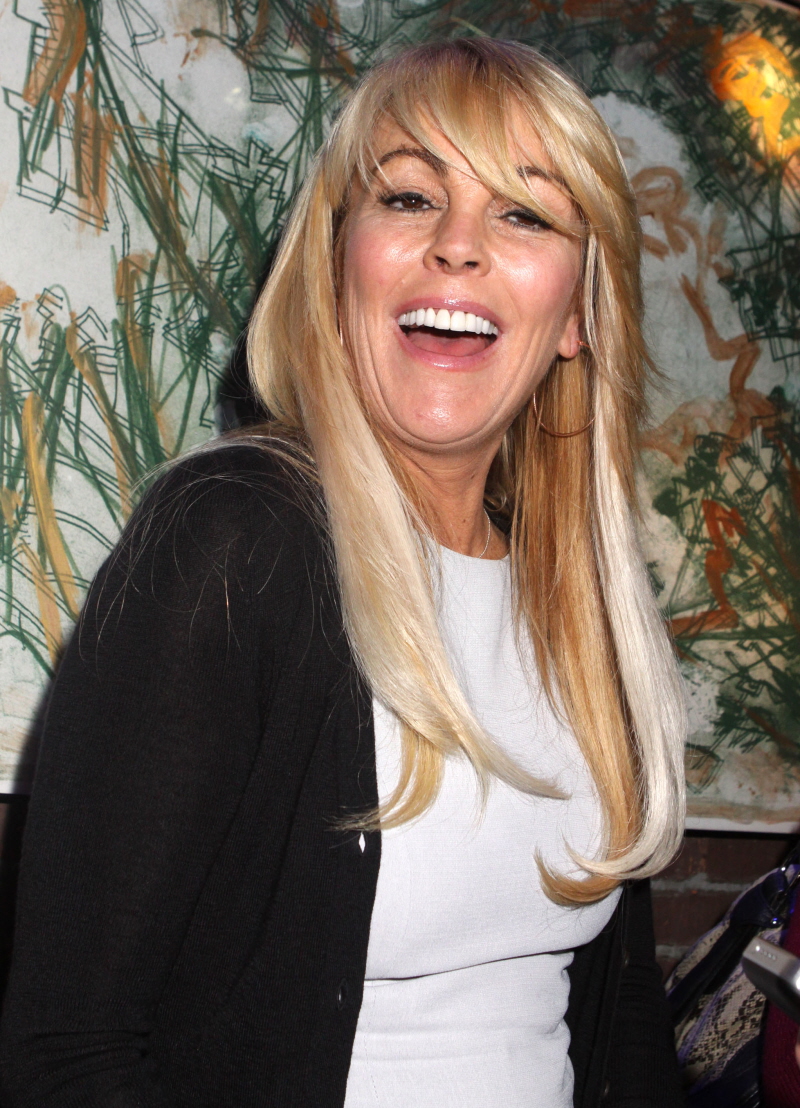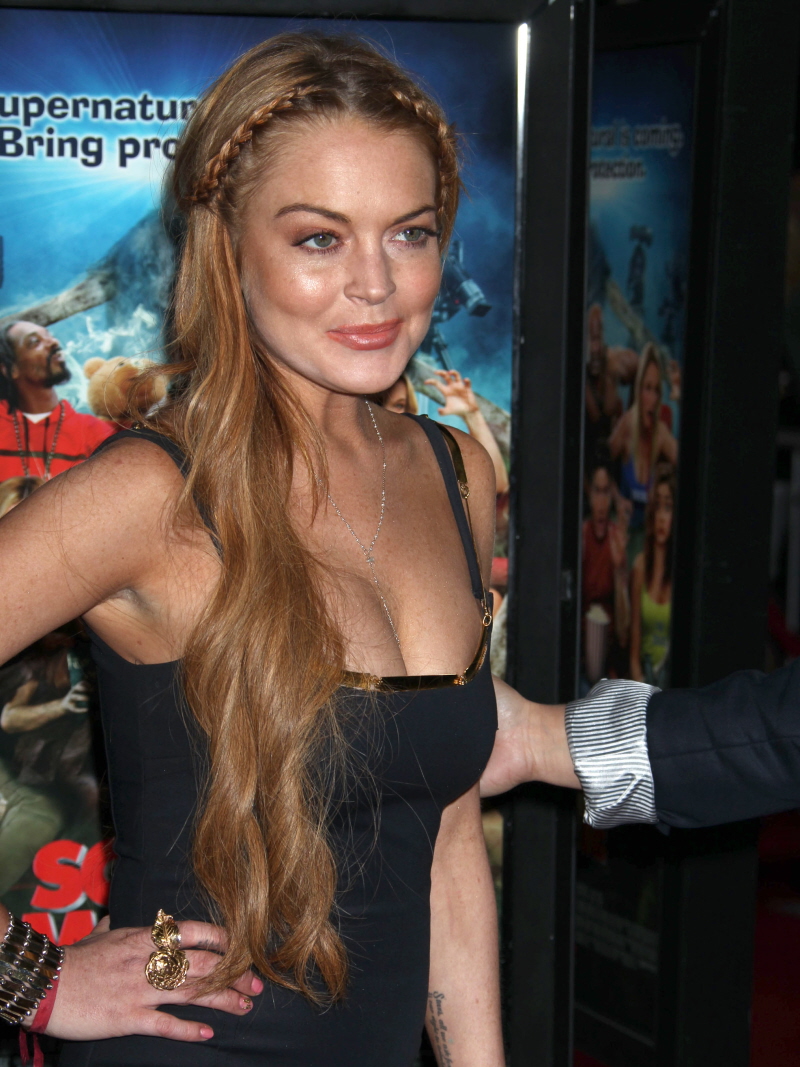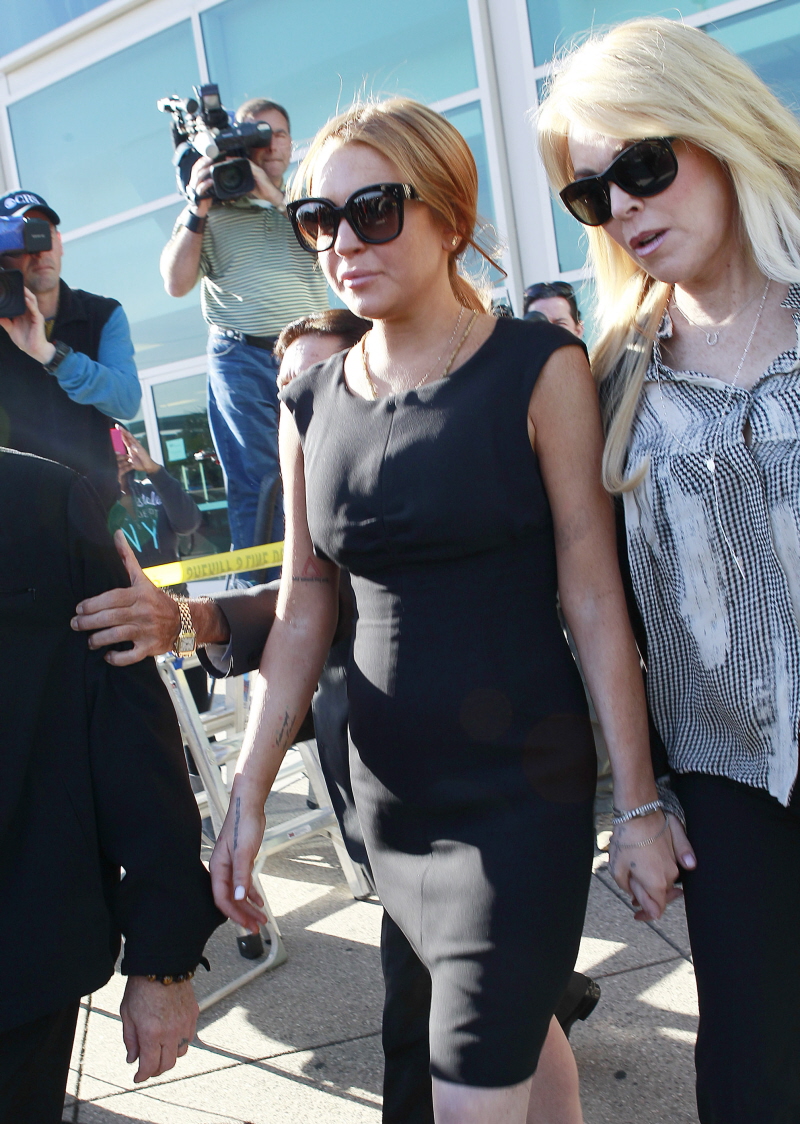 Photos courtesy of Fame/Flynet.