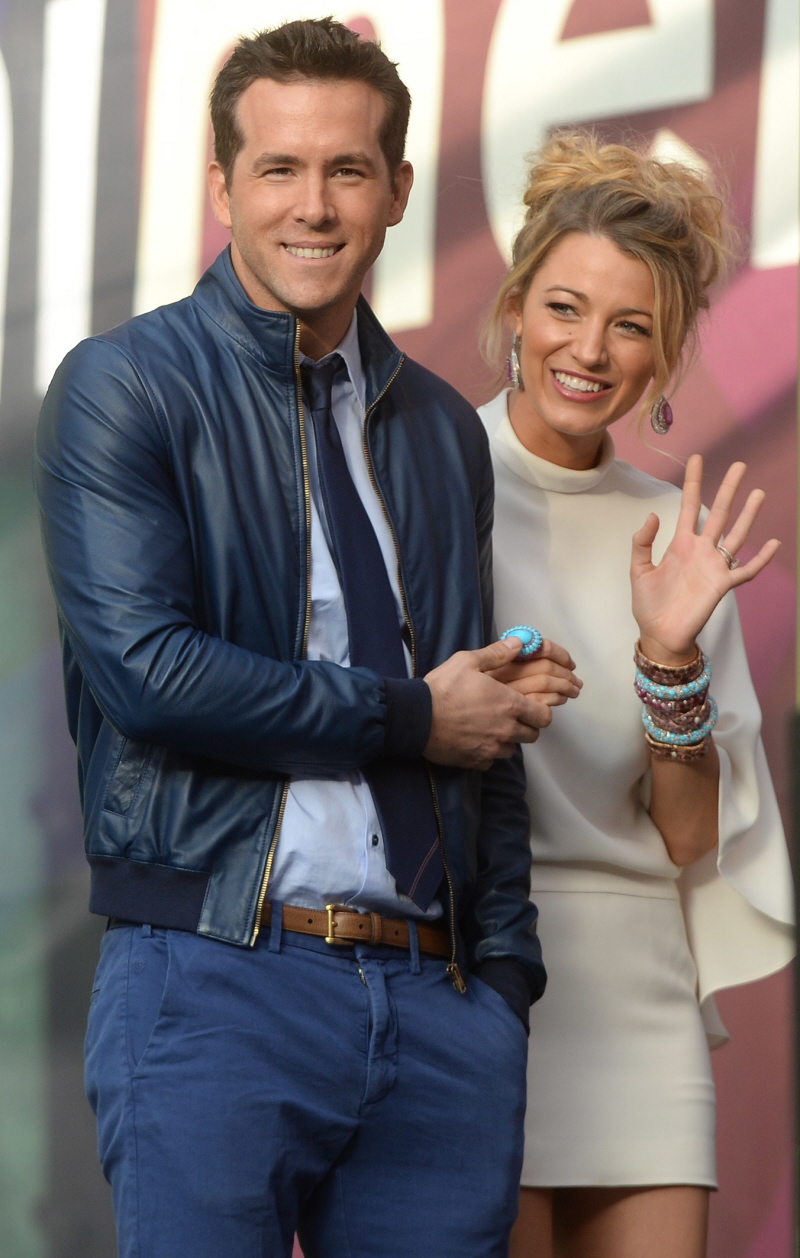 Is it possible to say that Ryan Reynolds seems genuinely happy these days? While I have my doubts about whether his marriage to Blake Lively will stand the test of time, I do think that for now, during the honeymoon stage, he's the happiest he's ever been. Blake and Ryan seem to be a better match – purely on superficial terms – than Ryan and Scarlett Johansson.
Anyway, Ryan was in Barcelona a few days ago for the premiere of his new animated movie, Turbo. I saw the trailer for Turbo – it's an animated film that seems tailor-made for NASCAR dads and their sons. Ryan brought Blake along for the Barcelona trip, and while she didn't walk the carpet with him, they did get photographed going out to dinner later that evening – go here to see. While on the red carpet, Ryan admitted that Blake dresses him completely:
"Extra's" Renee Bargh caught up with actor Ryan Reynolds in at the Barcelona world premiere of his new animated film, "Turbo," where he dished on wife Blake Lively's approval of his wardrobe and his other summer flick, the action comedy "R.I.P.D."

While Lively was absent on the red carpet, she did sign off on Ryan's blue button-down shirt and coral tie ensemble. Reynolds said, "I would never walk out of the house without her approval."

When asked about a potential box office rivalry between "Turbo" and "R.I.P.D." – which are being released just two days apart – Ryan quipped, "It's Ryan Reynolds vs. Ryan Reynolds at the box office. You're going up against yourself… which one wins?"
I can believe that. I'll buy that Blake fancies herself some kind of styling expert and that she gets to vet Ryan's clothes. He has been dressing better lately, but it's not like he had bad style in the first place. His biggest problem (I thought) was that he tended to wear too much makeup on the red carpet. Otherwise, his suits always fit and he always looks clean and that's really all I ask for.
Here are some photos of Ryan at the Turbo premiere in Barcelona. Gurl, why are you so orange? I do like his "arrow" tie clip/pin though.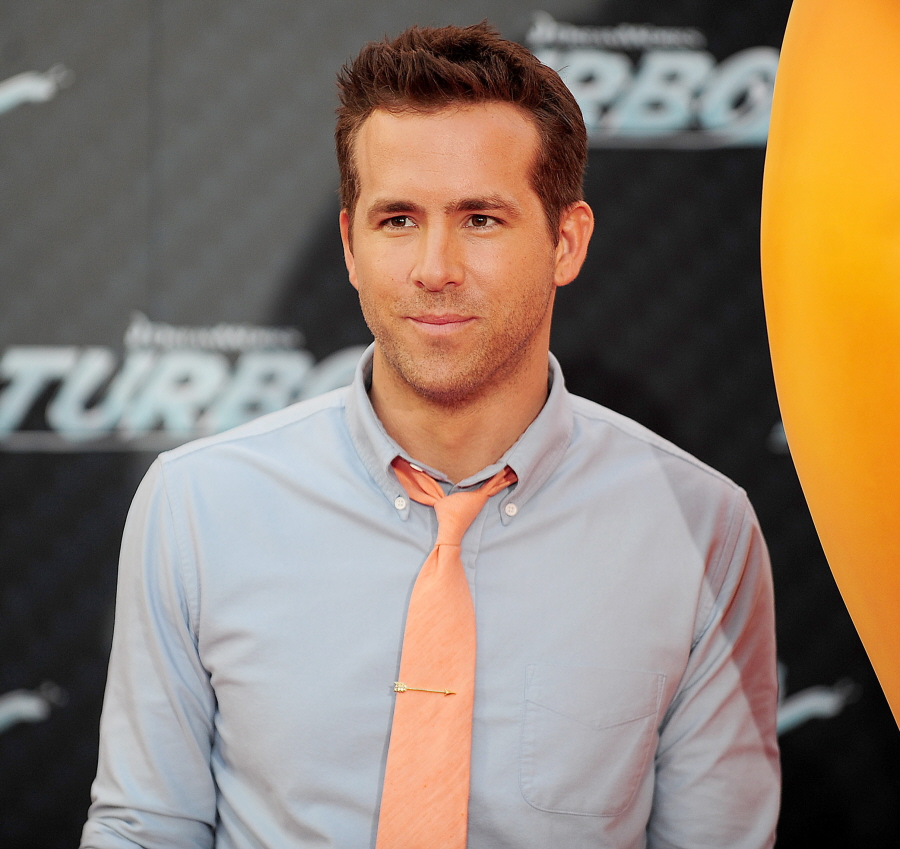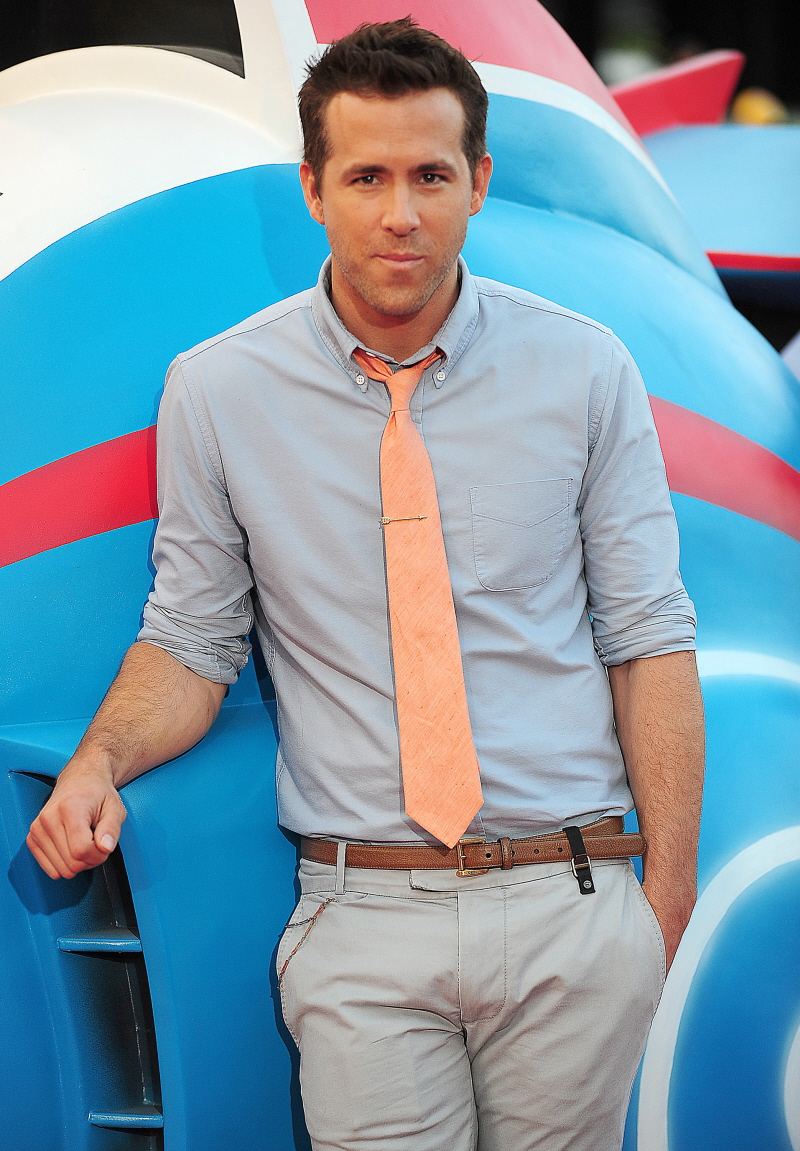 Photos courtesy of WENN, Fame/Flynet.