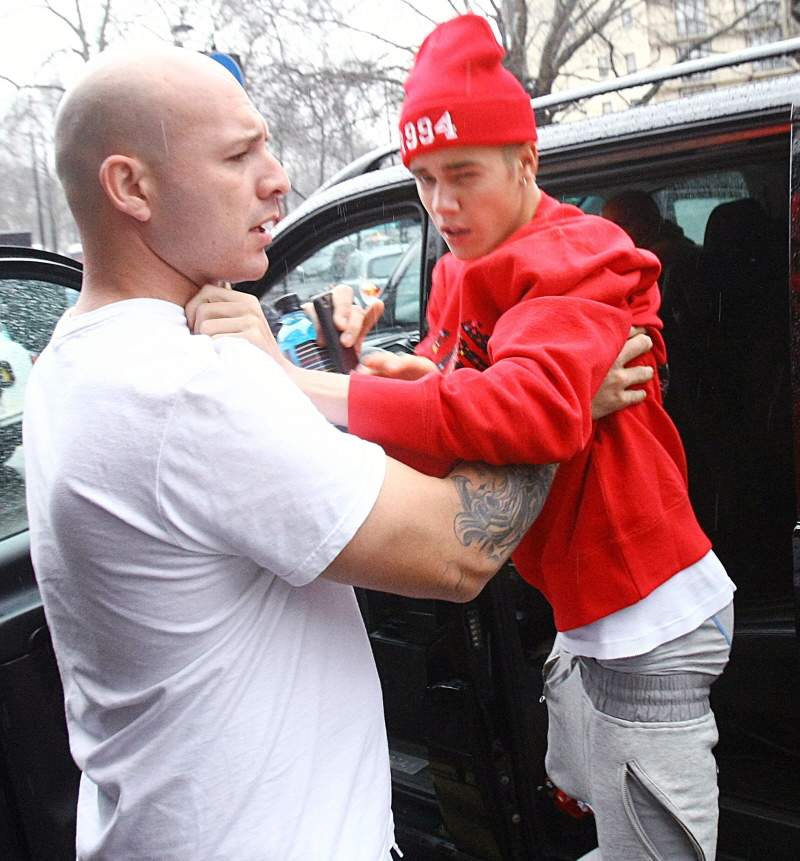 Wow. Some of you were really depressed that I decided not to recycle any of the "carseat" photos in the most recent Justin Bieber post. Let me just say that I do hear you, and the photos are back.
Now onto Bieber's latest trouble resulting from a terrible tantrum that he threw last May when he had a "physical altercation with a pap. During the scuffle, Bieber only lost a hat and shoe, but the pap was actually knocked flat on his back by Bieber, which led to all applicable emergency services (police, fire, and ambulance) all flocking to the scene. In the immediate aftermath, there were buzzings that prosecutors were going forth on battery charges to put Biebs in jail for six months, but of course, nothing ever came of that empty threat. Well, it seems that the pap has finally survived the embarassment of being "the guy who got beat up by Justin Bieber," and he's suing, of course: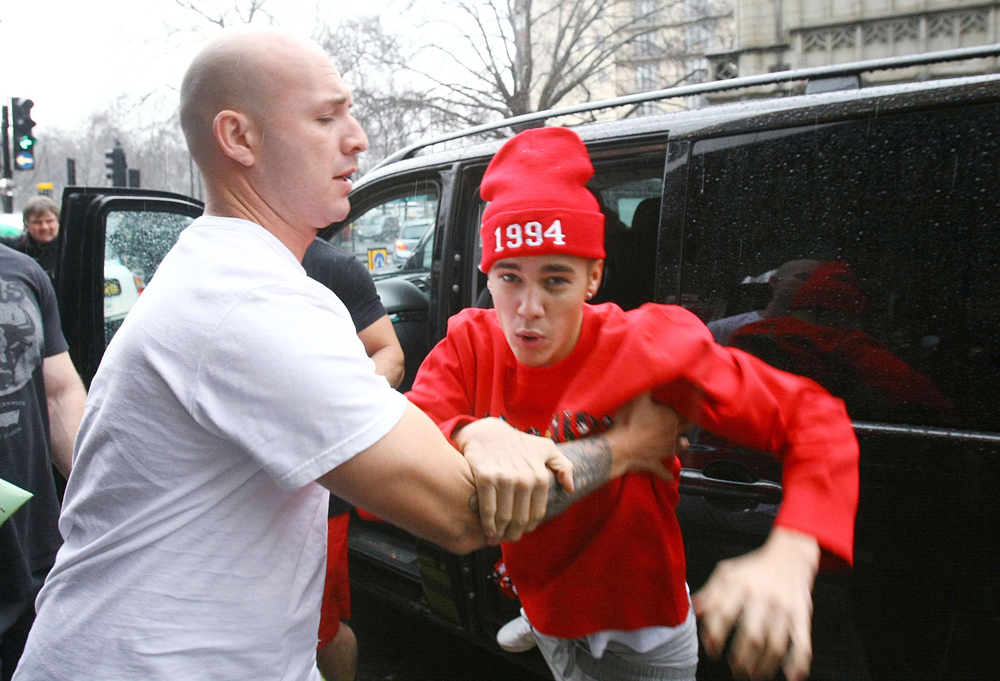 Little Justin Bieber has been sued by a photographer who claims the singer delivered a crushing MMA-type kick to his abdomen, after a perfectly lovely date with then-GF Selena Gomez.

Jose Osmin Hernandez Duran claims when he was shooting the then-couple at The Commons in Calabasas last year … Justin was trying to maneuver his brand spanking new Mercedes out of the parking lot. The suit alleges Justin became frustrated at the photogs, jumped out of the car and "delivered a martial arts-type kick … in the lower rib cage on the left side of his abdomen."

But the suit alleges the attack continued, when Justin used his left fist to punch the photog on the right side of his face. Justin allegedly then pushed the photog against a parked car. The suit claims Selena actually returned to the scene a few minutes later to look for her cell phone and apologized for Justin.

The lawsuit is interesting … citing a litany of alleged misdeeds committed by JB, including assaulting a former bodyguard, bullying a woman, driving at reckless speeds in his gated community, stealing a pap's SIM card and threatening to kill a neighbor.

The photog doesn't give a specific amount he wants for the alleged assault and battery.
[From TMZ]
Man, Bieber went seriously hardcore on this guy. How did he even manage to kick anybody while his pants were hanging around his knees? Crazy. At the very least, this pap should recover enough damages to cover his medical bills, and I would hope that the judge would give him sort of punitive damages for the ongoing therapy for all of the inevitable humilation over being beaten up by the Biebs.
This week's issue of the Enquirer (print edition, July 8, 2013) also says that the Bieb's management team is urging him to apply for U.S. citizenship to "align himself with his biggest fan base," but they're worried that he'll get turned down because of all his recent run-ins with the law will make him unable "to prove he's of good moral character." Good luck with that.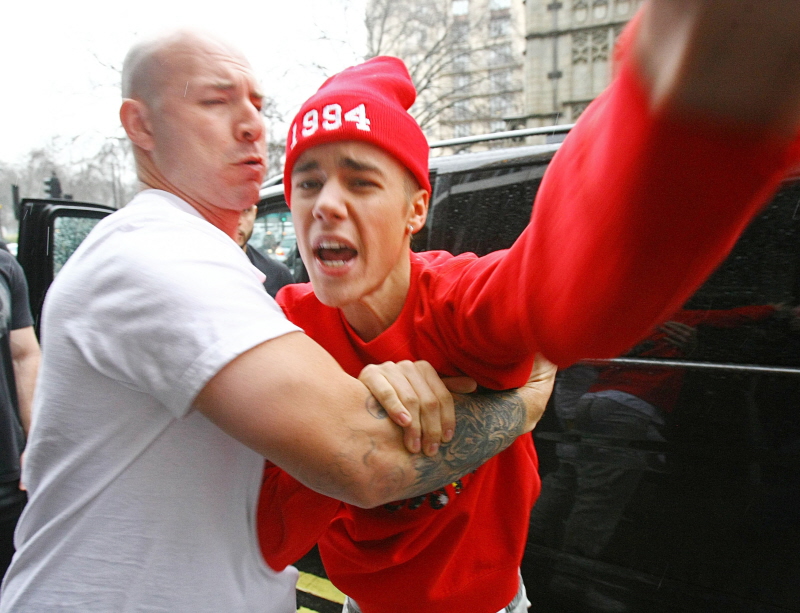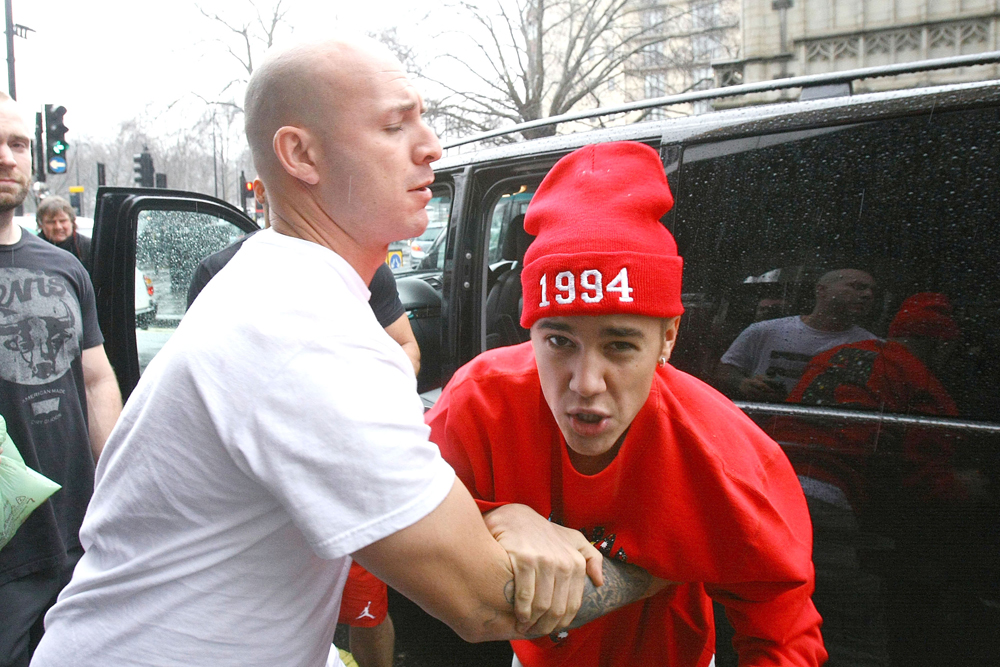 Photos courtesy of Fame/Flynet