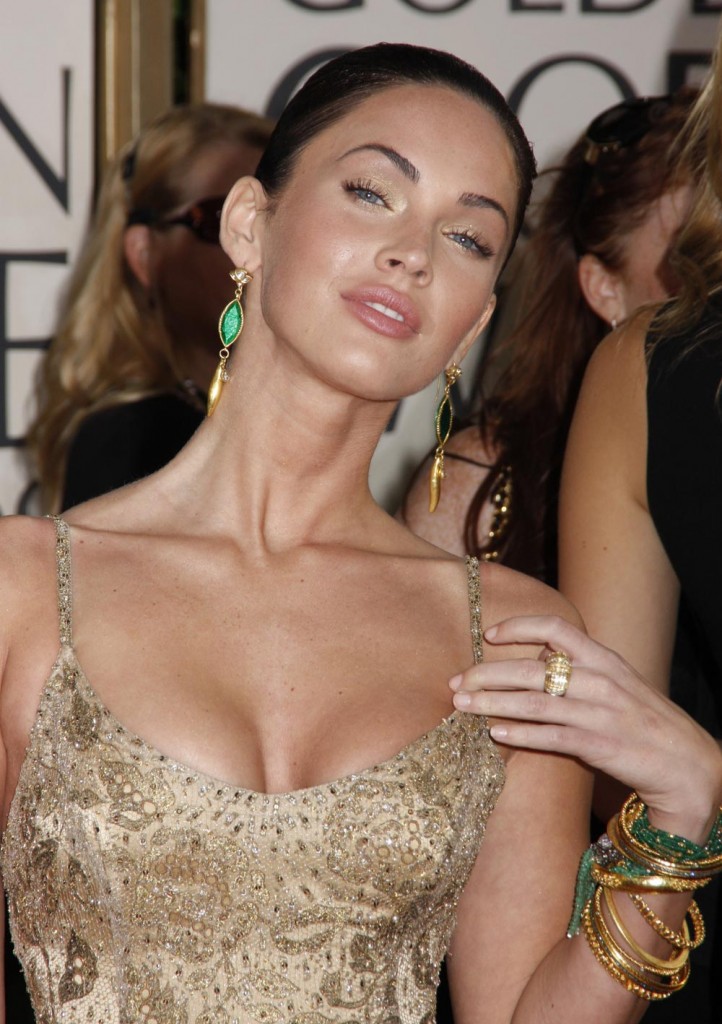 Megan Fox got invited to the adults' table for the Golden Globes, and she sort of blew it. Clad in a too-tight, sequined, gold dress, Fox seemed a little drunk or off-kilter during her presenting duties and her red carpet interviews. She came off like a very insecure girl with a lot of issues. Which is probably the truth, so I at least have to give her credit for not "acting" her way through the interviews. Perhaps she was feeling so insecure because her long-time boyfriend, Beverly Hills 90210 (classic, not new) alum Brian Austin Green wasn't there to hold her hand.
Megan Fox is probably one of young Hollywood's most beautiful actresses–and yet she's the only one who doesn't seem to know it.

"I'm a tranny. I'm a man," Fox joked to E!'s Giulianna Rancic on the red carpet of Sunday night's Golden Globe Awards. "I'm painfully insecure, like I'm on the verge of vomiting right now, I'm so horrified that I'm here, and embarrassed, I'm scared."

The Transformers star didn't stop there! Fox, 22, kept watching the monitor on the red carpet and admired more than a few of her favorite actresses.

"I love that you're looking at Salma Hayek," Rancic told the actress, who replied, "I want her boobs! Those are the most amazing boobs. Perfect."

Noticeably absent from Fox's side was her long time beau, Brian Austin Green.

"He doesn't want to be here," she explained. "You know, he doesn't want to be my date. He's a man. He has an ego."

This was Megan's first trip to the Golden Globes and, when asked about her diet regime in preparation for the big night, she held nothing back.

"Well, I do have a 22 inch waist, I will say that. But, I basically starve myself for a month. I'm kidding, I did a lot of pilates. An immense amount of pilates."

Gotta love the honesty!
From OK! Magazine
Okay, so I'm not a card-carrying member of The Megan Fox Fan Club, but even I acknowledge that Fox is *way* better than Brian Austin Green. He should be begging to escort her places. He should be thanking God for every day he gets to spend with a girl so out of league. So what's with his attitude? Does he think he's too good to escort his girlfriend to the Golden Globes? Does Fox really have such devastatingly low self-esteem that she doesn't understand that she could do much, much better? Considering her half-baked "tranny" jokes, it's probably not too far off the mark.
Photo credit: WENN