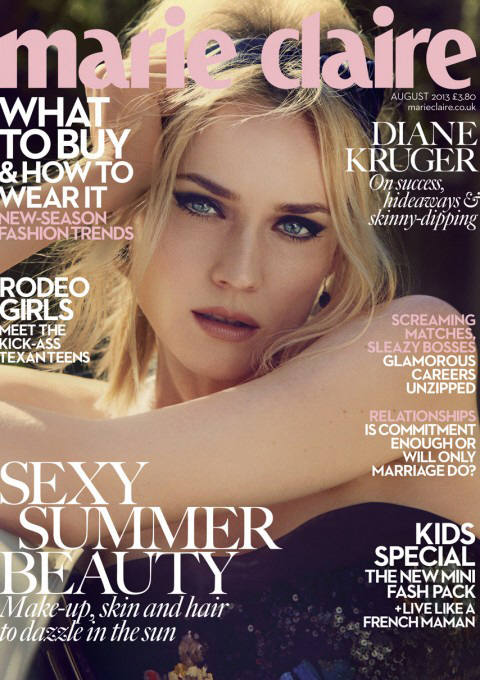 Diane Kruger covers the August issue of Marie Claire, and while the photoshoot it really pretty (Diane is usually a great model), it also feels really derivative, and like something we've seen so many times before. In particular, that black & white photo of Diane in the Pier 1 basket-weave chair is something I've seen in tons of photoshoots.
I haven't talked about Diane in a while, which is weird because I really do enjoy her and of course I enjoy Joshua Jackson. Several weeks ago, the tabloids (mainly Life & Style and Us Weekly) ran some stories about Josh and Diane maybe getting engaged – apparently, Josh was spotted at Neil Lane looking at diamond rings. If it happens, it happens, but Diane has always made it pretty clear that she doesn't really care if she ever gets married again. But if Joshua got on bended knee with a (reportedly) "$80,000 3.5-carat emerald-cut platinum engagement ring," wouldn't you say yes? Anyway, in the Marie Claire interview, Diane talks about Josh, of course, and she also discusses how she really believes in therapy:
They've been together for seven years and appear to be more in love than ever. And now Diane Kruger has opened up about the secrets behind her and Joshua Jackson's happiness, admitting that regular therapy sessions help them stay on track.

The 36-year-old German-born actress said of her romance with Fringe star Joshua: 'All relationships are hard. It doesn't matter what job you have, or how famous or miserable or poor you are. It's about commitment. I'm grateful that I met a person who feels the same about me, but also about our relationship. But therapy helps too.'

And Diane doesn't just have relationship therapy, but believes regular sessions with a counselor can help you stay on track in every aspect of life.

She said: 'It's funny, in Paris people don't talk about it. But here everyone talks about it, and I really like that about America. Therapy's not about getting help; it's facilitating yourself to deal better with life in general.'

Diane, who was recently named the new face of Chanel skincare, also opened up about her 15-year friendship with the brand's boss Karl Lagerfeld.

She said: 'I'll be coming home from the local butcher in my sweatpants, just walking up the street when a gold Hummer will come round the corner. And the tinted window will come down slowly and it's Karl saying, "Hello, Diane! What's for dinner?" It's so surreal, I love it!'

But while Diane has already had a long and lucrative film career with roles in movies such as National Treasure and Inglorious Basterds, as well as national campaigns, a style icon status and happy relationship, the actress said that turning 30 put things into a whole new perspective for her.

She said: 'Honestly, for a long time I felt that I was so accomplished. "Oh, I speak three languages, I travel the world, I've seen so many things." But when I turned 30 I realised I was an idiot. I didn't know s**t about anything.'
Wait, Karl Lagerfeld rolls around Paris in a GOLD HUMMER?!!? OMG. That's the best part of this interview. Do you think Choupette loves taking rides in the gold hummer?! As for Diane… she sounds grounded and cool, like always. I like her personality. She seems "real". Or as real as any major actress can sound. I really do hope that Diane and Josh have babies – if they want to get married too, that's fine with me, but I hope babies are in their future.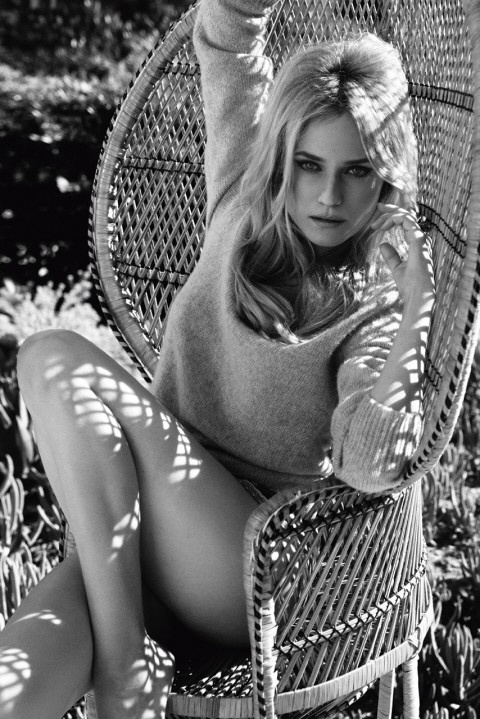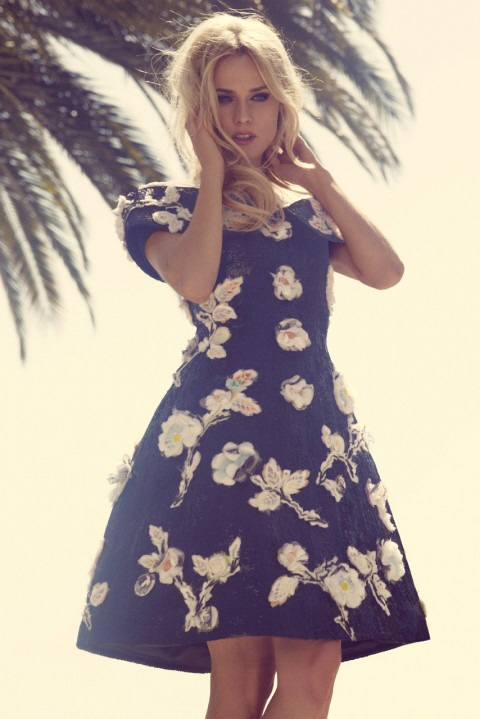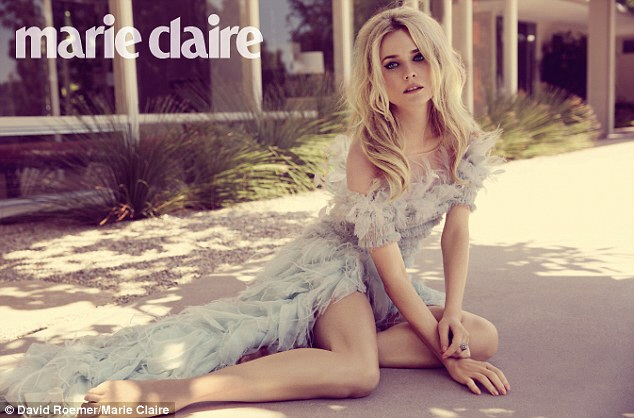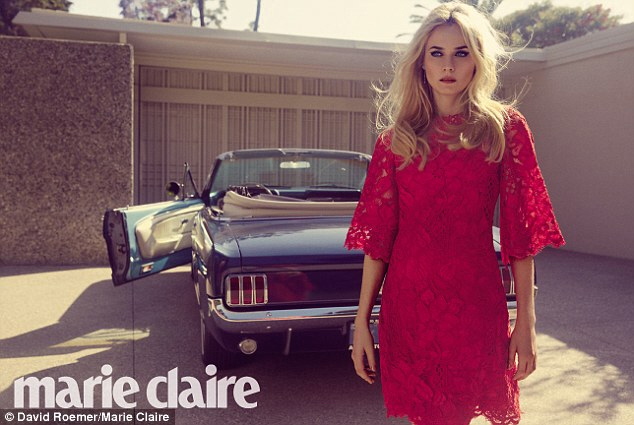 Photos courtesy of Marie Claire.