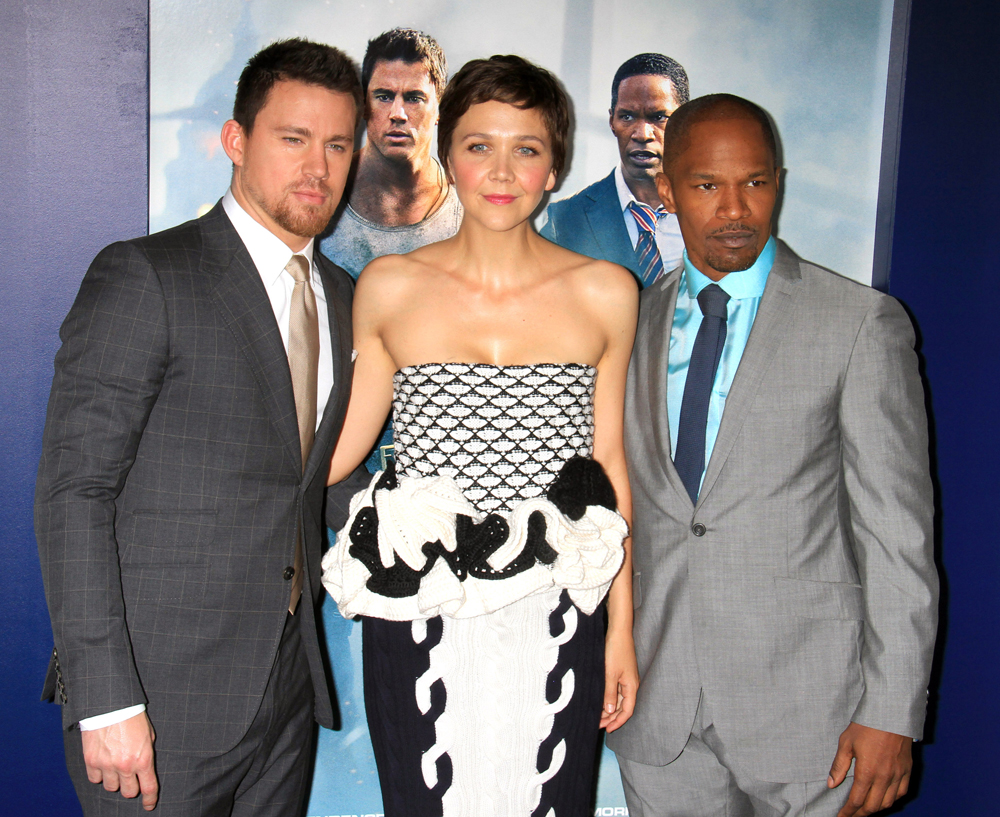 I know that Channing Tatum is huge around here and gets a ton of love for very good reason, and I also realize that many people do not consider themselves to be Jamie Foxx fans due to his particularly controversial brand of stand-up comedy. Yet if I was ever forced to pick one of these guys for a one-night stand, it would totally be Jamie. Dude is fine, and he's got a great little booty. I was singing Quentin Tarantino's praises a little more loudly than usual after several nice bum shots near the end of Django Unchained (and I'm not talking about the upside-down scene, for those who have seen the movie). Jamie is used to getting this sort of attention from females, and he's also used to being a really big deal whenever he goes on a press tour for a new movie.
However, a story in this week's issue of the Enquirer would have us believe that Jamie was totally jealous to have to give up most of the spotlight to Channing while they toured together for White House Down. Funny story — despite my fascination with Jamie's fine ass, I paid such little attention to the promotion for this film that I thought (just from the movie posters) it was a buddy comedy before reading some reviews. Silly me, and silly Jamie for being totally jealous of Channing: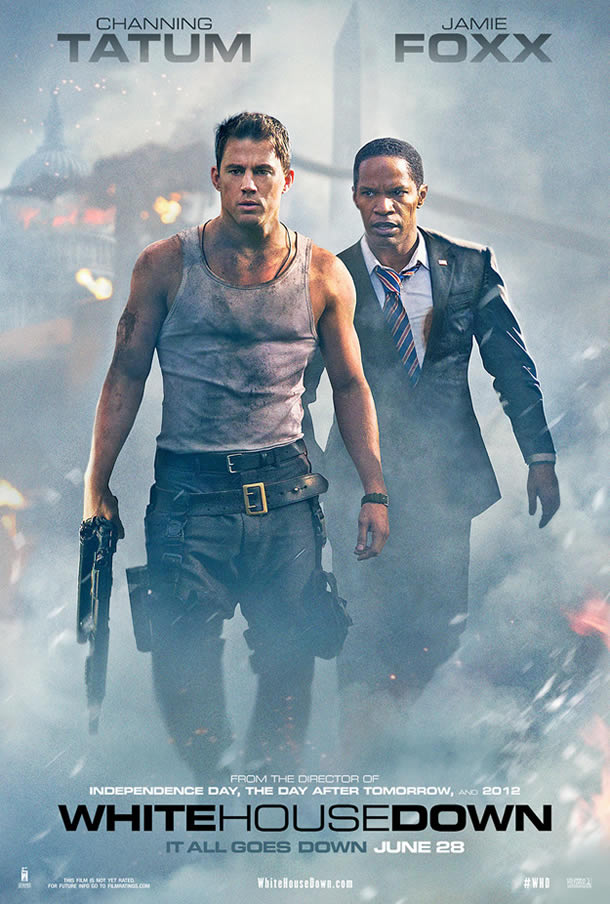 Oscar winner Jamie Foxx is being eclipsed by his "White House Down" co-star Channing Tatum, and sources say he's not happy!

The two actors have worked nonstop to promote the film, but Foxx has played second fiddle to risin star Tatum, who's been deluged with questions about his skyrocketing career and new baby girl.

"Fans at the premiere in Washington, D.C., were practically shoving Jamie out of the way to get a picture with Channing," a source told the Enquirer.

"Jamie isn't used to that. He's usually the star of the show everywhere he goes. And the questions that reporters asked Jamie most frequently were, 'What's it like to work with Channing?' or 'Have you seen Channing's new baby yet?' It's made Jamie feel like chopped liver!"

Foxx, 45, has built a stellar film career, highlighted by his Best Actor Oscar for Ray, the 2004 biopic of the legendary Ray Charles.

But Tatum, 33, is Hollywood's hottest youg star, scoring three top box-office films in a row with 21 Jump Street, The Vow, and Magic Mike. The former model married his Step Up co-star Jenna Dewan in July 2009, and on May 31 she gave birth to their first child, daughter Everly.

"The baby was conceived while Channing and Jamie were shooting White House Down," another source noted. "Her birth put a whole new spin on promoting the movie. It all became about Channing being a first-time dad, and it was unfortunate timing in Jamie's mind."

To make matters worse, in contrast to Channing, Jamie believes in keeping his private life out of the spotlight, said the source.

"Channing will talk to anyone about anything at any time," said the source. "Producers love him because that helps sell movies, but actors like Jamie think it's grandstanding. Still, Jamie says while Channing may be the hunk of the month, he's the one with an Oscar on his mantle!"
[From Enquirer, print edition, July 15, 2013]
I tend to think that this story is true only because Jamie is used to being such a huge deal, and Channing draws throngs of screaming women that must have drained a lot of the attention that usually is reserved for Jamie. I can see why Jamie would be annoyed if journalists primarily wanted to know about working with his hot male co-star, but I think Jamie should have realized that was part of the deal when he signed onto this film. Mr. Foxx can rest assured that his career has already demonstrated lasting power, and Channing (as nice of a guy as he is) may not be as lucky if his looks ever fade with time.
Don't worry, Jamie. You're still the hottest guy of the cast in my book. Now turn around and shake it.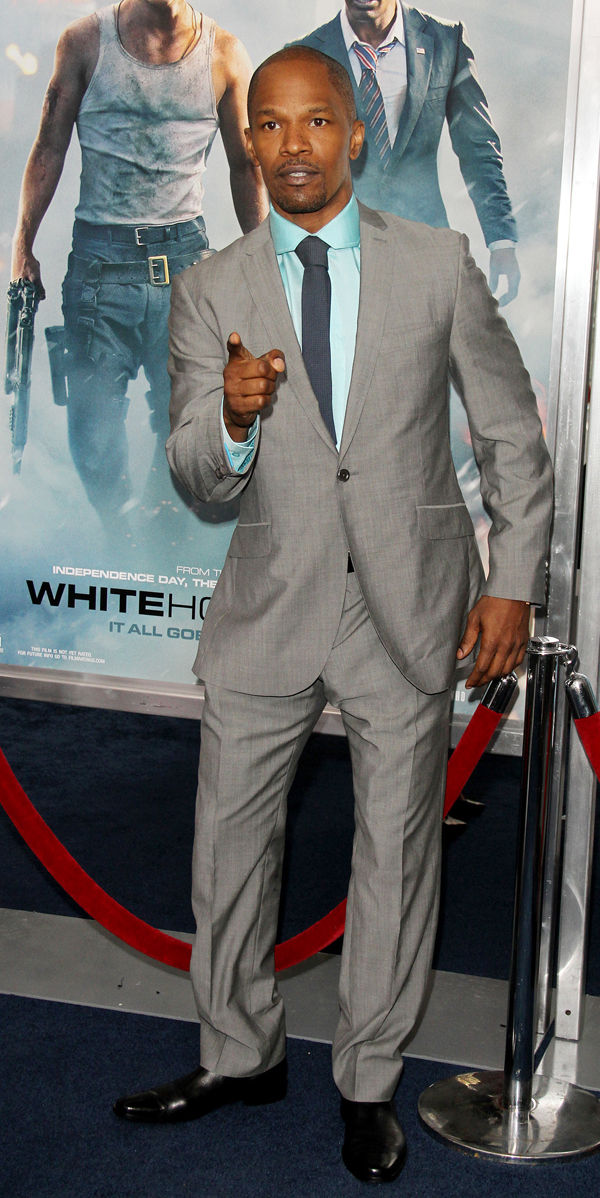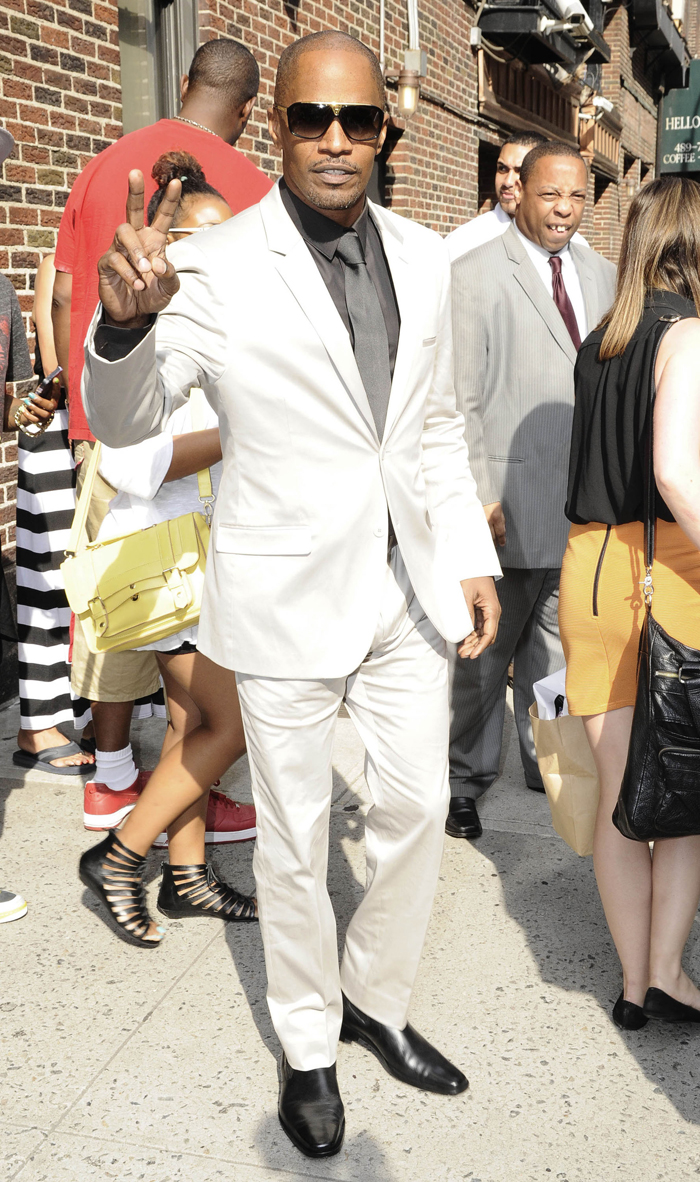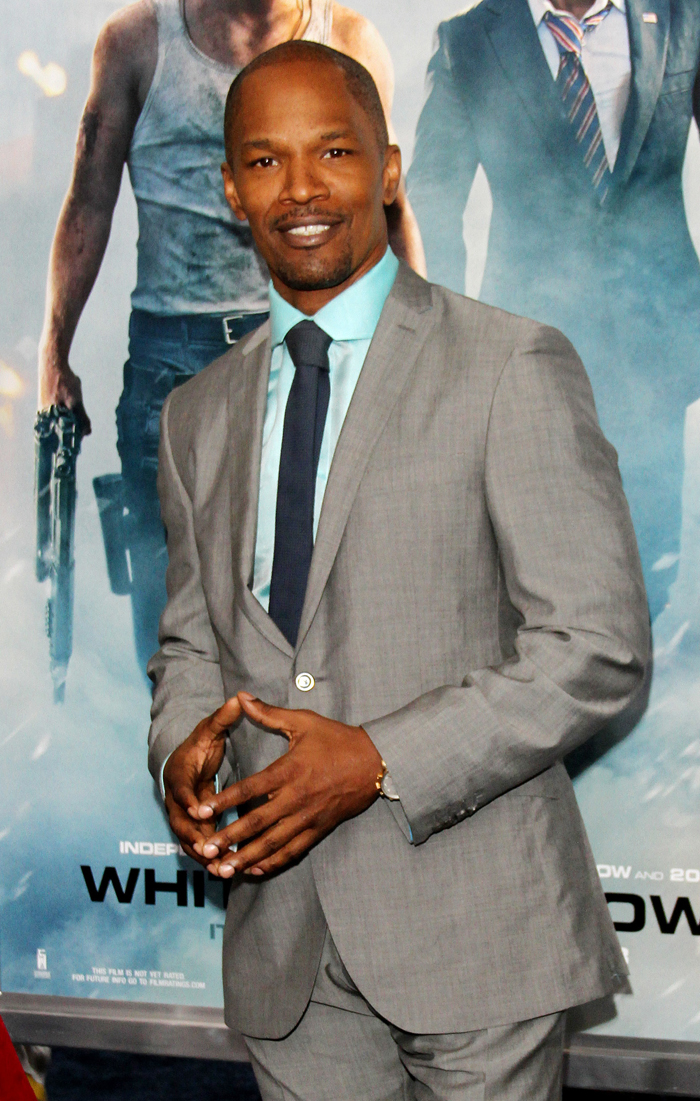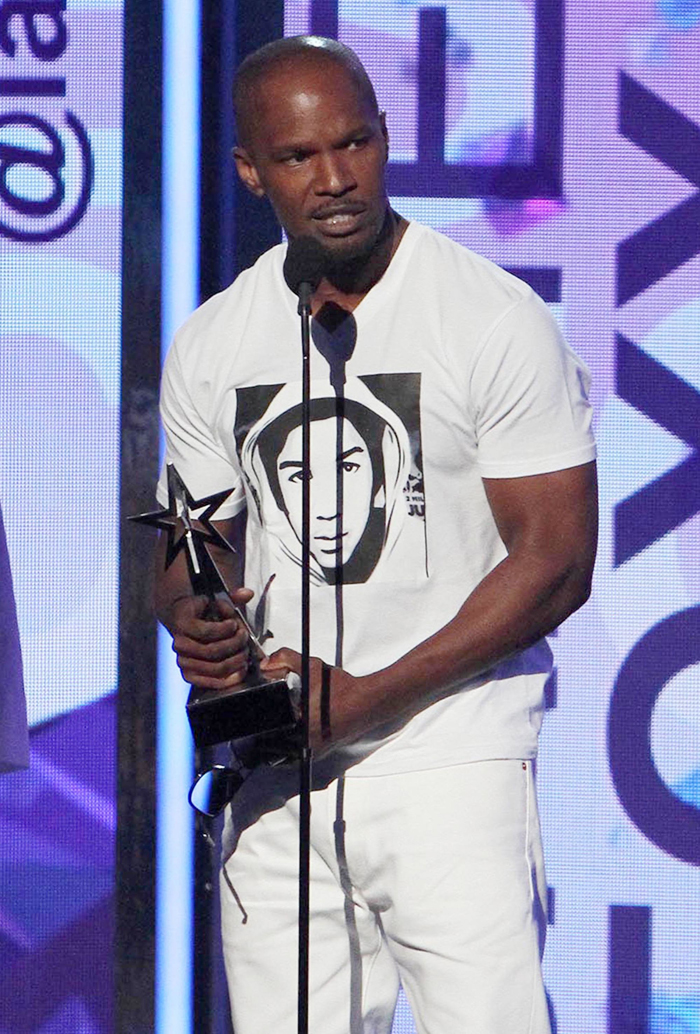 Photos courtesy of Fame/Flynet and WENN