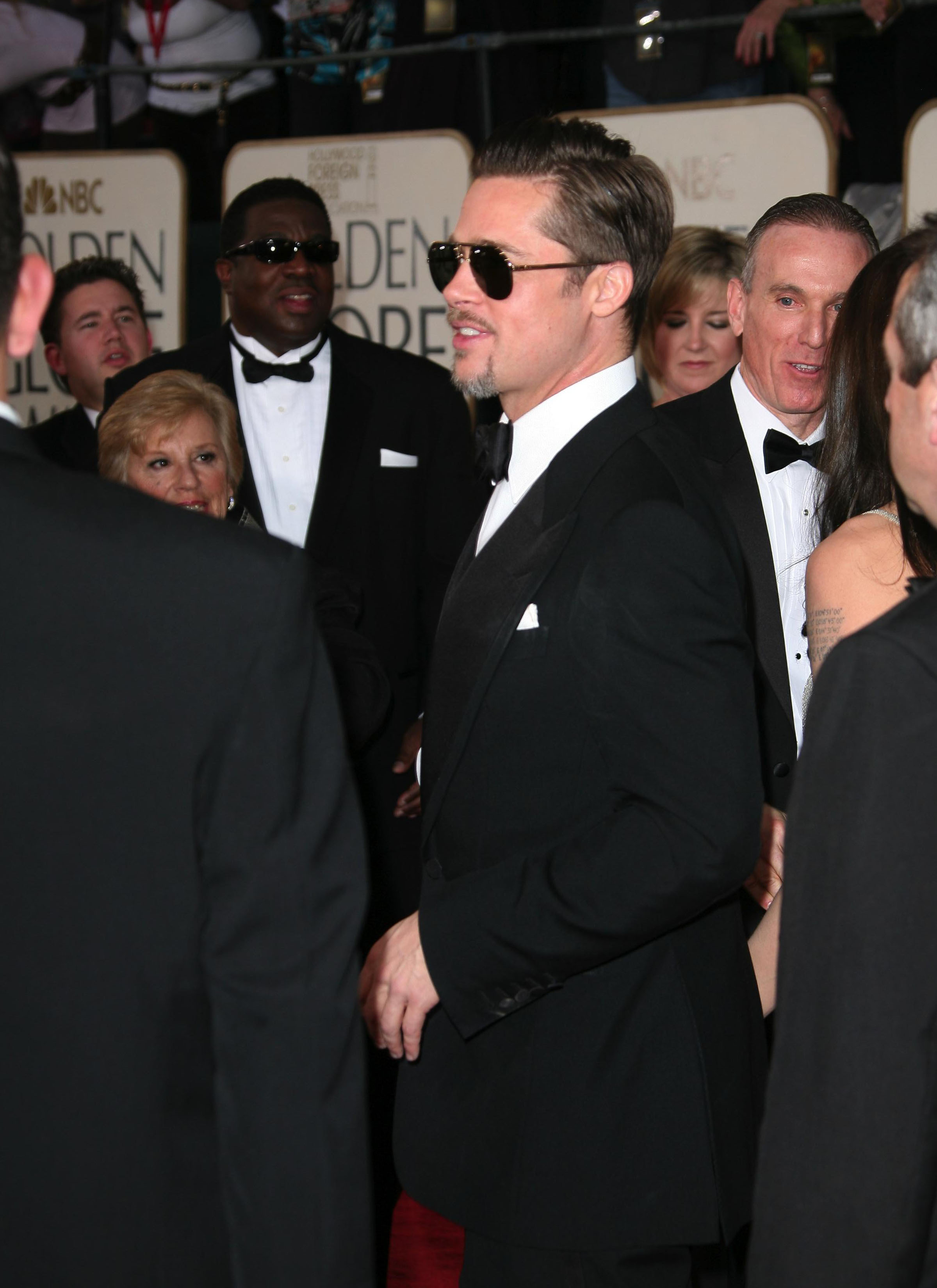 When looking at Brad Pitt, I have often been struck by the horror that is his face. Really, from head to toe the man is sheer grossness. He's one of those actors that's famous because he is so incredibly good at his job, not because he's fun to look at. Most of the time, when I'm watching one of Brad's films, I have to turn away every few seconds so my stomach doesn't churn.
Okay none of that is true. But you'd think it were, according to a random Golden Globes guest. She got super drunk at a party and went off about how ugly Brad was in "The Curious Case of Benjamin Button," along with how gross he looks with his current mustache.
It's probably not the kind of thing he's used to hearing, so it's little wonder Brad Pitt was left dumbstruck when a drunken guest at a party laid into him – for being ugly. The Hollywood hunk, who has umpteen best looking man in the world titles to his name, was at HBO's party after the Golden Globes when he was confronted by the cheeky woman.

A source at the Beverly Hills Hilton said: 'Brad was enjoying a cocktail and chatting with friends at party when this woman, who was clearly drunk, approached him. She went on and on about how the aging make-up in The Curious Case Of Benjamin Button made him look 'ugly as a dog'.' In the movie, Brad plays a man who ages backwards, and spends much of the film with prosthetics on his face to make him look older.

The source continued: 'Brad listened politely and explained that the make-up was essential to telling the story properly. The woman finally piped down for a moment, then looked closely at Brad's face. She then said, 'And you should definitely shave that goatee because it looks just horrible', before marching off. Brad's buddies cracked up laughing.'
[From the Daily Mail]
I think being told you're "ugly as a dog" (or some version thereof) is something everyone should experience at least once in their life. It builds character and makes you cry. I'm fairly certain Brad has never heard anyone say he's anything less than drop dead gorgeous. He's essentially been the best looking guy in Hollywood for the last twenty years. You could make some arguments for other guys, but they're all measured against Brad.
That said, I didn't realize being drunk made some people go clinically insane. Liquored up or not, there's no way in hell you could convince me Brad's anything less than physical perfection.
Here's one undeniably ugly dude, aka Brad Pitt, with Angelina Jolie at the Golden Globes on Saturday. Images thanks to Fame and Bauer-Griffin.