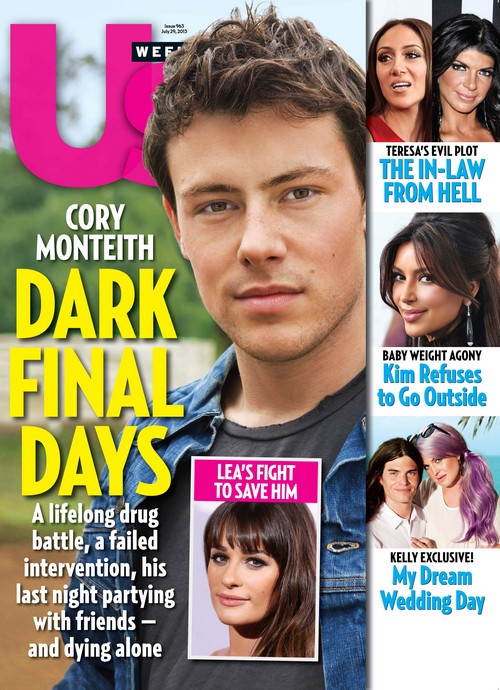 We haven't written much about Cory Monteith's death. We covered it and then kind of sat back and watched this sad story unfold without commenting. It just seems so sad and pointless. It also makes me remember losing a friend about five years ago. I start to get teary and my heart breaks a little. There's almost nothing you can say except that you're sorry.
There are a lot of updates in this story, but we won't try to cover everything. Here are a few of the bigger stories about Cory's passing. To me the main news is that Glee will continue to film without Cory. He was integral to the show and will not be forgotten, but it's an ensemble show that's very popular and it will go on. I think this is what he would want. TMZ has the news:
"Glee" is going full steam ahead without Cory Monteith — and TMZ has learned, the show's writers have called an emergency meeting today to figure out how to work him out of the story.

Sources close to production tell us, "Glee is definitely not canceled. If you look at the dollars and cents of the show and that it was very much an ensemble with new kids being added last year when some graduated. It's clear that the show wasn't about one character."

Our source says producers are taking their cue from shows like "8 Simple Rules" and "The West Wing," which have also suffered real-life deaths … the lesson being: one character doesn't make or break a show.

Our source adds, "The producers and writers are taking time to meet and figure out how to best address this situation in the context of Glee. No decision has been reached about a script yet, as it's still early."
People are wondering how Cory's girlfriend Lea Michele is doing, and if she's ok. On Tuesday her publicist issued a poignant statement about how she's with Cory's family and is grieving with them:
"Lea is deeply grateful for all the love and support she's received from family, friends and fans. Since Cory's passing, Lea has been grieving alongside his family and making appropriate arrangements with them.
They are supporting each other as they endure this profound loss together. We continue to ask the media to respect the privacy of Lea and Cory's family."
There have also been rumors that Cory and Lea were engaged right before he died. People Magazine claims that they were talking about marriage, but that it wasn't official.
TMZ reports that Lea has been planning Cory's memorial and helping to make arrangements following his death. They also report that she worked hard to keep him off drugs when they were together and was instrumental in getting him into rehab earlier this year. I can't imagine what she is going through at this time and hope that she is ok.
Cory's death is featured on the cover of People Magazine and US Weekly this week. People's article focuses on Cory's struggle with fame and how that tied in to his ongoing addiction problems. They quote a source who says that Cory was always professional on set regardless of what he was going through.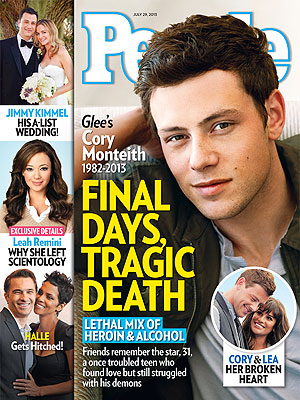 some photos credit: FameFlynet