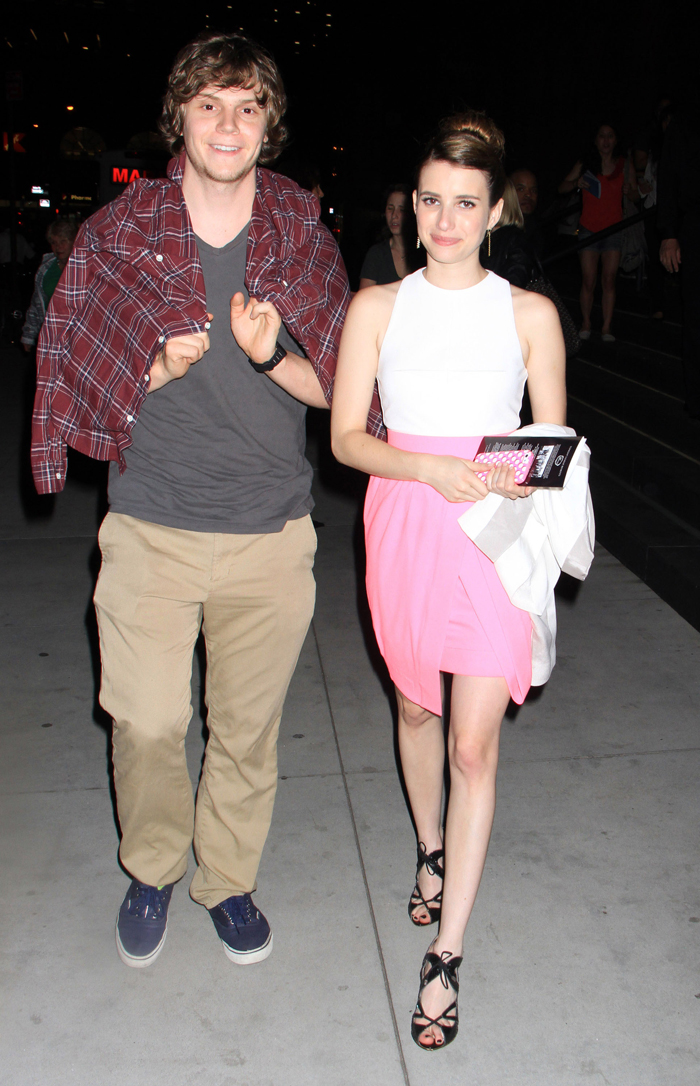 Yesterday, we covered the surprising story of Emma Roberts being arrested for domestic violence after biting and bloodying the nose of her boyfriend, Evan Peters ("American Horror Story") from within in their Montreal hotel room. I attempted to take a very neutral stance about this incident that occurred on July 7. In doing so, I mentioned Emma's father — Eric Roberts — in passing but decided not to discuss his violent past because I didn't feel it proper to draw conclusions about Emma based upon her father's actions. Certainly, Emma may have been influenced if she ever witnessed her dad's ways, but it's not fair to assume she could be violent simply because her father possesses … a history.
Obviously, nobody besides Emma and Evan knows what really happened in that hotel room. We're also not sure if these two were under the influence of any alcohol or drugs either, but there seems to be an underlying current of thought, which holds that because Emma is smaller than Evan, she must have been defending herself. Who knows? All we really know is that Emma was arrested because Evan was (according to police) the one with visible injuries. In the aftermath of the yesterday's revelation, Emma and Evan released a joint statement that explained the entire affair as being "an unfortunate incident and misunderstanding" and that they were "working together to move past it." Right.
In addition to what we already reported, there have been a few updates from TMZ. First off, there are new photos that show Evan comforting Emma Tuesday in New Orleans. We can assume from these photos that the couple had just learned that the media had reported the incident, but it could have been anything that caused the tears. In these photos, Emma is openly wailing, and Evan has placed his arms around his girlfriend. Strange, right? I'm not trying to talk smack about Emma merely because she is a female, but I do find it strange that Emma has "discovered" this new information on the street. I feel like even in the case of an informative phone call, a famous person would have immediately run indoors to escape the paps. But again, I'm not in Emma's position. Now there is a disturbing report from Us Weekly that discusses Emma and Evan's "passionate" and "extreme" relationship. Uh-oh: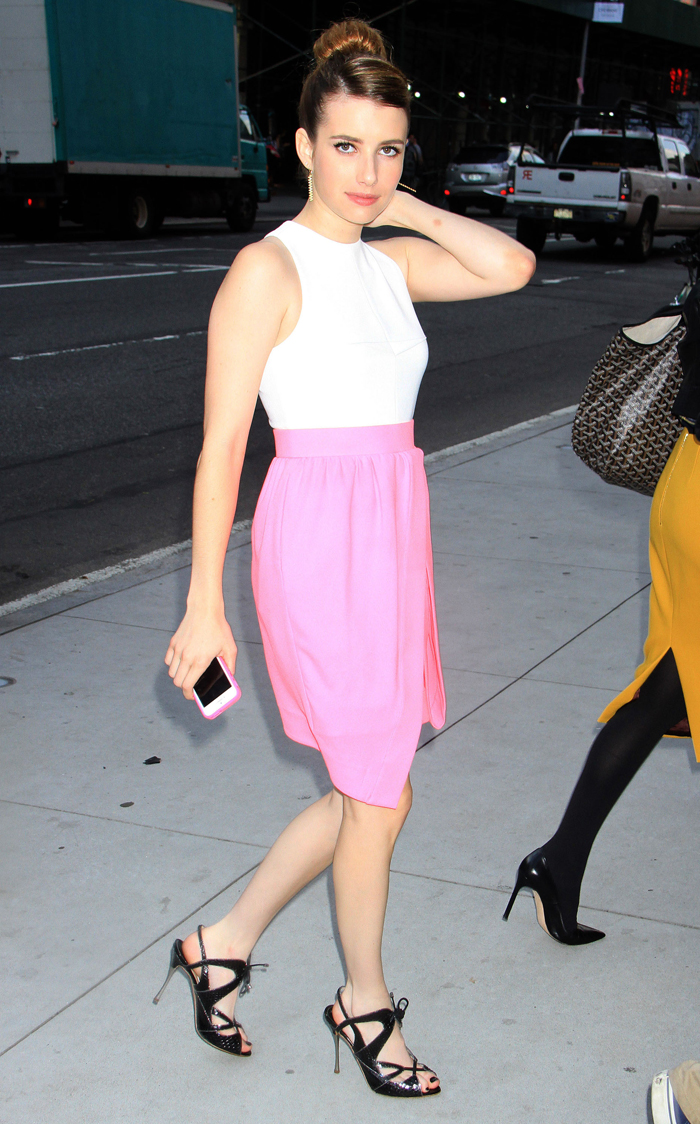 Young love isn't always pretty. As previously reported, Emma Roberts was arrested on domestic violence charges in Montreal July 7 after a heated argument with boyfriend Evan Peters reportedly turned physical. "It was an unfortunate incident and misunderstanding. Ms. Roberts was released after questioning and the couple are working together to move past it," reps for Roberts, 22, and Peters, 26, told Us Weekly in a statement.

TMZ reported that the American Horror Story actor sustained a bloody nose and bite marks during the altercation, which took place in their hotel room. "Emma is very dramatic," one source tells Us of the We're the Millers actress, niece to superstar Julia Roberts, adding that she can get "wound up" during arguments. The July 7 episode, says the insider, went "way out of control."

"They're a couple young kids," adds a second source of the "inseparable" and openly affectionate pair, who've been dating since spring 2012. "Their romance is pretty extreme. They just behave in a way that's very passionate."

This latest spat, doesn't mean the end of the road for the former Adult World costars, who next team up for season three of American Horror Story, currently shooting in New Orleans. "They will not break up," the first source insists. "When they are good, they are crazy in love."
[From Us Weekly]
Ugh, the cycle of violence. Without getting too personal, I will admit to having a good friend who has been there to a degree although the first (and only) time she ever experienced the wrath of a violent partner, she hauled her ass out of the situation a few days later. But again, she was in neither Emma nor Evan's position, and perhaps they're both violent people. TMZ has also posted a few photos of Emma with bruises and bandages a few days after the reported altercation in Montreal. What a mess.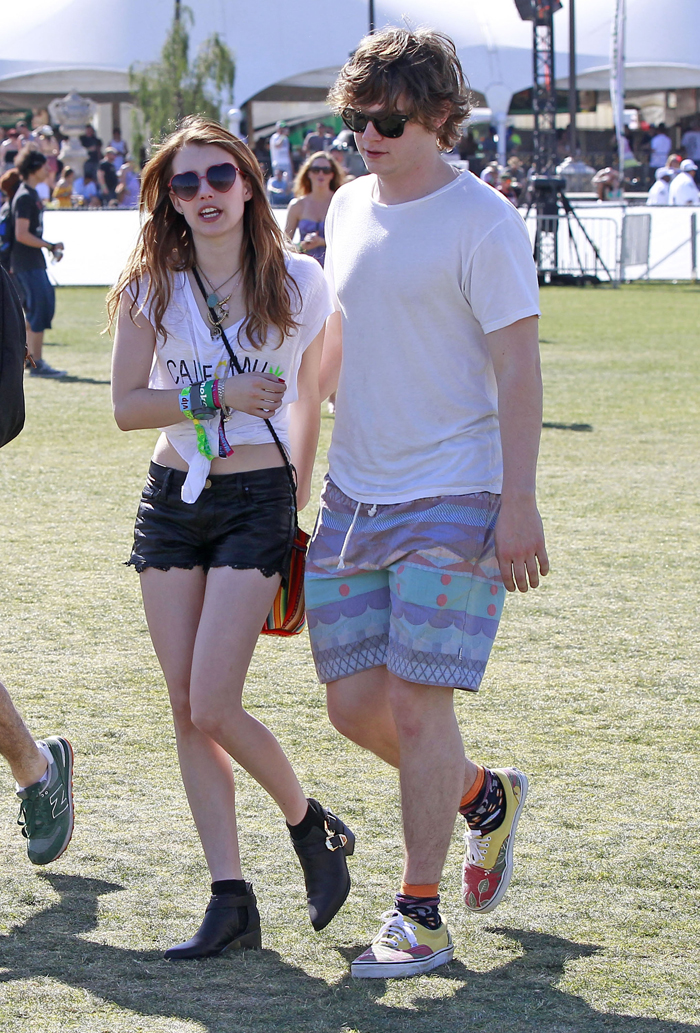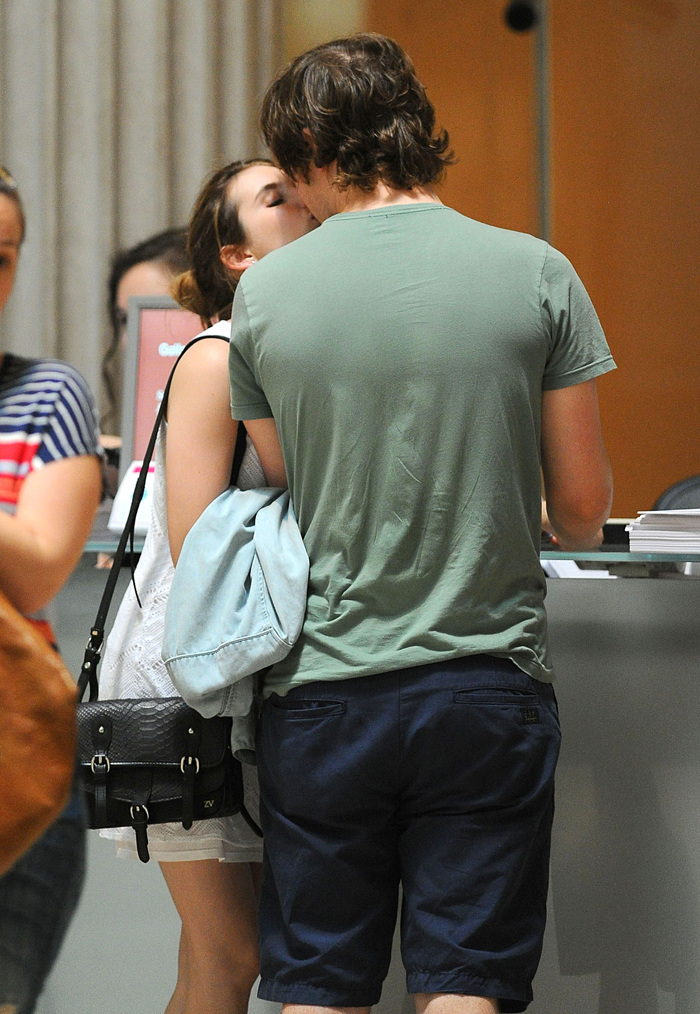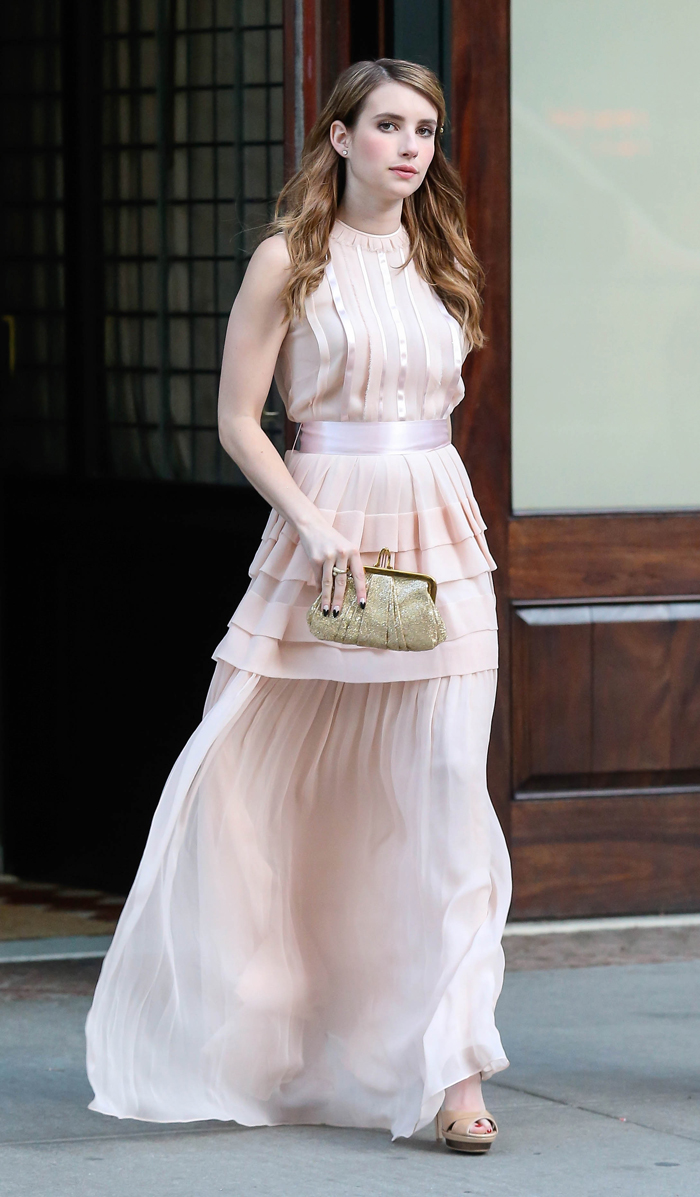 Photos courtesy of Fame/Flynet