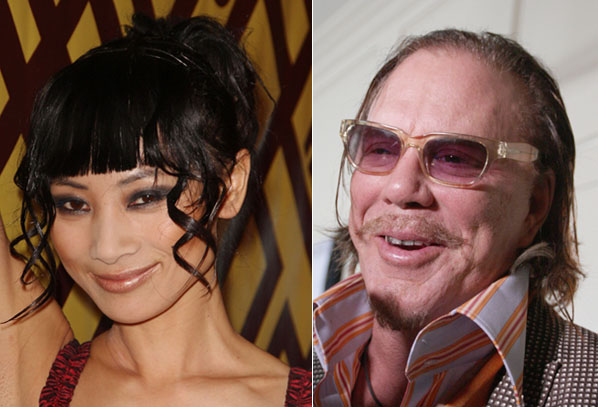 Mickey Rourke, 56, has been spotted getting hot and heavy in public with nipple slip queen Bai Ling, 42. The two made out at celebrity hot spot Chateau Marmont. There's no word if they rented a room afterwards. Just try to get that image out of your head now – you can't do it, can you?
MICKEY Rourke (above) is already reaping the benefits of his comeback. The star of "The Wrestler" was at the Chateau Marmont in Hollywood the other night with Sean Penn and his long-suffering wife, Robin Wright Penn, when, our witnesses said, Rourke was accosted by fame-craving Bai Ling. Rourke was only too happy to oblige the Chinese-born actress and the two "made out and partied pretty hard."
[From The NY Post via Gossip Rocks]
Rourke was linked to Pamela Anderson in September after the two were also spotted making out at a club. Those two seem to make a little more sense than Rourke and Bai Ling, although Ling is in such a league of her own it's hard to think of a celebrity who make make a good match for her – maybe Dane Cook.
I saw Rourke on "The Tonight Show" on Tuesday night and he was pretty low key with Leno. Leno was his former neighbor so they reminisced a little about the good old days when Rourke was swimming in cash and used to have all his biker buddies over the mansion, their bikes lined up 20 deep outside. Rourke also talked about the pain of his career slump and how he started to get desperate after about 11 years. He told a story about how called up a friend and asked him for a construction job somewhere, only to get hung up on because the guy thought he was joking. Rourke worked as a boxer for around five and a half years in the early 90s when the offers weren't coming in. For those of you who have mentioned his very obviously altered face – it's revealed in an interview with CNN that he needed extensive reconstruction after all the damage from years of boxing. He also suffered balance problems and memory loss.
In the CNN article Rourke talked about how his award winning role in The Wrestler was cathartic for him. The character helped him work through the trauma and grief he had after losing everything when he couldn't get roles due to self destructive behavior. We'll see if that life-changing role for Rourke also earns him an Oscar. He's getting more work as it is and things are looking way up for him. He's even scoring with D-listers.