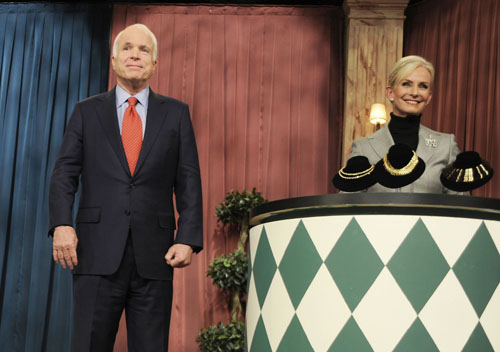 John and Cindy McCain on "Saturday Night Live." Looks like Cindy's days on TV are over, if her husband has anything to say about it. Photo credit: WENN.
As much of a maverick as former presidential candidate John McCain likes to portray himself as, it's pretty clear that when it comes to wife Cindy, he wears the pants in the family. He kept her on a very tight leash throughout the campaign, controlling her stump speeches at public appearances to the point that they all sounded the same. And last winter, when Cindy was approached to appear as a contestant on the ABC show "Dancing with the Stars," the Arizona senator apparently said no way.
SEN. John McCain might regret choosing Sarah Palin as his running mate, but an even worse decision will deprive his fellow Americans of what would have been the best season of "Dancing With the Stars" ever. Our impeccably placed source says, "Just before Thanksgiving, Cindy McCain (above) started talks with producers to appear as a dancer on the show. She wanted to do it very badly." But this week, Sen. McCain "put the kibosh on it." Reps for the show and McCain didn't return calls.
Poor Cindy. What else is she supposed do to while John heads back to the senate – go back to being a pill freak with a Botox addiction? If you recall, Cindy was allowed a very quick appearance as herself on one of her husband's Saturday Night Live appearances, and she was actually pretty funny, even if she didn't have any lines. There were unsubstantiated rumors of an affair last fall that painted Mrs. McCain as love-starved and lonely, but so far nothing's been proven. This could have been a fun opportunity for Mrs. McCain, and since it's unlikely that her husband would run for president again, I don't see who it would hurt. C'mon, John – let your wife dance!