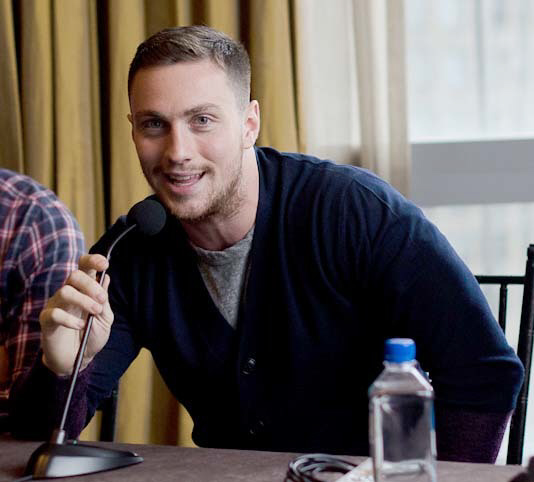 Aaron Taylor Johnson (formerly Aaron Johnson) is promoting Kick-Ass 2, which comes out this week. Have you seen the redband trailer for it? It looks… violent. Really, really violent. I actually liked the first Kick-ass, but I think it's weird that they've made another one because it was my understanding that the first film didn't do too well. Still, 23-year-old Aaron Taylor Johnson is on the lead-actor track nowadays, but he balances it nicely with being a husband (to Sam Taylor Johnson, age 46) and father to their two girls, Romy Hero and Wylda Rae, plus stepfather to Sam's two older girls from her previous marriage. Basically, he has a lot on his plate. But he still manages to give interesting interviews – some highlights:
On the possibility of playing Christian Grey (his wife is directing): "I know and Sam knows that I'm definitely not Christian Grey. She's super talented and I'd love to work with her again – no questions asked. But this isn't the right thing."

On working with Sam again: "We were doing something before this, but it didn't get green-lit and then she ended up rolling into this [50 Shades]. I'm super happy for her, and excited and thrilled. She's got a wicked artistic vision on it and I'm glad they are going to go with it. I'm glad they've got someone like her also."

Taking time off while Sam works: "It's just a nice break for me to be able to step back and support her doing something for a little while. Sam's taking on this movie so I've stepped back from taking any other offers because it's important for one of us to be with the kids. We travel as a family. We made a decision a long time ago that's how we're going to do it. The last thing I want to do is to be separated from my wife and kids."

Age ain't nothin' but a number: "I find it really interesting that so many people think age is a factor," he says, sounding genuinely surprised. "How do people even tell the age of anyone anymore? It's bizarre. Age to me doesn't f***ing matter at all. My wife feels younger than I do. Other than being the most wonderful down-to-earth woman, she's super intelligent, artistic, creative, there are so many things that are attractive about her."

He loves smart, independent women: "I've always thought like that. I was brought up by my mum and my sister, I've always been around independent women, I like that. Anybody who's a fake I don't like and I don't talk to."

Coming back for the Kick-Ass sequel: "[It's] the same f***ing old character, exactly where you last left him I had to go back four years and be an adolescent teenage kid in high school. Nothing about that character has changed at all. My hair was big, and we cut into that f***ing mushroom bob… I hate playing younger."

He wanted to change the character: "I'm happier to jump into a different character and keep changing it up. I'm a perfectionist, when I look back I'm never happy, think I could have done it. Jeff (Wadlow, director) showed me a documentary about superheroes on the street, dressed up in costume, and I started doing impersonations with all their quirky ticks and stuff, but Jeff pointed out 'that's not Dave, that's someone else. People need to recognise your character.' It's more of a challenge to go back and recreate what you did four years ago, be happy with what you did, stop being insecure, and just be pleased with the performance, accept it and taking him in this one through a journey. You have to believe in him. You see him where you last left him, and you see him growing into his role, taking responsibility for his actions, that's maturity."
[From HuffPo & Glasgow Extra]
I do enjoy his feminism. I wish more younger guys talked like this, talked about being raised by strong women, talked about how they love smart, interesting, talented women with their own lives and such. Unfortunately, when most men do talk like that, they're dating Playboy bunnies. So Aaron is refreshing in that sense. I also think it's sweet how family-oriented he is at such a young age – it makes me believe Sam's words even more, that HE was the one bringing "family values" to the relationship.
As for "How do people even tell the age of anyone anymore? It's bizarre. Age to me doesn't f***ing matter at all." We'll see. I'm not trying to be the witchy harbinger of DOOM or anything, but how their marriage works right now probably won't be how their marriage works five years from now. So we'll see.
In another interview, Aaron also came close to confirming that he'd been cast as Quicksilver in The Avengers: Age of Ultron. He says that he's met with Joss Whedon and Marvel people. You can read more about that here – apparently Quicksilver is Magneto's son? WTF?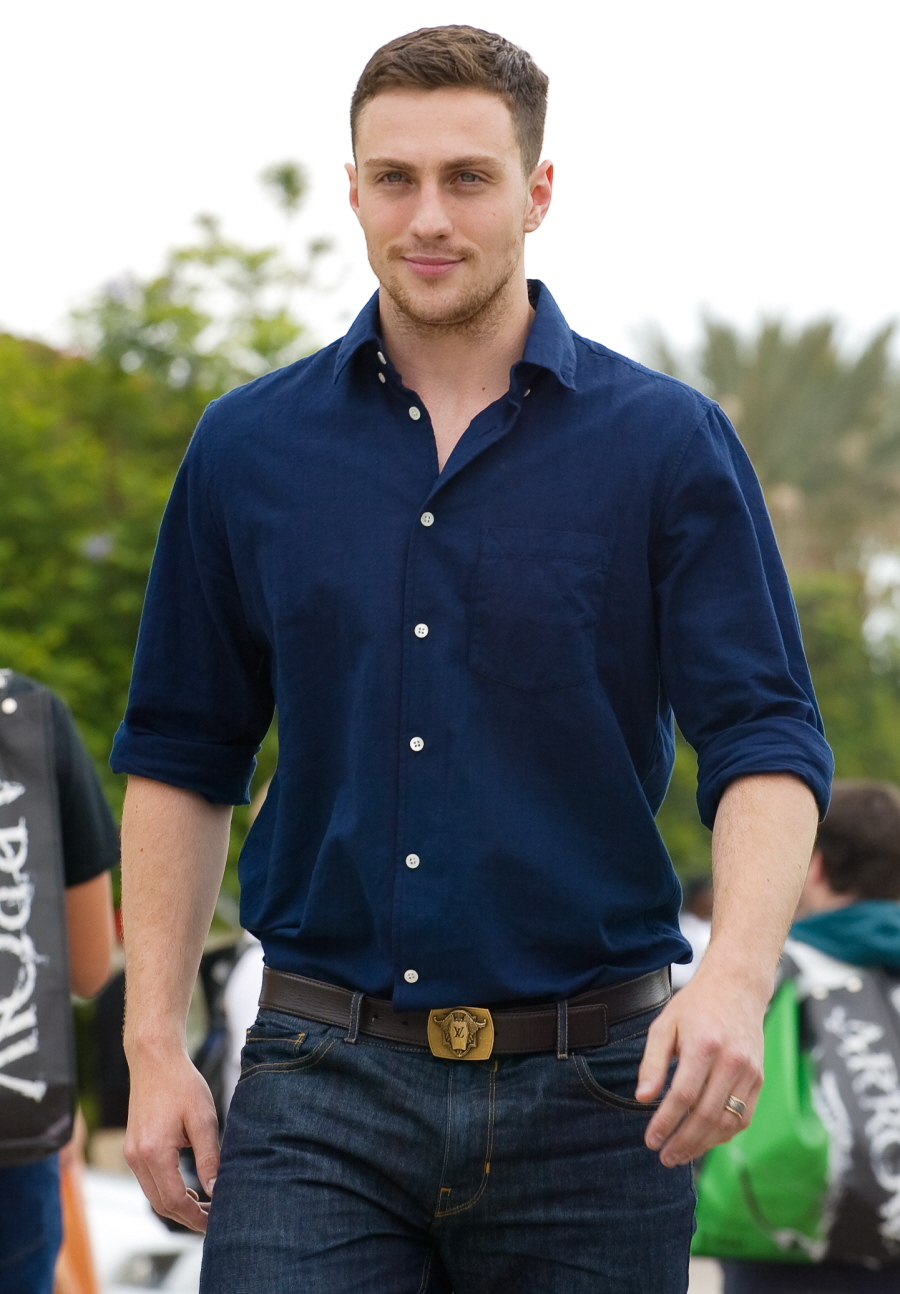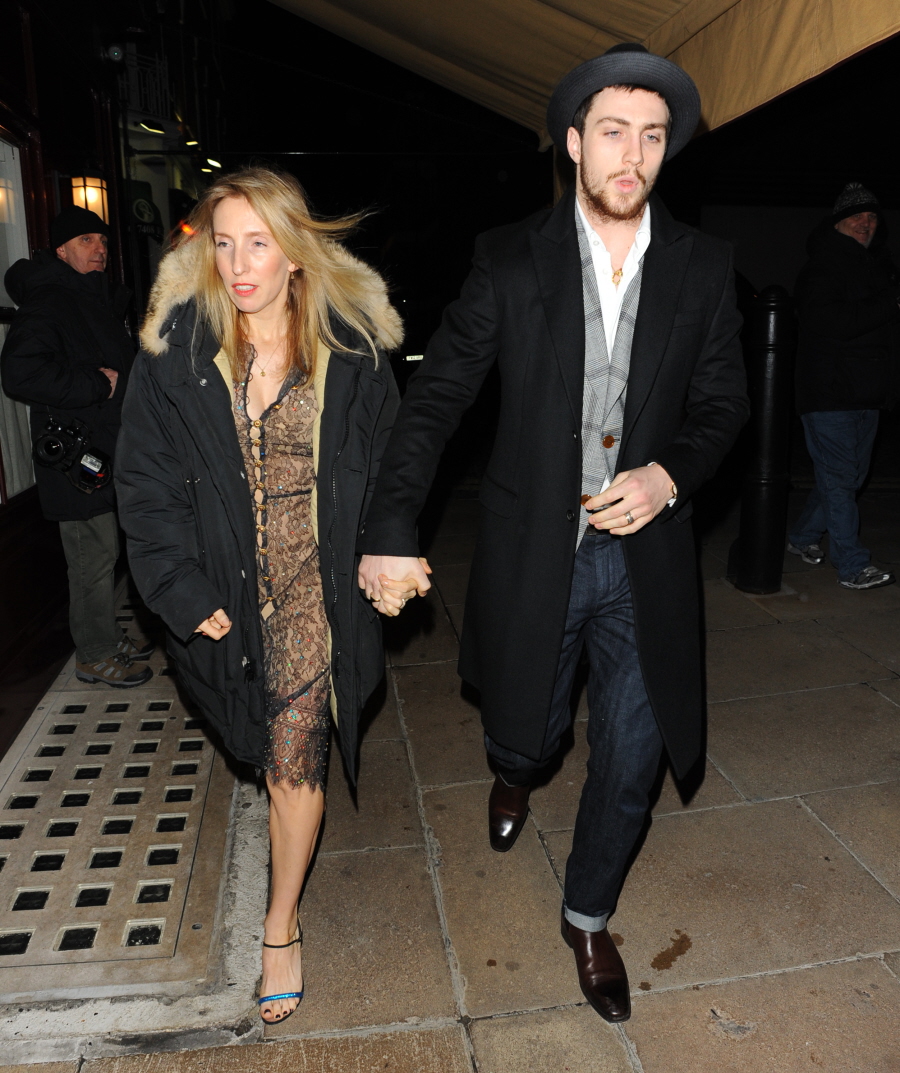 Photos courtesy of WENN.