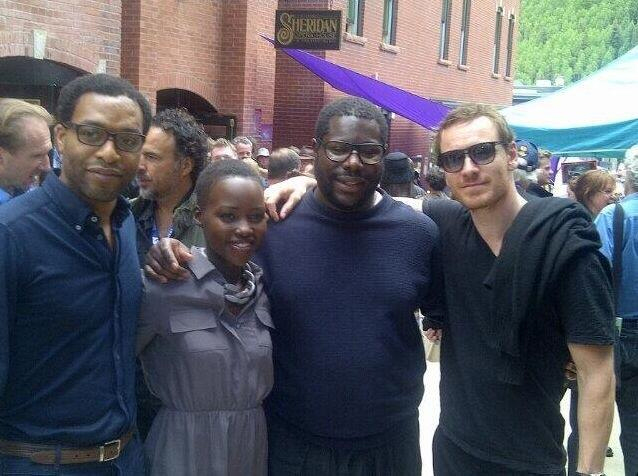 Over the weekend, Brad Pitt, Michael Fassbender, Chiwetel Ejiofor, Lupita Nyong'o and director Steve McQueen were in Telluride to premiere 12 Years a Slave at the film festival. I thought Toronto would be the first film festival for the film, but I guess not. We don't have any formal photos from the Q&A session (you can see some here), but I did grab some Twitter photos. Apparently, the screening went over really well. And by that I mean that everybody cried and all of the critics are saying that everybody involved with the film will be an awards contender. Here's THR's Scott Fienberg's thoughts:
12 Years a Slave, a drama based on the remarkable true story of a free black man from the north who was deceived and sold into slavery in the south in mid-19th century America, had its world premiere Friday evening here at the Galaxy Theatre. The film was greeted with thunderous applause when its end credits began to roll; moments later, the audience offered a standing ovation as its director, Steve McQueen, and principal stars — the British actor Chiwetel Ejiofor, McQueen regular Michael Fassbender, Kenyan newcomer Lupita Nyong'o and Brad Pitt, who is also a producer of the film — were introduced for a brief Q&A. The film, which will next screen at the Toronto Film Festival, will be released by Fox Searchlight on Oct. 18.

Word leaked early in the fest that 12 Years would be a "TBA screening,' and the attendant excitement drew a full house that included Ralph Fiennes, Ken Burns, Michael Moore, J.C. Chandor and Cheryl Boone Isaacs, the recently-elected, first black president of the Academy of Motion Picture Arts and Sciences. By the time the theater emptied out, few hadn't shed a tear in response to the emotional rollercoaster on which they had just journeyed.

McQueen's previous two films — Hunger (2008), which is about a hunger striker, and Shame (2011), which is about a sex addict — both also debuted at Telluride. And like them, Twelve Years is an extremely dark and disturbing work that will almost certainly resonate more with critics than the general public. But unlike those earlier two films, which received a grand total of zero Oscar nominations, this one, because of its larger historical canvas and the magnificent performances from its giant ensemble cast, will almost certainly resonate more with the Academy.

Indeed, I believe that it will strongly contend for noms in the categories of best picture, best director (McQueen, for biting off more than ever before and capably chewing it), best actor (Ejiofor, for his total commitment in every scene of the film), best supporting actor (Fassbender, for playing a brutal Southern slave owner), best supporting actress (N'yongo, for portraying a slave who endures heartbreaking brutality), best adapted screenplay (for John Ridley's take on Solomon Northup's 1853 autobiography of the same title) and best original score (Hans Zimmer).

The film — which also features fine work by Sarah Paulson, Michael Kenneth Williams, Paul Dano, Benedict Cumberbatch, Paul Giamatti, Alfre Woodard, Garret Dillahunt, Adepero Oduye and Beasts of the Southern Wild stars Quvenzhane Wallis and Dwight Henry — is one of several 2013 awards contenders that tackle the subject of race in America, along with Fruitvale Station, Lee Daniels' The Butler and 42. A year after similar subject matter was presented with humor in the best picture-nominated Django Unchained, it is being treated with the utmost realism and seriousness in these films. And, as we celebrate the 150th anniversary of the Emancipation Proclamation and the 50th anniversary of Martin Luther King Jr.'s "I Have a Dream" speech, with a black president in the White House but racial tensions amongst the general population still high, that seems right.
The producers (including Pitt) also announced that the film would be shown at the NY Film Festival on October 8th, and it will be released in America on October 12th. I wonder if that's the wide release date or the limited release date? I think this film is "big" enough to get a wide release date, don't you? And if it's being released wide in October, that's a lot of time for an Oscar campaign. But it could be interesting. Argo was released in September of last year, right? And it went on to win the Best Picture Oscar.
As for Fassbender's Oscar chances in particular… the Academy has a history of overlooking "controversial" performances (like Fassbender's Shame performance) and then making up for it the next time they have a chance to nominate someone. So, yeah, I think Fassy's definitely getting nominated this year (Best Supporting), but whether he'll win? I dunno.
So… no Cumberbatch at Telluride either. But I bet he's at the Toronto premiere and the NY Film Festival premiere. Which means that at some point, we'll get photos of Michael Fassbender, Brad Pitt and Benedict Cumberbatch standing next to each other. OMG. The internet will explode.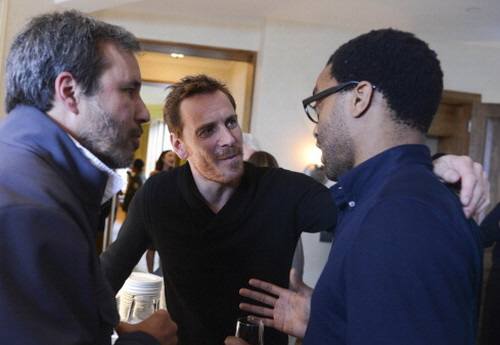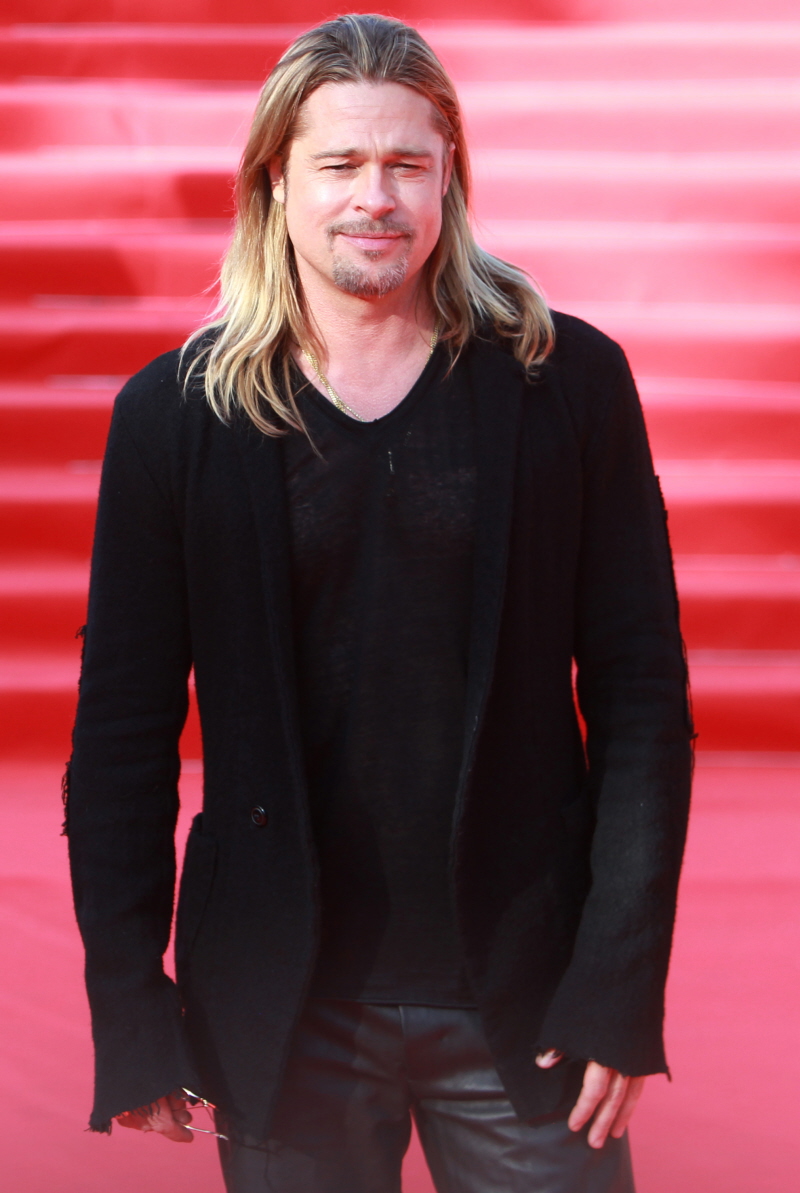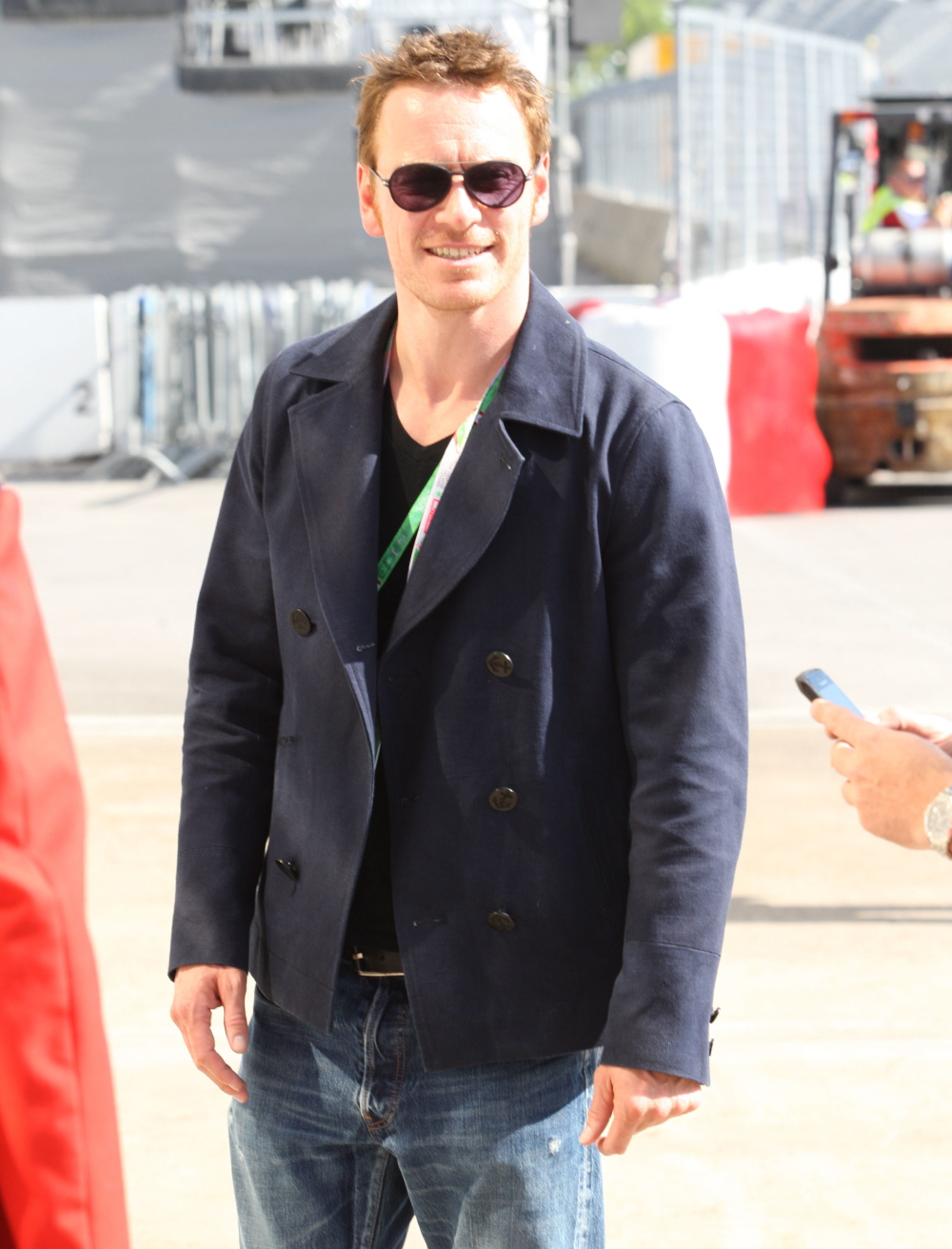 Photos courtesy of Twitter, WENN.