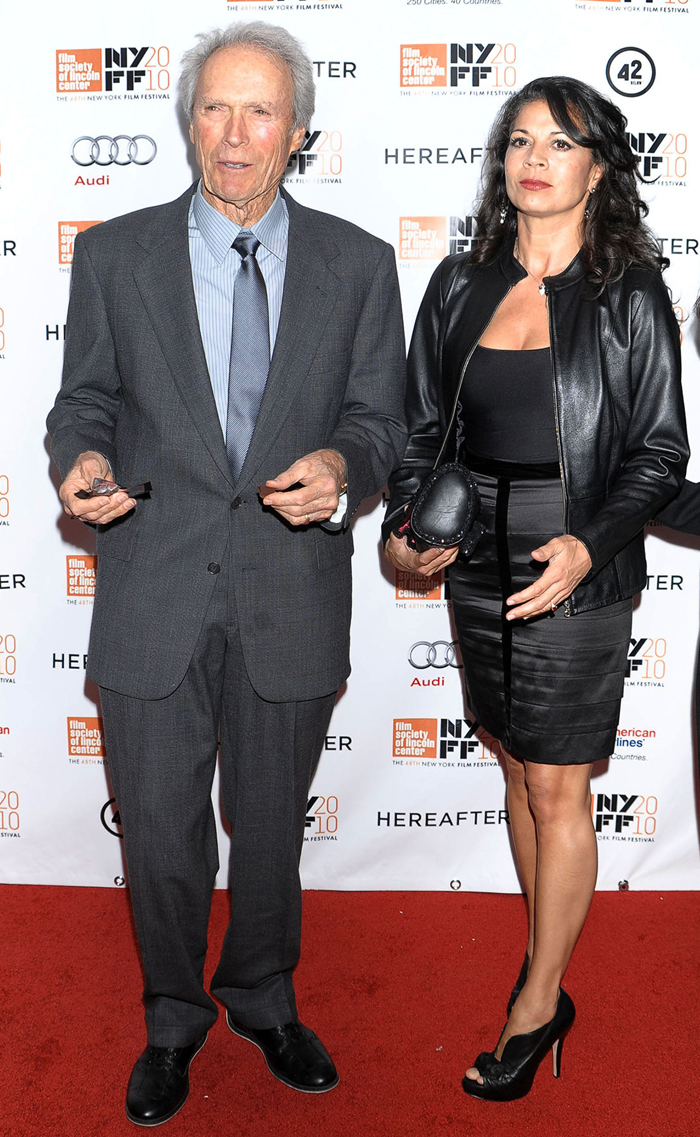 Well this is getting interesting. Last Friday, we talked about how Clint Eastwood (83) and his younger wife, Dina Ruiz (48), separated after 17 years of marriage. Everyone (myself included) assumed Dina must have been the offending party after forcing Clint into reality show hell and landing in rehab earlier this year. Dina had also been cheating with her high school boyfriend and had even been banging him at Clint's Hawaii mansion. Maybe I felt bad for Clint because he's 83-freaking-years-old, so I envisioned him rocking back and forth in a corner and muttering to a chair over his crumbled marriage.
Then things changed on Saturday. Clint was spotted putting gas in his classic Mercedes after he dropped an attractive mystery blonde off at LAX. The woman, Erica Tomlinson Fisher, had spent the night at his house. There were questions as to whether Erica was actually Clint's daughter (he was once married to Frances Fisher), but Erica is definitely not related to Frances. In fact — get ready for this — Erica is the ex-wife of Dina's new jumpoff, Scott Fisher. This means Clint and Dina have gone in for a real-life wife swap. How gross is that? Here's Erica at the airport leaving Clint's car: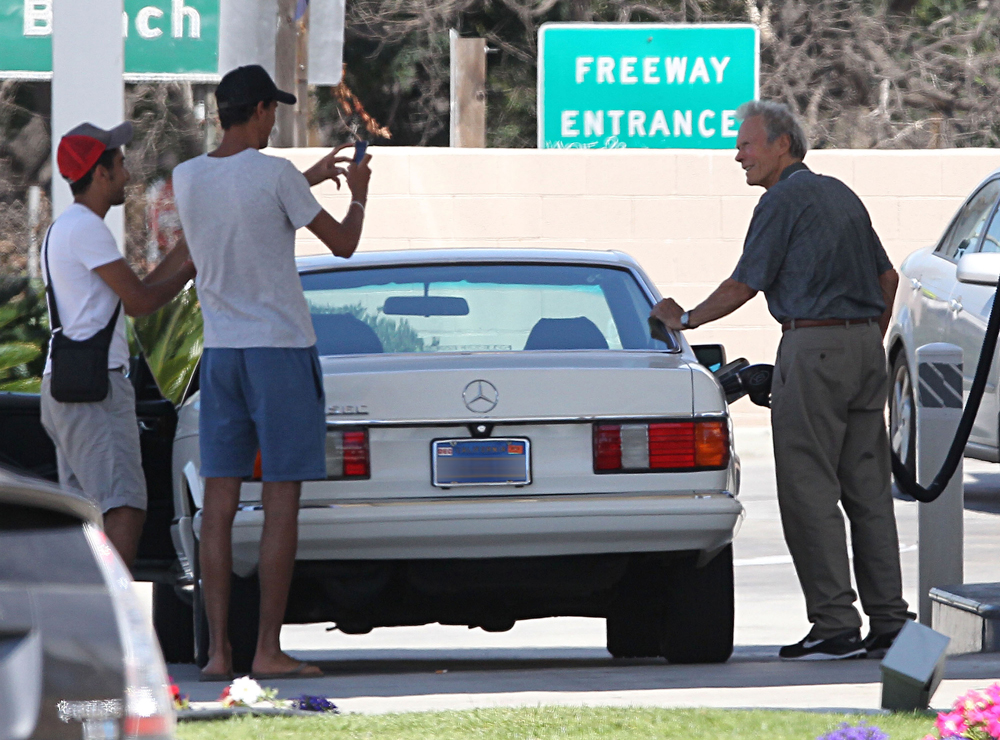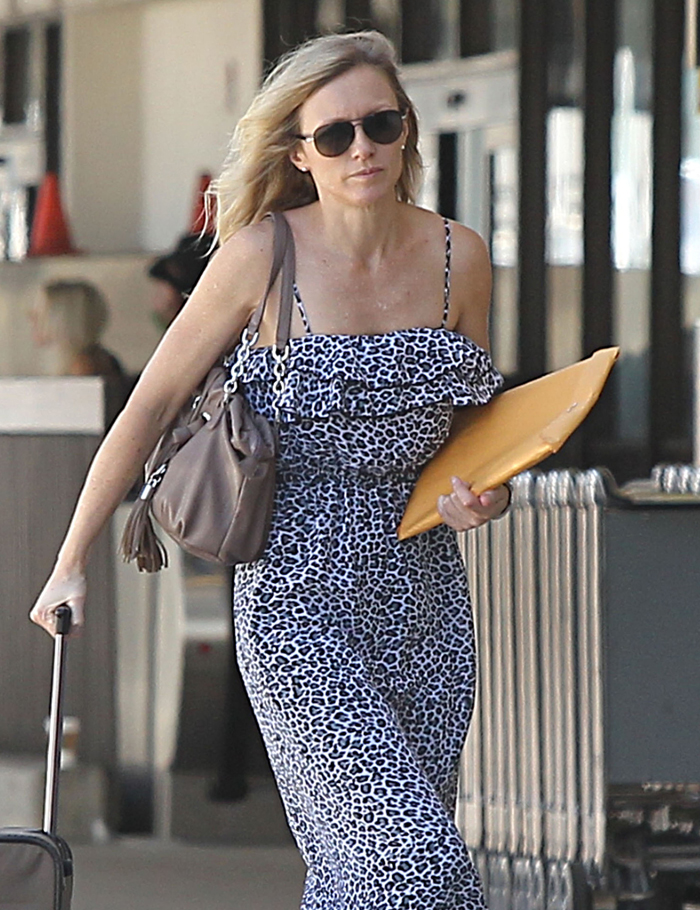 The plot thickens! Just two days after Clint Eastwood's wife of 17 years, Dina, told Us Weekly the duo separated in June 2012, the Oscar winner, 83, was photographed in L.A. with a girlfriend, mom of two Erica Tomlinson-Fisher.

Here's where it gets crazy: Clint's flame Erica, 42, was wed until 2012 to Dina's friend of 33 years, University of Hawaii basketball coach Scott Fisher! "After Scott and Erica divorced, Erica was sure Scott was romancing Dina," says a source. "Erica called Clint's office last February to discuss her suspicions — then he fell for her!"

Though Dina, 48 — who lives on Clint's Carmel, California, estate while he resides in L.A. — wasn't seeing Fisher, 50, at the time, the two have been casually dating since their exes got together, reveals a source. When called for comment, Dina told Us, "I am saddened to see photos of Clint with Ms. Tomlinson-Fisher. I look forward to new beginnings."

On Monday, Sept. 2, however, Dina took to Twitter to defend her estranged husband. "I don't like reading negative things about Clint," the Mrs. Eastwood & Company star tweeted. "He is a wonderful, good natured, brilliant person. No matter what, I attest to that."

Dina and Clint have one daughter together, Morgan, 16, and the Oscar-winning actor is also dad to seven other kids. Clint has yet to comment on his split from Dina, but his manager told Us, "I know nothing about that."
[From Us Weekly]
Dina has since deleted the tweets mentioned in the above article. Isn't it funny how she was kissing Clint's ass until she realized he was fooling around on her too? With the divorce, there's the question of what will happen with Clint's $340 million fortune. The Mail says Clint protected his money with a solid prenuptual agreement. Dina will "be looked after, but it won't bring Clint to his knees." I am guessing Dina will get enough to keep her mouth shut, which is probably why she was trying seem nice.
Now about these photos of Clint with Erica at the airport. I don't think this looks very romantic. Clint might very well be 83, but if he's able-bodied enough to get it on, he could at least lift her damn suitcase out of the car.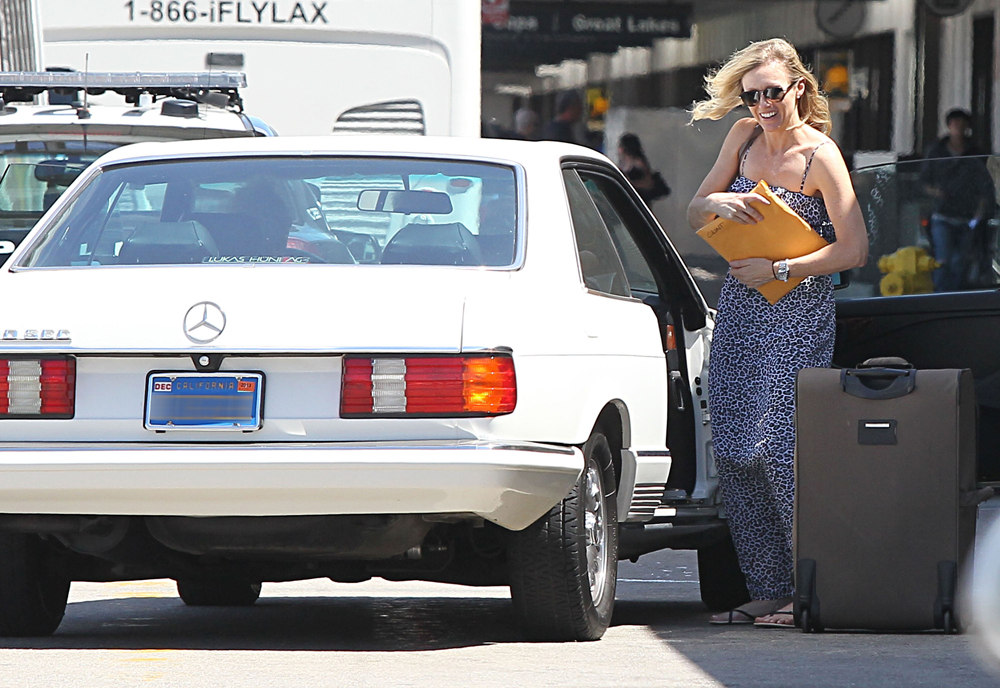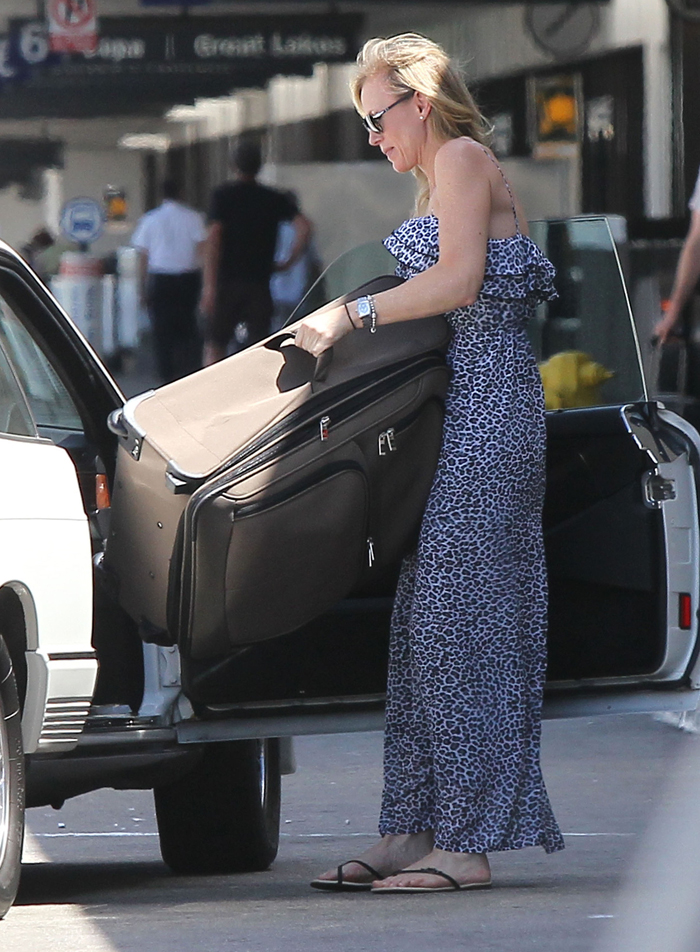 Photos courtesy of Fame/Flynet