Nick Cannon acts more like Mariah Carey's assistant in DC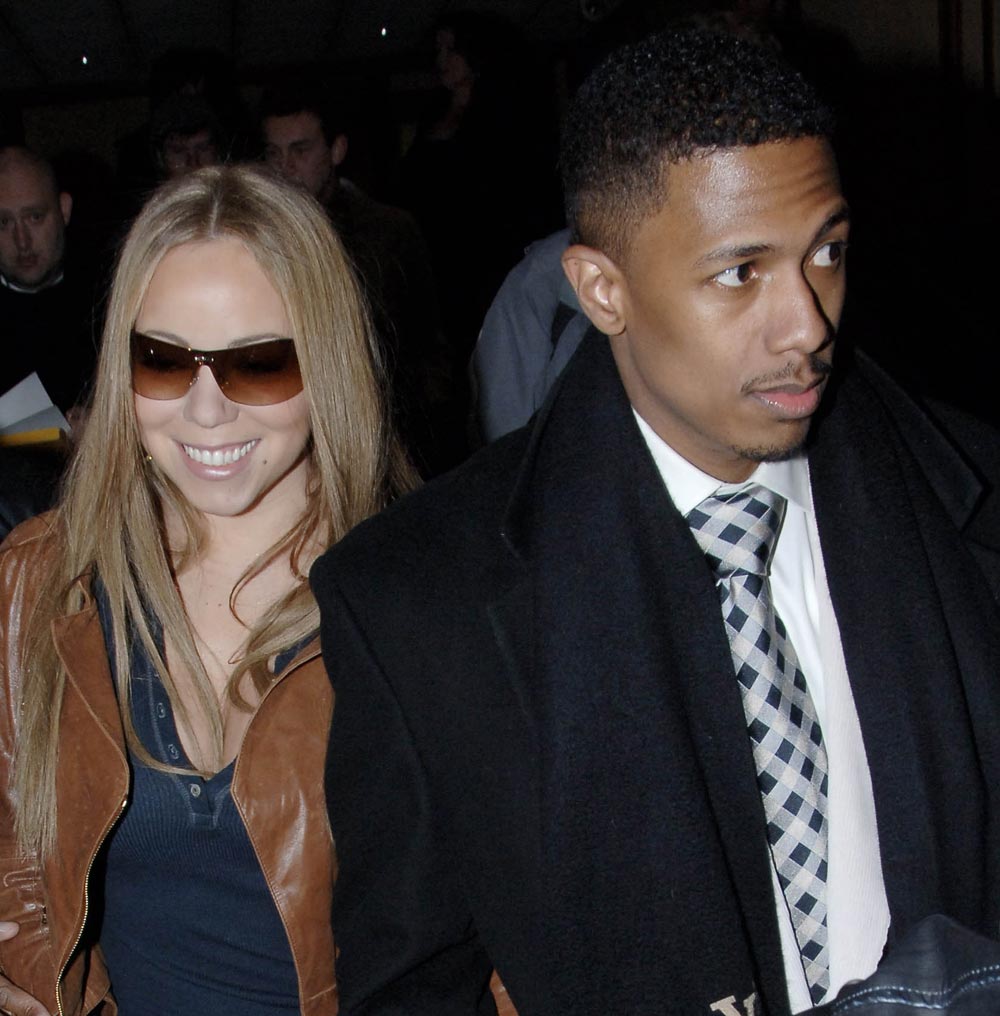 Reports are coming in from the inaugural balls that Nick Cannon acts more like as assistant than a husband to wife Mariah Carey. Shocking. Even though I'd imagine that nearly any man who married Mariah Carey would have to perform some assistant-like duties, I wonder why this is considered breaking news. As many have pointed out before, Nick tends to walk two paces behind Mariah when they make public appearances. For all we know, she makes him walk behind her in private, too. Nick has pretty much given up his career to be at Mariah's side full-time. And now they've taken their employer-employee relationship to Washington.
When Mariah Carey and Nick Cannon surprised the world last April with their quickie romance and wedding, many speculated on just why the couple rushed to the altar. But judging by the pair's behavior at the Sundance Film Festival and yesterday's inauguration festivities, it might just be that the superstar liked the idea of having a helping hand by her side at all times.

At Tuesday morning's swearing-in ceremony for new president Barack Obama, onlookers tell OK! that it was hard to tell Mimi's hubby from her security detail as they made their way through the crowd.

"Nick looked more like an assistant than her husband," says an onlooker. "He walked next to her, making sure that she was okay. He wouldn't leave her side."

This comes after several days for the couple at the snowy Sundance Film Festival in Park City, Utah, where they were similarly inseparable.

"Everywhere Mariah went, there was Nick," one Sundance source tells OK!. "He was opening doors for her, carrying things for her."

Of course, none of this is to imply there's any marital discord between the pair. "They looked great together and very happy to be at the inauguration," the D.C. witness tells OK!.
From OK! Magazine
Even though I'm happy to call out extravagant and dangerous divas like Madonna (my opinion), I tend to think Mariah's crazy is pretty harmless. After living with Mariah for many months, perhaps Nick just stays close to her because he's afraid she'll get overwhelmed and freak out. I'm also starting to wonder about those pregnancy rumors. The did-she or didn't-she drink alcohol questions have been pestering Mariah for the past few months, and as far I as I can see, she hasn't even taken a sip of wine. If Mariah is pregnant, it might explain why Nick is staying so close to her and striving to meet her every need – that's his baby's mother!
Mariah Carey is shown performing at the Neighborhood Inaugural Ball on 1/20/09. Credit: Newscom. Nick and Mariah are shown out at Sundance on 1/17/09. Credit: Splash News
Written by Kaiser

Posted in Mariah Carey, Nick Cannon

- Friends reunion on Ellen [Popsugar]
- Lindsey Vonn watches Tigers kids [Lainey Gossip]
- George Michael fell out of a car going 70mph [D-Listed]
- Real Housewives of Orange County recap [Reality Tea]
- New Man of Steel trailer [Pajiba]
- Jared Padalecki's hot bod [Buzzfeed]
- Doctors confirm Taylor Swift's new boobs [Evil Beet]
- Catherine Zeta-Jones finished treatment [CDAN]
- Anna Paquin hates the paps [Celebslam]
- Lance Armstrong is gross [The Blemish]
- What is Barbara Palvin wearing? [Moe Jackson]
- This is Petra Nemcova? [SVC]
8 Responses to "Nick Cannon acts more like Mariah Carey's assistant in DC"