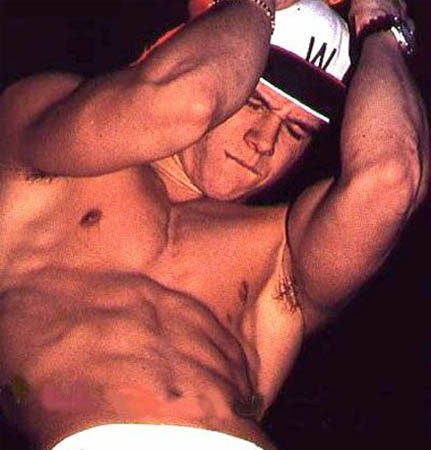 His prosthetic penis wearing, blow job hustling in the parking lot Dirk Diggler days faded to the back of Marky Mark's mind as he talked to the WENN recently.
MARK WAHLBERG is glad filmmaker ANG LEE passed over him when he cast BROKEBACK MOUNTAIN, because the Oscar nominee was "a little creeped out" at the prospect of having to play a gay cowboy.
via PR inside
Poor Marky Mark Creeped out by Gay Thing. Happy to have lost Best Supporting Actor for Super not gay Role (The Departed) rather than lost Best Actor for Super Gay Role (Brokeback Mountain) to Another Guy who won for Mega Booyaa Gay Role (Capote)
From his early days as Calvin Klein ad meat: Marky Mark has made it clear that the gay thing was off limits … unless of course he got paid, got attention … or got a leg up towards a supporting flack role in an Oceans Any Number movie. Please.
The DEPARTED star reveals he and pal JOAQUIN PHOENIX were originally considered for the roles of ENNIS DEL MAR and JACK TWIST in the 2005 film – but both felt uncomfortable about sex act scenes in a tent.

Wahlberg explains, "I met with Ang Lee on that movie, I read 15 pages of the script and got a little creeped out. It was very graphic, descriptive – the spitting on the hand, getting ready to do the thing.
As we mentioned above, in the CK ad context – hands on his crotch was pretty much Marky Marks ticket out of Vanilla Ice land.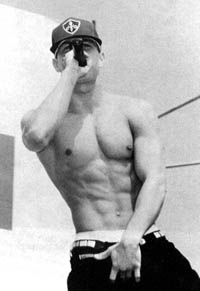 Still there's nothing like an Oscar nomination to bring on that NKoTB flavored Alzheimers. The Departed was a showboaty, sub-standard Scorcese re-tread–but it did have lots of chest beating and fake Boston Irishness. That re-assures a certain beer swilling demographic that their manhood is viable … as they watch bloated actors be men with guns. Not however gay cowboys with guns … and of course saliva.
"I told Ang Lee, 'I like you, you're a talented guy, if you want to talk about it more…' Thankfully, he didn't."
Which some sources believe is an exact repeat of how he turned down Calvin K's request for a date back in the day … Maybe the two of them can still catch it on DVD at home one night over a nice sour grapes Shiraz. MMW aint seen it yet:
"I didn't rush to see Brokeback, it's just not my deal… Obviously, it was done in taste – look how it was received."