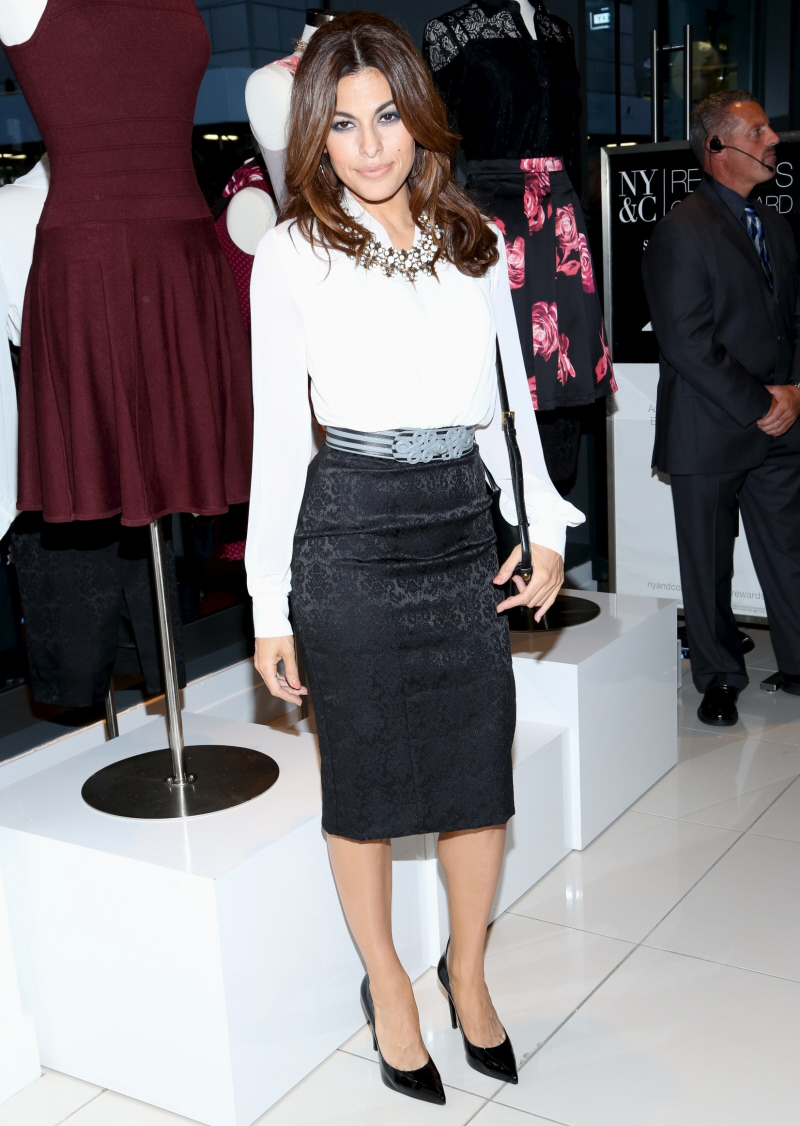 Did you know that Eva Mendes has a new clothing line with New York & Company? The line is called Eva Mendes Exclusively, and these are some photos from the launch on Wednesday. I'll admit it, back when I worked in an office (before the halcyon days of blogging in sweatpants and flip-flops), I wore a lot of New York & Company stuff. It's affordable, some of the stuff is cute, and it's decently made for the price. I still have several pairs of pants from NY & Co. that I wear often enough. So, Eva was in New York to promote her new clothing line, and she gave an interview to HuffPo about the line and about some of her beauty tips. I know you guys love talking about makeup, hair and beauty products, so this is the motherlode:
HuffPo: Why did you decide to do a collection with New York & Co.?
Eva: When New York & Co. came to me with this amazing opportunity, I jumped at the chance. I love that New York & Co. makes well-made and fashionable clothes, accessible to women. They're about accessibility not exclusivity, and I found that very exciting. It also sounded like it would be blast. I've always had a hunch that designers were having all the fun… and it turns out, I was right!

What was the most challenging aspect of creating your own collection?
The challenging part of this process was knowing that I had women, especially my sisters, counting on me to make them look good. I take this very seriously. There isn't a piece in my collection that I won't wear. I can't wait to get feedback from women about what works for them and what doesn't. I hope I don't disappoint them!

Do you have any advice for aspiring designers?
Advice to aspiring designers? I have no idea! Let's see if I survive my first season and then ask me!

We have to ask you about that amazing hair of yours! It always looks so thick and healthy, what's your secret? Do you have any DIY hair care recipes you use?
Pantene! I like to condition my hair overnight. You can use any Pantene conditioner but I prefer the Breakage to Strength. Put it all over your hair before you go to sleep and leave it in a shower cap until morning. Then rinse and voilà. Warning: although your hair will be grateful, the shower cap look isn't the sexiest, so maybe do it on a night when he's not around. [Ed. note: Especially when "he" is Ryan Gosling.]

What's the bare minimum makeup look that you need to step outside of the house?
I don't like much make up for my everyday look. I usually use Dr. Perricone No Foundation Foundation, Edward Bess bronze powder and Dr. Hauschka lip moisturizer. That's about it unless I'm going out to an event.

Do you have a favorite cheap beauty product?
My favorite cheap beauty product is baby powder. I use it on my hair to give it a dry tousled look. It works magic. Better than any dry shampoo out there. Once you put a little bit on your roots and run it through your hair, make sure to shake it out so your hair doesn't look white! Another great inexpensive product is St. Ives Apricot Scrub for the body. I use it as a dry scrub with a loofah, then I rinse. It works great for me.

What is the best beauty secret that you've learned over the years?
The best beauty secret I've learned over the years is that there's no secret! Makeup artists can only do so much. If you're not well-rested and well-nourished, it will show on your face. So drink lots of water and eat well… and ditch the cigarettes! Oh and use blotting papers instead of powder!

Do you ever see a paparazzi or red carpet photo of yourself and think "Darn that was a bad outfit?"
Of course I see photos of myself I don't like. I can take a very odd picture! But I've learned to laugh at the bad ones. I'm the first one to make fun of myself. Like my look for my "Ghost Rider" premiere in NY. What was I thinking?! Or this white and black Prabal Gurung dress I wore a few years ago. I love the designer but the dress didn't fit me well. An ill-fitting dress and my idea to have the frizzy hair resulted in a bad combo-platter.

What is one trend that you would never be caught dead wearing?
Jelly Bean shoes. I don't think I can wear those again. Actually, I know I can't.
You know what I like about this? She actually name-drops labels that can be bought at CVS or a grocery store. It really does feel like Eva actually does use the inexpensive stuff like Pantene, no-name baby powder and St. Ives Apricot Scrub. And OMG I never would have even thought about using St. Ives Scrub as a dry scrub?! When I last admitted that I occasionally use St. Ives Apricot Scrub, some of you yelled at me and told me that it's too abrasive and it's actually bad for your skin. Now I can say "Well, Eva Mendes uses it!"
But… I do hate when some women suggest using baby powder in your hair. I could never do that. My hair get oily very quickly, and while the baby powder will soak it up, my hair is dark and I don't want to look like I'm wearing a powdered wig. Isn't it just easier for me to wash my hair every day? Because that's exactly what I'm doing. And I use Pantene too (although I have a lot of shampoos going all at once.) Full disclosure: Eva is the official hair of Pantene, correct? She's had a Pantene contract for a while.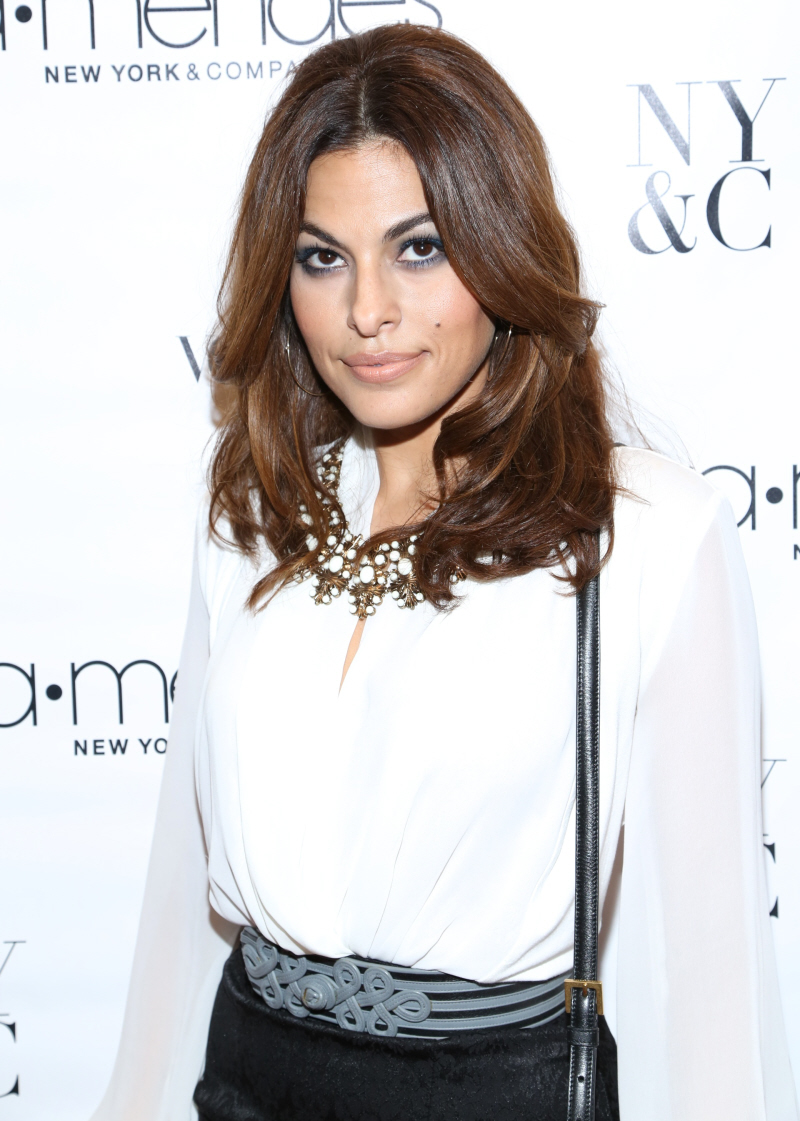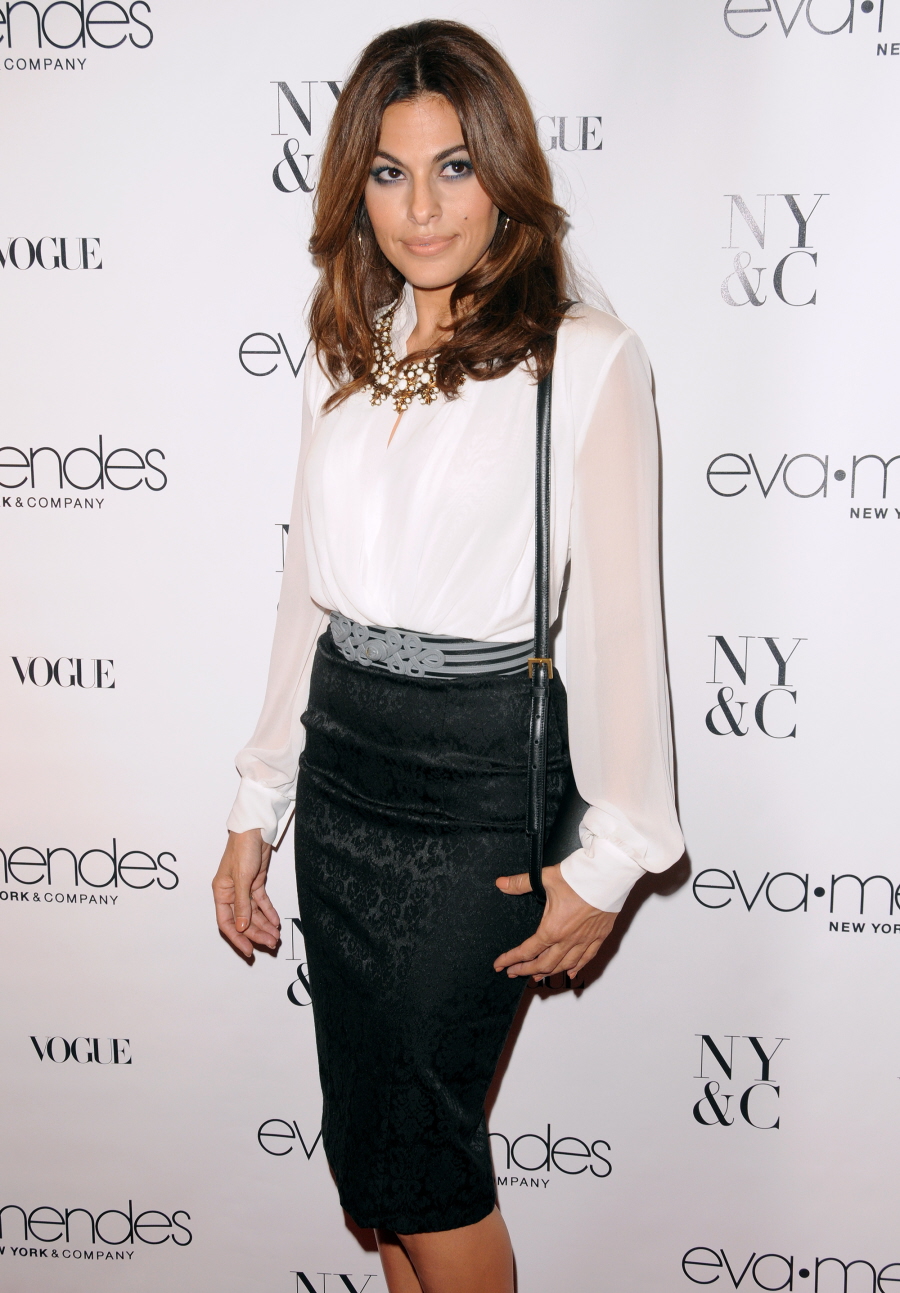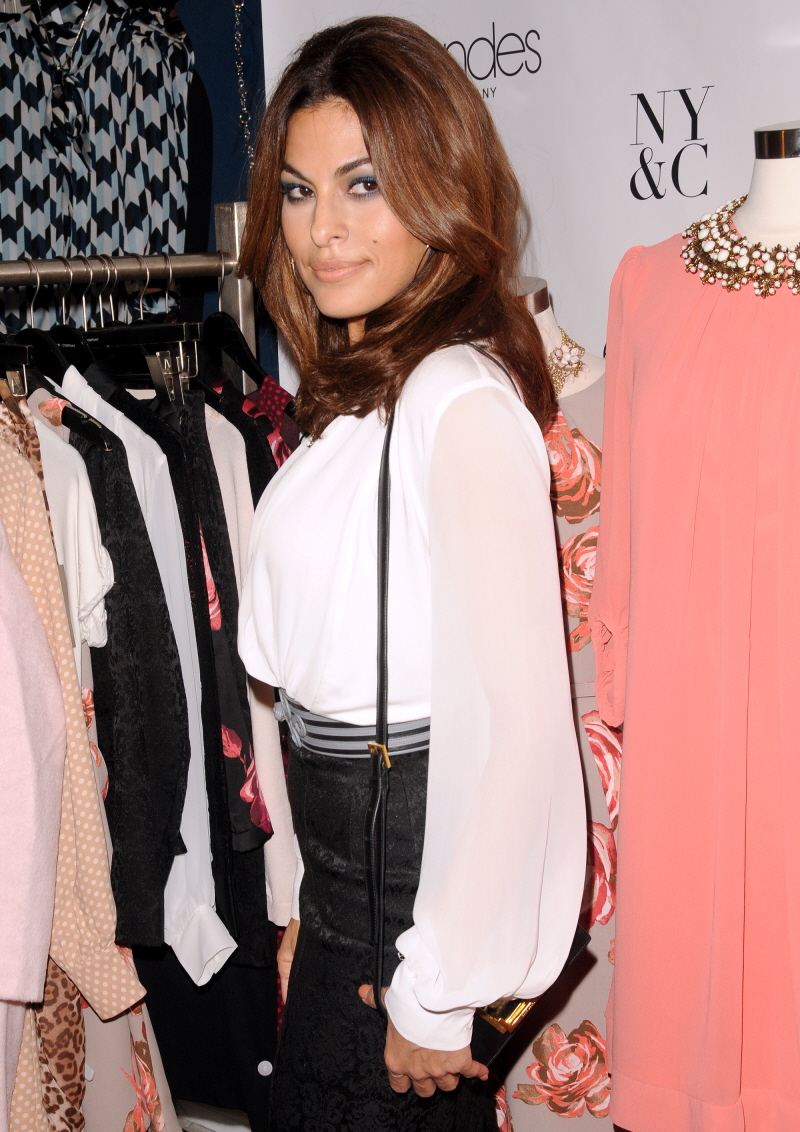 Photos courtesy of WENN.