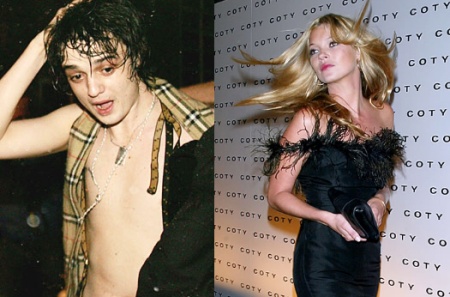 This Train is just never late … just when there's a lull in their tale of bad skin, bad judgment and bad decisions, the Moss and Doherty Express pulls back into the station. Londonnet has all the latest in transit news:
The Babyshambles frontman was seen carrying a treasured gold disc, a banjo, clothes and a baby-seat into the supermodel's luxurious north London flat.

A source revealed: "It was hilarious, Pete was shifting all this tatty stuff into Kate's posh home. Pete was carrying his gold disc and wherever that disc is, Pete is. If he has moved it into Kate's it means he is staying there permanently."
The gruesome twosome were sporting what is sure to be the look for the new Burberry campaign … shirtless banjo players for the Men's line in Fall 2007 and for the Womenswear a focus on jewelry that you will pay for in so many more ways than just the purely financial.
As he carried his belongings into Kate's property, Pete – who wasn't wearing a shirt – stopped to entertain onlookers by strumming on his banjo. Kate, 33, was sporting a diamond ring on her engagement finger.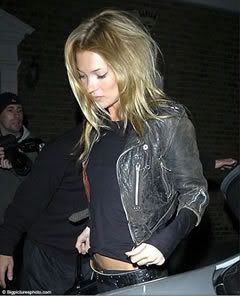 In case Burberry wants to develop a home furnishings line: Doherty has generously documented a sort of inspiration board for them in the shape of his previous digs.
Pete, 27, was kicked out of his east London flat after owing UKP10,000 in unpaid rent. After he left, photographs were released showing blood-spattered walls, drug paraphernalia, empty beer cans and cigarette butts strewn everywhere.

Landlord Andreas Panayiotou claimed Pete was the "worst tenant" he had ever had.
But Andy don't be such a pessimist … the year is young … and the Greater London Metropole is full of up and coming musicians with beer as yet unbought and blood as yet unsplattered.
They may however not have a banjo or a baby car seat
pic via Daily Mail