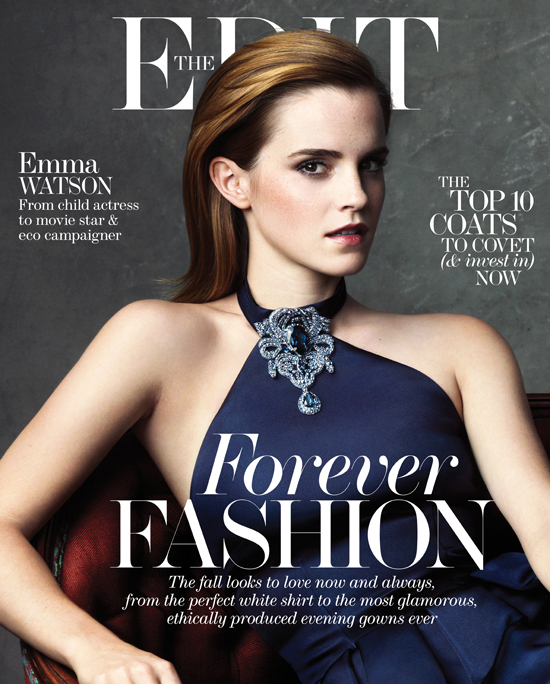 Emma Watson covers the October issue of Net-A-Porter's The Edit magazine. She looks fantastic and finally like she's coming into her own sense of style. It's really nice to see a child star who hasn't gone off the rails or ripped off her clothes to prove she's all grown up. Of course nothing is wrong with nudity, but as with Miley Cyrus, nudity for the sake of attention isn't the wisest move.
Some of the pieces Emma models here were designed by Livia Firth (wife to Colin), whose designs follow eco-conscious principles. Livia's clothes are also ethically sourced in that they aren't produced in sweatshops. The journalist here mentions how Emma is very charming, put-together, and grounded. She also showed up to the interview — gasp — early. Plus she sounds pretty intelligent here: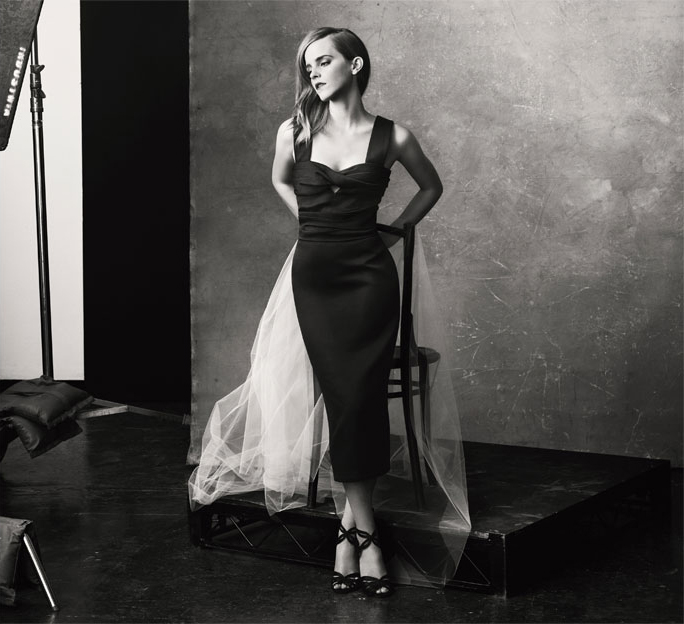 On supporting fair trade in fasshion: "I don't do anything by halves," she says, looking pared back and gamine in a gray and black blouse, high-waisted shorts and not a scrap of makeup. "I have to go all in. I just want things to be perfect. If I'm going to put my name on it, I want it to be something I love."

Working with Livia Firth: "I was like, No one's doing anything like this!' It's so exciting. I've always had this huge problem. I would love to wear garments that are ethically sourced, but there aren't enough options for me to be able to do that realistically." So when she met Firth, "it just seemed like [the project] was something I had to do, something I'd been waiting for. Livia's created a lobbying body to put pressure on governments and corporations to encourage them to have [ethical responsibility] as their baseline. It's quite awesome."

She's a conscious consumer: "Maybe there would be fewer problems if we were really conscious of where and how things were made. We don't support slave labor in this country, so we shouldn't support those conditions in other countries. I can't wrap my head around why ethical clothing is a speciality and not a base standard. Why is it special to have something you know wasn't made under terrible conditions by a 12-year-old girl for 20 pence an hour?" She pauses, looking slightly embarrassed. "It's hard to talk about this stuff without sounding preachy."

She seeks meaning in film too: She calls herself a "director chaser" and makes a concerted effort to work with "people who really have vision. It's fun to help create something with someone who has a clear goal."

Red carpets are painful: "Getting ready for an event can feel like a lot of pressure. You have to consider, 'Will people see up my skirt? If a flash goes off, can you see through this?' So I'll do a test sitting, a test standing… It's nerve-wracking. People really scrutinize. On the red carpet, I'm usually in so much discomfort – my shoes are uncomfortable, I can't breathe in the dress. I don't compromise like that in my everyday style."

Who is she wearing at the interview? "I was worried you were going to do this! A lot of my clothes have been altered, so the tags are out, but I can tell you that I have Chloe flats on!"
[From Net-A-Porter's The Edit]
Emma Watson is gonna be fine. More than fine. Remember that brief period of post-Potter madness when Emma seemed to waver between college and modelling contracts? People were so worried about her, but Emma has worked it out in her own time frame. She seems so articulate and mentions that many of her opinions on fashion were influenced by learning about fair trade in college. Did you pay attention to that stuff in school. I didn't.
Emma looks gorgeous in this editorial, doesn't she? The Edit does wonderful shoots.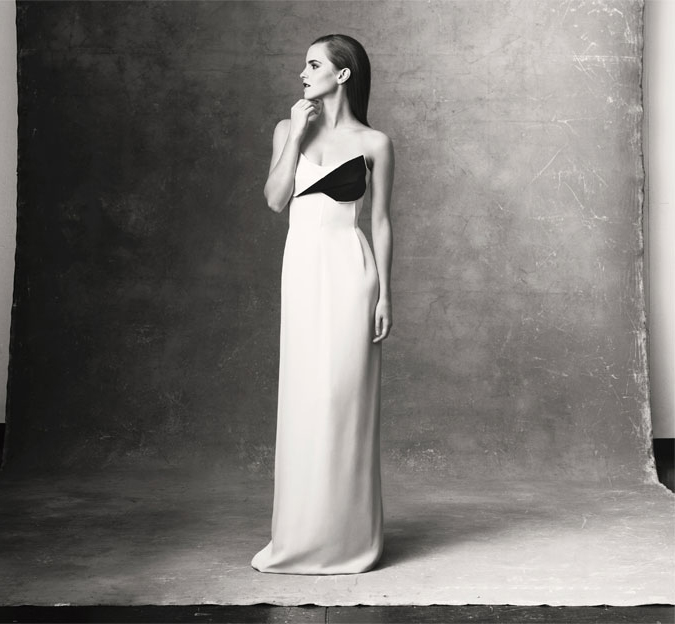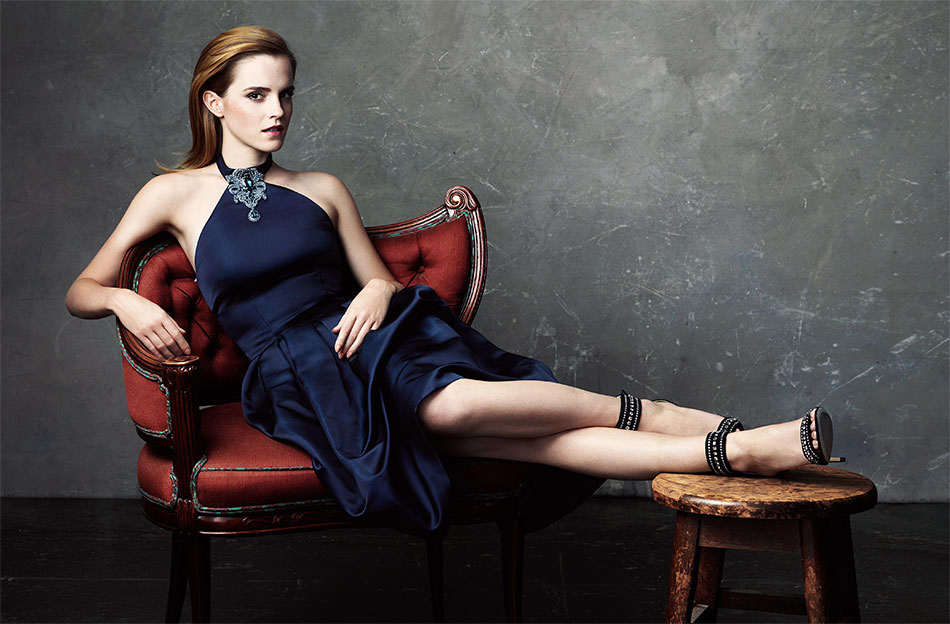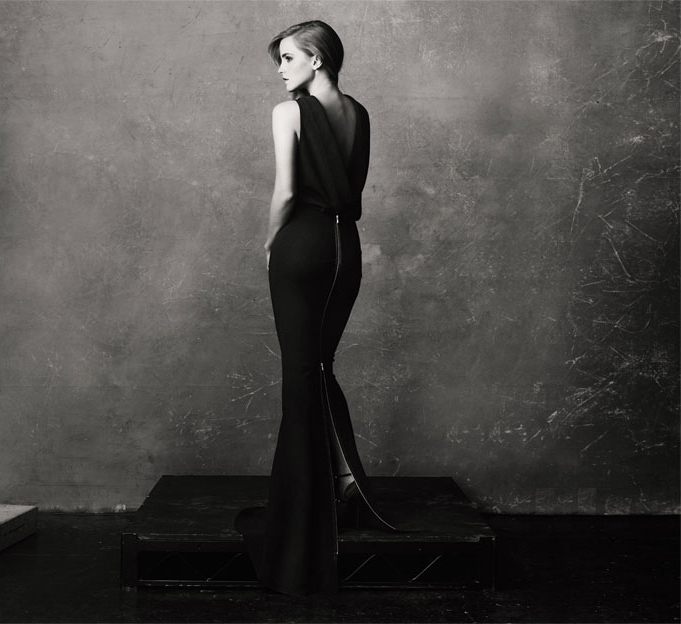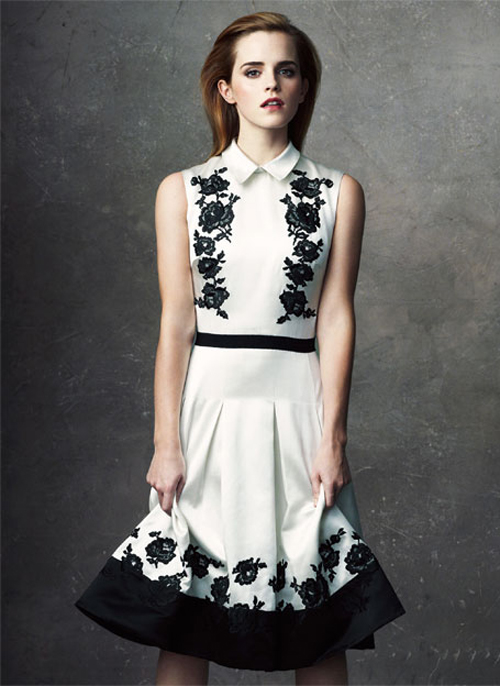 Photos courtesy of The Edit