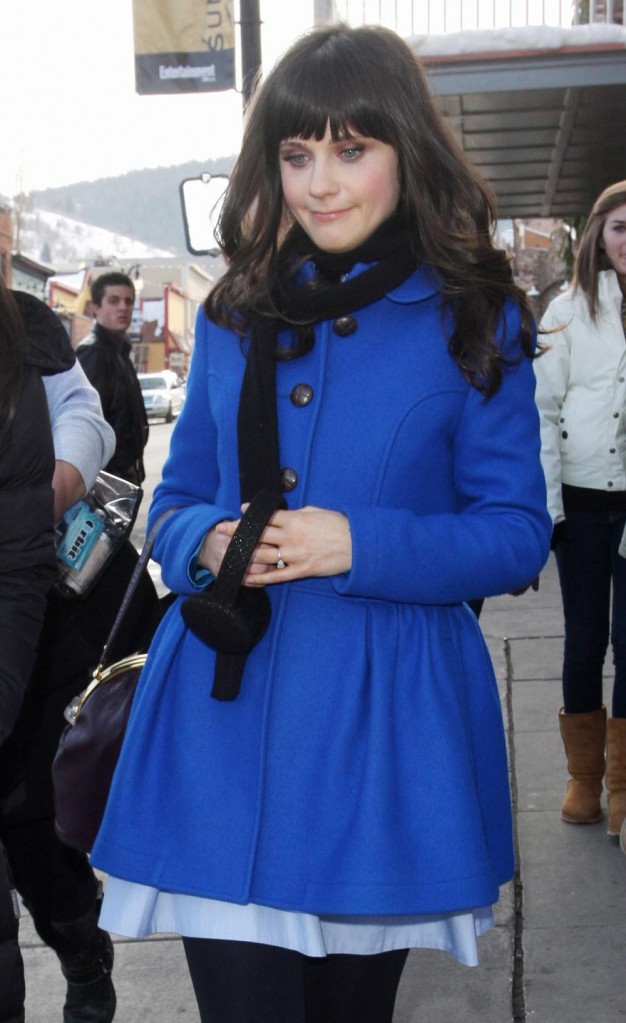 At Sundance promoting her new film 500 days of Summer, Zooey Deschanel took time to talk to MTV about her music. Zooey and M. Ward (together, She & Him) released their first album Volume I in March of last year to rave reviews. Now she has revealed that she's been working on new music and will be releasing a new album (I'm guessing it will be called Volume II), though she won't say when.
"We're working on it. I can't say exactly when it will be finished. … Give me some time! I need a break!" she laughed. "I've been writing a lot, and we've been recording some, so, hopefully, I don't know. I don't want to put a number on it, but it's going well and, I mean, it's fun, as always."

Deschanel stopped short of revealing any additional details about the new S&H album — after all, when MTV News spoke to her, it was at Sundance, where she was on hand to promote her upcoming role in the karaoke-fueled romantic comedy "500 Days of Summer" — but she was more than willing to admit that making the film was easy. And not just because she's musically inclined.

"Yeah, I'm a romantic, but I'm not a romantic in the traditional sense. I like to romanticize what happens to me," Deschanel said. "Whatever happens to me — you could quantify it as good or bad — I romanticize it. I think along the lines of 'When that thing happened, it made me who I am.' That kind of thing. It's a different way of being romantic."

And will that sense of romance carry over to the new She & Him album? Will there be a cameo or three from her newly minted fiancé?

"That's none of your beeswax," she laughed. "Time will tell."
[from MTV]
Zooey's fiance is Death Cab for Cutie's frontman Ben Gibbard, and the collaboration of his, Zooey's, and M. Ward's musical stylings is sure to be good. It's rare that an actress who ventures into music is successful and generally well-liked in both venues. And unlike many other cross-over artists, her album was marketed on its own merits rather than being advertised as a Zooey Deschanel project. You have to give her credit for taking a risk.
On another note, her latest film project, 500 Days of Summer looks pretty good. It includes a lot of music (as the interview says, "karaoke-filled), and as can be see by the big song and dance scene in the trailer. Maybe this is a sign that she'll try to establish herself further into the musical world.
Zooey Deschanel is shown out at Sundance on 1/18/09. Credit: WENN