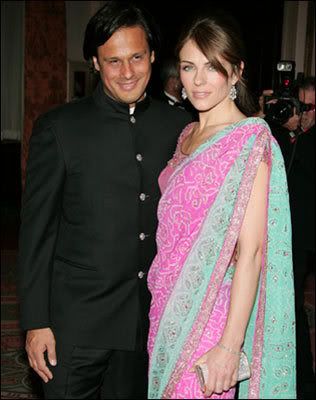 Elizabeth Hurley and her Indian fiance Arun Nayer have tied the knot at a castle in England, but the real celebration is yet to begin. The couple leaves for India on Sunday to celebrate their wedding Indian style, complete with horse rides and star studded Bollywood dance numbers. The wedding celebrations will last six days, and culminate in the mother of all weddings on Friday, March 9th.
Now here's the juice we've learned so far.
The couple prefers to receive gifts of livestock instead of traditional wedding gifts
In England, guests the likes of Elton John and the Beckhams, had to choose between giving a pure-bred pig or a flock of sheep to the couple as a wedding gift. This is because after they wed, the Nayars plan to settle down on the 400-acre farm in Gloucestershire that Hurley bought in 2003. The Nayars enjoy country life, says husband Arun Nayar, "I'll take Damian out on the tractor while Elizabeth cooks….like the Waltons." Hurley adds that her country home is the only place she would like to be, and can't wait to get "organic status" so they can become full-fledged farmers. We're going to have a herd of cows and proper sheep and proper chickens, and we're going to have Gloucestershire Old Spot pigs."
Yeah, I can just see it now. Arun riding around on a tractor with little Damian, both wearing matching overalls, and Liz in the kitchen, wearing an apron and cooking chicken curry from organic chickens. Celebs have such boring dreams.
There's a dress code for the guests attending the wedding in India.
Liz has sent each of her wedding guests an "orientation packet" with their invitations to help them learn the rules of engagement, so to speak, of what to wear and what to expect during the week long celebration in India. Guests are advised to bring their own mosquito repellant and travel irons, but to leave most of their party clothes at home. That's because Liz wants all the ladies to wear hot pink saris and all the men to wear turbans and long orange tunics (kurtas) during most of the events. The attire during the rest of the celebrations should range from "glamorous casual" to "glamorous and fabulous". Liz doesn't want her guests to have to worry too much about dressing for the events in India, and has taken it upon herself to shop for them and stock a private wedding boutique inside the Hilton Towers Hotel in Mumbai:
They have written to friends to say they are opening their own private wedding "shop" at the Hilton Towers Hotel in Mumbai, which will be stocked with saris, turbans, kurtas and bindis, traditional markings worn on the forehead by women.

Guests will be able to buy appropriate attire for the six-day celebrations taking place in Mumbai and the desert in Rajasthan. The couple's letter says: "Please don't panic … all Indian clothes can be bought when you arrive in India, where they will be much nicer."

Hurley's friends say she has been busy looking for saris to buy to stock the shop, where tailors will be on hand to alter garments. The bride herself will reportedly be wearing a £4,000 pink sari.
Can someone say, bridezilla?
The Dress
Liz's pink wedding sari, which is about $7,800, is going to be designed by one of India's most renowned wedding designers, Tarun Tahiliani. Although we don't have a photo of the dress yet, here is an example of one of Tarun's bridal dresses.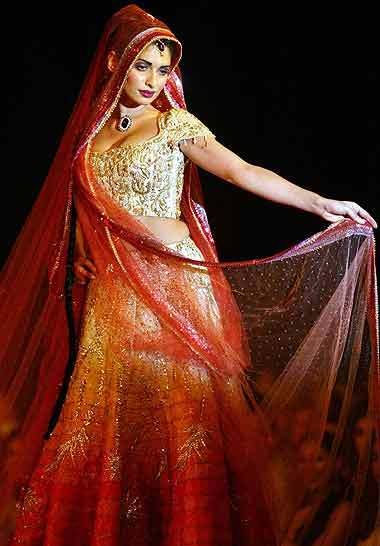 To add to your knowledge of useless trivia, Tarun Tahiliani is the same dude who designed Jemima Khan's wedding dress when she married Pakistani cricketer Imran Khan. Jemima is the the ex-fiance of Liz's ex, Hugh Grant, and a sworn enemy of Liz. Neither Hugh nor Jemima will attend Liz's wedding in India. Huge Grant was also a no-show at the England ceremony according to the Sunday Mirror.
I can't wait to see the photos from this gig. Really. Just to see how this all looks. Ladies in pink saris (Posh will wear one too!), guys in orange kurtas, Liz's Indian wedding is playing out like no other Bollywood production I've ever seen. It is even being reported that she plans to arrive to her wedding ceremony sitting on top of an elephant, like an ancient Indian princess. If her intention was to top the TomKat wedding, she seems to be off to great start.